Snacking is sin but cannot be avoided no matter how hard you are on the diet plan. It is a mechanism by which body demands fulfilling the optimal sugar levels in the body. When you are on diet, you choose to go low on carbohydrates, this brings blood sugar down. That is why; it is suggested to find healthy swaps for the fried snacks which are culprits sabotaging your weight loss plans. Listed here are some healthy snacks choices you must consider so that your body fat is burned sufficiently and the sugar demands are met too.
1. Chickpeas
It is their fiber and protein content that makes them healthy alternative to carbs rich snacks. You can have a bowl of boiled chickpeas salted to enhance its natural flavor.
2. Oatmeal
This is considered the perfect start for the day due to its filling nature and fiber content. The oatmeal is prepared using oat flakes, milk and berries – all of these create a protein-rich portion which your body needs to replenish the energy lost during sleeping. Also, it is filling enough to help you stay away from the food for longer hours.
3. Apple slices with peanut butter
Eating fruits like apple is a good option for filling the hours between meals. You can dip the slices into the peanut butter to give yourself healthy cover up for sugary cravings. But, make sure that the peanut butter is not taken in large amounts because of its fat content. You can also combine the apple slices with guacamole dip for amazing taste.
4. Mixed nuts
A bowl full of roasted nuts like almonds and walnuts is nice snacking option when you desire munching something. The texture of this snack leaves amazing feeling in the mouth and your body gets its requisite anti-oxidants which are helpful in weight loss.
5. Kale chips
You can prepare kale chips by baking them using a brushing of olive oil and salt. While kale is packed with weight loss supporting anti-oxidants, the olive oil offers you best support for the cardiac health. Kale chips taste great and are better alternative to the potato or banana chips.
6. Cucumber salad
Many a times, it is the water that the body demands and not the food. Since the responses of brain are the same for both the hunger and thirst, it is advisable to drink water between meals. It can help avoiding the undue food intake. Certain foods like cucumber are quite high on fiber content and give you good filling while addressing the water requirements of the body.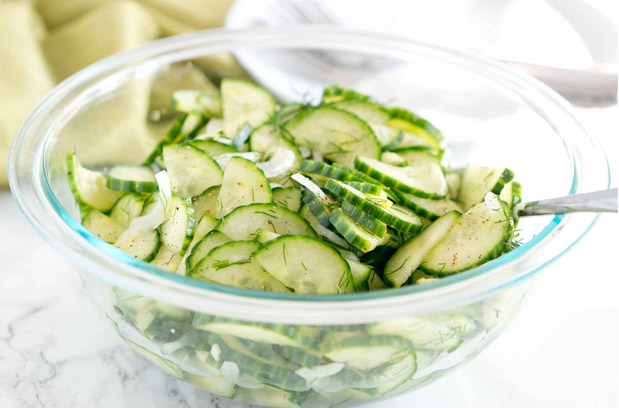 7. Kidney bean salad
Boiled kidney beans mixed with onion and green chilli and a dash of olive oil added to it make perfect food for consumption between the meals. The salt in moderation enhances the taste of this salad and gives you a protein-rich option for the hunger cravings. To add more fiber, you can add tomatoes to it.
8. Boiled eggs
Hard boiled eggs come packed with protein. You can have them at the mid-morning hours along with the pita bread. The eggs offer low calorie option for addressing the hunger pangs between the meals. These are rich in vitamins like K2 and B12 which are quite helpful in burning the fat cells.
9. Cucumber slices with hummus
Dieting need not be a boring practice. You can always have flavors in your diet. One such way to add flavor comes in the form of hummus. This dip has chickpea as the main ingredient and you can team it with cucumber to get your requisite dose of fiber. Also, hummus provides you with anti-oxidants through its ingredients like garlic and olive. Offering only 180 calories, this combination is worth keeping stored for use when you feel the need to eat.
10. Canned tuna and whole wheat crackers
Tunas are rich in omega-3 fatty acids that are good for heart health and thus, help in keeping the body energetic. Whole wheat crackers are additional energy providers and maintain the sugar levels in the body. Since the stomach feels bit fuller, you will end up eating less in meals which is essential for the weight loss.
11. Apple and milk
Apples are rich in iron and milk is considered a complete food in itself. But, here the milk mentioned is the skimmed milk. You must have a serving of apple and a glass of skimmed milk. Chewing apple and drinking milk is better than mixing the two and making shake out of it. Doing this gives you ample facial exercise and you are getting your dose of nutrients (minus the fat) in the process.
12. Chicken pita sandwich
Instead of having separate foods for snacks, you can consider dividing the main meal into parts. One such meal is chicken pita sandwich. You can have chicken as filling for pita bread enriched further with celery. You can divide this into two and have each portion at different times of the day or when hunger strikes you.
13. Dark chocolate and almonds
Now, this is a bit high on calorie side. So, you have to watch its intake. By taking this combination as snack, you are providing your body with flavanols that keep heart diseases at bay and lower the blood pressure. This is the reason why you feel good after eating chocolate. But make sure that your chocolate is having at least 70% cocoa solids. Almonds do the job of maintaining blood sugar levels in the body, thus, helps avoid the hunger pangs.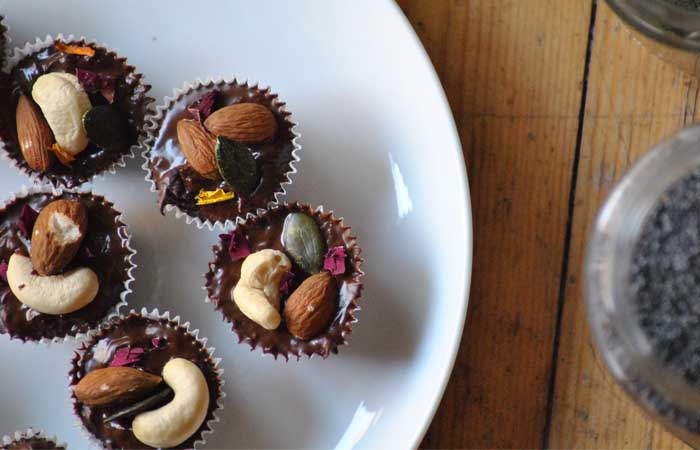 14. Chia seeds pudding
Prepare this pudding by soaking chia seeds in water. Keep it for cooling in refrigerator for about half an hour and then add cocoa powder, peanut butter and a sweetener to it. Consume it when your feel hungry. It is rich source of fiber and antioxidants and also helps managing the sugar cravings. It is a low calorie snack.
So, take these snacks as part of daily routine. These snacks taste great and are completely guilt free. To top it all, they have the capacity to help you lose weight.
Other Articles