If you can't decide whether to have long hair or short, don't worry. We have an idea where you can choose both. Short Sides Long Top Haircut. Simply leave long hair stands on the top of your hair and use some fades and tapered hair on the sides to keep them short. Here are 32 ideas of how you can style your Short Sides Long Top Haircut.
1. Long center, Tapered Sides
Tapered sides are the ones where the fading starts subtle but ends strong. With a top that has long hair, this hairstyle is a great one for slow starters.
2. Quiff with Fades
When asking for a Quiff, ask your barber to leave the top significantly longer than usual, trust me. This is the key to a perfect quiff hairstyles. Also going with the theme of the article today, we wouldn't forget the fades.
3. Tapered Mohawk
A Mohawk but we would not shave off the sides completely, instead we will go for a fade look. Not just any fade look, a tapered one. This hair-look is completely funky and is also giving major 90s vibes, with a pinch of 2023.
4. Tapered Mohawk with Shave lines
This one is far more interesting than anyone would have expected. You will make all the heads turn if you choose to go with this one. It's a Mohawk with Tapered side fades but wait! It get's better. We have some strong shave lines for the statement look.
5. Tapered Fro-hawk
Technically they are called Frohawk, because it's a Mohawk on Afro hair. Very simple but definitely goes a long way with impressing people with the looks.
6. Tapered Fro-hawk With Shave-lines
Afro hair that falls on the long side of the spectrum. Now let you natural hair do the magic with those shave lines.
7. Curls with Tapered Fades on Sides
When we say curls, here we are talking about soft curls. The ones that look a little messy on the top pf the head and compliment the clean fades. It's a really cute hairstyle if you are planning to go for a chocolate boy look.
8. French-cut with Faded sides
French cut really frames the face and takes in account the size of the head. It would definitely give you a clean look. the longer stands of the hair are not too long where they look messy and unnecessary.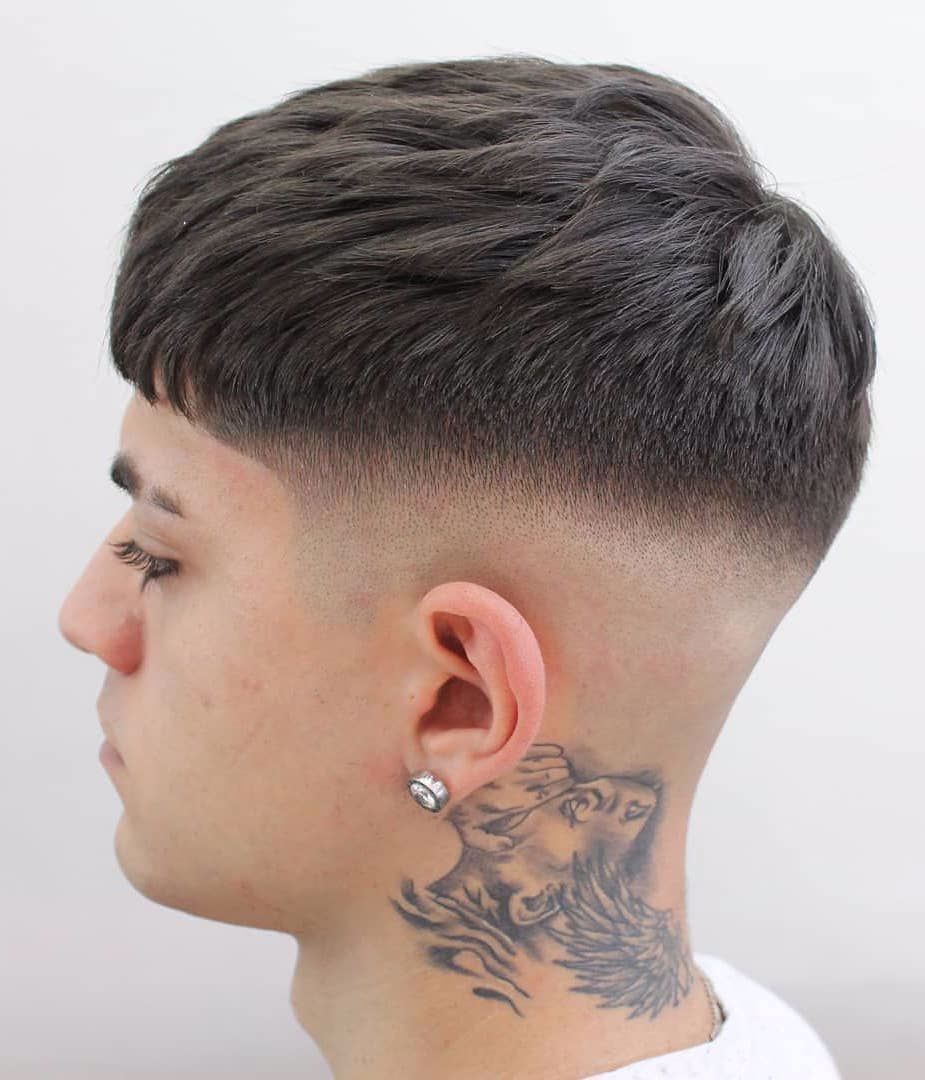 9. Man-bun with Tapered Fades
Man bun is a classic for the macho men. With faded sides, the focus only revolves around the top and that gets complimented by the bun.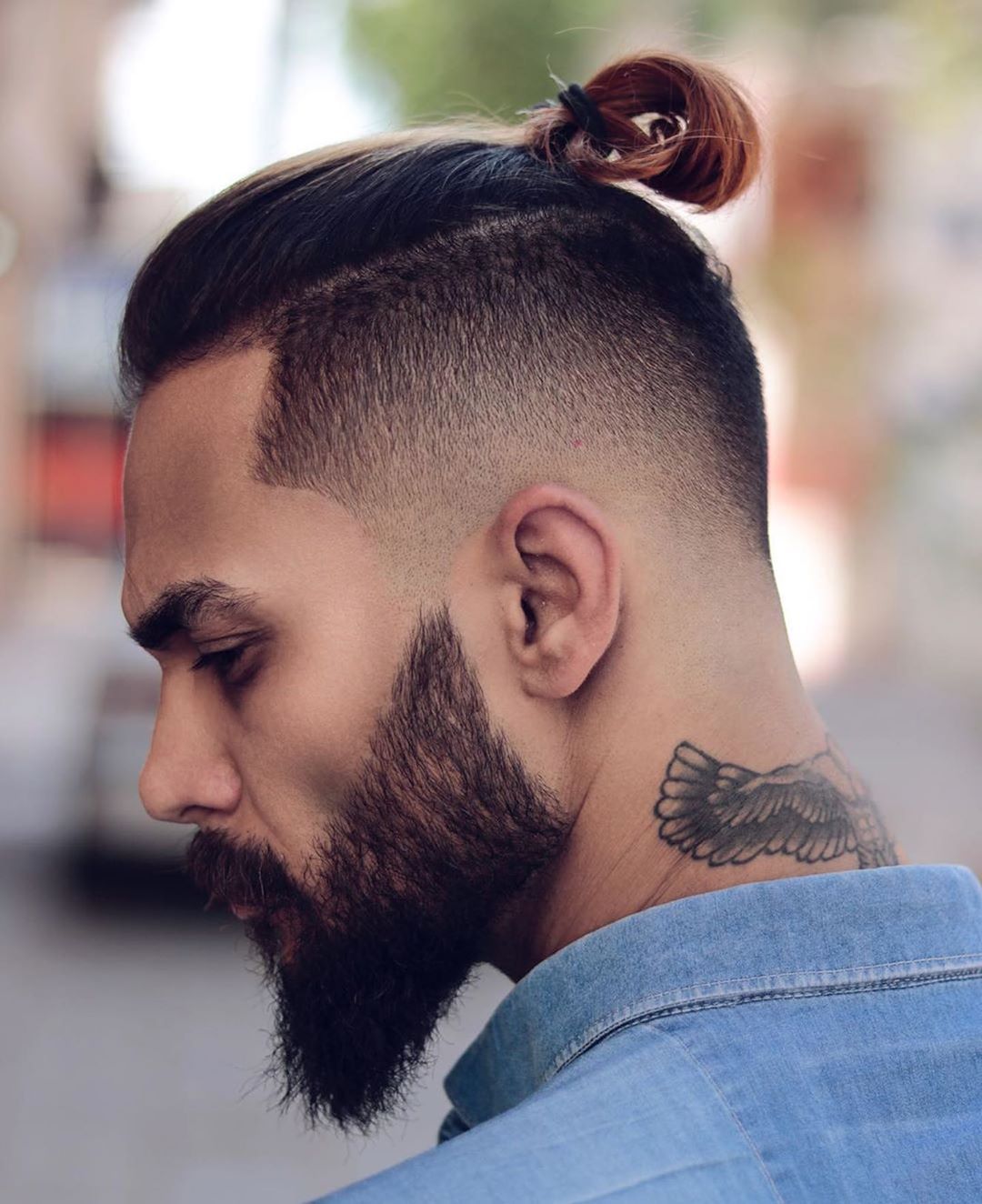 10. Dreads with Faded Sides
A unique and little less conventional hairstyle that men go for. But it definitely has an aesthetic look to it. Dreads are rather hard to achieve and even more difficult to carry and take care of.
11. Spikes With Faded Sides
This is the easiest and the most common hairstyle when it comes to men. Faded sides with simple and effortless spikes. You can use a hair gel or just a blow dryer for this look.
12. Textured Long hair With Faded sides
While saying textured, we mean any kind of texture, frizzy, wavy, curly, anything does. Then we will go with those fade on the sides.
13. Side Swept Long Hair With Faded Side
This used to be so popular back in the days, and who knows when it will make a comeback. Could be anytime soon. Side Swept hair carries a punk vibe with it, so you already know it's amazing choice for you if you are young.
14. Long Top With Bald Fade
Blade fade is a skin deep fade that also give a very crisp and clean edge. If you are looking for a clean look then you should definitely consider going for this style.
15.  Comb Over top With Shave-line and Fade
If you are looking for a hairstyle that would make you look delightful on some formal event, then look no further than this. This comb over top with fades and shave lines is just the look for you.
16. Blade Fade and Sharp Hairline with Long Top
Blade Fade is already a clean look for gentlemen, but guess what! You can make it look even more clean by adding those clean edges. This hairstyle overall looks very well groomed and fresh.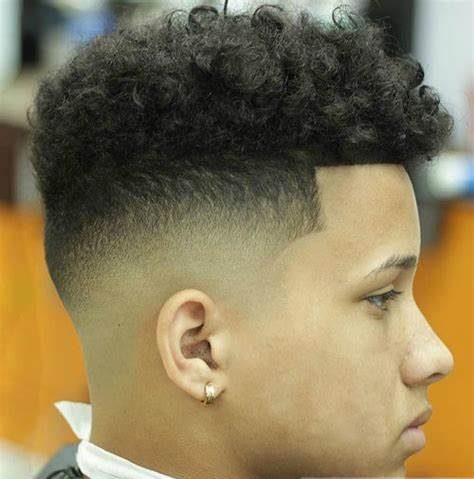 17. Pompadour With Fades
Pompadour gives a lot of length and volume on the top section of the hair. Add it with some fades and the overall hairstyle will look even more voluminous. This hairstyle carries a retro look but by adding those fades, we can revamp the vibes completely.
18. Low drop Fades with Long Top
Very simple as far as the haircut goes, exactly what the name says. Long top with faded sides. When styled properly, it looks formal and clean.
19. Faux hawk with drop fade
Faux hawk, as I call it the long lost cousin of Mohawk, is very simple and funky. A little drop fade will reinvent the entire hairstyle completely and make it look like something in between. Something that doesn't have an official name yet.
20. Brushed Back Hair with Mid-skin Fade
brushed back hair looks very Italian in general and not to mention that they are extremely easy to carry. However, you obviously need some hair product to keep things in place.
21. Messy Top with Skin low Fade
Any hairstyle can become this hairstyle, you just have to know how to mess your hair up. It sounds absurd and funny but that's what this hairstyle is about, absurdity.
22. Coiled Top With Tapered Fade
This hairstyle requires a very specific texture of hair which is commonly present on black people. This amazing hairstyle includes flaunting the natural gorgeous coiled hair with the sides faded to accentuate the to better.
23. Sleek back Top With Tapered Fade
This is again of those clean hairstyles. Even though the top hair is long, it's not too long that would look messy or be hard to handle. Just the right length to make it look clean and groomed.
24. Long Top with Undercut
A decent hairstyle. It makes you look effortlessly charming, specially if you have a square face shape. Some beard and moustache completes this hairstyle and you look very manly by appearance.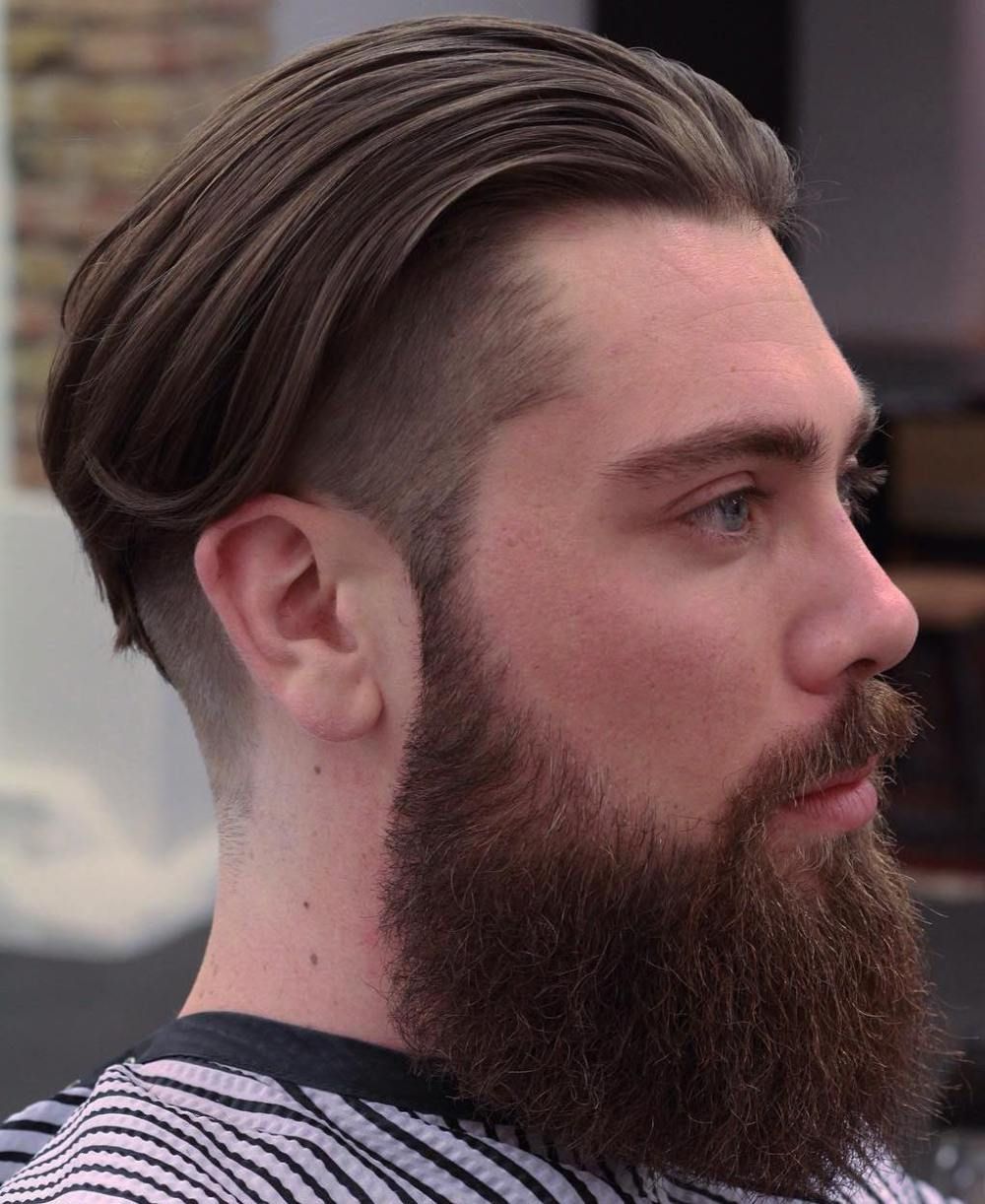 25. Pomp With Shave-lines and Fade
A voluminous pomp with side fades is just an amazing ideas to begin with, but it gets better with the shaved lines. Look at those shave lines, so clean so sharp. It changes the aesthetic of a Pomp from Disney prince to a rock band guitarist.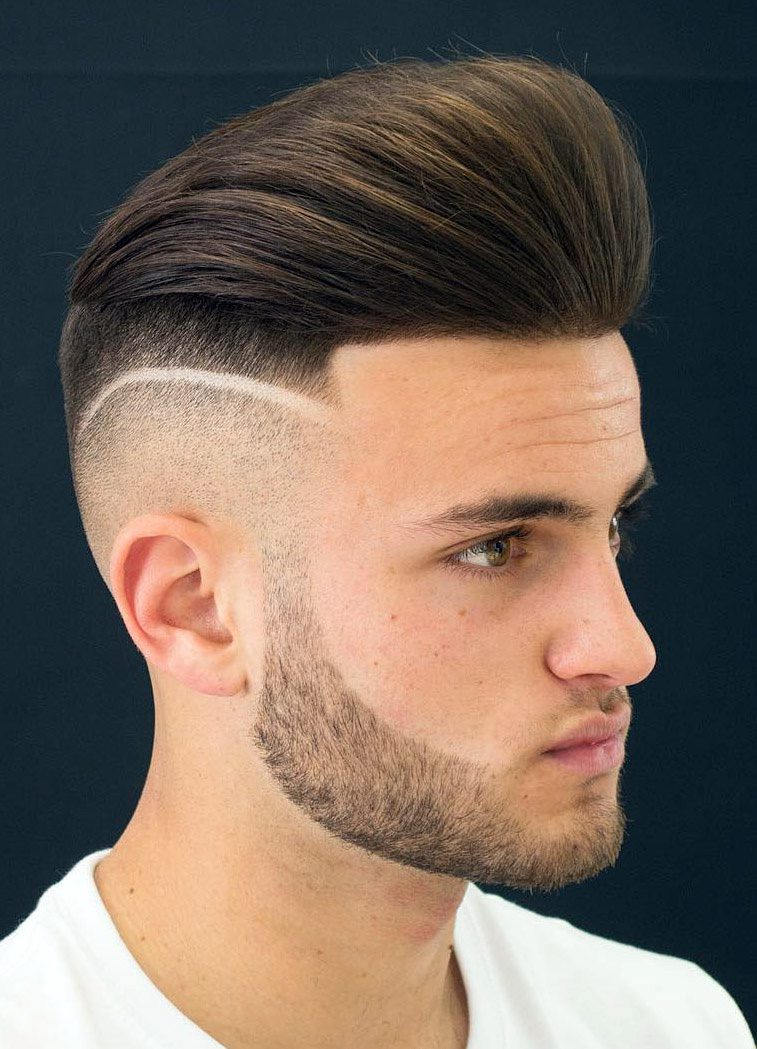 26. Long Frizzy Top with Skin-low Fade
If you don't want a lot of products on your natural hair, then keep them natural. Flaunt your frizzes naturally with some clean edges and skin low fades on the sides.
27. Box Braid Top with Shave-line Fade
This is a hairstyle that suits the black people better. The origin of this hairstyle goes back to them, the suitable hair texture goes back to them, everything about this style looks better on them. But overall it's a very cool hairstyle.
28. Braided Bun With faded Sides
As if a man bun wasn't already a great hairstyle for men, we have added some braids into it. This hairstyle definitely needs some skill to be achieved. But once you manage to do it right, it will make you look very stylish and in control of your appearance.
29. Highlighted Long Top With Tapered Fades
If you know which colour suits you the best, then highlights can do wonders on your hair. They can add so much dimension into  very basic hairstyle that it's unimaginable.
30. Waves with Faded Sides
Waves are a great pick for a beach days, and just any outdoorsy activity. They are easy to achieve and also effortless to manage. The look stays intact throughout the day, and it also looks adorable.
31. Mullet With Faded Sides
A mullet is technically very similar to Mohawk, but it has a tail. The hair doesn't stop at the nape of the neck, it follows down. The fades are amazing for accentuating the look.
32. Tight Curls on Top, Skin-low Fades on Sides
This is such a dreamy hairstyle when it comes to men. Some tight curls like a charming Disney character and some fades to keep the look from getting messy.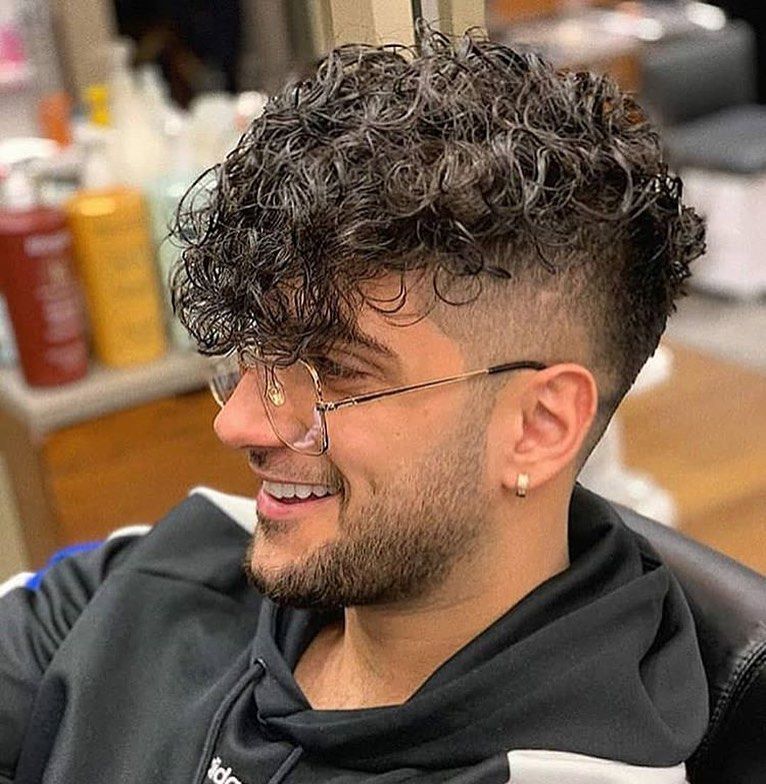 Other Articles