There are so many hairstyles and styling ideas for long hair people. But if you think you have less options just because your hair is short, You are wrong. Here we have some amazing short hair curls and their styling ideas that will make you look dreamy, chic, sexy and classy, all at the same time. because no matter if your hair is long or short, we've always got your back.
1.Wet Textured Short Curly Hair
Use some hair product to look in the damp hair look. Make sure your hair is half way dry because soaking hair would not work well.
2. Side Faded Short Curly Hair
A little fade from one side make the look more stylish and also make your curls stand out.
3. Nape Undercut Short Curly Hair
A little undercut won't hurt nobody. It gives a new meaning and style to the curls sitting on top of your head. This look is not just stylish but also very trendy these days.
4. Shaggy Short Curly Hair
This falls more on the effortless side of the spectrum. Not much is needed, a little hair product for making your hair look bit healthy and leave them looking shaggy.
5. Bangs Short Curly Hair
Bangs are always cute when done right. With curly hair they look very attractive and are perfect for a square face.
6. Bob Short Curly Hair
Make sure your curls are healthy. A bob cut is considered to be short hairstyle but it is still a lot of hair, therefore the curls should look healthy. Or else you might look a little witchy.
7. Grey Short Curly Hair
Perfect for women above the age of 60. Don't let your age stop you from looking stunning.
8. Curly Bixie Hair
Bixie is when the hair is not short enough for being Pixie and not long enough for being a Bob. It falls in between and gives a beautiful length to flaunt your curls.
9. Messy Short Curly Hair
Cute and messy. This is the most effortless hairstyle that you could work with. Do not have to perfect your curls for this look.
10. Pixie Short Curly Hair
Pixie haircut is so adorable in itself already. Now imagine pairing it with curls. God if looks could kill.
11. Red Head Short Curly Hair
Red hair looks stunning no matter how you style it. Short red hair with curls remind me of the quote from 'IT' movie "your hair is winter fire, January embers. My heart burns there too". That is what it looks like, red flames of fire.
12. Short Hair With Soft Curls
Soft curls are such an aesthetic look. It gives me old Hollywood vibes for sure.
13. Shoulder Length Short Curly Hair
Shoulder length hair is longer than Bob but still a short hairstyle. When you curl your hair up it shortens up even more. But look how pretty these curls are.
14. Short Hair With Tight Curls
Tight curls will make it look like you know how to work with your hair. It is definitely a difficult process and the hair is hard o deal with. But anything for this beautiful curly fluff.
15. Asymmetrical Short Curly Hair
Straight out of a fashion show. Show me something more trendy and chic. Who likes symmetry anyway, it predictable and boring. This hairstyle on the other hand is out of the box.
16. Layered Short Hair Curls
Beautifully layered hair is already such good of an option for any hairstyle and curls are no exception.
17. Rezo Cut Curls
This haircut is meant to accentuate your curls. it allows them to grow freely and most importantly gives an amazing volume to the crown area.
18. Bed Head Short Curly Hair
Make it look like you just stepped out of your bed, with those curls. Messy, effortless and cute.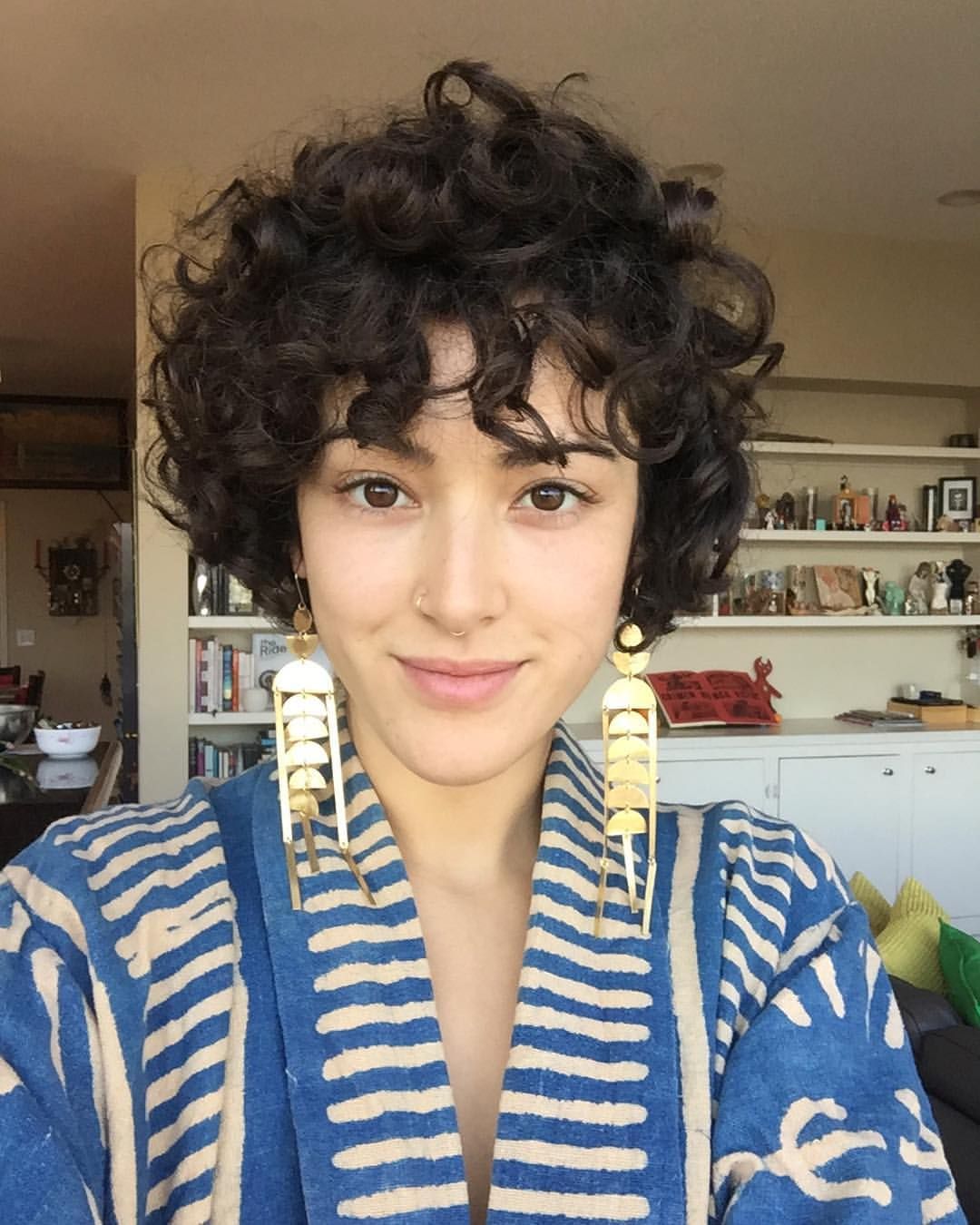 19. Short Curly Hair with Highlights
Highlighting your hair with the right shade can do wonders. And this hair look is a perfect example of that.
20. Frohawk Curls
A combination of two words, Afro and Mohawk. This hairstyle is a Mohawk on Afro hair, which is naturally curly and adorable.
21. Inverted Bob Short Curly Hair
A little longer in the front and shorter in the back. Cool right? Now add some curls and you will amaze yourself with how pretty it looks.
22. Frizzy Curly Short Hair
A little frizz, when styled properly, can look very sexy. You just have to have a clear idea of what you are working with and how you want it to look.
23. Side Swept Short Curly Hair
Sweep your hair to the side by parting it from the side as well. Gives so much volume to your already voluminous hair.
24. Permed Curls On Short Hair
A good old perm is always pretty, regardless of your hair length. Extra points of you have highlighted hair.
25. Beach Waves Curls On Bob Hair
This is a little unconventional. Some people say beach waves and curls are  not the same but hey! It works for many. Also, we are not going to ignore the fact that it just looks so adorable and outdoorsy.
26. Bouncy Curls On Short hair
These curls are neither too tight not too soft. Just the right way that they should be to look bouncy and full of volume.
27. Short Curly Hair With Bandanna
Use a bandanna like a hairband to keep those curls off your face and you are good to slay.
28. Braid Waved  Curls On Short Hair
Overnight braids can give you beautiful waves and curls. But if you are looking for perfect spiral curls, this look is not for you.
29. Blown out Curls On short Hair
A blow out look on short hair. It gives a beautiful wave and if done right, Also makes your hair curl softly.
30. Sleek Top Curly Back hair
Put your hair in a Bun and smooth out the hair in the front. Let you bun be curly and fluffy.
Other Articles