Curly hair has a magical allure, a natural beauty that captivates everyone around. Yet, those blessed with luscious curls often face challenges in finding the perfect hairstyles that highlight their unique texture. Fear not, for we are here to celebrate and embrace your gorgeous curly hair! This blog post features 30 Effortless Hairstyles For Naturally Curly Hair. From romantic updos to playful down-dos, these hairstyles will help you bring out the best in your curls and make a statement with your beautiful hair.
1. Classic Curly Bob
The classic and ever-popular curly bob hairstyle is an undeniably flattering option for those with naturally curly locks. This chin-length cut emphasizes curls' natural bounce and texture, giving you a chic and effortless look.
2. Side-Swept Low Ponytail
Choose a side-swept low ponytail for a quick and stylish look. To achieve this look, make a side part or sweep your hair back. Twist sections from each side of the head loosely at the temples. Secure with bobby pins at the back of the head. Sweep your hair to one side and place it over your shoulder. Take two small sections from beneath and wrap them around the ponytail to resemble a hair tie.
3. Fishtail Braid
The fishtail braid is a fabulous hairstyle that effortlessly elevates your curly tresses, exuding an air of sophistication and elegance. This intricate braid, made by weaving two sections of hair together, is sure to turn heads at any event.
4. Top Knot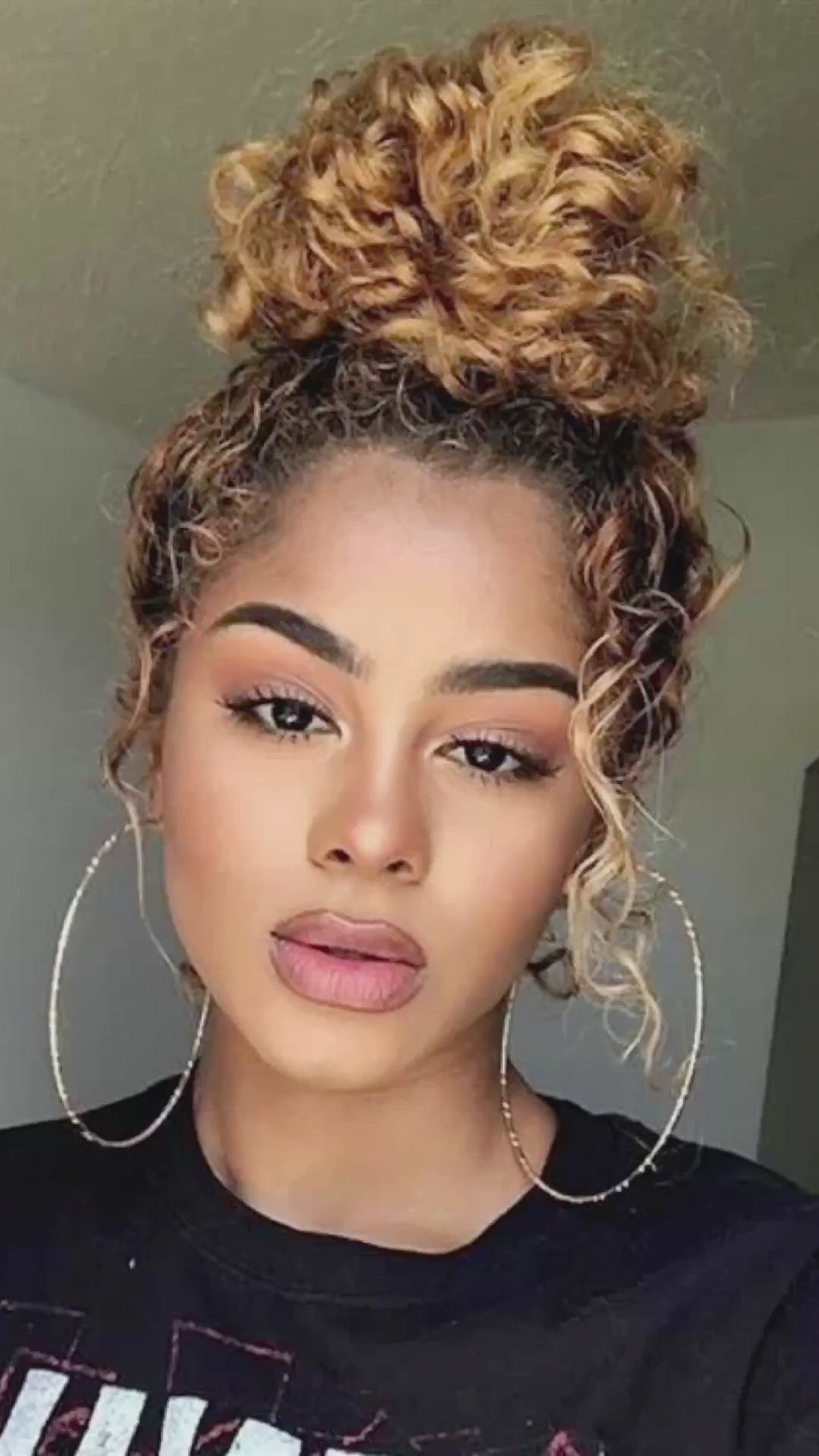 The curly top knot hairstyle is an absolute game-changer when it comes to effortlessly managing your hair while flaunting those gorgeous curls. This chic and trendy updo is absolutely perfect for a fun-filled day out with your beloved friends.
5. Crown Braid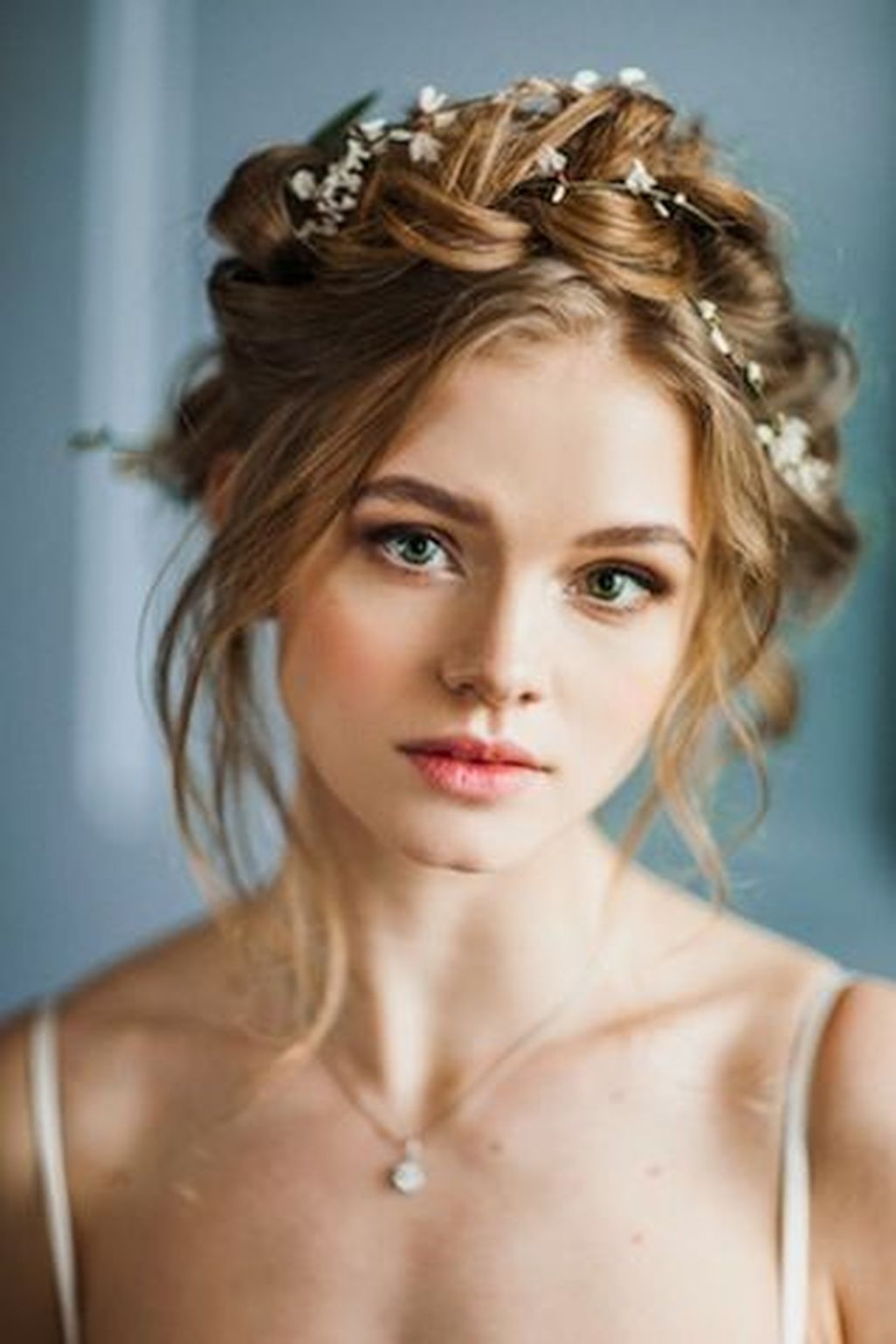 The crown braid, also commonly referred to as the halo braid, exudes a regal charm. Wrap your curls around your head like a crown, and secure with bobby pins for an enchanting and bohemian look.
6. Half Bun for Short Hair
If you're rocking short curly locks, then the half bun is definitely the style you need to try out. Create a chic and effortless look by gathering the upper section of your curls into a cute bun, allowing the remaining curls to flow freely and exude a carefree vibe.
7. Twisted Updo
Take your curly hair game to the next level with a stunning twisted updo. Create a stunning and sophisticated updo by delicately twisting and pinning sections of your curls. This exquisite hairstyle exudes an air of elegance and grace, making it the ideal choice for weddings and other formal occasions.
8. High Bun with Scarf
Elevate your high bun with a burst of vibrant color and undeniable flair by adorning it with a stylishly wrapped scarf. The playful and trendy nature of this style not only adds a fabulous touch to your look but it also serves as a protective shield for your precious curls against various environmental factors.
9. Messy Chignon
The messy chignon is a romantic and carefree hairstyle. You can achieve this look by gathering your curls into a loose bun allowing a few tendrils to escape, creating an effortlessly beautiful look.
10. Dutch Braid
The Dutch braid is a great choice for curly hair Start with a small section of hair near the forehead. Braid it by crossing the strands under each other in the opposite direction. As you move down the head, add more hair as you go. This chic and secure braid tames curls while showcasing their beauty, perfect for any day or night look.
11. Cuffed High Ponytail
The cuffed high ponytail is a chic twist on the classic style, adding sophistication and edginess. Gather your hair high at the crown, wrap a section around the hair tie, and then slide on a stylish hair cuff just above the wrap. It's quick, easy, and versatile, perfect for any occasion.
12. Braided Headband
A braided headband adds a magical touch to curly hair. Take a section of hair near your ear and braid it across your brow. This hairstyle has a bohemian flair that makes it ideal for music festivals or casual outings.
13. Relaxed Ponytail
The relaxed ponytail is all about embracing the natural charm of your curls. Gather your hair into a low ponytail, allowing some tendrils to frame your face. This laid-back style is perfect for when you want to keep your hair off your shoulders while flaunting your beautiful curls.
14. Folded Voluminous Updo
A folded, voluminous updo is the perfect way to show off your gorgeous curls. Make a high ponytail with your curly hair, then loop the end and secure it with bobby pins. This glitzy look is perfect for a prom or a wedding.
15. French Braided Low Ponytail
Fancy up a low ponytail with the grace of a French braid. Start at your hairline and braid all the way down to your back. Put your curls in a low ponytail, and you'll be ready for the office or brunch in no time.
16. Twisted Maiden Braids
This lovely twisted braid style requires only a few minutes and a few bobby pins to achieve. Make a crown out of your hair by parting it in half, twisting each half, and wrapping the ends around each other with pins. This ethereal look will keep your curls in check while enhancing the magic of any occasion.
17. Sock Bun
The sock bun is an excellent style for curly hair. Put a hair donut at your ponytail's foundation. Wrap your curls around the sock until it is completely covered, and then fasten it in place with an elastic.
18. Waterfall Braid
This mesmerizing hairstyle is perfect for both formal occasions and casual outings, allowing your natural curls to shine through while showcasing the intricacy of the braid.
19. Half Up Space Bun
This playful hairstyle adds a touch of whimsy to your natural texture. Gather the top half of your curls, twist them into buns, and secure them with pins. Flaunt those ringlets, and rock the cutest look for any day out.
20. Low Bun
The low bun tames your curls while exuding casual elegance. Embrace your natural curls by gathering them gently at the nape of your neck and securing them with a stylish hair tie. Allow a few loose tendrils to frame your face, exuding a carefree vibe while still looking stunningly sophisticated.
21. Wrap It Up
Wrap a colorful or patterned scarf around your head and tie it in a knot or bow to achieve this chic look. With this trendy accessory, you can easily dress up any outfit, giving it more style and personality.
22. Bubble Ponytail
This voluminous ponytail features bubbly sections for a trendy and eye-catching look. Embrace the Bubble Ponytail's allure to show off your curls in a stylish and one-of-a-kind way, making a statement with every step you take.
23. Loose Side Braid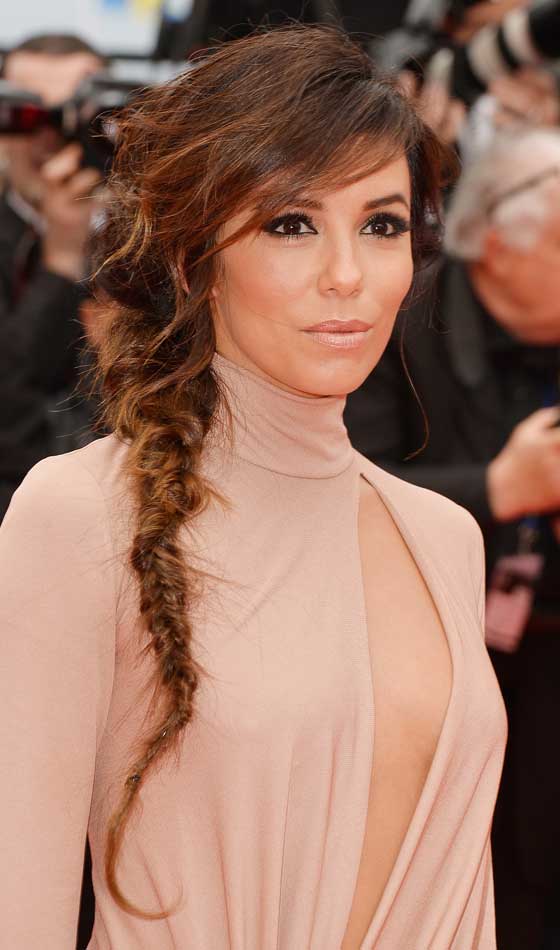 This effortlessly cool hairstyle involves creating a relaxed braid over one shoulder, allowing a few strands to gently frame the face. This laid-back yet stylish look is ideal for both everyday wear and special events, adding a touch of bohemian charm to your overall appearance and easily enhancing your natural beauty.
24.Side-Parted Waves
This ethereal hairstyle with a deep side part gives a touch of glamour and allure to any occasion. With each sway, effortlessly enhance your curly locks while exuding confidence and elegance.
25. Bantu knots
This fabulous hair technique, which incorporates the timeless beauty of traditional African style, not only enhances your overall look but also serves as a protective measure for your precious curls.
26. Loose And Natural Curls
Less is sometimes more. Accept your curls as they are, and let them shine with pride.
27. Curly Pixie Cut
This haircut has a cropped length with playful curls that add texture and volume. This chic and sassy look flatters all face shapes and is ideal for those seeking a bold and effortless look.
28.Curly Pigtail
Curly pigtails are a fun and youthful hairstyle that divides the hair into two sections and is tied with elastic bands at the nape of the neck or higher on the head.
29. Pineapple Updo
The pineapple updo is a chic and adaptable option for women with natural hair. The curls are gathered on top of the head to form a loose, high bun that is meant to evoke a pineapple. This protective style keeps the curls intact and prevents frizz, making it an ideal choice for maintaining curly hair.
30. Curly Faux Hawk
This daring and edgy hairstyle combines the elegance of curls with a rebellious twist. Make a center row of teased curls and smooth down the sides for a bold look that exudes confidence and individuality.
Other Articles