The new shaggy bob hairstyles combine the vintage 70's look with modern versions and look. The shaggy bob haircut is simple but striking: it features textured asymmetrical layers and cropped ends in a hairstyle that adds texture and volume to the face.
If you like to experiment and prefer a timeless classic look, these shaggy bob haircuts are an excellent choice.
The top 47 shaggy or messy hairstyles to try to change up your different and eye-catching multitude of looks are listed below.
1. Choppy and Shaggy Bob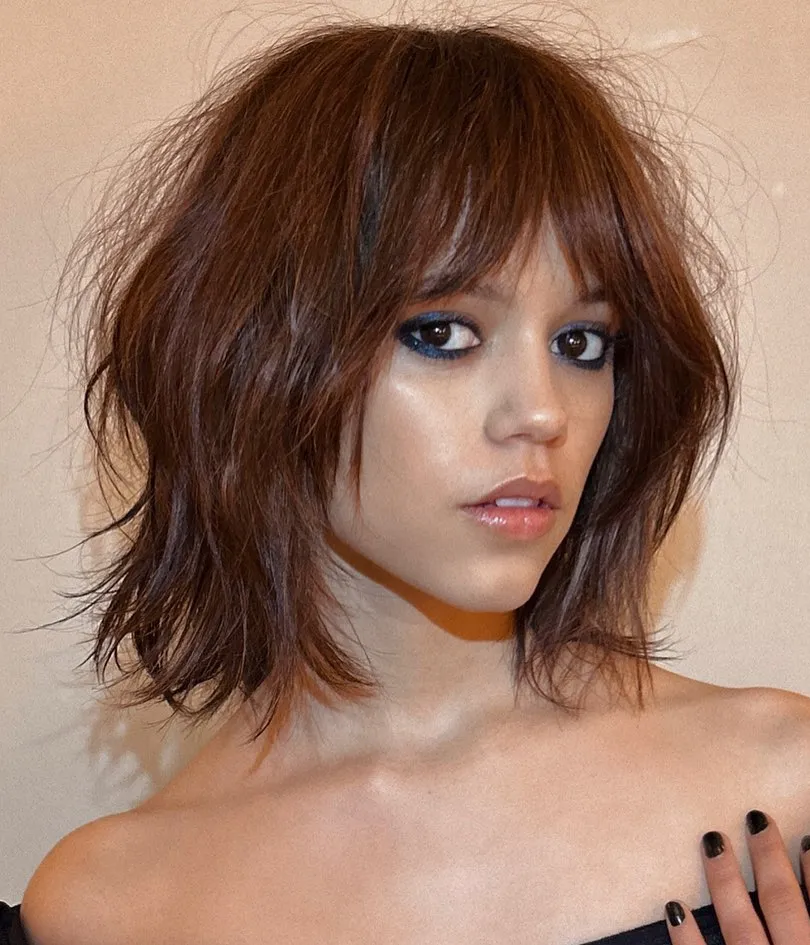 Jenna Ortega, the Wednesday star, debuted this choppy bob, which is set to be a huge style for 2023. Even if it's choppy and possibly razored, ensure balance and symmetry. Try this haircut on your brunette or black hair for a similar look.
2. Platinum-colored Layered Shaggy Bob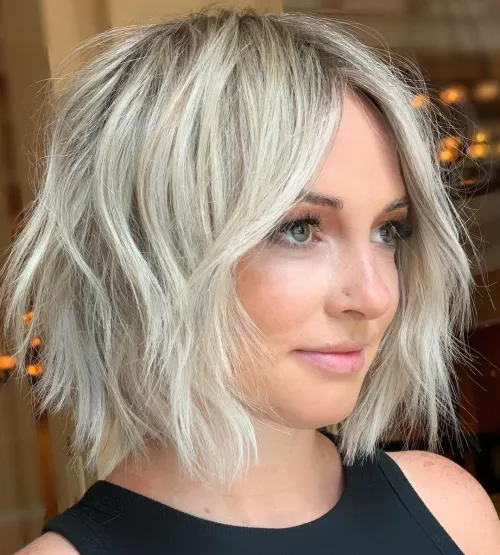 Choppy layers highlight the dimension of platinum hair color better than anything else, so choose shaggy bob hairstyles like this to add movement and volume to your locks! Use curtain bangs as a face-framing accent to help your round face appear thinner.
3. Ashy Blonde-colored Blunt Cut Bob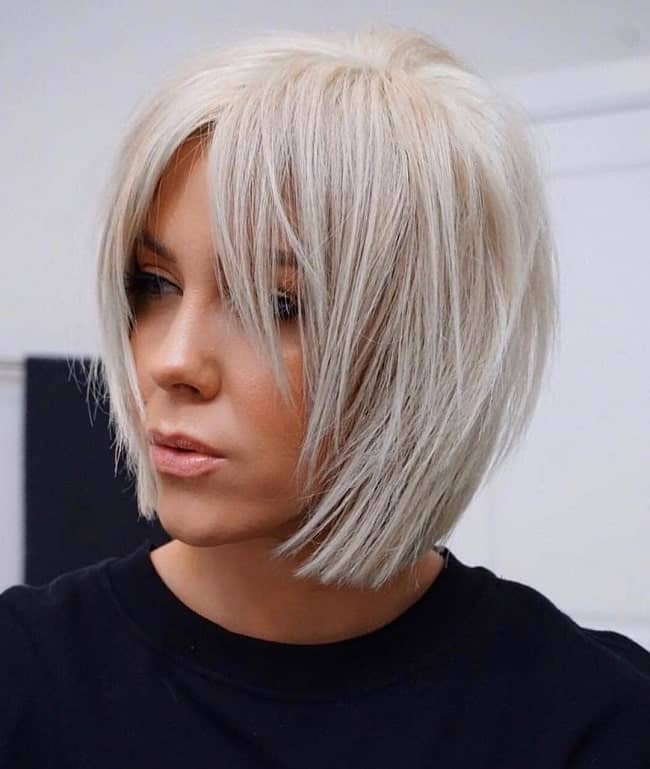 An ashy blonde hair color is eye-catching; if you recreate that stunning texture, the hair will have a great touch! Go for a blunt cut for the ends, but pile on the layers to achieve that rich top hair. Split and feather the bangs in the middle.
4. A Cute Looking Curly Shaggy Bob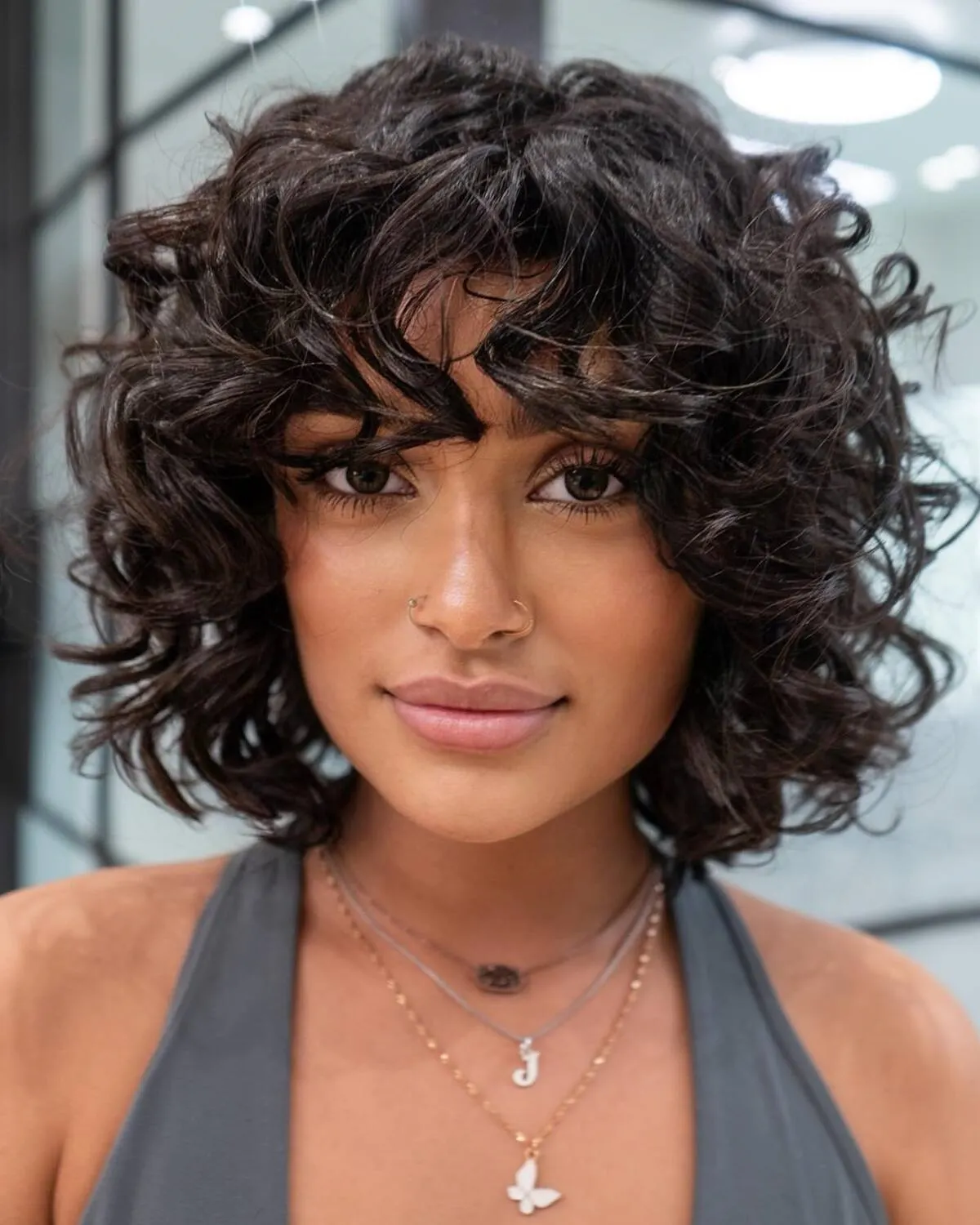 Curly hair looks great with a shaggy hairstyle; all you have to do is create layers to keep your ringlets bouncy. Also, bangs that cover your brow can enhance your appearance. Use a strong hair spray to keep your curls in place all day.
5. Asymmetrical Shaggy Bob with Peachy Waves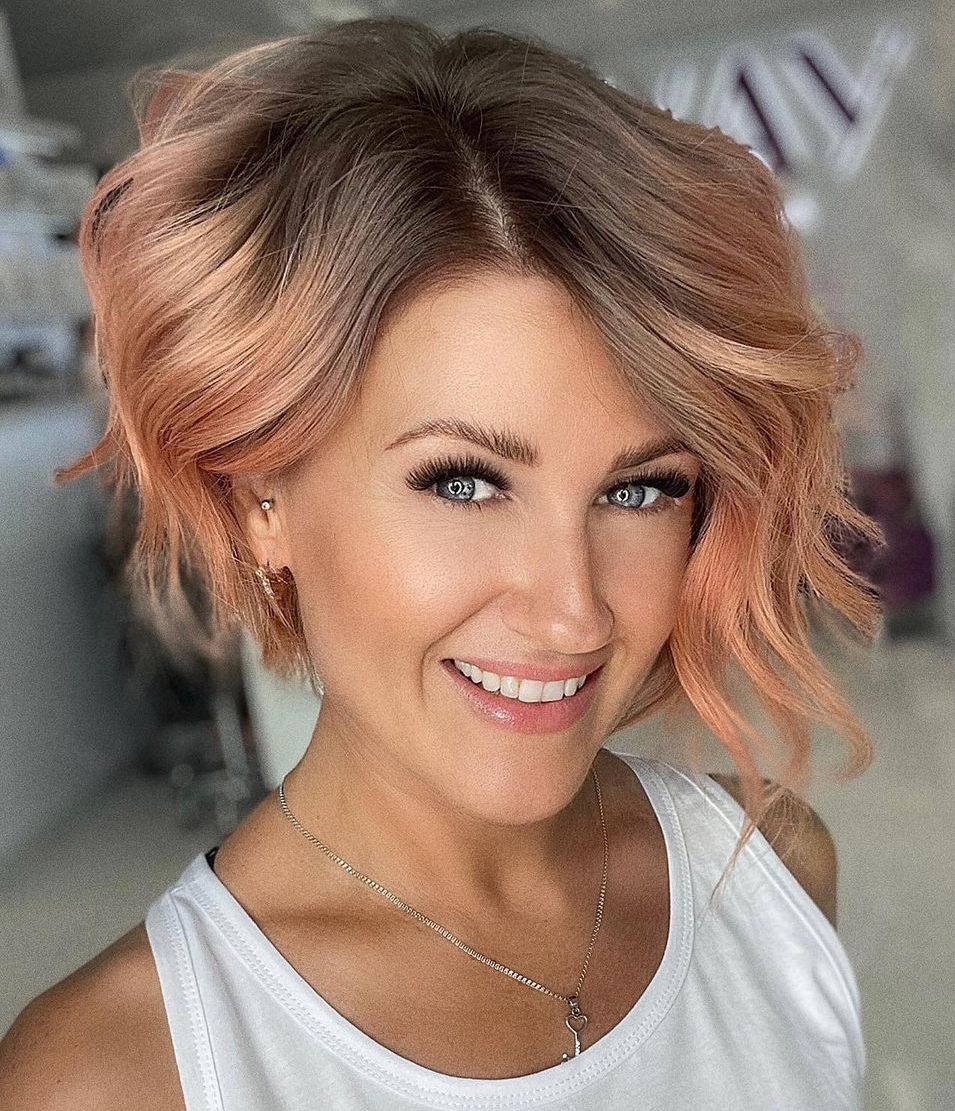 Asymmetrical shaggy bob hairstyles are trendy and can be worn by any confident woman who isn't afraid to show off her bubbly personality. For girls with pale skin, a haircut with ginger or peach highlights and bangs that shape the brow will look stunning.
6. An Undercut with a Mini Side-braid Shags
Cut an undercut on one side with a trimming machine. Choppy ends are essential in creating this shaggy hairstyle. Make a mini braid and tie it to your shaved side. Enjoy the attention by creating a wavy look for the rest of your hair.
7. Burgandy Bob Embellished with Glitter
Show off your creativity with a hairstyle that features modern messy waves and a standout color. For a more appealing look, try burgundy hair color for your shaggy bob, and now add some glitter to your locks. You can wear this on any special occasion.
8. Razored Shaggy Bob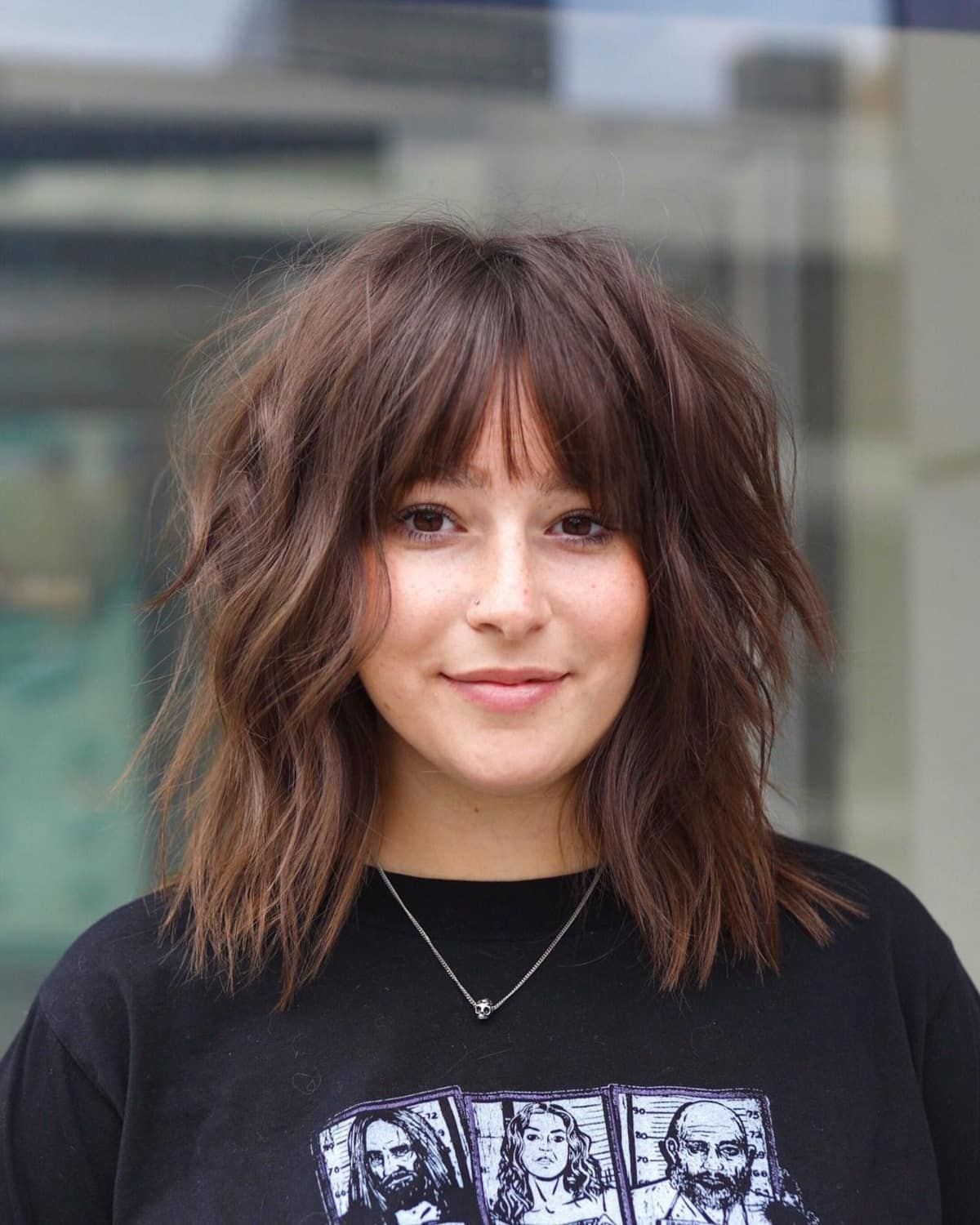 Using a razor to trim the edges is one of the best ways to achieve these well-defined edges. A grain brown hair color is ideal, and it looks excellent with slightly middle-parted bangs. Tousle your hair to create a unique and beautiful hairstyle.
9. Hair Clip and Bubblegum Pink Shags
If you have a shaggy cut with a bubblegum pink undertone, this hairstyle will add more value to your colored bob, making them blend and fall over each other beautifully. Tie your hair from either side with a pin for a comfortable look.
10. Highlighted and Angled Shaggy Bob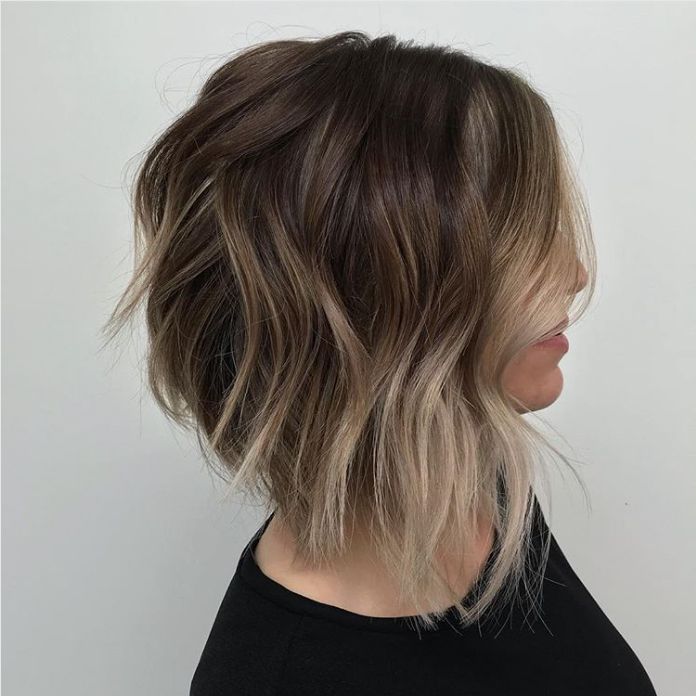 If you have fair skin, a grain hair color will look great. Layers, waves, and gradually trimmed bangs styled on one side look great with angled shaggy bobs. Remember that the cut for this bob style must be above the shoulders.
11. Bob with Mid-parted Beachy Waves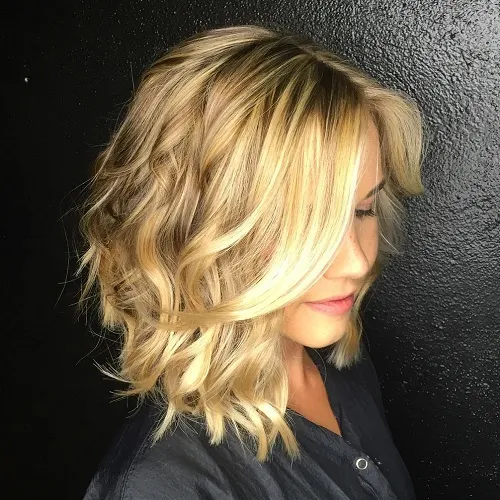 While a wavy style with curtain bangs was once considered unfashionable, it can work with shorter styles because it helps to blend different layers. A hairstyle with mid-parted beach waves and bangs in the front will frame the face and work incredibly well to slim, chubby cheeks.
12. Side-parted Shags with Bobby Pins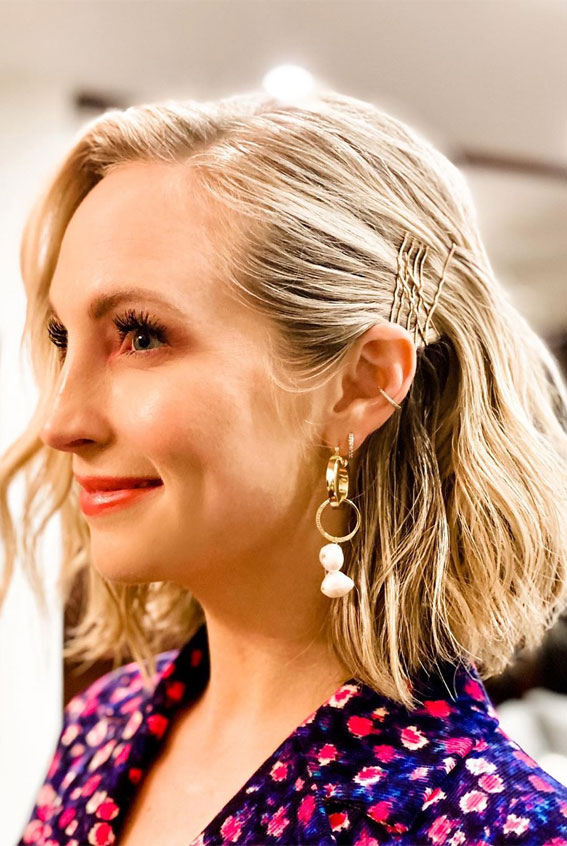 Were you looking for some bobby pin hairstyle inspiration? Apply some hair gel to your shags for a polished look. Pulling those tangled waves back will now take some bobby pin side action. And you're ready, miss lovely.
13. A Shaggy Ponytail at the Lower-back Part
A bob haircut ponytail is one of the cutest ponytail styles. Keep the bangs on the sides and gather the rest in a low ponytail at the nape. Pull a few strands away from the back to create a bump and a messy look.
14. Half-Up, Half-down Shaggy Hairstyle
Do you want to know how to style a shaggy bob haircut? There are numerous ways to style your new short haircut, from updos to braids. Personal favorite? This adorable half-up, half-down hairstyle. Make a bun or a ponytail out of your messy front bangs, or tuck them up with bobby pins.
15. Voluminous and Textured Shaggy Bob
Such depth and dimension! Combining baby lights with a great layered bob-shaggy hairstyle will turn heads. Not only is the color stunning, but so are the deep and textured waves that form such a magnificent structure. And, also, those long and voluminously styled curtain bangs.
16. Short Shags Wrapped into a Bandana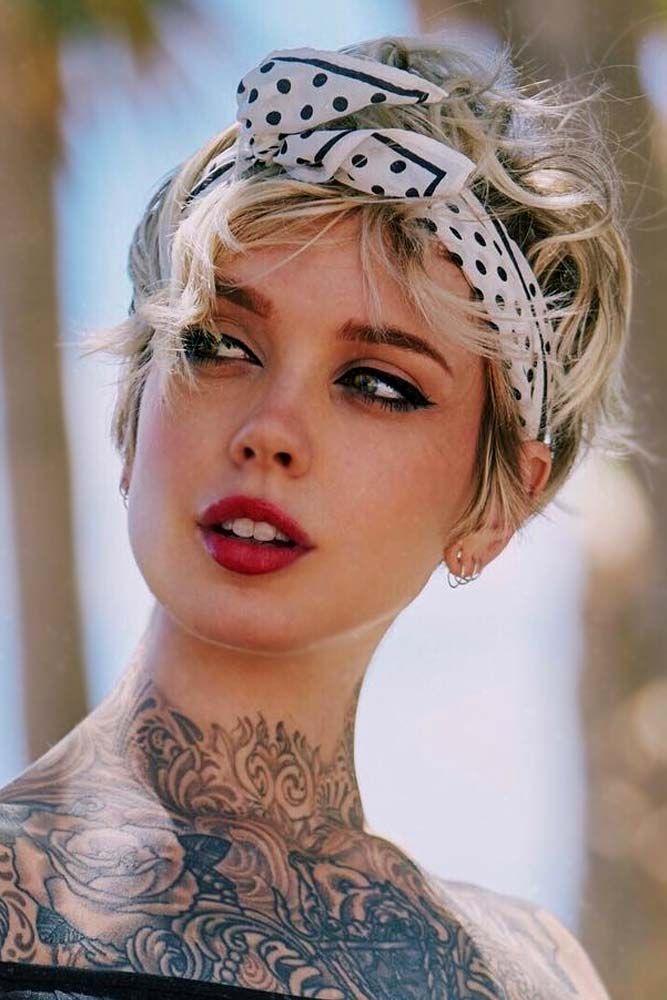 A bandana is an excellent accessory for styling haircuts. Are you sufficiently piqued? Wrap your favorite scarf around your short shags to the back. It will make you look great whether you wear it as a headband or scarf.
17. The 90s Style Messy Bob
Shaggy bobs are versatile because they can be styled in unexpected ways. Here's a hairstyle in the style of the 1990s. Make the front hair short and the nape hair longer. Create a tousled look and wear it to sports or the gym.
18. Mini French Shaggy Bob Hairstyle
As if we needed another reason to adore the mini French bob. This bob hairstyle will look great with any outfit, whether alone or with a stylish barrette. This hairstyle is the above-the-chin length and features mini-curtain waves with a shaggy appearance.
19. Dirty Lilac-colored Shaggy Bob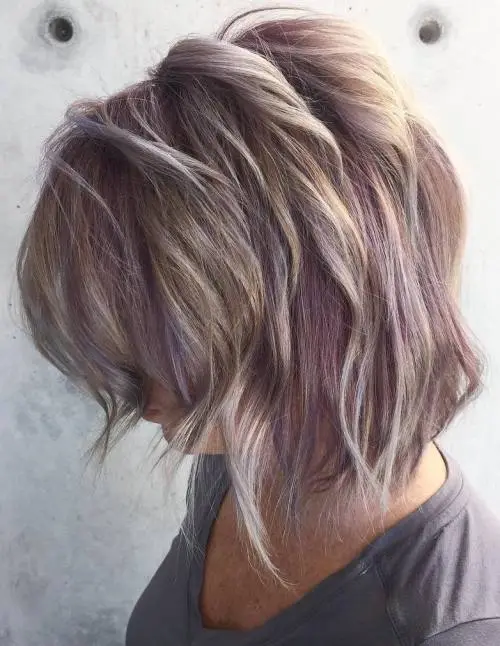 You don't have to fully immerse yourself in color to get a hint of it. Choosing an intermediate color that complements your base color, such as a sandy or dirty lilac, is the best way to achieve this illusion on your natural blonde hair. Choose a pale mauve or lilac and prepare to be complimented.
20. Mid-parted Green Shaggy Bob
A futuristic look like this will take your shaggy bob haircut to the next level. Choose uneven and curly short bangs, and a wide electric green strand to the hair ends that will blend in beautifully with the rest of your hair. Make some loose waves to add value and dimension. You can also add yellow strands to the bangs.
21. A-Line Straight Shags with Long Bangs
A-line bangs were popular in 2013, and they're back! Combine your short shag cut bob with a long side bang to make your face look thinner and longer, creating an oval face-shape effect ideal for most women.
22. Money-piece Shaggy Bob
The money piece hair trend (lightening only the front sections of hair for a contrast effect) has exploded. It's ideal for livening up a voluminous bob, proving that flowing lengths aren't required to get in on the trend. Add some blonde or golden waves to your dark roots, and you're done.
23. Side-parted Messy Bob
Hailey Clauson's side part and loose wavy bob cut are simple to replicate (with the help of a curling iron) and are just what you need to give your strands a model-off-duty vibe. You can avoid curling the strands if you prefer straight but messy hair. Tuck your bangs behind your ear for a polished look.
24. Baby Style Shaggy Cut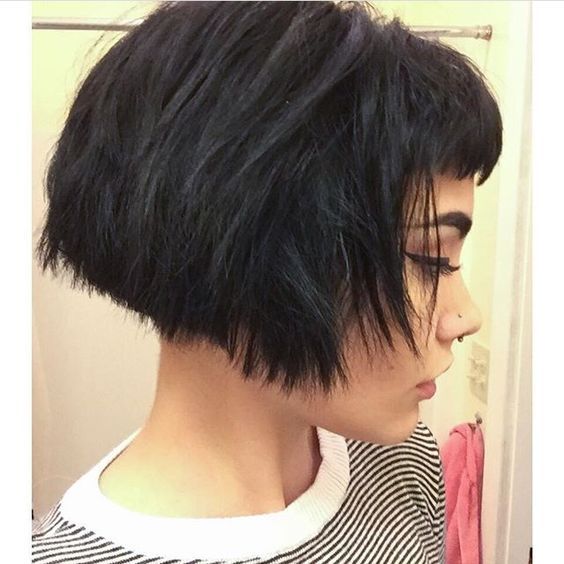 Not into girls' hairstyles? With its messed-up, soft layers, this baby shag cut is super rock 'n' roll, so it's ideal if you want something a little edgier. Shags are excellent bob hairstyles for fine hair because they help to plump up your overall appearance. All you have to do is request a symmetrical cut from your hairstylist.
25. Sleek and Side-parted Retro Half-up
Who said a shaggy bob cut couldn't be styled into a sleek look? We've created an elegant semi-collected hairstyle for you. Apply some hair gel to one side to create a half-up, and on the other side, create a retro look by forming gelled-up waves.
26. Sleek Space Buns with Shaggy Bangs
Another option is to use hair gel to achieve a sleek or wet look. If you have a lob haircut, make two space buns. And comb your bangs up to your brow. If you want to keep the look, add some accessories or use a hair spray.
27. Shaggy Mohawk Hairstyle
Mohawk hairstyles are the season's must-have. Request a shaggy mohawk haircut from your hairstylist. Although it will not look like a bob, this mohawk pixie will style your hair to be the center of attention.
28. A Multi-colored Inverted Shaggy Bob
An inverted bob is a fun style that falls gracefully around the chin and face, creating a one-of-a-kind look. It's ideal for women with angular faces who want to soften their appearance without detracting from their overall beauty. Add peacock tones to the bob to look similar to the image above.
29. Professional Short Shags with Wispy Bangs
Add a wispy bang to your short or medium shaggy bob. They look great on almost everyone and will instantly give your short bob a more fun look. Wear it to professional meetings, parties, or even a casual photoshoot. This is a fashionable hairstyle.
30. Brunette Shaggy Bob for Thick Hair
A brunette shaggy bob for thick hair will add volume to your mane and allow you to express your personality. With some pale ginger or brown strands in the middle of your bangs and sideburns, you'll have everyone's attention. Aren't you eager to put it on?
31. Side-parted Shaggy Bob for Thin Hair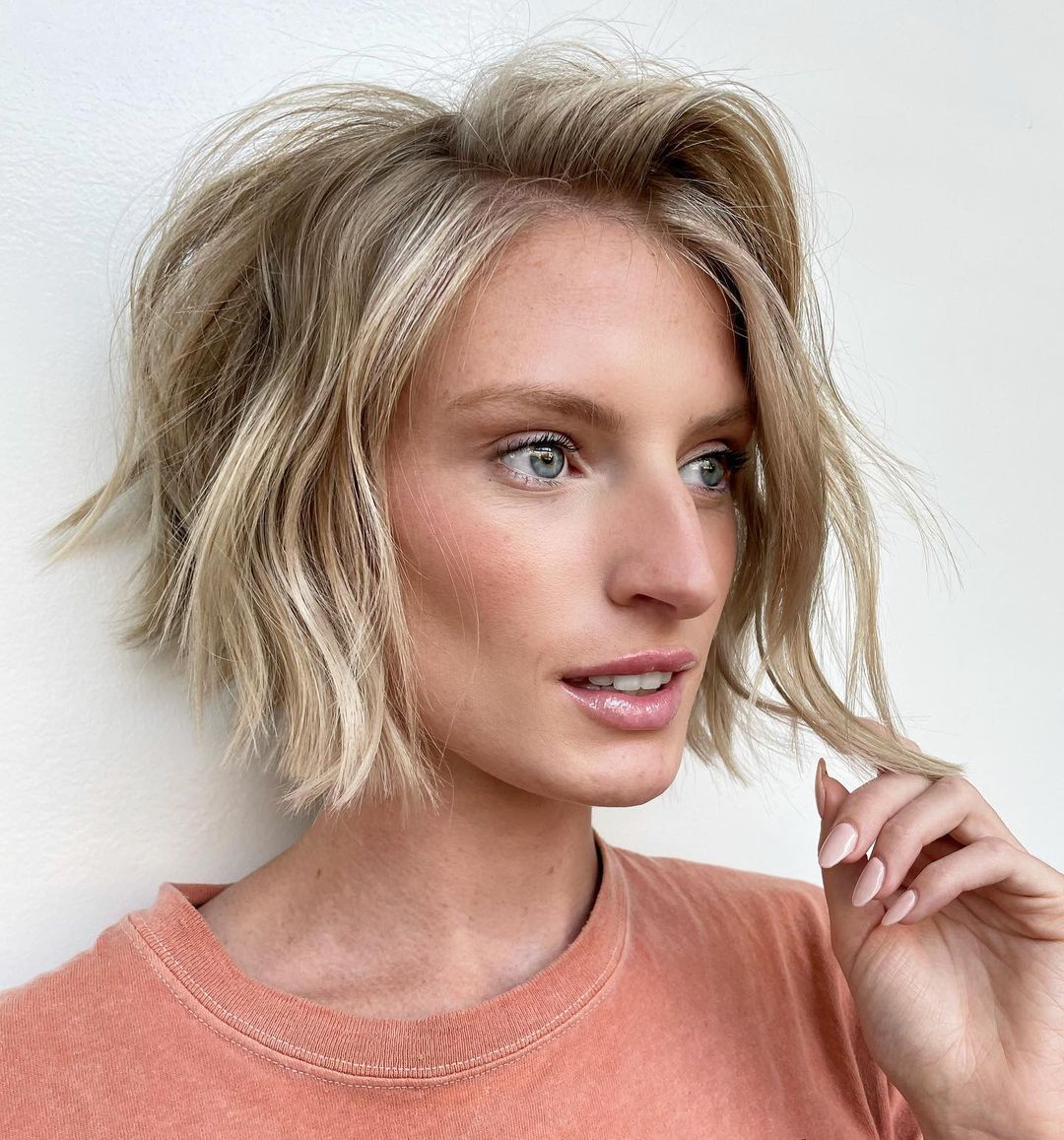 Even if you have fine hair, you should be able to get a substantial shaggy bob. When trying to achieve these shaggy bangs, baby bangs are ideal. Layering the locks and wearing them with a side part is an important step that will be your passport to a fantastic messy look.
32. Highlighted Strands with a Long Shaggy Bob
Those layers are all over the head and are extremely well-defined. Even though the strands appear a little tangled, they were previously straightened with an iron. Consider dying your tips and bangs in an electric contrasting color if you want to draw all the attention.
33. Wispy Bangs with Shaggy Bob to the Chin
Another chin-length hairstyle option for you. For a messy look, sweep your razored bangs to either side and leave your hair uncombed. It's best to have dark roots because it looks classy on girls with dark brown or black hair. This is a no-fuss look for your hectic days.
34. Copper Balayage Shags with Side-swept Bangs
This stunning lady has chosen a copper balayage, which transitions from a light and bright copper to a deep and dark ginger color. The bob is finished with a large sweeping fringe that falls above the shoulders. The rest of the hair has been worked into gorgeous ringlets to achieve this stunning hairstyle.
35. Sharp Bangs with a Blunt Bob
Do you want to be noticed in a crowd? Here's the best way to achieve your goal! Trim your bangs short and choppy, just above your brows, and add many razor layers to your dark hair. To define each lock of hair, apply hair gel and style it with your fingers.
36. The Long Bangs with a Short Back Undercut Shags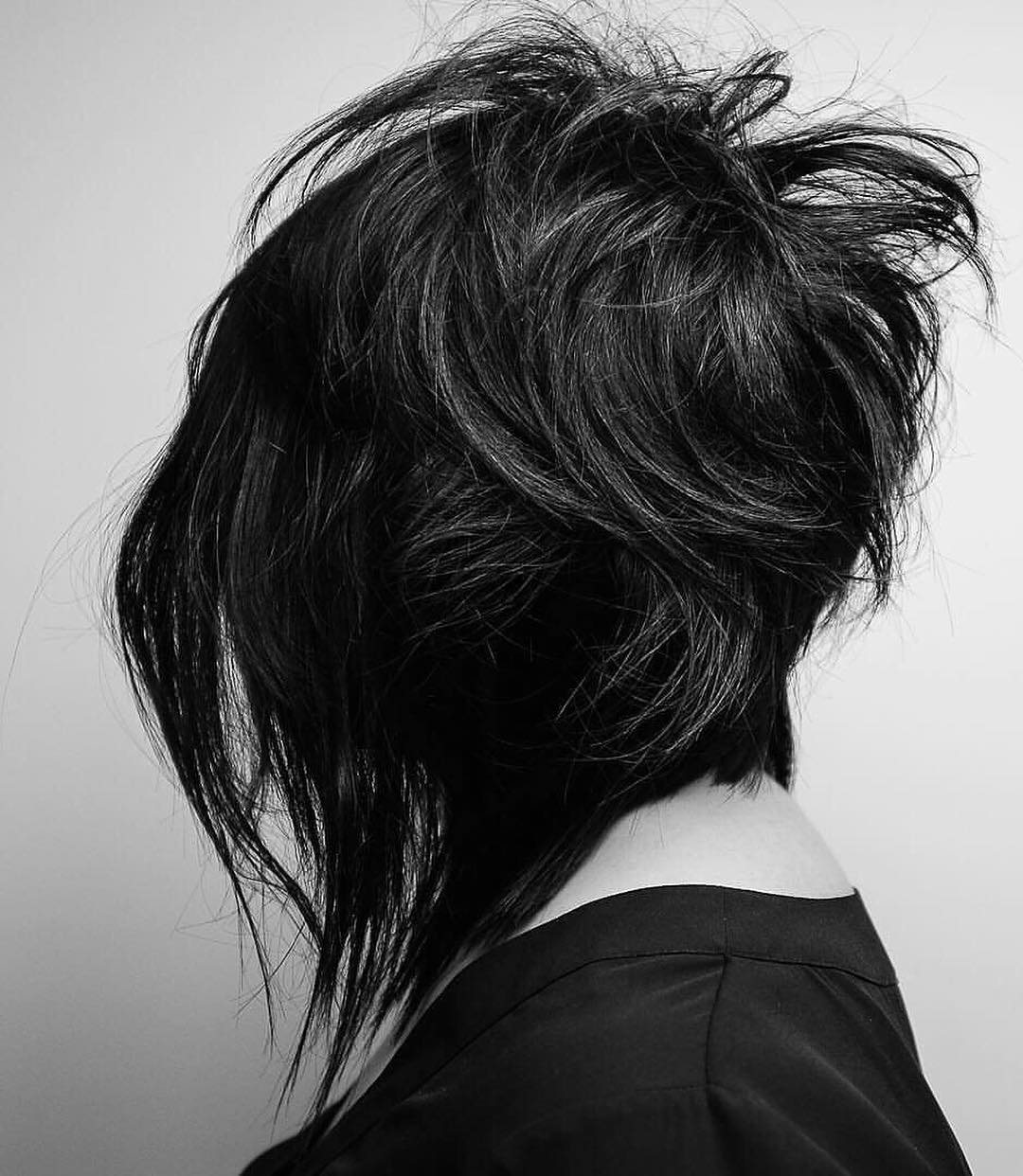 The messy look is one of the most popular today. You shouldn't be concerned about your appearance in the morning if you have a long asymmetrical shaggy bob. You have a sloppy appearance, but you're chic and organized! As shown in the above image, get an undercut and wear your hair to the side.
37. Shaggy Bob to the Nape of the Neck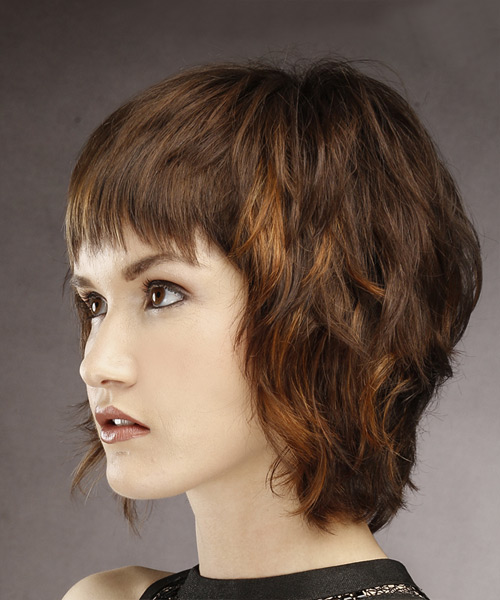 Another stunning tousled bob to add to the collection! Color your hair in similar but different shades. We both have dark brown hair with ginger-brown strands that are unevenly distributed. Cut your hair short in the front and longer at the nape of the neck.
38. Messy and Asymmetrical Hair Strands Hairstyle
Begin by using scissors to create asymmetrical strands in your hair. Do the same thing with your bangs. If you need more time, have your hairstylist do it for you. The beauty of this hairstyle is to make the lengths look messy and uneven.
39. Open-book Shaggy Hairstyle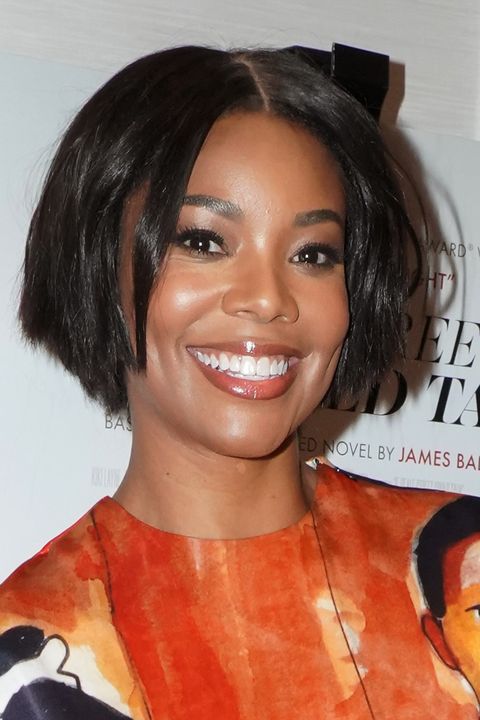 Not every shaggy haircut has long, voluminous hair. Part your hair in half and shave it to the ear length in a slightly inverted style. Add some styling creams to your straight hair to achieve an opened-book hairstyle. This may appear retro or unusual, but it is a striking shaggy hairstyle.
40. Purple-Teal Shags with Blunt Bangs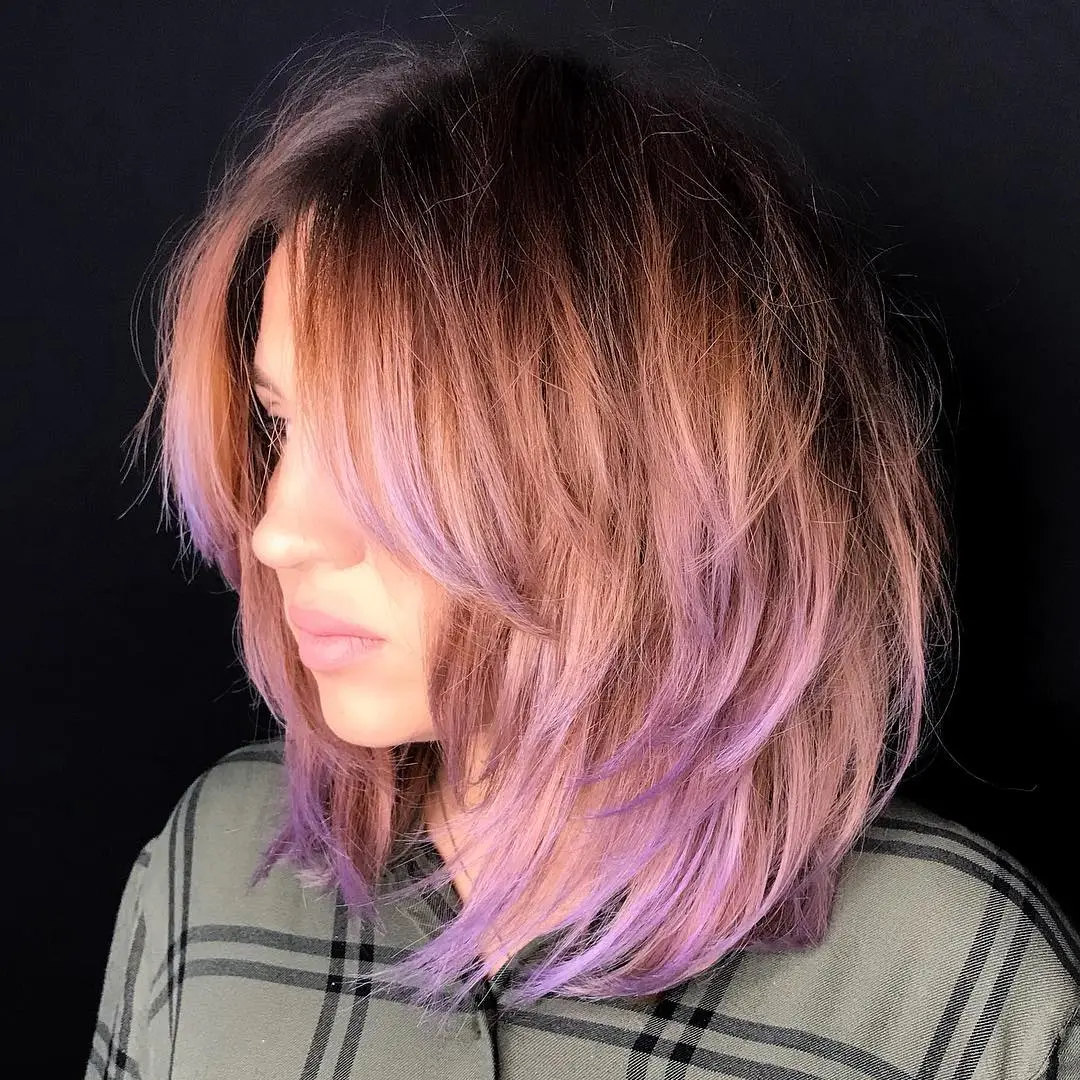 This shaggy bob hairstyle is so appealing and fun! It's a one-of-a-kind look with a mauve base color and stunning purple and teal highlights. And those short, blunt bangs draw your attention. Tease the top strands and flip them to one side for more volume. Alternatively, part your bangs in the middle to create curtain bangs.
41. Pink Highlights with Yellow-colored Shaggy Bob
This lady's lovely asymmetrical shaggy bob is finished below the ear and roughly around the jaw length, with lots of lovely choppy layers throughout for a lovely finish. She has chosen a purple-to-yellowish-blonde hairstyle that we adore! This hairstyle has very defined hair locks.
42. Side-swept and Well-combed Shags
This great shag-inspired hairstyle is the most beautiful style designed to draw attention most noticeably and for all the right reasons! Sweep your bangs entirely to the side. Take a look at a layered or feathered haircut with a shaggy appearance!
43. Blonde Bob with Shaggy Curtain Bangs
Forget straight cuts and short weave bobs! Give your short shaggy bob a fun twist to make it more daring. Crispy, pointy tips will add texture and volume to your hair. Shape your facial features and define your voluminous blonde locks with curtain bangs.
44. Copper-toned Shaggy Bob
This copper-toned hairstyle adds short layers to your bob cut and is easy to achieve with a quick salon cut. Maintain darker roots for better face contouring and an alluring contrast between the shades. Alternatively, let your entire head of hair take on a copper hue.
45. Pastel Colored Spiky Ends Bob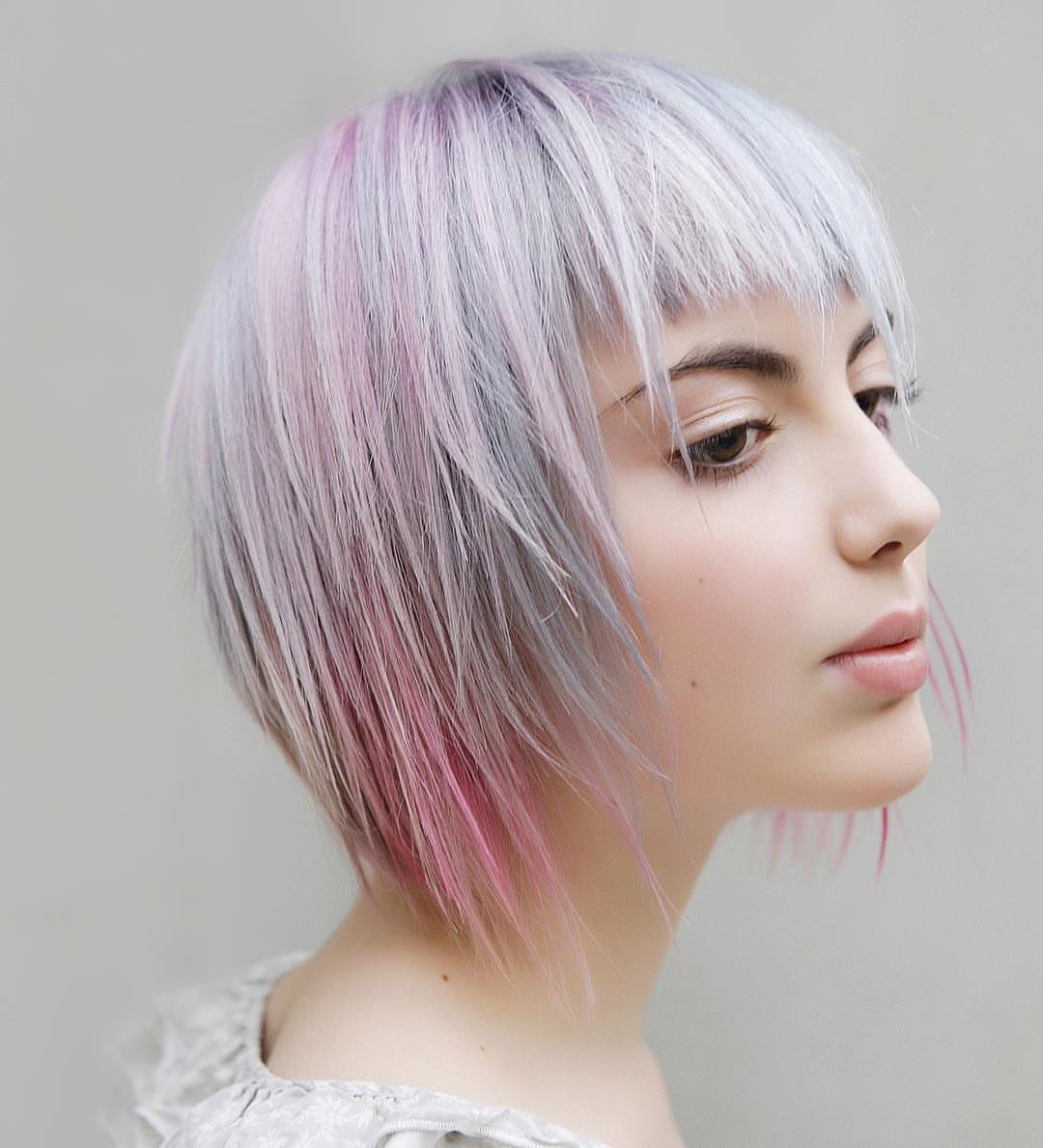 Pastel colors complement any shaggy hairstyle by emphasizing lightness and simplicity. In this case, wispy bangs are a fabulous addition that completes your fantastic look. If you look closely, the ends resemble icy spines dipped in some soft tones.
46. Pink Boyish Shaggy Hairstyle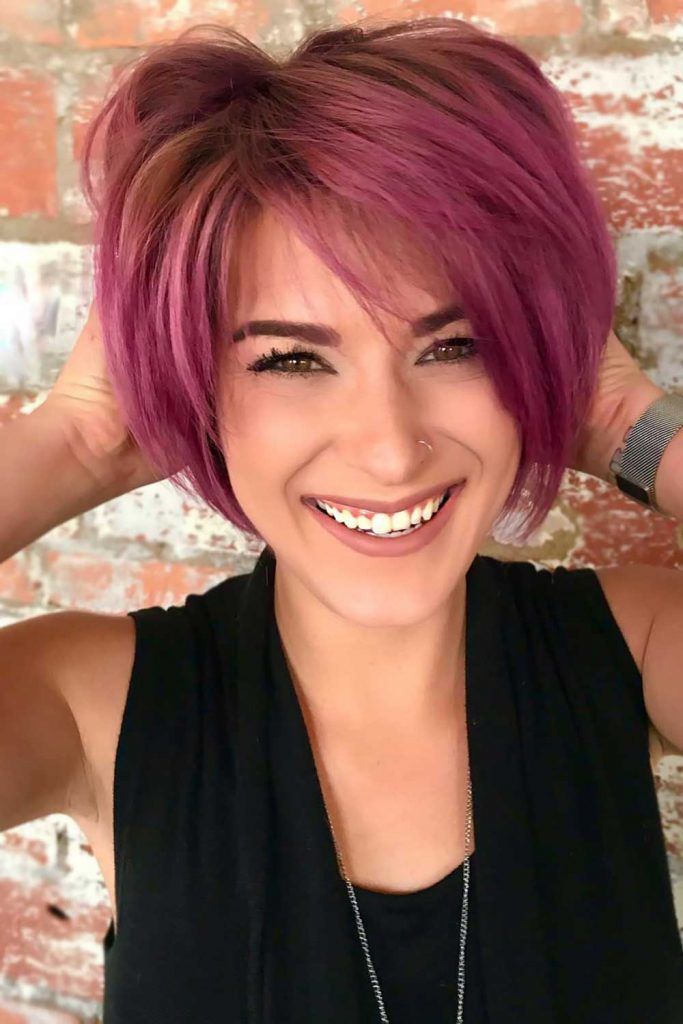 If you have fair skin with pink undertones, you'll look fantastic, especially if you choose a less intense pink color for your hair. Consider a boyish shaggy haircut with more volume on top and less on the bottom. To achieve a rockstar hairstyle, part your hair on the side.
47. Mint-green Spunk Stripe Shaggy Hairstyle
If you have a mysterious soul, you can express it with a mystical mint green hue on your hair, leaving your favorite platinum blonde color on top of your head. This peekaboo spunk stripe hairstyle would be lovely. What exactly are you waiting for?
Other Articles