Name tattoos may be a powerful way to express your feelings for the people you care about the most. If you're a parent and want to commemorate your child's birth or your unbreakable relationship, a name tattoo in their honor is a great way to do it. You may also ink your spouse or wife's name to demonstrate your devotion and commitment to the relationship. Include the name of a departed loved one in your memorial tattoo to preserve a piece of them with you forever.
1. Mahaken Da Pepeldomoon
Shoulder message and butterfly tattoo looks stunning and magical. But before you name your newborn Pepeldomoon, it is actually a spell that you can invoke to make you forget the pain and hardships you have endured in life. This tattoo has a relaxing feel to it thanks to the freehand technique that is used for the writing and the butterfly. Just like the caterpillar that changes and keeps moving, his tattoo will remind you of the sweet aroma of flowers and rejuvenation.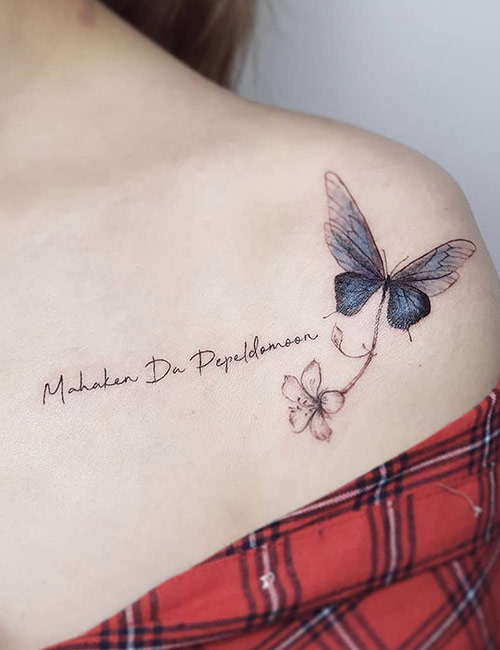 2. Destiny name tattoo
There are people who walk the face of the earth who go by the name Destiny. A simple name with an incredible weight in meaning. If you feel like there is a writing on the wall then you don't need to have destiny as one of your names to include this to your next inking budget. The choice of font and font size is ideal for the finger location which looks glam. You will have longevity issues if you use lower quality ink and workmanship because this area experiences a lot of skin regeneration.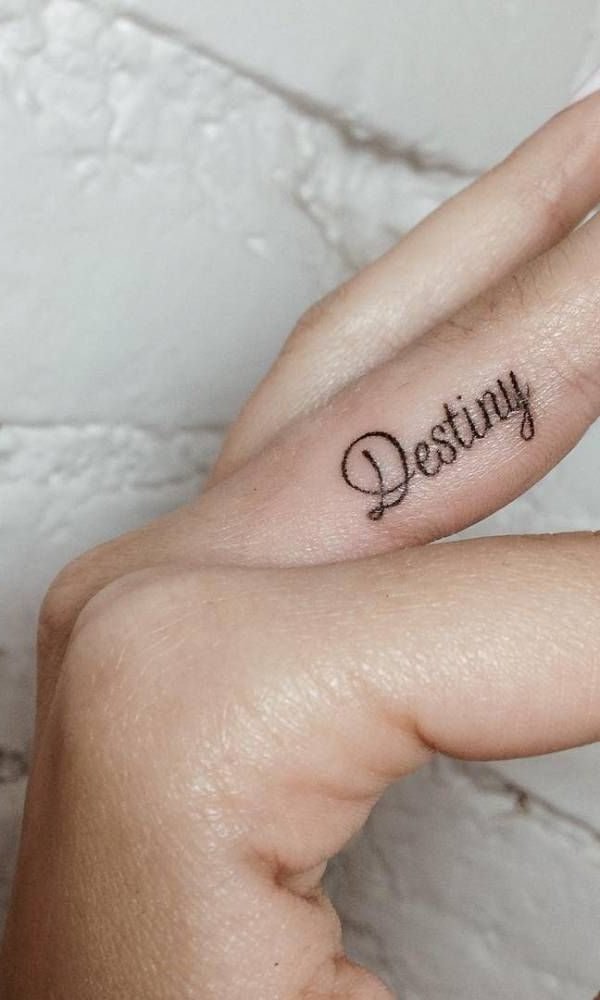 3. Adriana name tattoo with lotus flower
If you go by the beautiful name Adrianna then we don't see why not adopt this insanely cute design with lotus flower and name combination. You can wear this because of someone you care about by the same name. The hand written design of this tattoo makes it feel easy and cool which adds to its allure. You can change the flower preference to something like a rose if you want or even change the color for added appeal.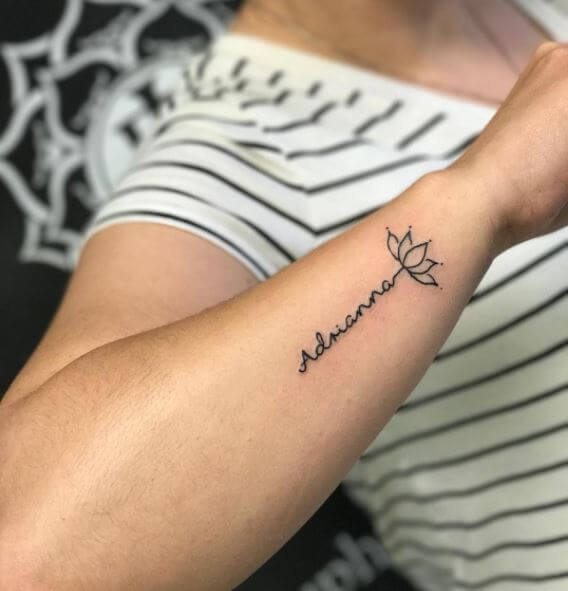 4. Ankle name tattoo for women
Name tattoos will always be the most distinctive of all tattoo designs since they are customized to the wearer's preferences. A beautiful ankle name tattoo is created for a name that means a lot to you. It might be a nickname, initials, or a powerful phrase. It's one of the most effective methods to pay tribute to the individuals who mean the most to you. Women's ankle tattoos are graceful, subtle, and quite attractive. Because it improves the attractiveness of women's legs and is connected with sensuality, the ankle has long been one of the most popular sites for tattooing.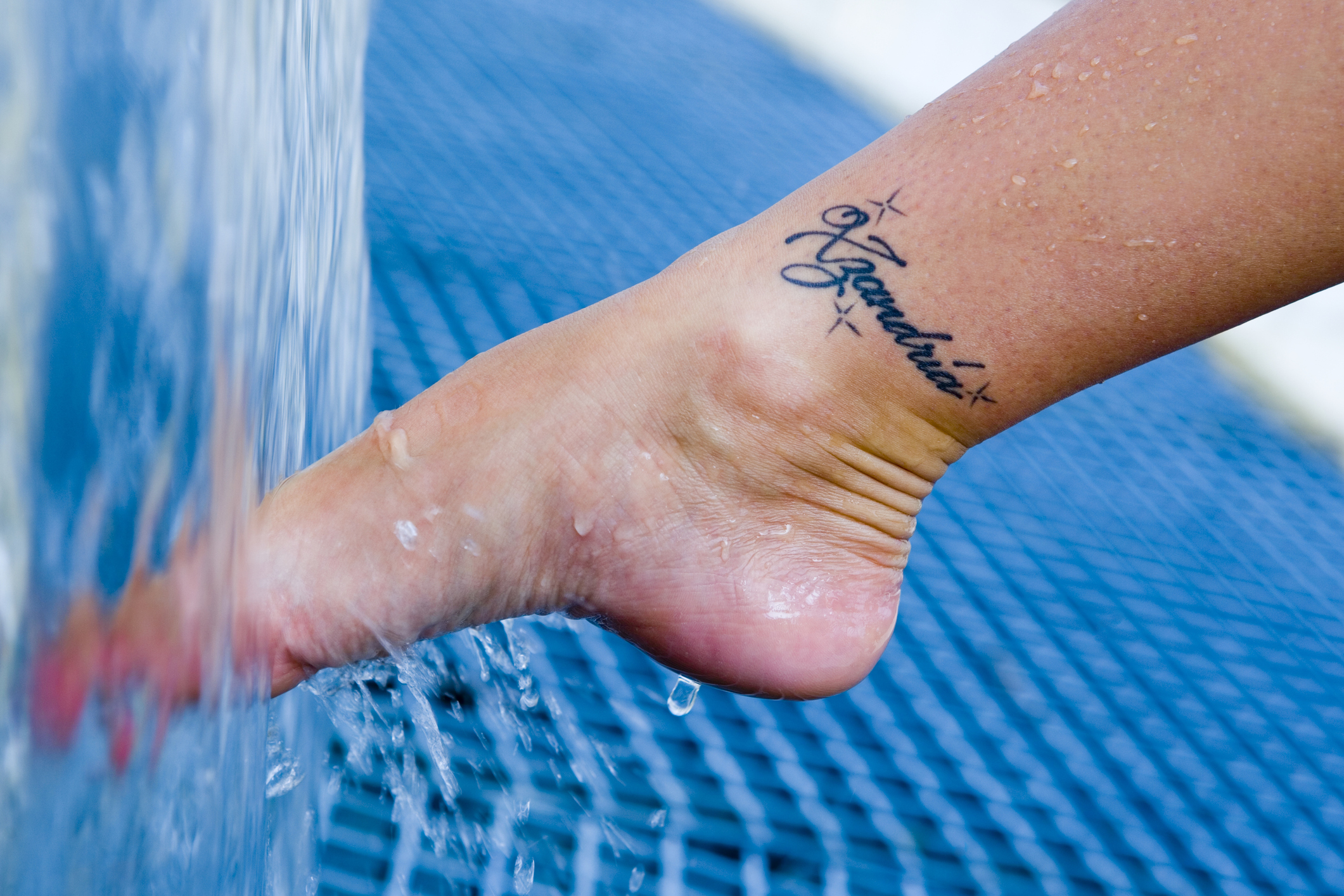 5. Manish freehand name tattoo
Manish is a baby boy name with an Indian origin. The majority of people with the name Manish are Hindus. Manish's Rashi is Simha, and his Nakshatra is Makha. Manish actually means the lord of the mind. You can wear this for yourself or if you feel like Manish is the one for you forever, which sometimes turns out to be regrettable as inking choice. You better be sure or go for temporary removable ink just in case forever turns out to be a short 2 months of dating.
6. Charlotte Name tattoo with date
This bold script font name tattoo looks impactful on the eyes and cannot go unnoticed even though the location can still remain incognito with proper dressing. It is perfect for you if you want something subtle, touchy, and impressive. The name of your child is tatted in black ink in a cursive script style on this tattoo. The name stands out in this tattoo because of the strong writing. If you don't want to go with a plain back, add some colored ink as a finishing touch. The ideal place for this tattoo would be on your arm, forearm, or chest. So get ready to proclaim the love for your kid boldly.
7. Auanna calligraphy name tattoo
If you want to go for something modest but impactful, a name tattoo is a great option. This tattoo has a royal crown over the first letter as well as additional styling on the lettering. If you don't want to use colors, try for a pure black ink effect. As it speaks to your heart, this tattoo will appear lovely and profound on your breast, displaying your love for your child. A little red or plain heart in the corner might be added for a finishing touch.
8. Name with dates matching wrist tattoos
Couple tattoos, like matching attire and pet names, tend to create a barrier. Some people are repulsed by the thought, while others believe there is no greater way to prove their love for their mate. But, if getting inked with your love feels like the next step in your relationship, who cares what others think? After all, each pair knows what's best for them.
9. He walks with me message tattoo
While the morality of Christian tattoos is up for debate, the cuteness of this piece is not. Let's go right to the point: tattoos are not sinful. They have never been condemned by Mother Church, and neither can I. It's one of those instances where a Catholic must act in accordance with his or her conscience. In the Old Testament, the tattoo is referenced only once. A passage in Leviticus 19 of the Old Testament of the Bible emphasizes that people should not get tattoos. The Law of Moses is highlighted in this section. "You shall not create any wounds in your flesh for the deceased," God instructed in Leviticus 19:28.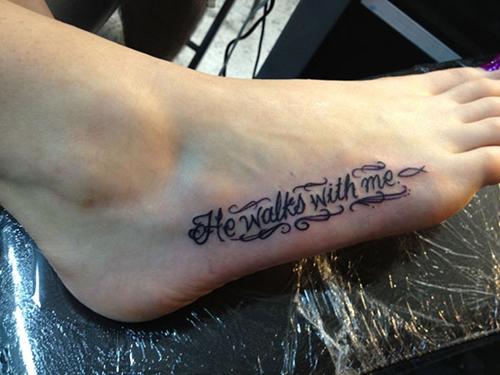 10. Ashley name tattoo
A name tattoo is a great way to keep those you care about with you at all times. A romantic partner, a parent, a sibling, a kid, or a friend might all fall into this category. There are also a variety of styles to pick from. One of the most stunning is saying you love yourself in the same way. The foot is normally hidden under normal footwear and therefore this tattoo will not be getting in the way of your career.
The power of naming
The meaning of a name tattoo is profound. It varies from person to person, but it all has something in common: it is connected to their souls. Some people do it just because they enjoy their name and want to tattoo it. Some people follow the trend and get their names tattooed.