Clock Tattoo Designs are typically complex and detailed, making them physically appealing, but they are more than that since they are connected with life and death. These tattoos appeal to people who frequently reflect on their death and desire art that reminds them of the necessity of living each day to the fullest. They can also be linked to commemorate a specific occasion or date. Clocks are the machines we use to keep track of time; therefore, it's no surprise that they're a popular tattoo design.
Clock designs come in a variety of styles that may signify anything from mortality to ancient knowledge. Check out the post below to discover more about the history and significance of clock tattoo designs and top styles and places for clock tattoos, and additional techniques that go well with clock tattoos.
1. Tattoo of an Antique Clock
There are many various types of clocks, and they serve more purposes than simply showing the time. In general, a timepiece represents our transience and the fact that nothing lasts forever. It could indicate a balance between life and death, and it is a great tattoo to acquire if you regularly think about your mortality. You can be inspired by the clocks' more conventional appearance, such as a pocket watch, while deciding on the design you want to tattoo. Perhaps you like the overall aesthetic, or you're inking it to honor a loved one, such as a grandfather, who may have had one of these items. Tattoos are beautiful because they are often subject to interpretation and designed to be distinctive to the person.
2. Tattoo of a Roman Numeral Clock
Roman numeral tattoos are an excellent way to commemorate a significant occasion or period in your life. They could indicate the birth or death of a loved one. This symbolism is especially potent when combined with a clock. Timepieces are frequently associated with life and death, serving as reminders of how fleeting our existence is. This would be the ideal ink for a man who is a deep thinker but at the same time also wants to commemorate a pivotal occasion in his life.
3. Tattoo of a Heart Clock
Tattoos are designed to endure forever and are an amazing way to remember the people who made a great impact on your life, both living and dead. A heart tattoo design could symbolize unending love. The timepiece's hands might denote crucial dates such as birth or death. Men who want to make their ink a little more distinctive can add names, initials, or images of roses or skulls.
4. Tattoo of a Lion Clock
A lion is an animal connected with bravery and strength, and a tattoo of this large cat might reflect the wearer's capacity to endure adversity. You may include a clock in your lion tattoo design to offer even more important to your art. The combination of these two parts is rich in symbolism and makes for an intriguing and thought-provoking composition. You might emphasize the importance of having direction in your life or honor a time when you performed valiantly; the choice is yours.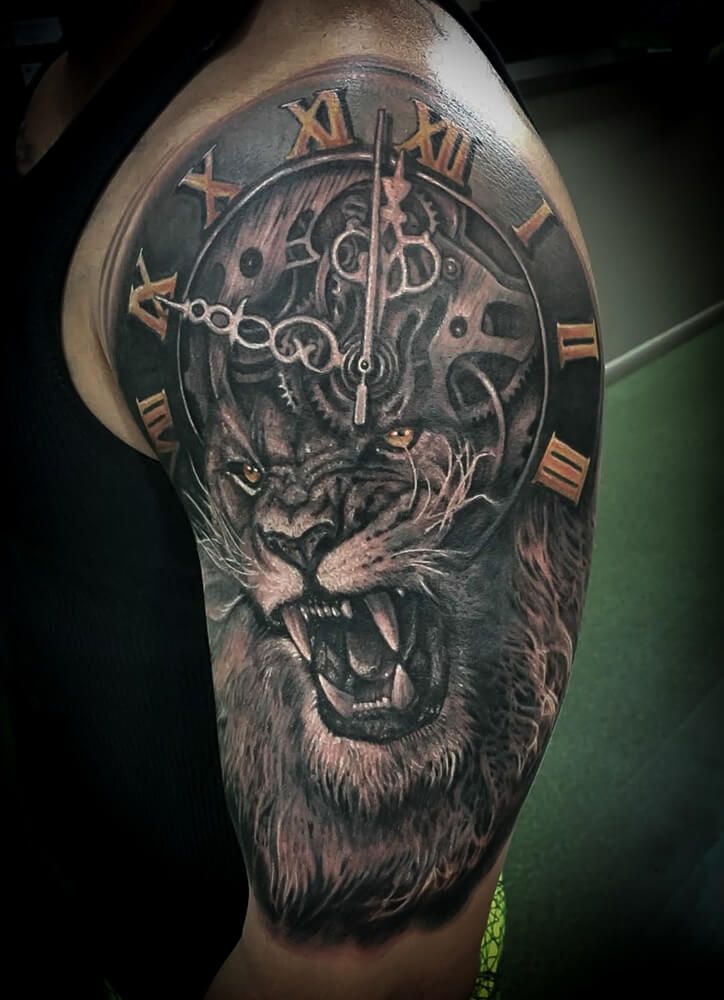 5. Tattoo of a Skull Clock
The beautiful thing about clock tattoos is that they go well with other aspects, and people frequently add designs like skull tattoos to make them more personal and significant. The emphasis of this design is on mortality. It might be appealing to a man who is contemplating his mortality and also wants to remind himself to live more each day to the fullest. It could also be a method to commemorate the death of a dear one by marking the time of their death with the hands of the clock.
6.Ship Clock Tattoo
A ship that sails beyond the constrains of time boundaries. The timeless ship of life.
7. Tattoo of a Digital Clock
Clock tattoos are an excellent way to commemorate significant events in your life. Most designs emphasize the more conventional appearance of watches, either because they are more visually appealing or serve as a monument to the past. Why not get a digital clock tattoo if you want to try something new? The beauty of this artwork is that you can clearly indicate the date and time, which is quite important. This might be when your child was born or a lovely memorial tattoo for a grandparent who has died away. You may even be tattooed with the same model of watch that your loved one used to wear if you want to make it truly unique.
8. Tattoo with an Owl Clock
Owls are symbols of wisdom and intellect. Many things are represented by nighttime birds, including luck, change, and mystery. They complement a variety of owl tattoo designs by adding to the symbolism linked with them. It's easy to see why an owl and clock body art might appeal to a man who values or values these aspects in his life. There are various ways to interpret this piece; you can use as many aspects as you want to make your body art unique and meaningful to you.
9. Tattoo of a Clock on Hand
Many people think about how body art would fit into their lifestyle, how much discomfort it will create, and how visible it will be. The hand is an excellent choice for tattoos for people who want to flex their design and are not frightened of the agony associated with the inking procedure; the thin skin and nerve endings in this area make it painful. It will also fade more quickly as an outcome of exposure to the environment and the frequency with which we use our hands. Because a hand tattoo draws attention, you should choose something special.
10. Tattoo Sleeve Clock
Sleeve tattoos take a significant amount of time and money to accomplish, but the end result is extremely powerful and eye-catching. As the name implies, these garments often cover your entire arm, much like a sleeve on your clothing. It is an excellent method to expand on a significant design, and you may include a variety of features, such as a clock, roses, doves, and a date. These changes will make it clear that this is a design intended to honor a departed loved one. Your limit is your imagination and possibly the money you are ready to pay.
11. Feminine Clock Tattoo
You can mix them with other flowers, like lilies and orchids, as well as leaves and vines.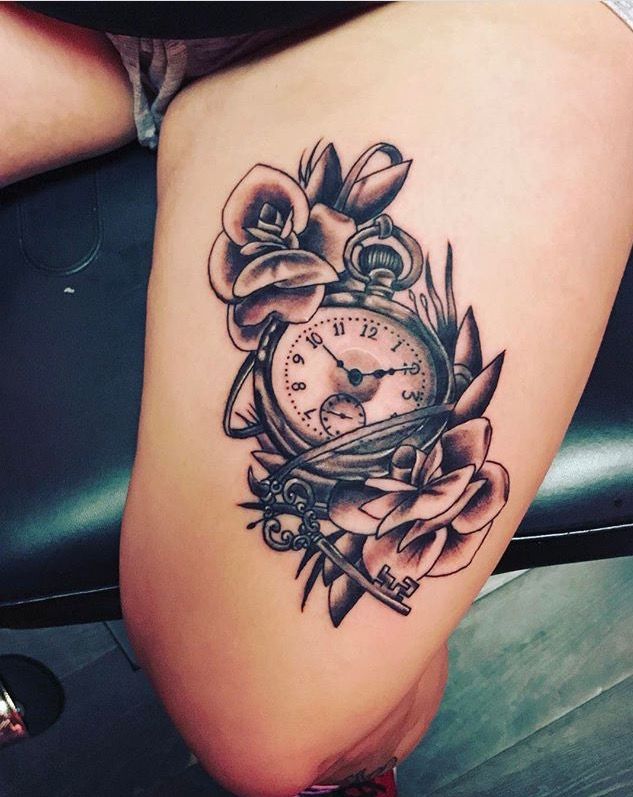 12. Grandfather's Clock Tattoo
A grandfather clock is a tall, freestanding, weight-driven pendulum clock invented in 1670, with the pendulum held inside the tower or waist of the case. This clock is now considered a historic clock type, and as such, one of its connotations is nostalgia. A grandfather clock tattoo is frequently selected to represent nostalgia for past events or people, such as our grandparents or childhood homes.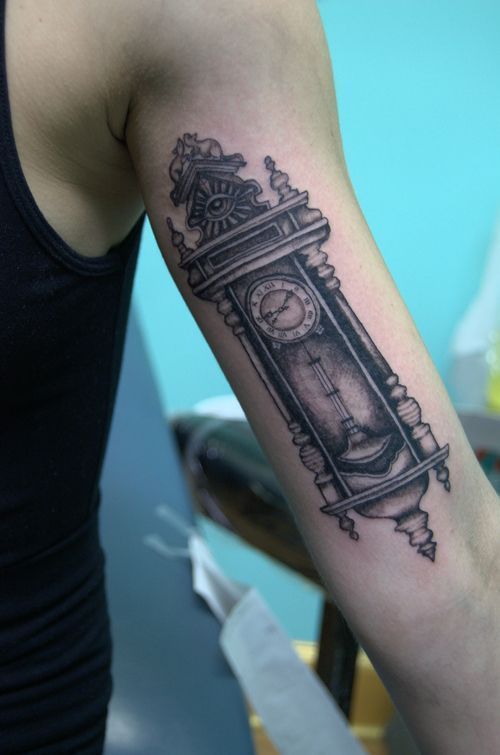 13. Anchor Clock Tattoo
The anchored clock tattoo design is a fantastic addition to the standard tattoo outline; anchors, which were originally used as a pet design for mariners and guides, can offer additional aim to the tattoo, associating it with solidness and quality.
14. Pocket Watch Tattoo
The old pocket watch is made the center of attention, and to add some femininity to it, the floral with its leaves and all is used to produce a com-bust sensation. The Roman numbers transport us back in time, while the backdrop design adds oomph.
15. Cards and Clock Tattoo
All of the four suits in a deck of cards has its own card meaning. The Spades suit represents the military, the Hearts suit represents the church, the Diamonds suit represents the merchant class, and the Clubs suit represents agriculture. These were the four main economic pillars of the Medieval Period.
16. Eagle Clock tattoo
Eagle stand for integrity, truth, majesty, strength, courage, knowledge, power, and liberty. They are thought to have a special link to God as they fly across the skies.
17. Abstract Clock Tattoo
Pictures of Clock Tattoos speak to one's disposition and feelings, which is why tattoo artistry has been administered in individuals' hearts for a long time. Because of its traditional importance, this tiny wristwatch tattoo design for ladies is quite popular. It has unique significance linked to the matter of time, used to tell people that the kind of lady wearing it takes their time into much consideration.
18. Rose And Clock Tattoo
A rose tattoo signifying love has been prevalent throughout history as a symbol of extreme affection. Beauty and emotion are in balance with this flower, and no other flower can match its beauty and historical significance. Clocks tattoos, on the other hand, have a lot of symbolism and signify life and death. The combination of a clock face and a rose symbolizes everlasting love.
19. Small Broken Clock Tattoo
Clock tattoos primarily represent a desire to grab and live every minute. If we consider what a broken clock tattoo represents, we can conclude that, in addition to independence, it also means moving on from a past that haunts you. The time depicted on the clock signifies the birth or death of a person. Broken clocks, by their very nature, may represent a variety of things. A clock tattoo with no hands denotes disdain for the passing of time or losing track of time.
20. Geared Watch With Rose Tattoo
It might take some time for things to happen the way we want or expect them to. The clock tattoos are there to remind us that good things take time to happen and that we need to keep moving forward and making good choices and decisions before beautiful things come to us. The clock tattoo also represents patience when waiting for the good news regarding an event or person, as well as in interactions with other people who may make you feel better or worse.
21. A Large Clock Is Decorated On The Chest.
Consider how life was before the invention of the clock. What was life like before humans began to split the day into seconds, minutes, and hours? Every second of the day, we are governed by the clock; it affects us. It offers us a sense of control, yet we can do nothing to stop the march of time. The primary meaning of this Tattoo is personal freedom and liberation and that you proudly tell the world that you are ready to face it by all means necessary.
22. Broken Clock With Birds And Roses Tattoo
Both symbolize a sense of liberation. As a result, combining these two tattoos can be an excellent option. Broken clocks with birds flying away tattoos may indicate that you have gained independence from the confines of time. It might also imply that time is slipping away. You may also have a shoulder and chest tattoo of a simple broken clock and birds to leave the message open to interpretation.
23. Clock With A Bit Of Twist
And by a bit, I mean a slight twist that everyone can notice. This delicate clock tattoo design has a mix of shapes and ink sprinklings with a coiled-up clock whirling down from the center and extending as it approaches the end. This is a novel idea; the extra Twist gives the background a more complex and 3D look. This Tattoo on the upper arm will automatically get you noticed. It symbolizes that our life started at a particular time, and we have an end to it, but we don't know when our time will come.
24. Clock With Compass Tattoo
A tattoo with a compass and a clock is a significant choice. Clocks signify the passage of time as well as the frailty of life. When paired with a compass, the Tattoo represents the direction and the path of life. As a result, the pattern is frequently combined with arrows, which also signify the journey of life and perseverance in achieving one's goals. The tattoo artist may add directional wordings to explain the past experiences in our lives.
25. Clock With Eye Tattoo
The combination of an eye and a clock tattoo may appear strange, yet it is pretty significant. The eye may signify various things, including protection and direction, or it might be interpreted as a deity or a loved one watching over you. The clock, on the other hand, is frequently associated with concepts of life and death. A design that combines these two characteristics would be precious to the wearer.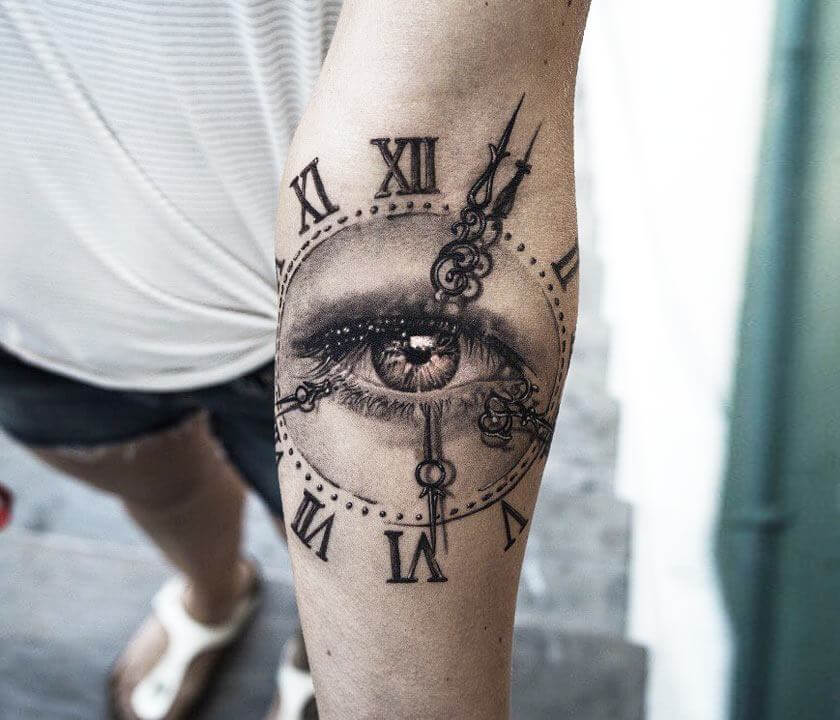 26. Clock With Gear System Tattoo
The most frequent type of clock tattooed is a pocket watch with roman numerals, which is suitable for both men and women. This clock tattoo is often done in a realistic style and commonly contains a gear system. The naturalistic style of the clock tattoo, along with the gear system motifs, creates a nice contrast to the material of the watch and makes the Tattoo stand out.
Conclusion
Time is universal, regardless of who we are. It regulates everything, and every one of us has a particular relationship with it. A clock tattoo is a powerful symbol, whether we feel freed by our understanding of time or relate to the darker elements of our death. Consider getting a clock tattoo if you want a tattoo design that will never go out of style.Having gone through the list above, if any clock tattoo interests you or describes your style, don't hesitate to show it to the world through your skin.
Other Articles