A tattoo is one of the leading elements in the fashion industry. A large number of people around the world love to ornament their skin with a cool, trendy, and customized tattoo. It makes them fashionable, style icon, and trendsetter as well as states a strong personality. Every Tattoo carries some power and magic with them which can enhance your inner soul too. But the culture of getting inked is not a recent occasion. Thousands of years ago it was started with various meanings and purposes. Today, over the times it becomes a style statement maybe with some modified interpretations. Tattoo distinguishes individuals from each other. Every symbol, pattern or diagram portrays consequential meaning on the different parts of your body.
The tree is a very basic living element on earth. It stands strong against all the storms through the storms. It signifies that a tree is a symbol of strength and patience. Facing all the season and climate change indicates the character of adaptively. Other than providing fruits and flowers, the tree gives shadow and shelter to all who are around her. In one word tree is the heart of Mother Nature. It also resembles the cycle of life.
If we look at the spiritual aspect of a tree, we will find the old-age practice of worshipping a tree. In Hindu culture, Papal, Asoka, Banyan is not only a holy tree but also have various medical benefits. In Buddhism, the Bodhi tree is a symbol of enlightenment. In the Holy Bible, a tree is represented as a 'life in the Garden of Eden' containing all the good and bad. For the Chinese community, the tree is a symbol of regeneration, as they shed their leaves every year and again cover themselves with new green leaves.
In modern days, people who love trees or concern regarding the environmental crisis, get inked to display their advocacy. But you can wear them just for fashion any day. Artists prefer tree tattoo as an absolute piece of art. Before headed to get one, always consider that the tattoo is a life-long affair. Without having a clear view of a tree tattoo, you might end up with an unwanted mishap. Here, we have arranged some fascinating designs of tree tattoos with their hidden meanings. Hope this will make you satisfied enough and you find useful to decide which one is ideal for you.
1. Colorful Bodhi tree tattoo
In Sanskrit 'Bodhi' means 'fully awake'. In Buddhism, the Bodhi tree says to always follow your heart and dream. It is a symbol of longevity and spirituality. It depicts the enlightenment of your inner soul and potential. Anybody can flaunt it at back. The added color indicates the beautiful and pure mind of the tattoo wearer. A back tattoo is less painful but changes in shape over time.
2. Birch tree tattoo
Birch tree forest tattoo is best fitted around the wrist to arm. It is a symbol of rebirth, new start, renewal, cleanness; in short, it stands for positivity. People often hang white bark of a birch tree as a symbol of good luck and head off evil and negativity. It has also a medicinal value. People, who love tree and forest life, are very fond of this type of tattoo. But one should avoid wrist for inking.
3. Couple tree tattoo
These cute identical tree tattoos are for couples and best friends. It shows the pure and solid bond between two souls, an awesome idea to represent love. Not only a couple or friends, but one child can also flaunt an identical tattoo with their parents. You can put it on a finger, hand, neck, foot, or anywhere on your body. Foot tattoo needs some frequent touch up to avoid fading out.
4. Palm tree tattoo
This elaborate palm tree tattoo is an absolute beauty. Palm tree symbolizes the tropics and beaches. Palm tree survives with unpredictable weather changes. It also indicates fertility, honorary, and aspiration. Here, the artist showed fine artwork with detailing. Detailed tattoo cost little high than line diagrams. The inner arm is good for putting ink due to less sunlight exposure. Girls prefer this kind of tattoo.
5. Pine tree tattoo
Pine tree tattoo is unique. It holds all the basic meanings of a tree. Pine is a symbol of long life and strength. One, who wants to live long or want her loved one's long life, can get a pine tattoo. Pine faces the harsh storms, which depicts the rough path of some one's life. Pines breathe peacefully in a mountain range. Rib tattoos are very popular. The intricate details of foliage reveal the patience of wearer.
6. Evergreen Christmas tree tattoo
Christmas tree is synonyms of joy, celebration, and holiday. Every Christmas tree is different from each other in terms of beauty. This one is an example of a small tiny simplistic illustration. People who love simplicity, to be happy, choose an easy go life, are fond of these types of small tattoo. Or if you love tree, plants, and want to convey your homage towards nature, can choose to put it. It is cost-effective and less painful.
7. Cherry blossom tree tattoo
Cherry blossom is a symbol of beauty and femininity. In China, people celebrate womanhood through cherry blossoms. But in Japan, they believe the tree is the mark of life because it blooms every year in spring. Pink foliage adds extra essence to a tree tattoo. It is very popular among women, girls. Arms are tattoos are easy to maintain, you can easily cover up when you need them.
8. Celtic tree tattoo
Celtic tree tattoo conveys knowledge, strength, and spirit. It shows inter-connected branches and roots. Branches grow towards the upper world, infinity. Similarly, roots spread toward the lower world. The trunk connects both the world to earth-land. Celtic people believe the tree is a medium to connect with God. This brief emphasizes the harmony and balance of life.
9. Watercolor tree tattoo
This one is an absolute beauty and magnificent rendition of a watercolor tree tattoo. It highlights the strong trunk and soft foliage. The blended color indicates the change of season which means the positive change of you. Splash of color is a mark of a new beginning. This small tattoo looks so simple yet meaningful. Color tattoo costs little extra than a black and grey tattoo. But the crease line is not a perfect place for getting ink.
10. Geometric tree tattoo
You can render your tattoo with any geometric pattern. This is a modern style of representation. The pink tree is a symbol of femininity, fertility. The circle depicts wholeness. And three corners of the triangle are a mark of unity, recovery, and service. In Christianity, the triangle has resembled the son, father and Holy Spirit. This small color tattoo looks extremely good at the leg or ankle. This needs some extra care to avoid fading.
11. Dead tree tattoo
This is a sample of dead tree tattoo. One opts this tattoo in memory of lost love. They pay mourn and grief to their lost person through this. Black is the color of a dead tree. The inner arm tattoo is a good choice. This part gets less exposure to the sun. So it's easy to maintain.
12. Family tree tattoo
If the family is everything for you, just go for a family tree tattoo. It shows your love for your family members. People often include names or dates of birth of loved ones in it. You can decorate it as per your choice. It can be black and white or grey or have some color murals to make it look amazing. These types of tattoos are generally cost high because of detail decorative additions. Dot works add starling affects to the diagram.
13. Small forest tattoo
Forest tattoo depicts that someone is very close to nature. It is a symbol of magic and fantasy. People wear to display their passion for travel and exploration. On the other side, this tattoo flaunts the strong nature of wearer to face any odd. This small size grey tattoo is enhanced the mystery with dot works. Upper art tattoo is less painful.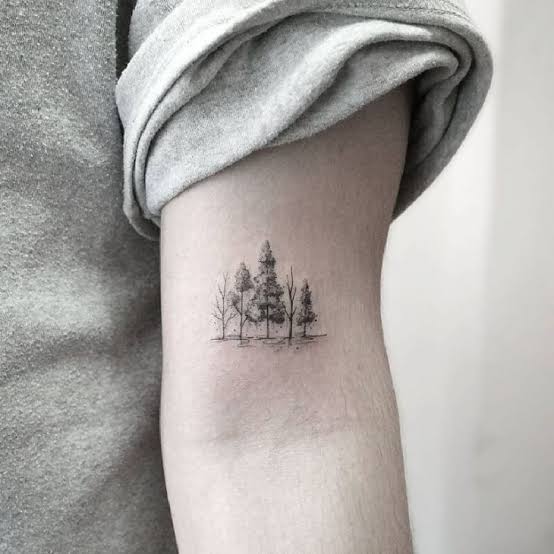 14. Symbol of life tree tattoo
The general concept of the tree of life is that we all living objects are interconnected and come from the one same source. It also signifies eternity, immortality, growth, protection, wisdom, knowledge, and forgiveness. These types of tattoos are generally medium to large. And it fits well at the inner arm of our body. It is an ideal place to get a tattoo for less pain and longevity.
15. Rib tree tattoo
Again, a large size elaborate model of a rib tattoo. This time tree is full-grown with strong and steady brunches. Brunches are full of leaves. Leaves show growth and rebirth. A matured tree can indicate the person's complete and happy life, the fulfillment of the inner soul, stability. This large size tattoo with so much detail will cost you a large amount. Rib tattoo is painful but easy to maintain.
This way you can design your tattoos by adding your vision and style to tree tattoos to embellish an individual design that fits your personality.
Getting a tattoo is a kind of serious affair, so choose wisely. It won't be wont to say it is like getting married. If you choose the right design, it might end with a lifetime of happiness. Don't even think about getting it removed. Instead, stick to it and flaunt it all the time.  Covering your tattoo, later on, isn't worth it and so take the time to carefully consider your decision first. I hope the above designs will give you a better idea and with the following tattoo designs with its meaning and message, you will end up having an amazing tattoo experience.