Angelina Jolie is a well-known actress admired for her stunning features and charming demeanor. However, did you know she is also a great tattoo fan and is frequently featured in publications and newspapers for her new tattoo designs? She has many tattoos and is constantly experimenting with new designs.
1. Angelina Jolie's Thai Tiger Tattoo
One of her most popular tattoos. Tiger tattoos symbolize freedom and positivity. In 2004, Angelina Jolie received a lower back tiger tattoo in Thailand. Her waist has a 12-by-8-inch region. The artist blessed this body art with ancient chanting and needles in the traditional Thai method, expressing her uniqueness and style beautifully.
2. The 'Know Your Rights' Tattoo
A Gothic one-liner tattoo reading "know your rights" appears above her Buddhist inscription tattoo on the base of her neck. Her favorite band's song is called that.
3. Angelina Jolie's Arabic Tattoo
Arabic tattoo calligraphy has always been adored. Angelina's right forearm tattoo reads "willpower" in Arabic. This tattoo covers up an abstract tattoo she got for her ex-husband Billy Bob Thornton.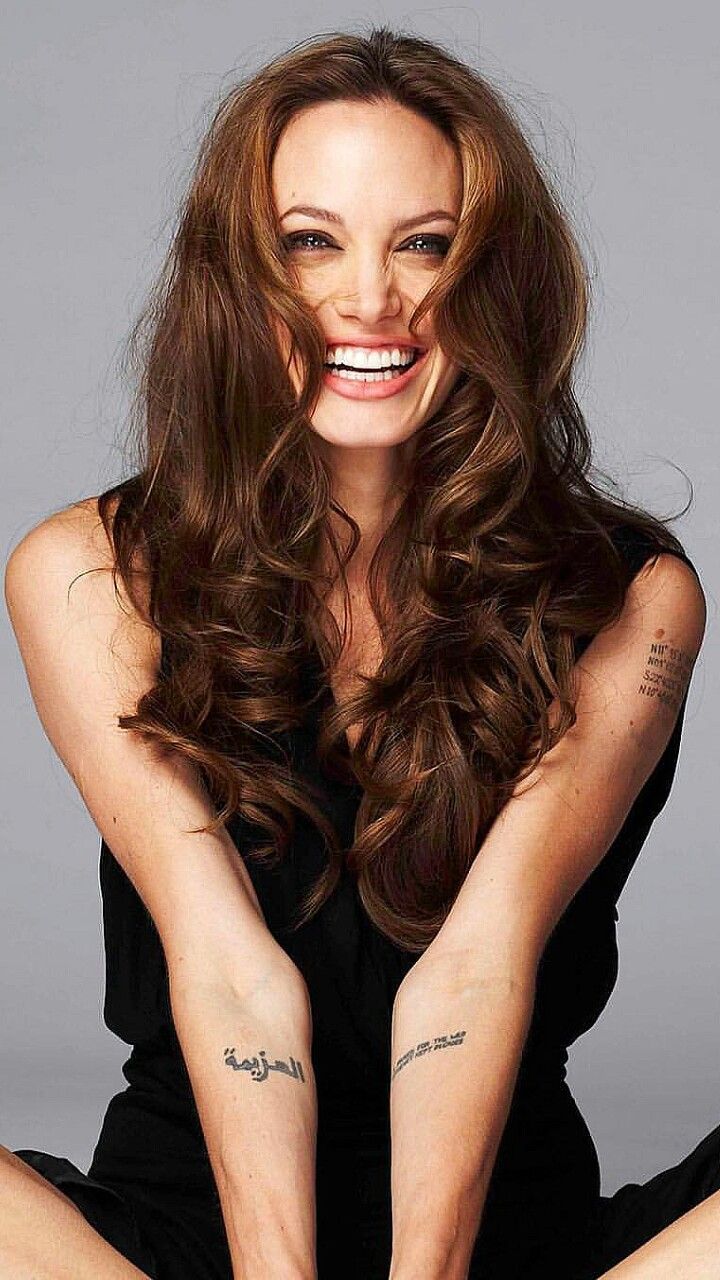 4. Angelina Jolie's Cross Tattoo
Angelina Jolie is known for being adaptable and beginning over; her tattoos are the best proof of this. Amsterdam tattooed her waist with tiny dragons. She eventually covered them with the Latin phrase "Quod me nutrit me destruit," which stands for "what nourishes me, destroys me." She got the cross a day before marrying Johnny Lee Miller in 1995.
5. The Geographical Coordinates Tattoo
Angelina is an inspirational mother, and all her tattoos are related to her children or significant memories. Her left bicep has six longitudes and latitudes where she met all her kids.
N11° 33′ 00″ E104° 51′ 00″ – Cambodian tattoo dedicated to her eldest son, Maddox.
N09° 02′ 00″ E038° 45′ 00″ – Ethiopia for her daughter, Zahara.
S22° 40′ 26″ E014° 31′ 40″ – Dedicated to her daughter Shiloh, who was born in Namibia.
N10° 46′ 00″ E106° 41′ 40″ – Son Pa was born in Vietnam.
N43° 41′ 21″ E07° 14′ 28″ – The fifth and sixth were for her twin kids, Knox and Vivienne, who were born in France.
N43° 41′ 21″ E07° 14′ 28″ – The last coordinate was Brad Pitt's birthplace.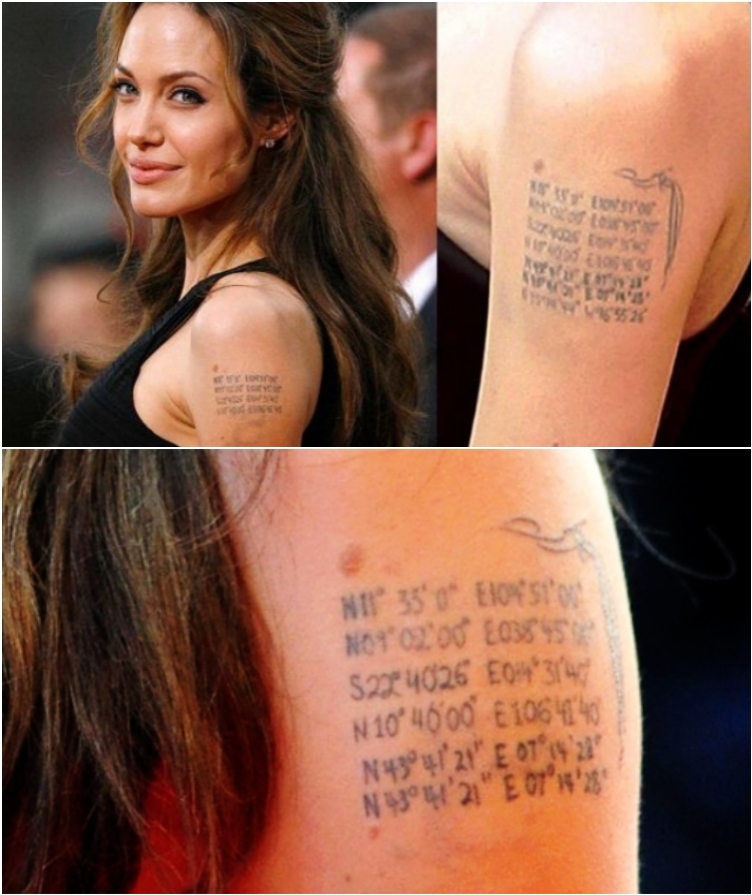 6. Angelina Jolie's Roman Numeral Tattoo
Angelina's left inner arm contains the Roman number 13. 13 is unlucky, showing her defiance. "XIII V MCMXL"—13/5/1940—is on the left. It honors Winston Churchill for his "blood, toil, tears, and sweat" speech on the same day.
7. Billy Bob Tattoo
One of her earliest tattoos was Billy Bob. Her ex-husband's name, "Billy Bob" Thornton, was written on this black and white Chinese dragon pattern. After her divorce, she covered the tattoo with a motif representing her children. Name tattoos are regrettable. Due to their small, they are also the simplest to hide. Since children are forever, a cover-up with their theme is lovely.
8. Buddhist Script Tattoo
This Buddhist Pali tattoo etched in Khmer was done in honor of her Cambodian-born firstborn son, Maddox Chivan Jolie-Pitt. Noo (aka Sompong) Kanhphaiin, a tattoo artist, did it. "May your enemies flee from you," it adds. If you amass wealth, may it be yours forever. Apsara's beauty will be yours. Many will attend to, assist, and defend you wherever you go, surrounding you."
9. Angelina Jolie's Japanese Death Tattoo
This Japanese death emblem was one of her first tattoos. She completed it to continue her fight for life within her. She then had the Khmer tattoo covered up and dedicated it to her eldest son.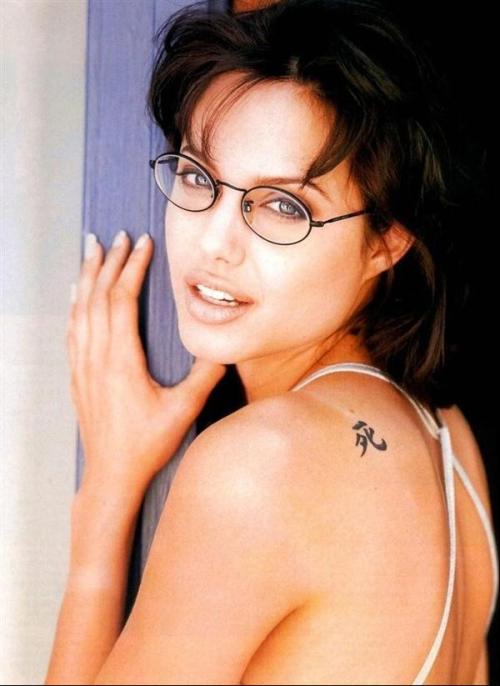 10. Angelina Jolie's Dragon Tattoo
An Asian dragon tattoo was just beneath the Billy Bob tattoo. The dragon tattoo was completed before her ex-husband's name was revealed. After the relationship ended, she had it removed. She later regretted having someone's name tattooed on her skin, saying in an interview, "I will never be stupid enough to have a man's name tattooed on me again." It took five visits to remove the leftovers, which can still be visible in fragments.
11. Angelina Jolie's Tennessee Williams Arm Tattoos
Angelina Jolie wears a tattoo that reads, "A prayer for the wild at the heart kept in cages." It is from Tennessee Williams' 1941 play Stairs to the Roof. She had the tattoo done in front of her mother. Swirling lines connect this tattoo to the one next to it.
12. Khmer Script Tattoo
Angelina Jolie has a Yant ViHan Pha Chad Sada tattoo on her back. An ex-monk inscribed it on her back with steel rods and a clinical steel needle. There are two yants in the elaborate design. Scripts are found in the upper boxes. The four continents and the four elements – water, wind, fire, and earth – are represented by the Sak Yant talisman square. Ajarn Noo Kanpai traveled from Bangkok to Siem Reap, Cambodia, to do this tattoo. Her ex-husband acquired the same ink to tattoo a Buddhist sign on his tummy to keep the couple together forever. However, the marriage ended in September of the following year.
13. 'H' On The Wrist
Angelina wears the letter 'H' on her left wrist as a tribute to her brother, James Haven. It is a typical Norwegian tattoo. Many assume it is in honor of her ex-boyfriend, Timothy Hutton. 'M' is also tattooed on her palm in honor of her mother, Marcheline Bertrand.
14. Angelina Jolie's Swirl Tattoo
It is a decorative swirl sign, which is considered sacred by the Buddhist religion. This tattoo is on her upper left arm. And represents a shield against dark energies and to provide good fortune to the bearer.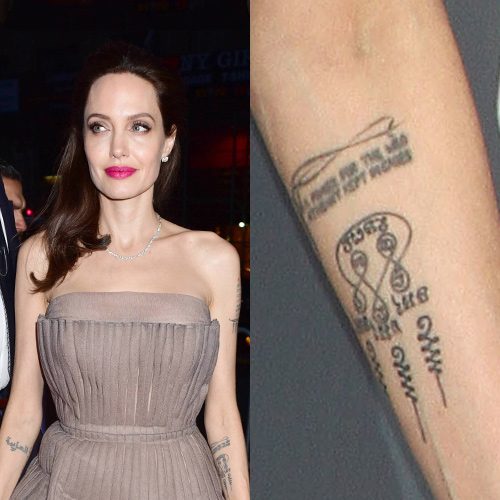 15. Inscriptions On The Right Hand
Angelina has Urdu writings on her right arm. She did, however, cover them up with her Roman numerical tattoo.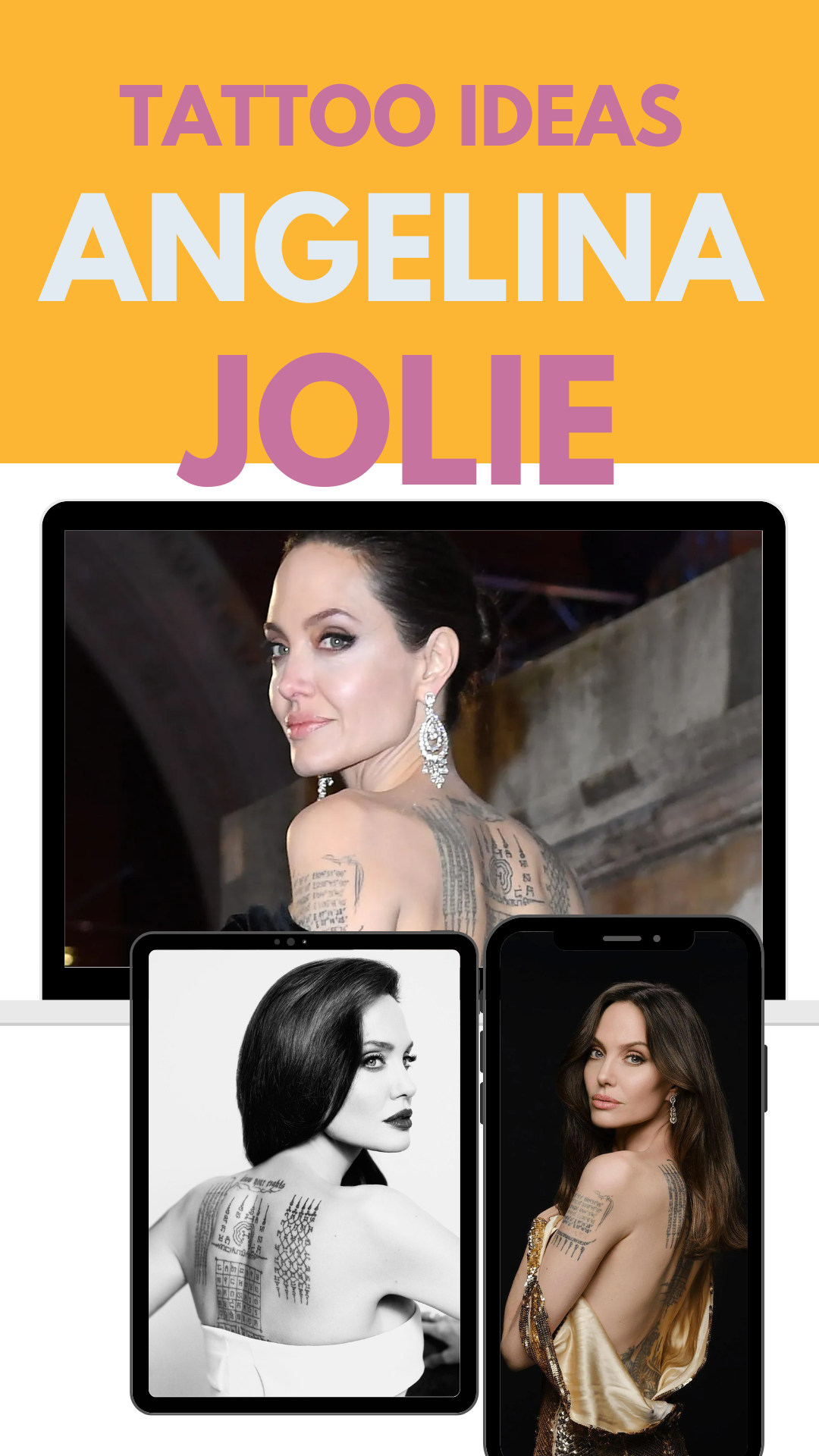 Other Articles