The dragon stands for power, strength, and longevity. Dragon Tattoo Designs is popular with both men and women all over the world. The word 'Dragon' originally came from a Greek word, which means a large serpent. Dragon is the most amazing fictional character of mythology. From Asian countries to European countries, the dragon has several meanings. Dragon is a symbol of wisdom, spirituality, prosperity, masculinity, and sexuality. Dragon is also considered as the master of natural elements- Earth, Fire, Water, and Air.
It is a surprise to know that, dragon not only destroys with fire, ice, and passion but also creates fire. In eastern countries like China, Japan, Vietnam, a dragon is considered as a Nobel beast, honored for good luck. But in western countries, it is believed as an evil character. In many ancient stories, it is found that the most achievable honor is slaying a dragon in order to win the love of the princes. In that way, the dragon is a symbol of protection and desire. Dragon is fearless and icon of freedom and courage as they fly unconditionally. Being a water animal, the dragon is often considered as a mediator. Apart from this, Dragon has a vast range of interpretations. Every culture has own concepts and idealism. Let's check some fabulous dragon tattoos and their reviews before getting inked.
1. The Dragon of Treasure
It guards against worldly elements.
2. The Celestial Dragon
It is renowned as the Gods' and Universes' guardian.
3. The Revolving Dragon
It is the seven oceans' defender.
4. Floral Dragon
Flowers symbolize grace and sophistication. Make a powerful yet feminine tattoo by incorporating them into a dragon design. This one-of-a-kind design features a dragon looping itself into a coil with flowers on its back.
5. Yin And Yang Dragon Tattoo
This dragon design is one-of-a-kind. The Yin and Yang emblem is formed by two contrasted dragons in white and black. This meaningful tattoo will complement your upper back nicely.
6. The Enticing Dragon Tattoo
Increase the impact of your dragon tattoo by having it tattooed along the side of your leg. With this lovely duo-chrome tattoo, you may direct people's attention as far as you desire. Its classy appearance is enhanced by the lovely shading, flowers, and detailed scale work.
7. Dragon Tattoo in Color
This stunning dragon tattoo in blue and orange is the ideal design to display on your upper back. The watercolor strokes and shading contribute to the dragon's wings' allure.
8. Spiral Dragon Tattoo
This one-of-a-kind tattoo depicts a spiral dragon with its tail erupting from its mouth. This tattoo's meticulous line work and shading offers unsurpassed grandeur.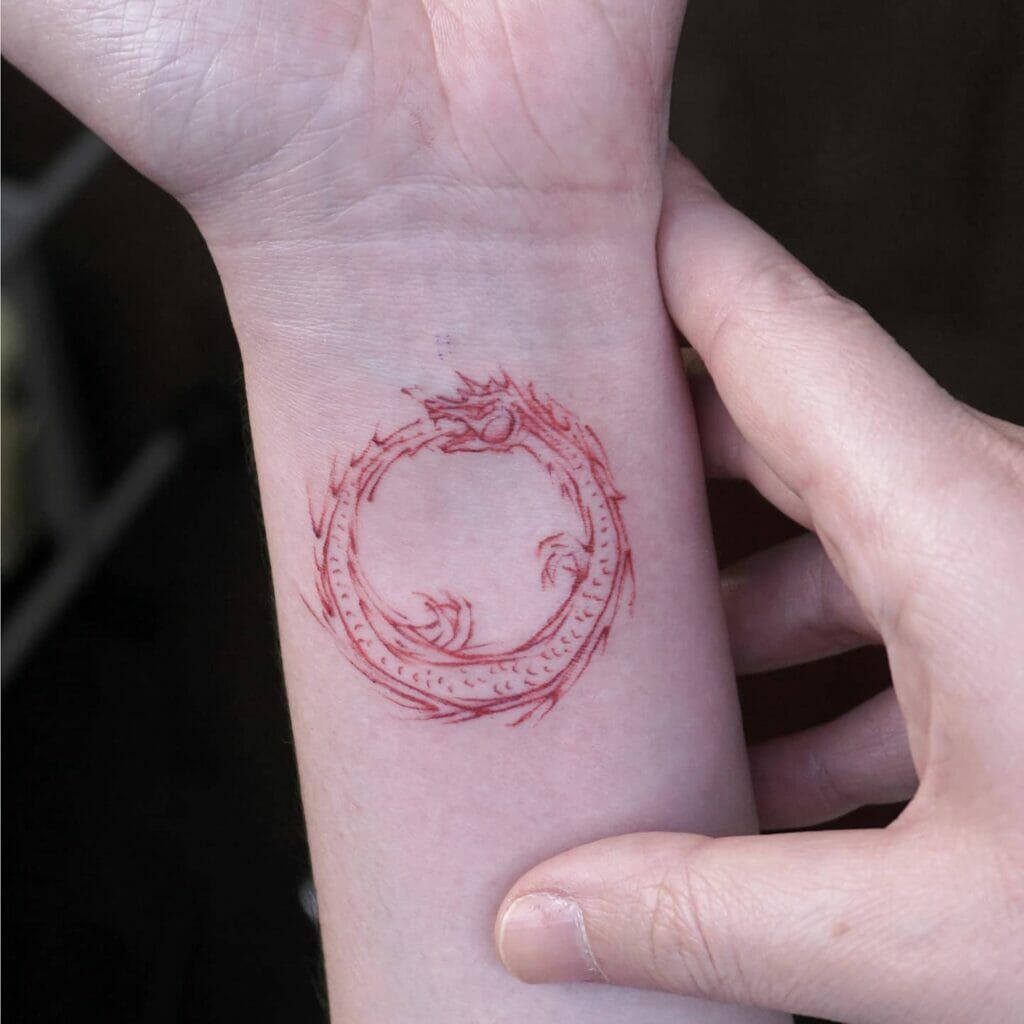 9. Tattoo of a Dragon Skull
If you like skull tattoos, this dragon and skull tattoo with an open-winged dragon perched on a skull is the one for you. If you think you have a killer attitude, get this dragon shoulder tattoo. The upper back is the ideal location for this tattoo.
10. Baby Dragon Tattoo
Every dragon tattoo does not have to be dramatic and flaming. This baby dragon design, inspired by Disney, is colored in bright blue and sticks out in a crowd. If you enjoy cutesy tattoos, go for this one.
11. The Tattooed Dragon
If you enjoy intricate designs, this is the tattoo for you. This intricately lined dragon tattoo tells volumes about the tattoo artist's abilities. Its eye-catching spikes will look excellent on your forearm.
12. Tattoo of a Tribal Dragon
This lovely tribal art pattern is perfect for your back. The rich shade work and exhibition of various pieces in monotone hues lend an ethnic feel to the piece.
13. Tattoo of a Dragon on the Side of the Ribs
This cool side rib tattoo is one you'll want to show off on your curves. This lovely version of Chinese art has a simple line tattoo with distinct scales and complexity. Wear a crop top to show it off to its full potential.
14. The Dragon Tattoo in Abstraction
If you like modern art and secret meanings, this dragon tattoo is for you. This lovely dragon back tattoo with a black brushed design is an excellent example of abstract majesty.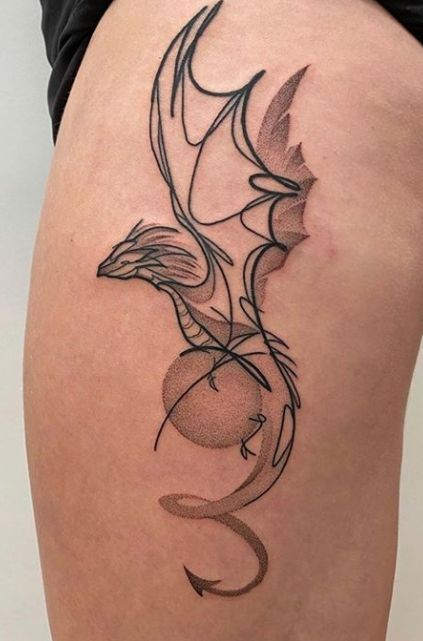 15. Dragon Tattoo on the Wrist
If you like little tattoos, this pattern will catch your eye. These four small dragon tattoos, tiny silhouettes of dragons swooping on your wrist, are the cutest and most stylish gift you could offer your arms.
16. The Dragon Tattoo on the Chest.
If you're a big lover of ice dragons, get one tattooed above your heart. This dragon's magical and lovely white and blue hue and delicate form. It is the most beautiful dragon chest tattoo.
17. Tattoo of the Dragon's Eye
If you like your tattoos to stand out, this design is for you. The focus on the dragon's green eye adds a mystical element to the tattoo. It's ideal for your forearm.
18. Game of Thrones Dragon Tattoo
This one is for all of you Game of Thrones fans! Welcome to this sassy Daenerys Targaryen tattoo (also known as the Mother of Dragons). This vibrant tattoo of Daenerys is surrounded by three brightly colored baby dragons and is done in a cute comedic way. Show off your devotion to the series by tattooing it on your bicep.
19. Dragon Tattoo Outline
Choose this tattoo if you prefer to keep things simple and stylish. This little red-lined dragon tattoo has an authentic Chinese appearance. This is an excellent tattoo for the side of your back.
20. Tattoo of a Dragon on the Leg
Do you want a tattoo that spans the entire length of your legs? This tattoo masterpiece will transform you into a living goddess. With its powerful strokes and perfectly curved lines, this full-length dragon appears lovely.
21. Japanese dragon tattoo
In Japan, a dragon has a very important and vast impact on culture. Here, dragons always come with the cloud as they are considered as a water deity. For the Japanese, a dragon is kind and protective for them. But there are not only one but six types of dragon each caring different significances- Han, Hai, Ka, Sui, Ri, and Fuku. Fuku is the most popular one and brings good luck. Even the color of the dragon is also indicative. Green dragons stand for life and nature, yellow dragon helpful, whereas the black dragon is a symbol of love.
22. Fantasy dragon tattoo
Keeping aside all the heavy-weight concepts, dragon tattoo becomes really attractive and charming when it collaborates with some fantasy. Everybody loves fantasy and has their imaginations. From the various superhero movies and fairytales, people especially girls and children found dragon as desirable. The comic character Mushu from Disney's Mulan also helped to break the image. They are generally illustrated with some eye-catching color, stars, and some props. You can customize your tattoo by size, color, and concepts. A colorful shoulder tattoo can be a head-turner for others.
23. Gothic dragon tattoo with caligraphy
People who are powerful and fearless prefer gothic style dragon tattoo. Gothic style dragon generally appears with a certain action. Here wearer inked mirror dragon on both the wrist may want to display inner conflict. Or maybe, they want to convey their dominance to accept any challenge.  that Gothic dragon tattoos are violent with their large teeth and talon to showoff strength, an evil power. You can add calligraphy to enhance deep meaning and earn attention. This small size tattoo can perfectly fin in your wrist or arm.
24. Flying dragon with moon tattoo
A beautiful rendition of a flying dragon on the back looks phenomenal. Dragon is a symbol of strength, power, prosperity. When the moon comes with a dragon, it represents the supernaturality of the moon. Moon and dragon both resemble water. They both together represent the relationship between nature and the subconscious. On the other hand, people, who have old & wise parents, can wear a black dragon tattoo. A back tattoo is easy to maintain, possibly to hide from sun exposure. Girls and boys both prefer this type of tattoo. This large and detailed tattoo may cost high.
25. Chinese dragon tattoo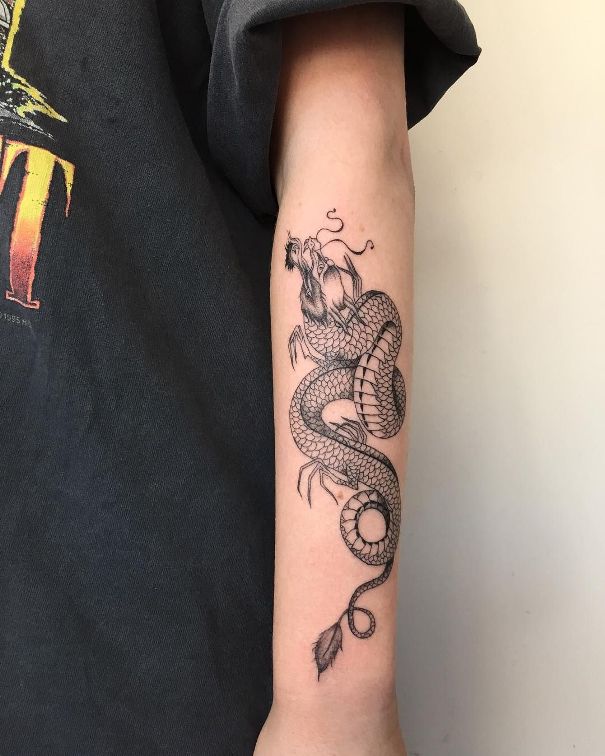 In China, the dragon is a symbol of good luck, intelligence, and harmony. A Chinese dragon tattoo is more like a snake, has scales on their entire body and beard of flame. Dragon carries the symbolism of masculinity. People associate dragons with rain also. In China, a dragon is an iatrical part of astrology and collaborated with the no 9 which is the biggest possible single no. There are four types of Chinese tattoo to get inked with- Earth dragon, Celestial Dragon, Horned dragon, and Yellow dragon. People with deep spiritual thought wear celestial dragon tattoo. On the other hand, people born in the 12th month of the Chinese calendar which is a dragon.
26. Flaming dragon tattoo
Flaming dragon tattoo on your skin can surely turn people's heads. A fire-breathing tattoo is a symbol of passion and sexuality. It also depicts the unstoppable force of nature. Assembled with Castel creates something related to horror or mystery. We can find a flaming dragon in many famous stories and movies. To enhance the flame, you need a color tattoo. If the dragons are small in size, you can put more than one dragon. Color tattoo costly than black-white. This medium size tattoo can fit on your arm, chest, shoulder easily.
27. Colorful dragon tattoo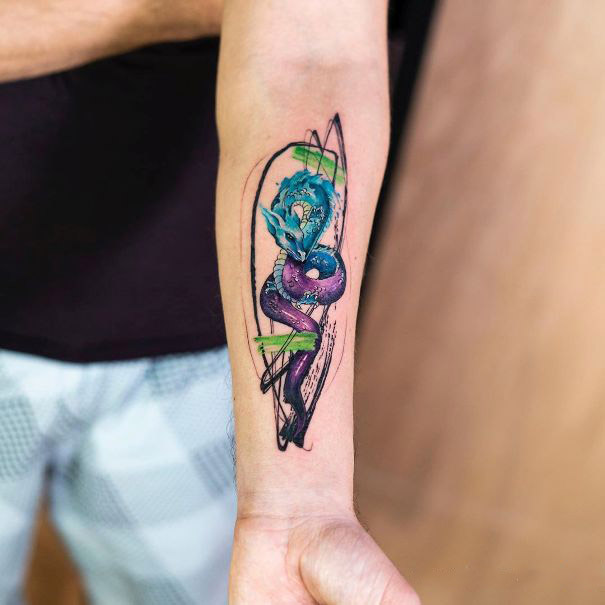 Where most of the dragon tattoos are in color black & grey, a color dragon can break the monotony and looks really attractive. You can make your tattoo unique by choosing the right color according to your personality and thoughts. According to Japanese and Chinese culture, every color holds different meanings. Blue is the color of laziness, forgiveness, and solicitude. Green stands for life, yellow is for egocentric. Whereas gold is associated with kindness, wisdom, and helpfulness. You can layer up more than one color to enhance the beauty and depth.
28. Small dragon tattoos
One or more small dragon on your wrist looks cool and trendy. Sophisticated people especially girls prefer to wear small tiny tattoos. Dragons are a symbol of independence, potential, luck. But you don't always need a deep meaning to get inked a dragon tattoo. You can flaunt a small cute dragon tattoo just out of love and interest. A small size tattoo can be well fitted in your wrist, neck, leg, or shoulder. Small tattoos can be decorated with some props. Wrist tattoo looks trendy but needs to avoid crease lines.
29. Dragon flower tattoo
One of the unique and strange ones is the dragon flower tattoo among all. Dragon flowers are attractive and elegant flowers but originated from some unexplainable source. For the tattoo, the artist sometimes illustrates some real flowers or combine the dragon with flower. You can also put some random flowers of your choice. But the flower of your choice will decide the meaning of the tattoo. Overall dragon flower tattoo is a graceful one. To pop-up the color of flower this tattoo is generally drawn in color ink. A good selection and composition can make your tattoo worth.
30. Classic dragon tattoo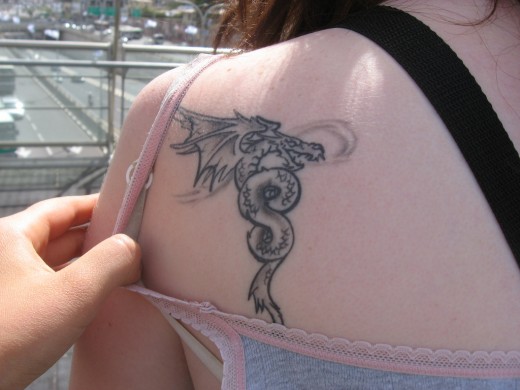 A classic long dragoon tattoo is always on-trend and appreciable. Dragon carries several meanings. People can wear them to flaunt any suitable idea matched with their personality. Classic dragons are furnished with wing, teeth, fire, scales, etc. long dragons are generally shown in entangled forms. Artist rendered the tattoo with nice blake strokes and shadows. A medium-size tattoo can be fitted in your shoulder, back, arm, leg, and chest. Shoulder tattoos are gorgeous to flaunt and look sensual sometimes. It's easy to maintain. The amount of ink and detail will decide the price of a tattoo. So, with all the Vivid descriptions of some eye-catching dragon tattoos, you are now good to decide and customize own tattoo. Just one thing you need to keep in mind that, tattoos are expensive and lifetime engagement. Therefore, choose wisely, and fall in love with your tattoo.