The sun is the reason for our existence in this world. Sun made our planet unique among all. It gives us energy, light, and heat for the existence of the whole human, animal, and plant kingdom. Sun is also the heart of the solar system. From the very beginning, the sun is here, as a witness of evolution and history. That's why we can found the existence of the sun tattoo throughout all the historical civilizations.
Sun is the most common, popular, and ancient form of a tattoo. It's a symbol of life, strength, knowledge, power, and of course growth or fertility. Sun is also a symbol of truth because there is no truth bigger than it. If we look into Egyptian culture, they represented the sun in the circular form associated with their chief deities. Christian people often represent Jesus Christ with the sun. On the other hand, in native America, they honor the sun as a source of land-fertility. They also believe that the sun has the healing power from all the odd. According to alchemy, the sun is a sign of mind too. Even the whole family of plants and animals follow the sun direction as some rise in the morning or some at night.
In modern days people also follow the sun-sign to express personality. So, before jump over for a sun tattoo, let's discuss some amazing sun tattoos to understand better.
1. Sunrise in the shape of a heart
The heart, representing pure love, is frequently featured in symbolic love tattoos. Sunrise, on the other hand, represents a fresh start and hope. This tattoo will be worn by someone who believes in the power of love to transform the world.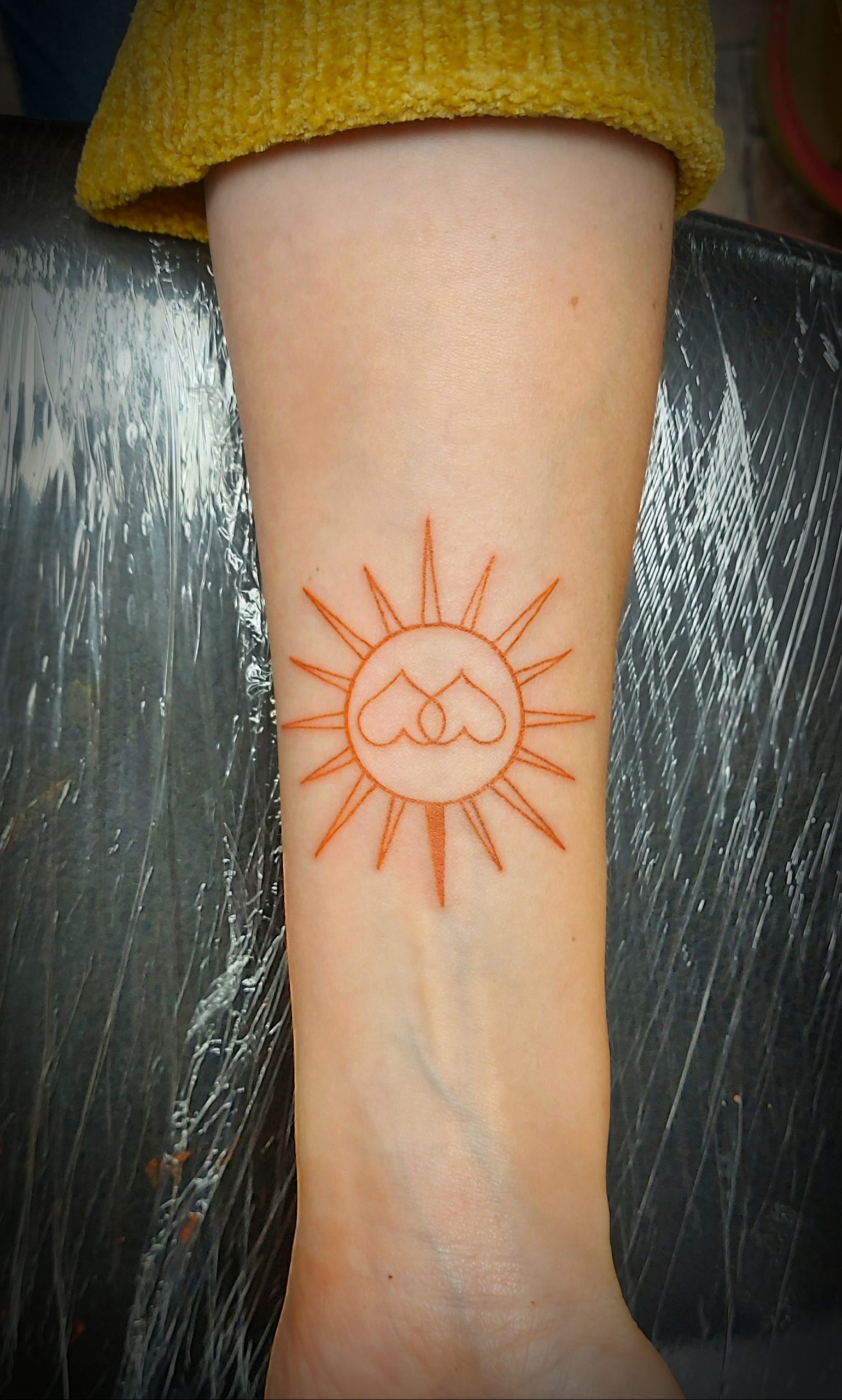 2. Blue Sun tattoo
Blue flames have the highest temperatures. So, while this sun tattoo isn't bright red, it undoubtedly depicts the wearer's fiery spirit and desire.
3. Between the boobs, sun tattoo.
Nothing says "intimate and sexy", like a tattoo between the boobs. However, finding a design that fits exactly in this area is difficult. That is why the sun is an excellent choice: you can scale it up or down and modify its shape.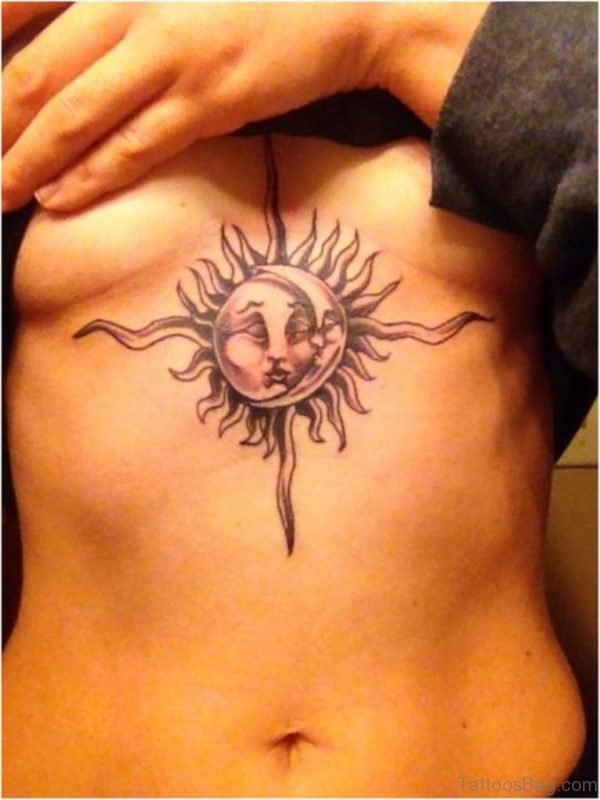 4. Tattoo with mountains and the sun
Mountains represent exploration and adventure. To keep the mountains elegant, the tattooist depicts them in simple triangles. A tattoo like this will express your identity if you are an adventurous minimalist.
5. Tattoo with the sun and waves
This tattoo is reminiscent of the famous Japanese ukiyo-e artwork The Great Wave off Kanagawa. The inclusion of the sun adds more colour to this tattoo.
6. Plant Sun Tattoo
The sun gives energy and is the source of life for everything on Earth. This arm tattoo represents plants in the sun and serves as a reminder never to stop developing.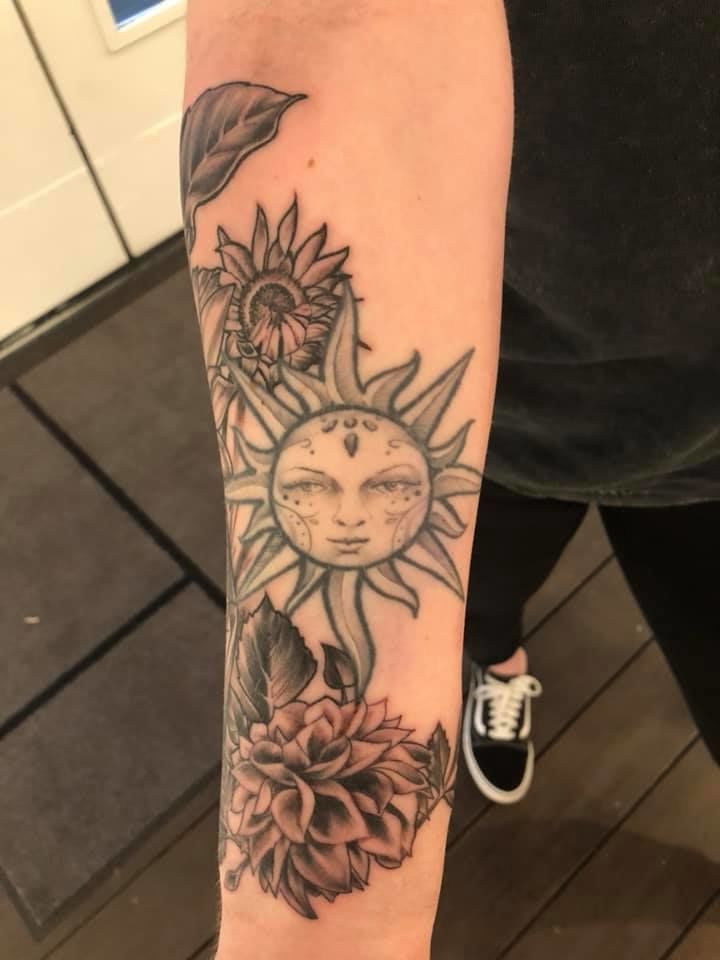 7. Tattoo of a dragon and the sun
The vibrant colour palette makes this dragon tattoo stand out. In the West, dragons are frequently portrayed as destructive and powerful. The crimson enhances the tattoo's sense of peril. And the light, flowers, and leaves all add to the delicacy of this stunning look.
8. Eagle Sun Tattoo
Eagles, like the sun, maybe a sign of strength and power. It also reflects the wearer's quest for liberty. This back tattoo, when combined, represents the wearer's free spirit.
9. Tattoo of a lion and the sun
Leo is ruled by none other than the sun and is represented by lions in astrology. As a result, this lion tattoo will be an excellent choice for Leo. Furthermore, the strength it radiates makes it a statement of ambition.
10. Sun and eye tattoo
In tattoos, the eye is sometimes referred to as the Evil Eye. This is because it's thought to be a curse symbol. When transformed into an ornament or talisman, the evil eye becomes a protective emblem.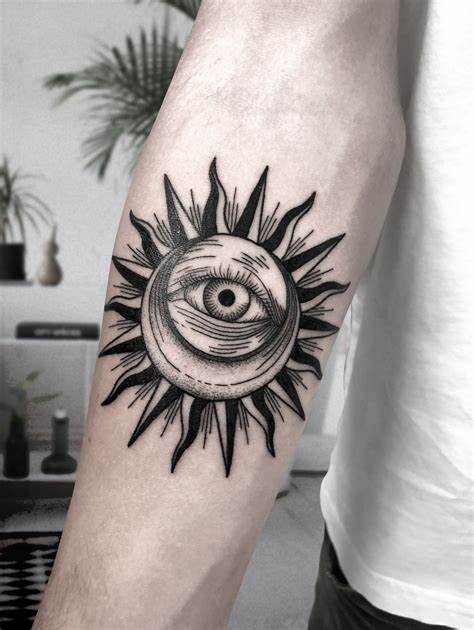 11. You are my sunshine tattoo
The sun represents more than just energy and hope. It can also describe something or someone you can't live without. This quote tattoo uses this principle to honour someone important.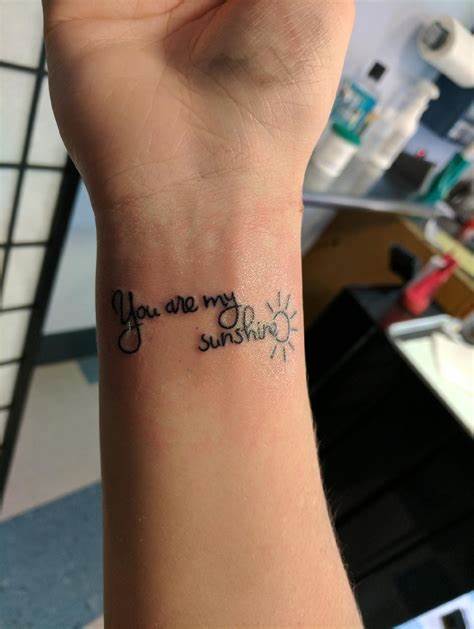 12. Sparrow and sun tattoo
Sparrows are frequently used in bird tattoos to symbolize transitions and life cycles. This symmetrical chest tattoo features two sparrows, two moons, and a radiating sun in the center. It also shows the wearer's upbeat attitude regarding life's ups and downs.
13. Splash of ink sleeve tattoo
What appears to be a large sun tattoo contains many thoughts. The sun's rays become thicker at the end, generating an ink-splashing impression and attracting the viewers' attention.
14. Sunflower and sun tattoo
Sunflowers and the sun are both symbols of hope and energy. This tattoo incorporates both into a simple yet empowering positive tattoo.
15. The Tattoo of the Celtic Sun
Sun tattoo designs are frequently influenced by the Celtic aesthetic. The sun can symbolise healing and fertility in Celtic tradition, making it a popular choice for ladies. Celtic mythology thinks of their gods in relation to the sun. Thus it has a lot of power as well.
16. The Tattoo of the Black Sun
Making the sun black is a frequent design decision that works well with black ink. The black sun is connected with twilight and dawn, as well as the shift from day to night. It also incorporates solar eclipse images, and some believe it denotes rebirth.
17. Tattoo of the Sun and Moon (Yin Yang)
The yin and yang symbol is derived from ancient Chinese philosophy and represents the union of two opposed notions. As a result, the sun and moon fit extremely well into the yin and yang since they, too, are opposing energies that function in harmony. In such tattoos, the sun usually denotes rebirth and renewal, while the moon represents the past.
18. Tattoo of the Aztec Sun
An Aztec-inspired sun tattoo could be a terrific alternative for those interested in Aztec culture. The sun depicts a divinity who was revered by the Aztecs. According to legend, they even grew frenzied during an eclipse because they thought their sun deity had died. Because the sun was so significant in Aztec culture, a solar tattoo is an excellent way to honor this ancient civilization.
19. Tattoo of the Sun's Face
Including a face in your sun tattoo is a great way to personalize it and perhaps infuse some fun into the design. It humanizes the sun and gives it new meaning. You can pick whether you want a happy sun, a smirking sun, or even a low sun.
20. Sun Tattoo in Japan
If you have Japanese ancestry, you might be interested in a Japanese-style sun tattoo. This could incorporate a crimson sun, like in the rising sun design, or it could be inspired by Japanese artists such as Hokusai. Other components, such as cherry blossoms or a Japanese landscape, might be added to personalize it.
21. Sun Mandala Tattoo
In both Hinduism and Buddhism, a mandala is a circular figure that depicts the universe. Mandala designs combined with the sun produce a lovely combination of shapes and symbols. Combining the two forces also indicates harmony and stability in the universe, as well as creativity and passion.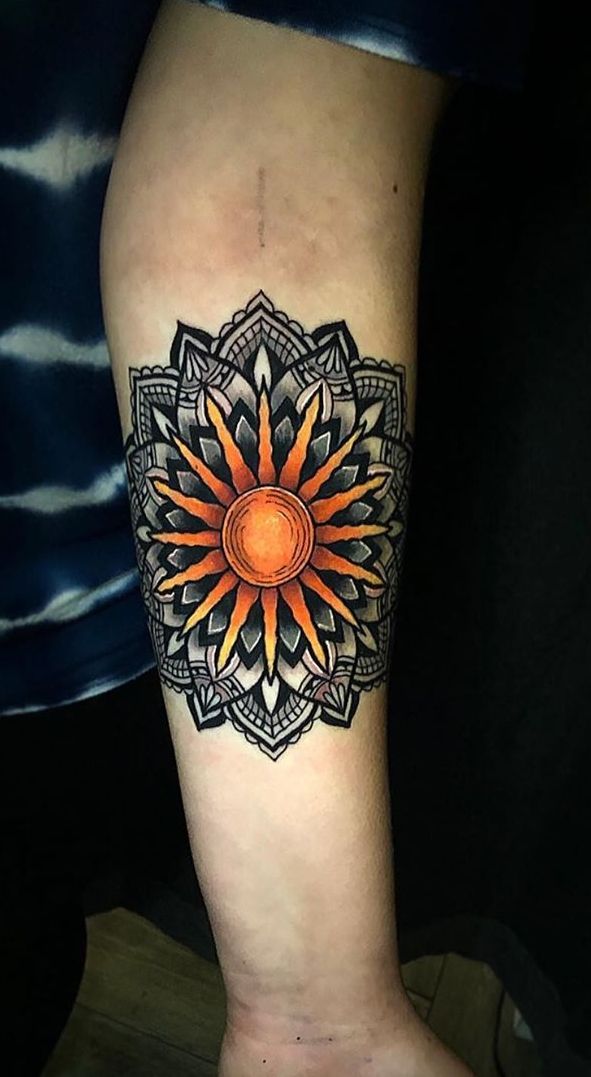 22. Moon, star, & sun tattoo
Moon, star, and sun altogether depict the astrological theme universe. This tattoo always spreads positive vibes. It is a very sensual sign. It has also a spiritual value. The sun is an eternal source of energy, the moon is the emotion of mankind, and the star is a symbol of divine power. Where the sun is responsible for day, a star spread lights on the night. The tattoo is so liberal that it can satisfy all your thoughts. You can customize the tattoo according to your thought. Minimalistic tattoo always attracts people by its sophistication.
23. Sun and moon tattoo
The sun and moon are two opposite element as the moon only shine when the sunset. Being two opposite energy, they together form a strong bond. We can denote them as a male-female sign. They are a symbol of unity. On the other hand, the sun and moon represent 'yin' and 'yang'. It depicts a balance of life. People who get inked sun and moon tattoo flaunt their strong and balanced character. It shows that the tattoo wearer has a deep thought about spirituality. This small, tiny, minimalistic tattoo looks stunning and attractive on the opposite shoulder.
24. Couple tattoo
This type of tattoo is a completely couple goal. Partners get inked with the same or complementary tattoo to convey their love to each other. They portray that they are inseparable and their souls connect through the tattoos even when they are far away. Black-white sun and moon tattoo is a very meaningful tattoo. It displays that one scarifies for others to shine. A pair of tiny tattoo can be worn on the wrist, sidearm, back of palm, or neck to show off easily.
25. Sun & cloud tattoo
Sun and cloud have a nice relationship. They play hide and seek. They are both symbols of happiness and rebirth. This tattoo is very popular in Japanese culture. They believe it as a sacred symbol. The sign also reflects the sacrifice or the pain of losing a close one. The comic representation of the tattoo looks cool and cute. The tattoo is furnished with some dots, flower pattern, white beads, and some splash of color. The intricate designs and colors will cost you high. A back tattoo is easy to carry.
26. Geometric sun tattoo
Here is an example of a beautiful rendition of a geometric sun tattoo. Geometry contains the basic natural form. Most of the tattoo designers prefer geometric patterns as there are lots of scopes to play with shapes and lines patterns. Here the tattoo is furnished with some solid black line, curve and fine dots. They altogether look stunning. Moon is hiding within the sun. This depicts the amazing relation between the sun and the moon. Both of them rise and set alternately just to let the other one shine. Leg tattoo needs extra care to carry on.
27. Cool sun tattoo
Celtic is another form of sun tattoo which is popular among both men and women. According to mythology, the sun had a connection with multiple Gods, and it had healing power. The Celtic sun is a symbol of life and fertility. People are associated with nursing or would-be parents can have this type of tattoo. Here tattoo owner paired up the sun with a beautiful moon tattoo. And below, there is also a baby elephant. Sun, moon with life, we can look the whole design a universe.
28. Minimalistic sun tattoo
We all know less is more. A most simple sun tattoo in bold black can also be a head-turner. A sun tattoo indicates the end of the previous incident. Or it can be an indication of transition just like day tonight. The array of twelve ray-marks can be associated with time, calendar or ecliptic divisions. On the other hand, you can just flaunt a sun tattoo just as a style statement because they are trendy in fashion. Sidearm tattoo will cost you little more as they need more touch-up to maintain.
29. Tribal sun tattoo
Tribal tattoo is an old art form. It is bold and beautiful. It depicts a powerful impact as well as an eye-catching design. Sun tribal tattoo conveys the relation between sun and life. It can be simple in form or detail in a diagram. There are lots of patterns and meanings too. The Mayans used to ink the sun tattoo to display their strength. Whereas, the sun was a symbol of creation among the Navajo tribes. The dark bold color of the tribal tattoo is very attractive. Shoulder tattoo is good to flaunt, or you can cover it when you wish.
30. Solar wheel tattoo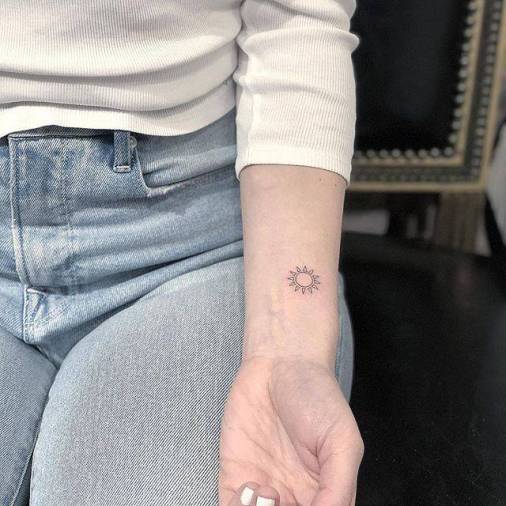 The idea of solar wheel design is unique. A small and tiny grey solar wheel tattoo can be an eye-catcher. This is a little bit different in form. The ray of the sun is inked with cross designs other than simple dots or lines. You can always customize the diagram according to your preference. Girls love to flaunt them on arm. They can also perfectly fit on your neck, wrist, or ankle. Simple line tattoos are pocket-friendly. The inner arm tattoo is easy to maintain due to less sun exposure. But one should avoid the crease line area for avoiding health hazards.
31. Rising sun tattoo
This is one of the most simplistic line tattoos of the rising sun. Rising sun tattoo is part of Japanese culture. The rising of the sun indicates the new beginning. As the sun rises every day you have a chance a start fresh every time. A person who wants to overcome and forget the previous unpleasant life and begin a new life, the tattoo is perfect for them. People also flaunt the tattoo to show off the change of physical attribution. This easy and minimalistic tattoo cost you low. You can put it on the leg, ankle, shoulder, or back of the hand.
Therefore, you can get an overview of different kinds of sun tattoos. Customize your tattoo as per your ideas. One thing always keens on your mind that, a tattoo is not like putting make-up, it is an affair of a lifetime. So, chose wisely, flaunt, and enjoy.
Other Articles