itSnake or serpent holds an important role in our history, mythology, culture, and beliefs. As written in the Bible, the serpent insisted Eve to have the apple and since then sin began as a result. So snake has been seen as the symbol of lust, temptation, and kind of evil. But the snake also represents the force of nature, life, and fertility. It's believed that as they shade skins they are also the symbol of growth, transformation, and healing. For native people, snakes consider as sacred and represent masculinity and femininity both at the same time.
So getting a snake tattoo has both positive and negative impacts. It depends on the person, how he is connecting with the snake Tattoo inked into the skin. It symbolizes grace, purity, knowledge, the cycle of life, courage, etc. On the other hand, it also depicts the evil, negativity, hell, demonic side of the tattoo and the bearer at the same time. As the snake is held as evil but also has medicinal properties, so the tattoo design has similar aspects. It is up to the bearer which is the meaning of the tattoo he or she wants to represent. The first one has to be very clear, whether it's your beliefs or fashion statement, choose your tattoo design wisely. Let's take a look at the following tattoos and what they represent to you.
1. Tattoo of a Snake and a Skull
This tattoo appears to be a terrific modern variation of a traditional biker tattoo. You've made a highly detailed and shaded skull (complete with some nice teeth, if I may say so). Then there's the unrealistic yet appealing blackwork snake that winds around it.
2. Snake Tattoo 6 The Evil Medusa's Snakes
Medusa tattoos are fairly common, so what distinguishes one from the rest? It's the white-out ghost eyes and the fissures in Medusa's otherwise exquisite face that do it for me. Is it correct to be cautious of attractiveness and who you kiss?
3. Rose Snake Tattoo
On the side of the hand is a snake and rose tattoo. Would you want a side calf tattoo if you didn't already have one?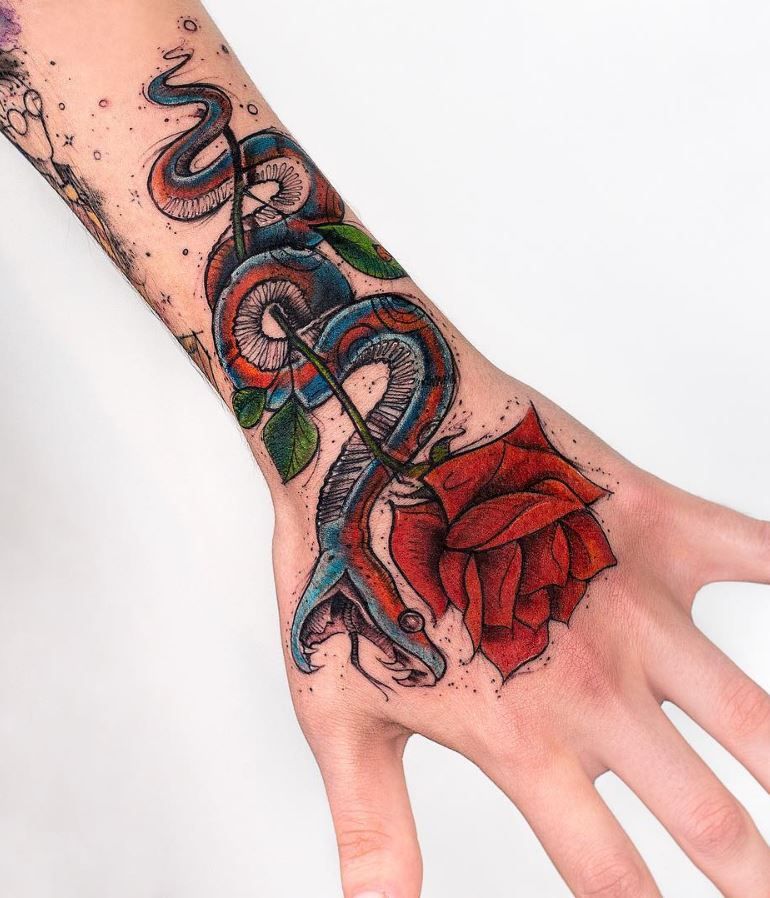 4. Blackwork Snake and Dagger Inner Forearm Tattoo.
That is not at all realistic. The actual design arrangement is amazing. Excellent placement on the inner forearm. This is an excellent work.
5. A Tattoo of the Ouroboros
The Ouroboros is a legendary snake that eats itself, representing eternity and the cycle of life and death. Normally, I don't like ouroboros tattoos, but this artist did an excellent job of making the snake look real. Furthermore, the placement around the knee is disgusting.
6. Snake Tattoo That Is Hypnotizing
This sculpture combines blackwork and simple styles. As the snake twists and reveals its scales and underbelly, the artist creates a dazzling pattern. The snake's crawling pattern is likewise quite smooth.
7. Snake Tattoo in Miniature
If you want a snake tattoo that sticks out from the crowd, an idea like this one is a wonderful choice.
8. Minimal Blackwork Snake Ear Tattoo
Ear tattoos have grown in popularity because, despite their small size, they convey a powerful message. They are inexpensive and easy to obtain. The artist did an excellent job with the dots, lines, and shading. I'd like to see how this tattoo looks once some time has passed.
9. Snake Tattoo in Fine Lines on a Woman's Collarbone
You've probably seen that snake and flower tattoos are highly popular. Not surprising given their origins in the Garden of Eden. Style and placement are frequently distinguishing characteristics. The delicate and feminine sense of the flowers and serpent is enhanced by the thin black lines. Of course, the tattoo's location over the sensual lines of the collarbone adds to its allure. This is not a bad thing.
10. Woman's Forearm with a Red Linework Snake Tattoo
Of course, any tattoo on your arm will draw attention to itself, particularly when it's a snake. Particularly when done in crimson ink. The snake's detailing is accomplished by drawing thin red lines next to fully shaded sections. Together, I believe they give this snake an ornamental feel, similar to what you might find in an Indian painting.
11. On A Man's Scalp, An Old School Snake Tattoo
There are snake tattoos that aren't snake tattoos. This one is cool and unique. True to the Old School aesthetic, there are bold black lines, simple shading, and a limited color palette. But this isn't your grandfather's pin-up girl tattoo. I like how the snake follows the ear's curves and is then framed by the rose. With its blood-red supersaturated color and arrowhead-like leaves, the rose is stunning. Congratulations to the artist.
12. Snake Tattoo in Fine Lines
This snake has a fascinating sensation despite its modest design. The use of fine black lines creates incredible detail. The contrast between the snake's scales and belly allows you to detect its movement. Right on Your Skin, Slithering, Slithering, Slithering
13. A Woman with a Red Floral Snake on Her Back
The location of the snake is what makes this tattoo so unique. Speaking of ink, the red ink on this person's skin provides a truly interesting aesthetic you don't see very frequently.
14. Tattoo of a Floral Snake on a Woman's Ribs
This tattoo is lovely, delicate, and very feminine. It follows the contours of the chest, accentuating its curves with thin black lines and a floral theme. This will be a pleasant surprise for those fortunate enough to view it, as it is usually covered beneath clothing.
15. Tattoo with a Snake Head
A snakehead tattoo is one of the trendiest and most badass tattoo alternatives, making it ideal for those looking for an intimidating and macho snake tattoo. These designs emphasize the dangerous predator side of a snake by emphasizing its fangs and venom. Snake head tattoos have a lot of movement and appear to jump off your skin.
16. Tattoo of a Snake Skeleton
Skeletons are an interesting and uncommon spin on an animal tattoo. So, if you're looking for a one-of-a-kind snake tattoo, why not go for a skeleton? A snake skeleton tattoo is more difficult to produce than other snake tattoos, so look for an artist who specializes in anatomical patterns. Snake skeleton tattoos look excellent on the arm, shoulder, or bicep.
17. Snake Tattoo by Gucci
One of the many animal emblems used by the Italian fashion brand Gucci is the scarlet kingsnake. With its brilliant colors and semi-coiled position, the iconic red, black, plus white snake not only looks fantastic but also has an interesting connotation. Scarlet kingsnakes are docile and prefer to be left alone. They are also non-venomous, which means their bite is not harmful to humans. As a result, a scarlet kingsnake tattoo is a good choice for someone shy and tranquil rather than dominant or aggressive.
18. Snake Consuming Itself Tattoo
Ouroboros is the ancient emblem of a serpent eating itself. The mystical image, which has been around for thousands of years, signifies the cycle of life, death, and rebirth. It also represents infinity and unity. The Ouroboros is a wonderful alternative for people looking for a spiritual or historical snake tattoo. It is suitable for various settings, including your forearm, chest, or back, and will spark a conversation.
19. Tattoo of a Two-Headed Snake
What could be better than one snake? Two! A two-headed snake tattoo is unique and badass, with intriguing symbolism. The two snakes signify an internal conflict – two conflicting aspects of your nature that must be reconciled, such as your aggressive and tranquil sides. A two-headed snake can also symbolize having two 'paths' in life and making difficult decisions.
20. Snake Tattoos
A snake eye is a one-of-a-kind snake tattoo design. The inking, similar to a dragon eye tattoo, stands out due to its frightening and reptilian aspect. Your artist can use saturated yellow or green ink to create a bold, true-to-life tattoo, then add white ink details and black shadow to create the illusion of depth. To add to the snake impression, make sure there are scales around the eye.
21. Blackwork Serpent Tattoo
Black work snake tattoos are very unique and stylish designs. It is bold and very striking and resembles the idea of rebirth as the design makes the snake look more lively. Mostly it's done on the forearm and demands patience. It has intricate designs and doesn't need any other color than black. But be careful while doing the tattoo as some major veins are going underneath the skin and may hurt you a little. It is very interesting to notice that, this design is in the tattoo collectors bucket list.
22. Geometric Blue Snake Tattoo
This snake tattoo has a blue and black combination with dark and faded lines. It has some geometric patterns and celestial figures also. It is a subtle masculine tattoo that can be inked on your forearm. The geometrical pattern represents balance, stability, and mystery also. And the snake tattoo shows strength, transformation, and new lease of life. Whereas, celestial bodies like stars and planets, represent the connection between the spiritual and physical world. So, this unique design works as a bridge between belief, spirituality, and potential experience in practical life.
23. Ring Finger Sleek Snake Tattoo
A beautiful sleek black snake tattoo on the ring finger depicts a lot of emotional waves. It means a token of appreciation and love for your beloved. And as we already know, snake tattoo design elaborates on the idea of temptation, lust, and fertility along with secrecy & mystery. This amazing design can be a token of love and sealing the bond between two souls. Some people opt for a color variation also, like either red or black. As it is tiny and doesn't require much detailed work, may not cost you much.
24. An Entangled Snake Tattoo on Neck
A beautiful entangled snake tattoo on your neck can be a major fashion statement. It has modernity and mythological touch at the same time. It reveals the secretiveness and the idea of protection, balance & authority. It's forming an interesting loop pattern also. Its mouth is pointing towards the spinal cord and the tail towards the brain. It seems it's striking a balance and coordination. But as it is done on the neck, it can hurt you a lot and the artist has to be very careful while doing it.
25. Tiny Snake Tattoo on Ankle
This little snake tattoo design is very feminine, though snake tattoo can be linked by both parties. This tattoo design draws on inspiration from tribal art. The eyes and small yet geometrical shapes make it very interesting. Like a small pack of the dynamo with immense possibilities and waiting to be explored. It is powerful, ready to change, take charge, and build up awareness. Tattoo on the ankle, it may cause pain but won't cost you a hefty amount that's for sure. You can wear them with short jeans with ample opportunity to show off.
26. Snake and Crescent Moon Tattoo
This design is so interesting; one may not take his/her eyes off. It's kind of enchanted, mystique, and believed to be inspired by gypsy culture. As you see, the snake has detailed work with thin backlines and aligned with some lines which are making a pattern. And at the end the Crescent Moon with a circle in-between. It is a popular belief that, snake and moon are related as both change their phases and every time transform. So a tattoo having both in it is a strong indication of the person's possible transformation, regeneration, and discovery of one's self.
27. Snake & Leaves Tattoo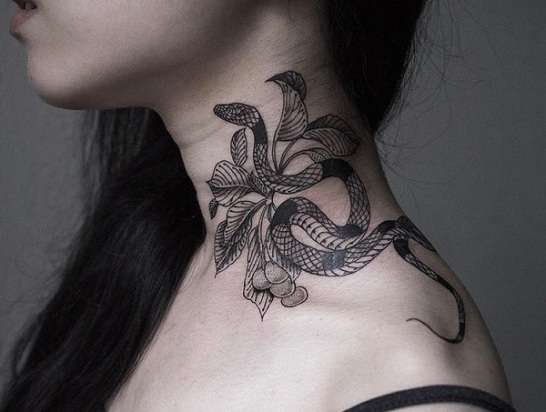 A beautiful design inspired by Japanese tattoo art. The snake and the leaves are so palpable that hardly one can distinguish. As if, the pit viper snake has been camouflaged with the leaves. Both bear the same line pattern and make it visually appealing and at the same time indicate some hidden danger also. Snake tattoo represents the circle of life and power, whereas leaves & fruits depict the love, lust, desire, and life force. So together, they make a deadly combo, and the bearer should be very careful before carrying it.
28. Black Snake Tattoo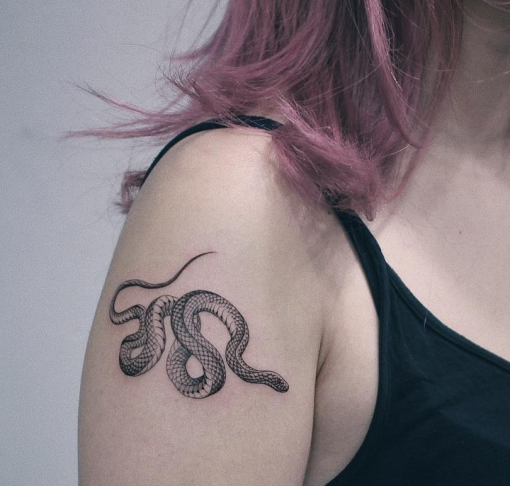 A detailed line work brings this snake tattoo to life. On your upper arm, it shows the power and authority along with a sense of mystery and divination. Opting for color may be your choice but here the black ink does the wonder. Detailed line work, tile, and geometric patterns and interesting loops made the design worth a shot. The simplicity may not put a hole into your pocket and won't hurt much either. Post-tattoos care is also easy as you can hide it easily whenever needed.
29. A Beautiful Serpent Tattoo on The Backhand
This beautiful sleek black snake design on hand is so powerful and authoritative. The owner should have a sense of conviction and wisdom & patience. It also shows some kind of darkness, revenge, and temptation at the same time. So while choosing this design one must be clear with the meaning that the tattoo is going to convey. The approaching serpentine may not be easy for others to follow, yet it has a charm, hard to resist. It is on the back of your hand, the artist has to be very careful as lots of veins and arteries are there just under the skin.
30. Bracelet Snake Tattoo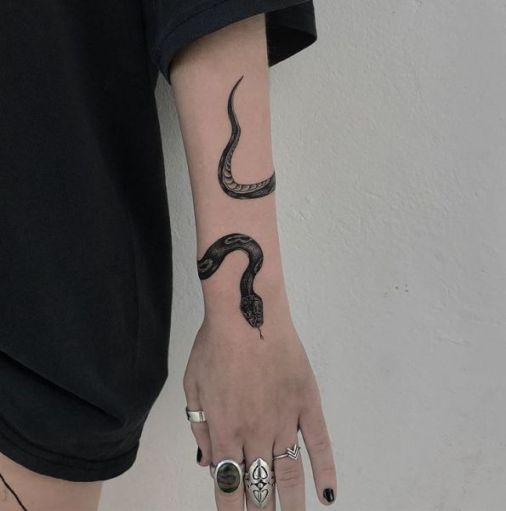 This particular bracelet designs with black ink snake tattoo are so feminine & stylish. The tattoo doesn't show the full length of the snake as half of it hidden at the back of your hand. Thus making it mysterious and gives a hint of discovery. As the snake is approaching and holding you at the same time, it gives a sense of security, power, grace, and sexuality. One may choose a tattoo out of community belief, tradition, and custom or just for fashion. Be careful as some important arteries are going underneath.
Now, you can have an overall idea of different kinds of snake tattoos with their vivid description. Choose and customize accordingly your personality. Tattoo becomes part of your body, just put it in the right way and flaunt it fearlessly.
Other Articles