Tattoo removal is a method used to get rid of an undesired tattoo. Laser surgery, surgical removal, and dermabrasion are the most frequent tattoo removal methods. Tattoo ink is found beneath the skin's top layer. As a result, tattoo removal is more difficult—and costly—than tattoo application. If you want to get a tattoo removed, go to a skin specialist (dermatologist) about your alternatives. Do not attempt to erase the tattoo by yourself. Tattoo removal creams and other home remedies are ineffective and can cause skin irritation or other complications.
Why Get A Tattoo Removal
You must be wondering why it is done this way. If you regret a tattoo or are dissatisfied with its appearance, consider tattoo removal. Perhaps the tattoo has faded or smudged, or you believe it no longer fits your current image. Tattoo removal may also be necessary if you are allergic to the tattoo or develop problems such as an infection.
Potential Risk
Scars are likely to remain following most tattoo removal procedures. It is also conceivable that there is an infection or the skin colour has changed. Tattoo removal is typically performed as an outpatient treatment under local anesthetic. Tattoo removal treatments include laser surgery, surgical removal, and dermabrasion.
Preparation
Consult a dermatologist if you want to remove a tattoo. Your dermatologist will be able to discuss your tattoo removal alternatives and assist you in determining which approach is most likely effective for your tattoo. Some tattoo inks, for example, react better to laser treatment than others. Similarly, little tattoos may be surgically removed, while others are too huge to remove with a scalpel.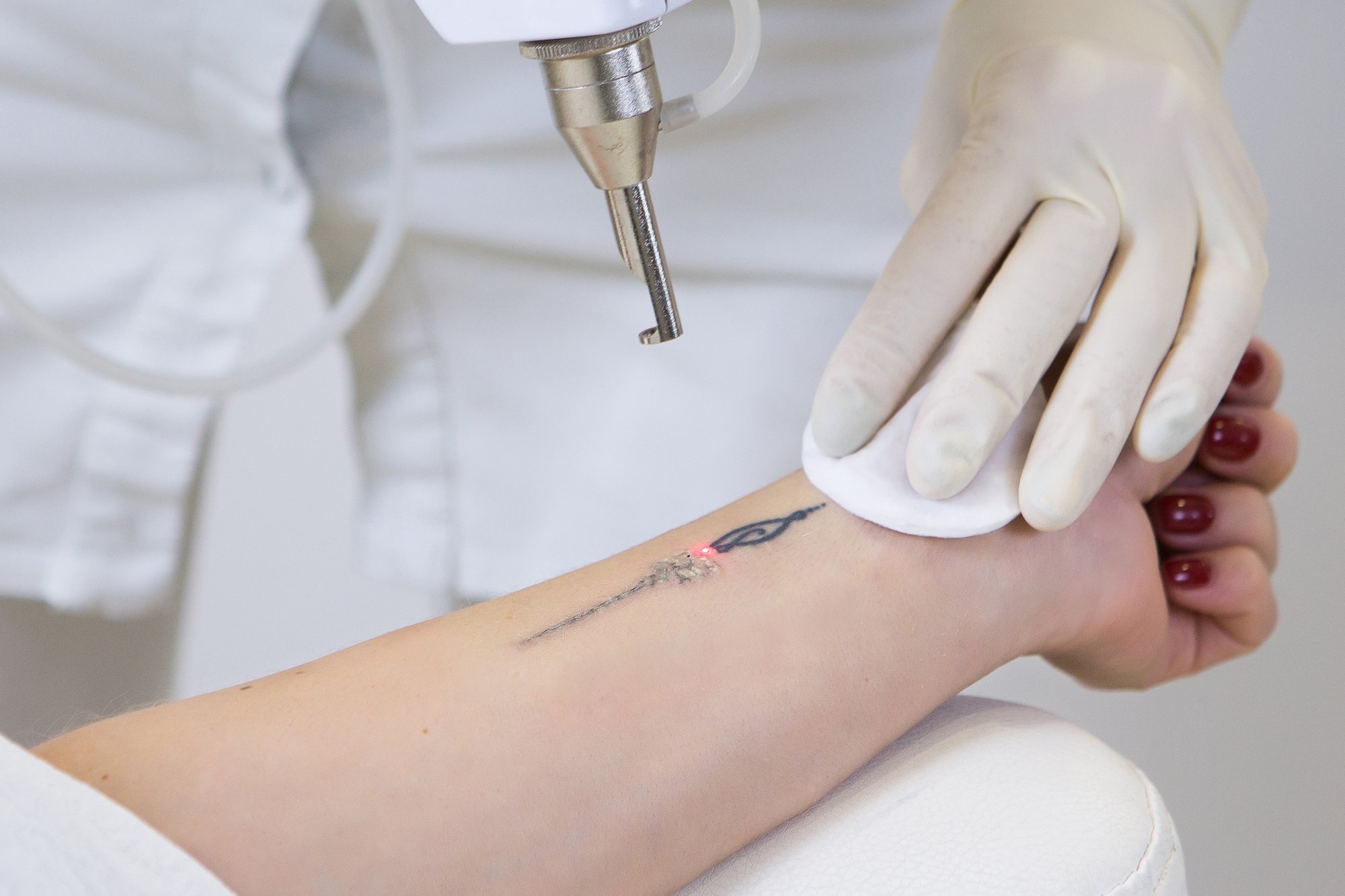 Process
Laser Surgery
The use of lasers in surgery. The most often used tattoo removal method is Q-switched lasers, which emit energy in a single, intense pulse. To avoid permanently changing skin colour, a specific type of laser known as "Nd: YAG Q-switched" could be used on darker skin. A local anesthetic injection is used to numb the skin before laser treatment. After that, an intense pulse of electricity is applied to the tattoo to heat and defragment the ink. Multi-colored tattoos may necessitate treatment with many lasers of varying wavelengths. You may experience swelling, blistering, or bleeding following the surgery. An antimicrobial ointment may aid in the healing process. It is likely that multiple treatments will be required to lessen the tattoo, and it may not be feasible to entirely eliminate it.
Surgical Amputation
The skin is numbed with a local anesthetic injection during surgical removal. A scalpel removes the tattoo, and the skin edges are sewn together. Antibacterial ointment improves recovery after the treatment. Although surgical tattoo removal is effective, it leaves a scar and may be only practical for little tattoos.
Dermabrasion
The tattooed region is usually chilled until numb during the dermabrasion operation. After that, the tattooed skin is sanded down to deeper layers with a high-speed rotary device equipped with an abrasive wheel or brush. This permits the ink from the tattoo to seep through the skin. Pain and irritation in the afflicted area will be felt for many days following the surgery. Maximum recovery time is two to three weeks. Dermabrasion is not a specific treatment option since the effects are less predictable and less effective than laser or a combination of laser and excision.
Laser Tattoo Removal Aftercare
Patients must keep the treated area dry and clean as it recovers.
Patients should avoid applying beauty products on the affected area for a few days to ensure the discomfort does not intensify or interfere with the healing process.
Laser tattoo removal side effects might be painful. Cold compresses can be applied for 24 hours following therapy to help minimize both soreness and inflammation.
Blisters are typical and will most likely appear 8 hours after your tattoo removal therapy. You should not be concerned because blisters heal quickly and are a regular part of the healing process. Blisters indicate that your immune system is mending the area and removing the ink from the tattoo.
Use caution when taking hot showers. You should not bathe for at least two hours after the surgery.
Avoid touching or shaving the treated area. Touching increases the risk of infection and scarring. Avoid itching as well.
Keep out of the sun. After laser tattoo removal, the skin is left vulnerable to the environment. It is more susceptible to sun damage. For three months after laser therapy, apply sunscreen with an SPF of 50 or higher to the affected area.
Factors Affecting the Removal Cost
Colour and quality of tattoo ink: The colour of the tattoo has a considerable impact on the cost and complexity of the removal process. Because black and dark inks degrade quickly, removing a dark tattoo will be less expensive than removing a colored one. The easiest colors to erase are black, dark blue, and red. Lighter hues, such as yellow, blue, or white, on the other hand, are more difficult to remove. In this situation, it may necessitate more lasers and additional sessions, increasing the expense.
The age of the tattoo: Just like the quality of the ink, the age of the tattoo influences the number of sessions required to remove it. Those that are ten years or older are easier to eliminate than those that are newer.
Size: Although tattoos of any size can be erased, the time and expense will increase as the size increases.
Placement of the Tattoo: Tattoo placement is important. Tattoo removal is more difficult in sections of the body where the skin is thin than in areas where the skin is thick. Furthermore, the tattoo's proximity to the heart has an effect: parts closest to the heart heal faster with the laser since there is better circulation. A tattoo on the chest or back is less difficult to remove than one on the ankle or foot. Read more about the most painful and bizarre tattoo placement ideas. 
Approximate Cost
All these above mentioned factors will also condition the cost of treatment, especially the number of sessions needed and the size of the tattoo also, if the person is a smoker and the number of shots needed in each session. The average price of a session for a medium tattoo can range from 200 to 400 euros, so the cost to remove a tattoo the size of a smartphone will be between 400 euros and 4,000 euros. According to the most recent American Society of Plastic Surgeons statistics, the average cost of laser tattoo removal is $423. This average cost is simply a portion of the total price; it does not include any additional costs. To calculate your total charge, please contact your plastic surgeon's office.
Conclusion
Tattoos are intended to be permanent, and they are difficult to erase. Regardless of the tattoo removal process employed, some scarring or skin colour differences are likely to remain.
Other Articles