Mohawk braid is such an option which can save you at any time from style confusion. It goes well with all most all the outfits when you match accordingly. On the other hand, we all often suffer due to bad hair day. With a braided Mohawk, you can manage your hair easily. It can be fitted with any type of hair whether long, short, straight or curly. Permanent braids save lots of time too. Yes, whenever you go out you don't need to spend time with the hairdo.
Mohawk hairstyle came from the people of the Mohawk nation. Normally they used to keep larger hair strip on the middle of the head and shave both sides. History said that some paratroopers used to wear Mohawk for intimidating their enemies during the Second World War. Even they often made topknot with braid. Later on, only punk rockers used to get Mohawk braid with swag. But with the time people accepted it worldwide nowadays. Not only that there are a lot more improvisations with style, mix & matches, and easy techniques.
For this hairstyle, you really don't need to wash your hair. Rather it's easy to do the hairstyle when you wash your hair before 2-3 days. When the shine of hair goes off it is easy to braid. But you need to comb your hair very neatly. This style helps to protect your hair from pollution, sunlight, and weather change. Also, you can keep them up to 7 to 10 days.
Here are some ideas of braided Mohawk style which you can try with your own improvisations.
1. French Mohawk Braid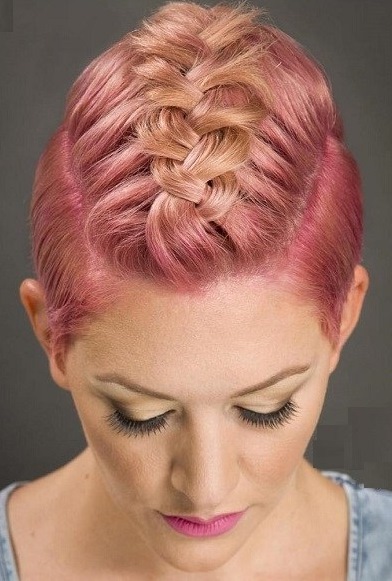 A classic example of French Mohawk braid. The lady wore the Mohawk with short hair. So to manage the hair, she made a clean partition on both sides and made a clear braid on the top. For short hair, you can use hair spray to set it properly. And…look at the colour. It's so nice blending of fuchsia and blonde hair. The colour makes the hairdo appreciable for everyone. So, for short hair, you don't need to be worry anymore, just make a Mohawk braid to avoid boring same hairstyle.
2. Cornrow Mohawk Braid
Black braids are always rocking. The long vertical braids pull the Mohawk high and keep them defined. Again the parallel placement of sleek multiple braids looks like cornrow. Here designer left the Mohawk open and made really nice curls throughout the ends. Highlight your hair with bronze or metallic shade to draw attention. Normally Mohawk stars with back brushed hair, but leave some curly locks on the forehead. It looks crazy and trendy.
3. Macramé braid
Give a twist to your Mohawk. And the macramé knot is the best option when you are looking for an elegant one. Try any macramé knot rather than a regular braid knot. It looks amazing. Leave the hair with a pony from neck level. This is super easy to wear daily basis, and suitable for medium length hair. It also goes with your daily wear perfectly. Not only that the knots keep your hair manageable. Ombre shade is always a head-turner.
4. Double braided Mohawk
If you have long hair and want to experiment something like elegant, sober, and fairy-tale sort of thing yet unique, then try this one. It's so mesmerizing that you can't take off your eyes. Start with normal French braided Mohawk, then collaborate two braids simultaneously till the end. Make the braids with loose loops. Here Mohawk is not highlighted; long braid takes all the attention. Again try some ombre colour, blonde, ash blonde, or any ethereal hair colour to add extra volume.
5. Mohawk Bun
Don't need to leave your hair always open or braided or with a pony. During summer, make simple low profile French Mohawk braid and then make a top bun with leftover hair. It looks clean and aristocrat. It goes well with your formal dress. But put a decorative clip or small hair crown and you are ready to attain any party directly from the office. It is super easy and cool to handle.
6. Full Mohawk braid with a fishtail
For some people, long hair is an obsession for them. They want to play with the hairstyle. The long fishtail braid with loose and messy loops will set quirky look for you. Multiple loose braids make floppy Mohawk at the top. It almost covers your head. If you are a fashion freak and want to bring out the model in you, try this hairstyle. Silver-coloured hair with messy braid looks like a cascade and its awful. You can try some other colour or some highlighter.
7. Updo Mohawk
One classic style of Mohawk braid. The central strip made with upside-down French braid with a loose knot, which makes the Mohawk bigger. The owner shaved both the side to bring back the traditional style. If you are a performer or want to catch everyone's attention, then pull out this style, trust me, you won't be disappointed. You can further add some hair props or hair colour to make it unique. Don't get shy to shave and make your own way.
8. Multi braid short Mohawk with pony
There is an ample amount of chances for experiments. Mohawk with pony is a trendy and cool idea. There are multi braids, the side one too. Central Mohawk is made by loose braid which looks ultra-stylish. The pony is also tied with the hair itself or over the band with hair. The colour shade with black and grey adds extra volume and illusions. The style carries the bohemian look. The style fits when you are on the summer holiday or enjoying a beach party or even flaunt this style as a bride mate.
9. Wedding Mohawk Braid with pony
Another example of Mohawk braid with a pony. The experiment applied multiple braids with different styles. One side braid goes along with pony till the end. Two loose braids crossed each other and made a  large size floppy Mohawk at the top. The whole look looks like a cascade and resembles with a fairy-tale. Yes, with this type of hair do you will look like a princess, thus flaunts the hairstyle at your wedding day. Add some decorated clips to enhance beauty.
10. Dutch Mohawk Braid with cornrow
A pure example of perfection. A neat and clean Dutch braid with Mohawk is a pleasure for eyes. The made multiple crochet braids from both sides towards the top that looks like cornrow. It covers all your hair. This style is most suitable for long and curly hair. A beautiful rendition of multiple ethereal colours creates magic. This style is for the long term. You can keep them up to 10-15 days. Don't miss the fancy hair rings. They are flirty and show your confidence.
Following all the above variations of Mohawk braids and their overview, you have the basic idea about all these. Chose your style accordingly hair length and most importantly your personality. It is important how you carry yourself. Don't jump over anything that you can't be comfortable within public space. For some of the style, you may need professional help. So what are you waiting for, go try something new! Get a makeover, fall in love with it and be confident to show off. Go, girl, be you!!
Other Articles