Dakota Johnson, actress famous for movies like Fifty Shades of Grey, is not just a talented actress but also a true style icon. Her changing hairstyles have inspired many of us. From beachy waves to glamorous curls Dakota's hair game is always on point. In our blog, we will take a look at some of her best hairstyle and show you how to recreate them effortlessly.
1. Effortless Waves
Dakota Johnson's go-to style screams effortless beach vibes with her loose waves. Achieving it is very easy all you need is a curling iron and you are good to go . It's that simple for that laid-back, beachy look she rocks so well.
2. Sleek Bob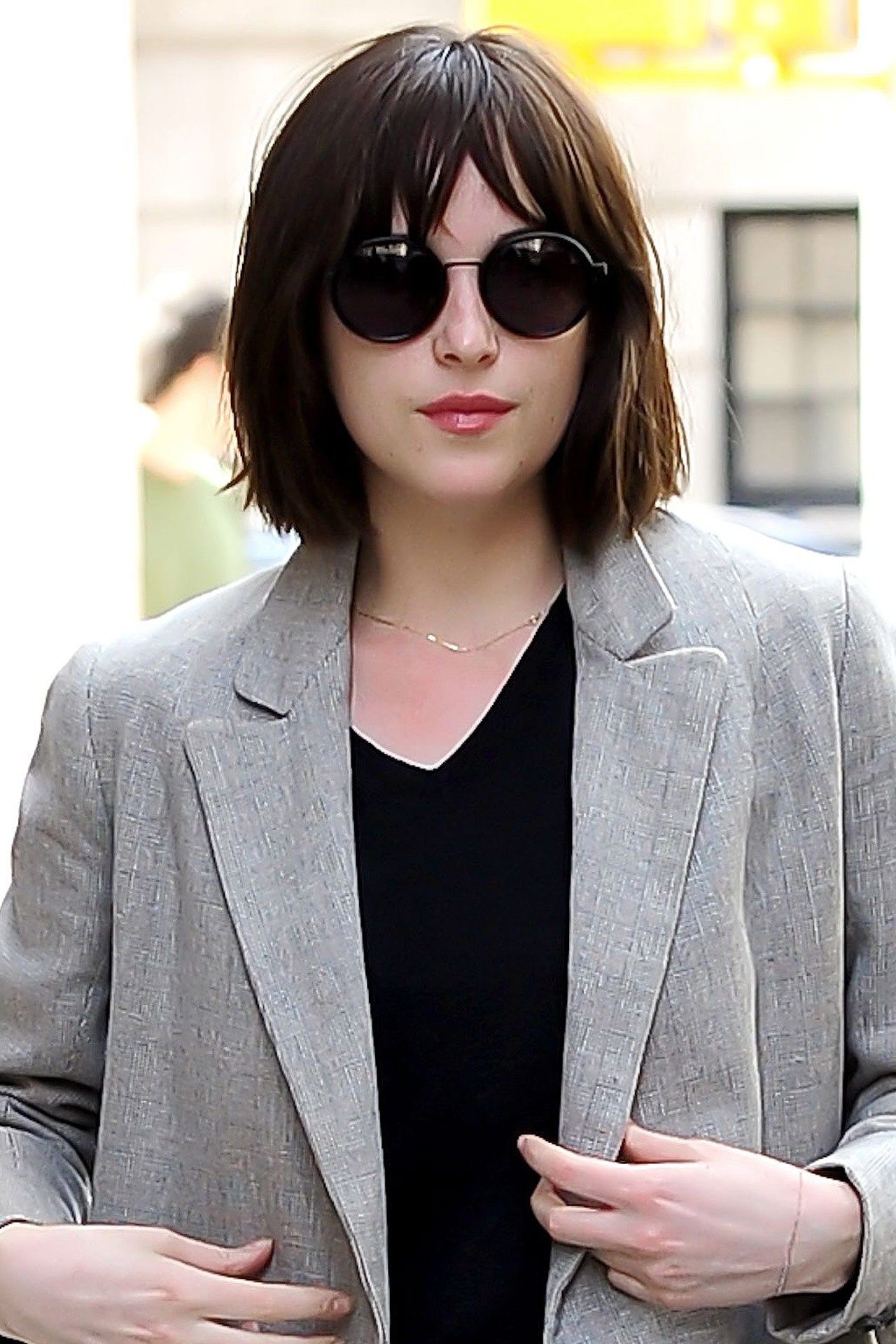 Embrace Dakota Johnson's sleek bob for a versatile, elegant style. This classy and straightforward haircut works wonders, offering a touch of sophistication for any occasion. Whether you're off to a fancy event or a laid-back outing, it effortlessly ensures you exude style and chic charm, no matter where you're headed.
3. Sleek Ponytail
Dakota's sleek ponytail is a classic go-to. Simply gather your hair up high and secure it tight. It's a quick and classy option which is perfect for both special events and everyday wear.
4. Blunt Cut
Dakota's blunt cut is all about confidence. It's a sleek, bold style with clean, straight lines that exude modernity. What's even better is how it stays fabulous without constant upkeep. If you're after a strong and stylish look without the hassle, this one's definitely a winner.
5. Vintage Waves
Capture the timeless allure of old Hollywood with Dakota's vintage waves. To achieve this classic and elegant look, simply use hot rollers or a large-barrel curling iron. Finish it off with a touch of hairspray to effortlessly evoke the glamour of the golden era.
6. Messy Bun
Dakota's messy bun gives a relaxed, casual charm. Give your hair a gentle tease to add volume, then twist it into a bun, securing it with pins. For that effortless and chic vibe, let a few strands fall free.
7. Boho Braids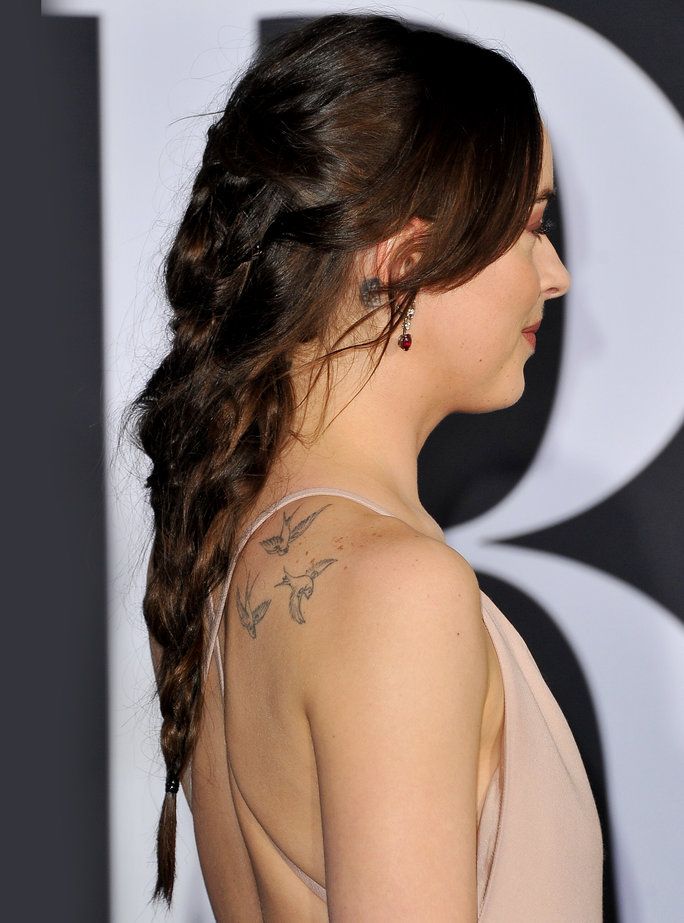 Embrace those bohemian vibes by trying out Dakota's boho braids. Simply weave a few sections of your hair into loose, flowing braids. Let them hang freely for a carefree and relaxed look that's ideal for festivals, lazy beach days, or whenever you're in the mood for a free-spirited style.
8. Low Bun
Dakota's low bun brings instant sophistication to any occasion. Simply gather your hair at the nape of your neck and twist it into an elegant bun. It's a timeless, polished look that's perfect for classy events, leaving a lasting impression with its refined charm.
9. Messy Shag
Dakota Johnson's messy shag haircut is a stylish and daring choice for those craving a bold hair transformation. It's all about that cool, layered, and slightly messy look, giving off a trendy and edgy vibe. If you're up for a change that makes a statement, this messy shag is worth considering!
10. Layered Hair
Dakota Johnson's layered haircuts amp up thickness and volume without sacrificing length. They offer a refreshing change while preserving your hair's natural beauty. It's a smart way to revamp your look while keeping that signature charm of your hair intact.
11. Loose Curls
Dakota's loose curls give off a chill, effortlessly cool vibe. You can achieve this look by using a curling iron, then gently tousle your hair for that natural, relaxed charm.
12. Half Up Half Down
Elevate your everyday style with a half-up, half-down hairstyle, just like Dakota. It's versatile and is suitable for both casual and formal events.
13. Perfect Bangs
Dakota's perfectly styled bangs frame her face beautifully. to get this look, make sure your bangs are cut with precision, focusing on the ideal length and thickness.
14. Side-Swept Curls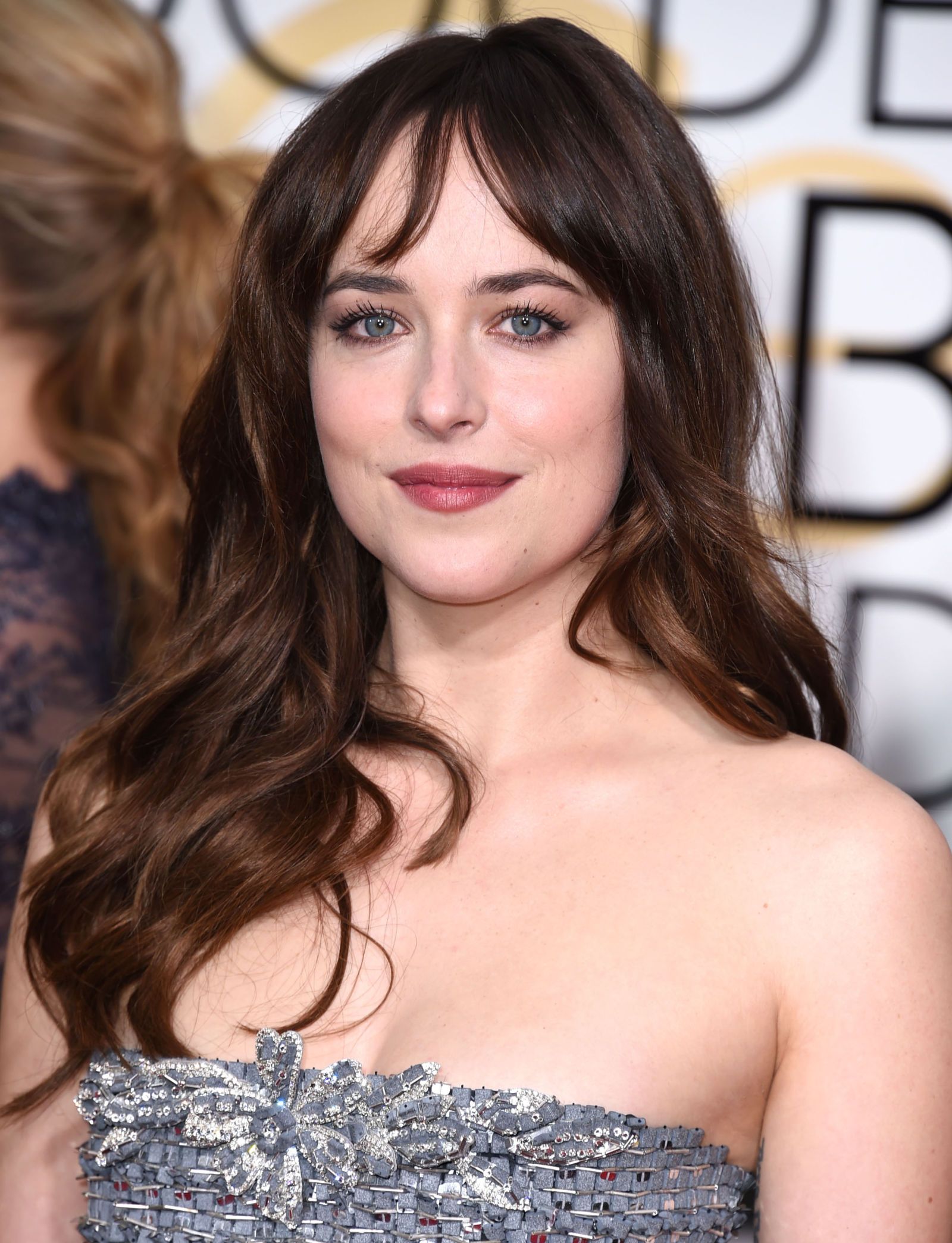 Want a touch of Hollywood glam? Try side-swept curls like Dakota. All you have to do is curl your hair and sweep it to one side for that touch of elegance.
15. Top Knot
Dakota's top knot is ideal for busy days when you want to look chic. Twist your hair into a bun on top of your head and secure it with pins.
16. Low Ponytail
Sometimes, less is more. Dakota rocks a low ponytail that's simple yet sophisticated. Simply gather your hair at the nape of your neck and tie it with a hairband for a timeless look.
17. Long Hair With Blunt Bangs
Dakota's long hair with blunt bangs radiates confidence. Keep the length and ask your stylist for those straight-across bangs for a bold statement.
18. Messy Bob
Embrace the trendy messy bob look, just like Dakota. Give your bob some texture with hair products for that effortlessly chic vibe.
19. French Twist
Dakota's French twist is a timeless classic. Brush your hair back, twist it into a roll, and secure it with pins for a refined, elegant look.
20. Blonde Bob with Blunt Bangs
Dakota's blonde bob with blunt bangs is a real head-turner. Opt for a blonde shade and pair it with straight-across bangs for a striking style statement.
Other Articles