In the Marvel Cinematic Universe (MCU), Robert Downey Jr. as Tony Stark is one of the most endearing movie characters in the world. And how no one thought to give the film a chance is a mystery we will never fully comprehend.
His enigmatic, carefree style is one aspect of RDJ's portrayal of Tony Stark and Iron Man. RDJ is a style icon, regardless of one's feelings about Marvel movies. We've only seen him in one or two hairstyles of his portrayal of the iconic character. But, in reality his hairstyle underwent some significant changes.
Here's a look back at RDJ's hairstyles, which are still excellent and stylish.
1. Tousled Quiff Hairstyle with a Side-parting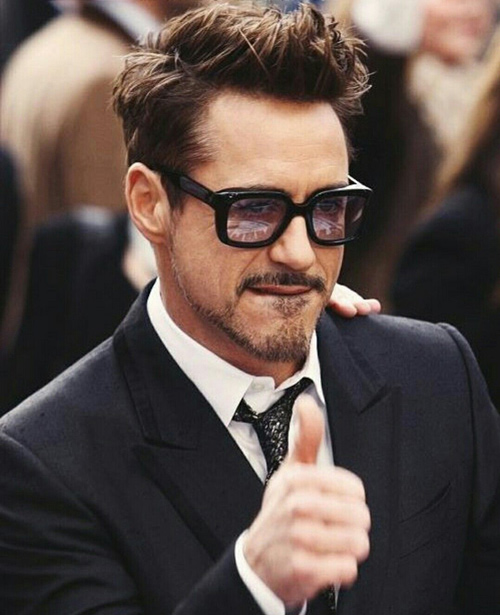 Before assuming the role of Tony Stark and adopting the character's personality and appearance as his own, Robert Downey Jr was a lot scruffier and more casual. He's sporting a tousled and soft-spiky quiff with a side part. Wear it to parties or casually; it will look great.
2. Soft Spikes with Brunette-grey Combo Hairstyle
Spikes are popular among men, and RDJ used to wear them frequently—another hairstyle with combed and smooth spikes. Get a brunette hairstyle and style it like him. To achieve soft spikes, use hair gel or mousse.
3. Long Top with Short Back Mullet Hairstyle
This hairstyle is a mullet with a quiff at the front. However, you can quickly identify it due to the iconic beard, straight out of an Ironman comic book. Wear your long hair up top and draw attention to your short hair in the back.
4. Shaggy Waves Casual Hairstyle
This was another iconic look from the 1990s in which the actor took part. It's a long, layered, volumized haircut with the hair and bangs combed back in a shaggy style. The style has lost its appeal over time but is still enjoyable.
5. Informal Messy Gelled-up Hairstyle
Robert Downey Jr's haircuts evolved alongside the Ironman films. This is his most popular Marvel series hairstyle. It takes a softer, more mature tone, attempting to convey the idea that the character has matured and is ready for closure. Because of its short and messy gelled-up strands, it can also be worn casually.
6. Short Spiky Hairstyle
This is the off-duty Tony Stark hairstyle we've been raving about. Robert Downey Jr. now wears it as his original. Can we also take a moment to look at his arresting gaze? Create this short spiky look with a small amount of hair gel and your fingers and comb.
7. Voluminous Top with Messy Hair
This is a photo of the actor with messy, voluminous hair. Again, hair gel or mousse can be used to achieve the look. However, you are not required to use a comb this time. Set the messy hair upwards with your fingers.
8. Mid-parted Long and Shaggy Hairstyle with Fringes
Aside from Ironman, Robert Downey Jr.'s other significant Hollywood role since his comeback has been as the eponymous detective in the Sherlock Holmes series. Everyone is admiring her mid-parted shaggy hair. With long hair, this is a fun hairstyle.
9. Professional Hairstyle for Short Hair
Another of his popular looks, this time with thin and short side-parted spiky bangs at the top. You can copy the parting on one side and use a glossing agent to make your locks shine with health. Isn't it giving you a fiery appearance because the strands resemble small flames?
10. Faded Mustache and Hairstyle with Longer Hair at the Nape
You only need a little hair wax to achieve this look. Rub it between your hands before running your fingers through your hair. Part it on one side and jumble the strand tips until you get the desired effect. Get a faded mustache to match RDJ's entire fashion statement.
11. Caesar Cut with Black Hair
This haircut is a precursor to the Caesar cut. You can have it done by your hairstylist or barber or do it yourself at home if you have the necessary tools. This haircut will look great with natural black roots or any dark-colored hair.
12. Sleek and Side-parted Hairstyle
Every Robert Downey Jr. haircut has the potential to become a trend. Some of them, however, was a swing and a miss. This sleek, side-parted hair, with Tony Stark's soft beard and black ombre sunglasses, may catch your eye. Wear it to your next social gathering.
13. Rolled-up Sleek Hairstyle with a Side-parting
Tony Stark's hairstyle features a rolled-up quiff with sleek-textured hair. Make a deep side part and style your hair for your upcoming wedding. Wear it with boots and a three-piece. If you're comfortable with it, try sideburns.
14. Blonde-black Colored Buzz Cut
Sometimes, less is more, as demonstrated by the actor's practical approach to a buzz cut. It's a simple and easy hairstyle that will get you through the summer when you must deal with the scorching heat. The faded-blonde and black color scheme here draws attention. Isn't that right?
15. Messy Short Hair with Messy Fringes
You can try this fringed haircut if you have short hair like him. It's simple and casual, but a few spikes can dress it up. To make them, use a soft brush or your fingers. Do you like the way your fringes fall across your brow?
16. Soft Quiff Hairstyle with Combed-back Sides
When you're a celebrity like Robert Downey Jr, you need a go-to look for red-carpet events. This is his property. It's a short combed back with a bit of quiff at the front, finished with a beard reminiscent of Tony Stark's and a pair of colorful sunglasses.
17. Hairstyle with Chestnut Spikes
Robert Downey Jr. is a natural brunette, but as you will see in this article, he has experimented with color. He is with a bit of chestnut ombre in the front, emphasizing his dark coffee eyes and highlighting his beautifully chiseled facial features. The messy hair strands complement the hairstyle once more.
18. The Wet-effect Hairstyle
Let's go back to the 1990s for this dashing image of the actor dressed professionally and sporting a massive amount of gel in his hair. This look is a cross between James Dean and a volumized Caesar haircut. To achieve this wet-look effect, comb your hair up with hair gel.
19. Short Spikes and Faded Sides with a Shaved Line
Here's another look from Robert Downey Jr. that we're not used to seeing from him. It's short and spiky with messy ends and faded sides. Copy the shaved line to the side that makes it stand out.
20. Casual Combed-back Short and Straight Hairstyle
If you like simple hairstyles, here's a casual yet dapper one inspired by the great RDJ. It will save you a lot of time because getting ready takes only a few minutes. After comb-backing your straight hair with your fingers and comb, wait for the result.
21. Sleek and Short Side-swept Hairstyle
Here's a haircut inspired by Robert Downey Jr that you can easily replicate if you need to attend a formal event such as a wedding, a garden party, or prom—a short, sleek over with a side part and light stubble. If you don't like the glasses, you can remove them. Please look at the image to see why he's a celebrity.
22. Loose Fringes and Heavy at the Top Hairstyle
When you're Robert Downey Jr., this is about as casual as possible. It's a medium and wavy hairstyle with the hair combed over the crown of your head, giving it a thick and heavy appearance and a few fringes falling. This is an excellent choice if you have a strong jaw and a square face.
23. Curtain Fringes with a Messy Bowl Cut
Here's your answer: If you've ever wondered what RDJ would look like if he channeled a musketeer. He has medium hair parted down the middle, curtain fringes, and a goatee that makes him look like D'Artagnan.
24. Well-combed Mullet with a Chevron Mustache
A hair mousse is required to achieve this look. Get a Chevron mustache and raise your hair to the top and back for a sleek-mullet look. You can use a mister to lightly dampen your hair before leaving the shower. Remember to include some heat protection.
25. Buzz Cut with Faded Sides for Men with a Receding Hairline
The bald head haircut or buzz cut with light hair has been widespread in recent years. We're all interested in learning how to do the trend. Take a cue from young RDJ, particularly those with a receding hairline.
26. Golden-colored Pompadour Hairstyle
Although he looks good in almost every haircut he's tried over the years, this casual pompadour with a golden hue he wore when he first entered the industry is one of our favorites. They used hair gel back then, but now you can make it with mousse or hair wax.
27. Messy and Long Bangs with Soft Waves
Even though this isn't a classic bowl haircut like you had when you were a kid, it still counts. The straight bangs are nearly in line with the rest of the hair. The soft waves near your ear will make you appear more relaxed and casual.
28. Tousled Hairstyle with Fringes for Mid-length Hair
If you have an elongated or oval face, medium bangs can be a great choice because they will change the shape of your face across your forehead by framing it. They will create an optical illusion that your face is smaller and better proportioned in this manner. The long rolled-up waves on the back of the head make this a good choice.
29. Two-fringes at the Front Hairstyle with an Anchor Beard
Now that we've seen the classic Ironman haircut, it's time to see the one that will end it all. Here is Tony Stark's hairstyle in Avengers: Infinity War, the film that concludes the epic saga of The Avengers. Get your fringes styled similarly to an anchor beard look.
30. Opened-book Hairstyle a Faded Garibaldi Beard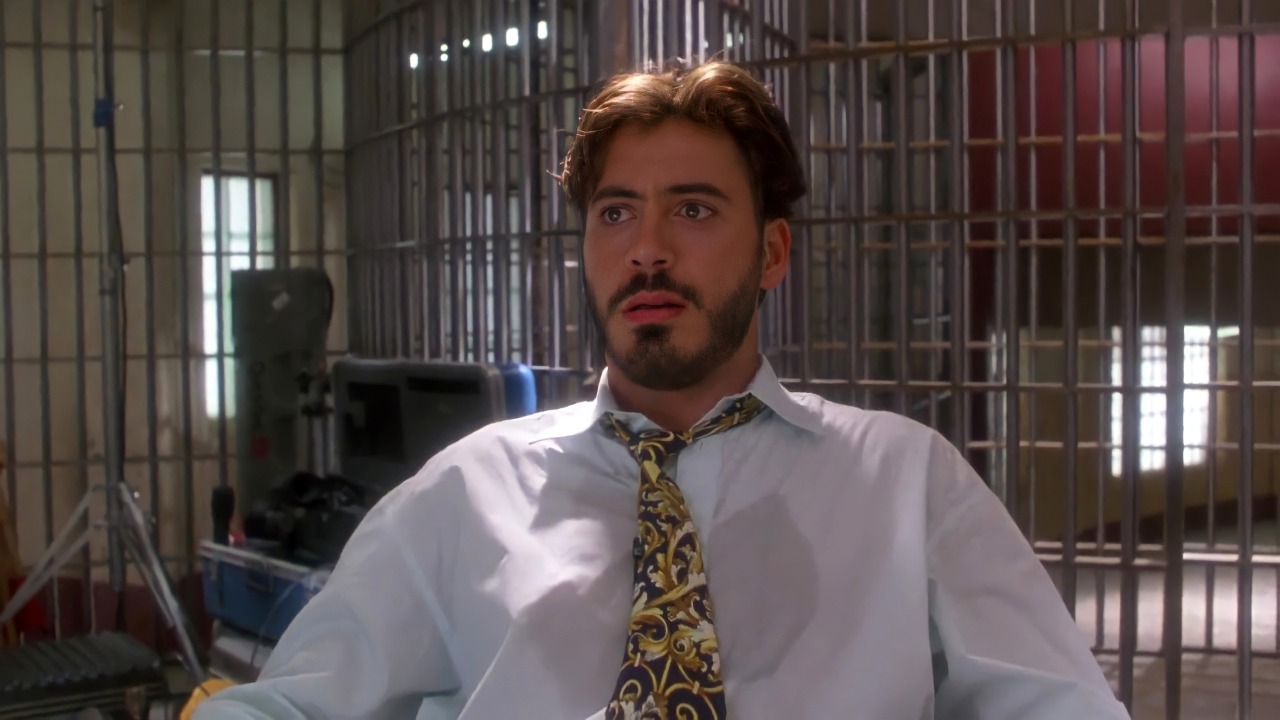 The older Robert Downey Jr. had fringes and a 90s hairstyle with a bit of gel or a simple setup, a mid-part, and a few strands of hair casually hanging around his forehead. You can see that he was just as handsome back then as now, despite being less rugged. Remember to include the Garibaldi beard.
31. Curly and Messy Hairstyle
RDJ with curly hair, yes, you read that correctly. Make some curls and try a messy hairstyle. To be sure, this is a haircut from one of his films. That doesn't mean he didn't look good in it, or you shouldn't try to replicate it if this is your favorite RDJ look.
32. Long, Messy and Gelled-up Hairstyle
Another favorite superhero, Iron Man, is sporting a new hairstyle. He appears to have brunette hair gelled up, long, and messy. Take note of the soft beard and the clean-shaven look with grey hair.
33. Voluminous Spiky Ends
One thing is sure. Spikes are a favorite hairstyle of Robert Downey Jr. They are reminiscent of the hairstyles popular in the 1990s and 2000s, which can still be seen on occasion today. However, as with all trends, this one may return. With this boyish-looking hairstyle, you can make your thin hair look voluminous.
34. Messy Pompadour with Balayage Highlights
As previously stated, Robert Downey Jr. has experimented with various hair colors. He has yet to stray far from the path, so he's sporting balayage ends instead of his usual dark brunette. He still has a fierce appearance. A messy pompadour looks excellent here.
35. Short Shags with Volume at the Top
Here's an old photo of Robert from 1985. You can already see the 90s haircut creeping up on him. In terms of the 1980s, however, this is a neglected short and gelled crop with wispy bangs that hang carelessly over his brow. This short shag hairstyle should be on your list of hairstyles to try.
36. Thin Curtain Fringes with Sleek Sides
Don't worry; he wasn't in a boy band. However, boy bands wore this type of haircut in the 1990s. In modern times, the hairstyle has been replicated by Zayn Malik and his famous 'hair strand' incident, which brings us to this particular hairstyle. The smooth sides with such curtain strands look fantastic.
37. Long and Mid-parted Hairstyle for Men
Robert Downey Jr. experimented with long hair sometime during his career. It wasn't his best choice, but it's refreshing to see him try something different than his usual spikes and shags. One of them is this mid-parted hairstyle.
38. Bushy and Raised-up Hairstyle
This chameleonic actor appears to pull off almost any hairstyle. He appears calm and composed. This bushy hairstyle with raised-up thin strands is exceptionally stylish. Also, it's catchy.
39. Messy Combed-back Brunette-colored Hairstyle
This is a messy version of RDJ's medium-length bangs, which he swept to the back side to appear carefree and casual. We only need to focus on his messy brunette hair and faded beard here.
40. Slicked-back Long Hairstyle
If you like slick backs, try this long one. Allow your hair to grow out a little before slicking it back with some hair gel and hairspray to keep it all in place. It is ideal for people with heart-shaped faces.
Other Articles