Halloween is one of those holidays which make the kids go crazy. Because when else do they get a chance to dress crazy, look crazy and act crazy. If you are dicey on ideas about what you should dress your kids as, this Halloween, worry not. Here are Halloween Makeup for Kids which will make them stand out.
1. Scary Scarecrow
This is one of the simplest Halloween costumes for kids. The eerie scarecrow looks for kids only require a little work, especially if you prefer charming over spooky. With a few basic red and orange lines on the face, you're ready for your last-minute Halloween makeup look.
2. Fox
Here's another quick last-minute Halloween makeup idea for youngsters. We have a fox-inspired style here. All you have to do is draw the face characteristics, add some fuzzy ears, and complete the look with an orange outfit. You have the option of drawing a simple or detailed nose. Both will satisfy your child.
3. Witch
A witch costume is one of the oldest and most popular Halloween costumes. It's also one of the simplest and quickest Halloween makeup ideas for kids. You're prepared with oxblood red lipstick and heavy eye makeup.
4. Sugar Skull Halloween Makeup
The sugar skull Halloween makeup for youngsters has grown in popularity with the premiere of the 2017 film Coco. It's a perfect blend of charming and eerie. This makeup look is popular and has its roots in Mexican culture.
5. Cheetah
Animal-themed Halloween makeup for children is nothing new. However, the Cheetah makeup style and clothing have grown fairly popular since the debut of Wonder Woman 1984. It's a forceful and commanding look. In terms of makeup, you're all set with some Cheetah spots and the nose and whiskers.
6. Mummy
Being a mummy for Halloween is another intriguing yet simple choice. This Halloween makeup for kids is dark and eerie, bringing out the undead aspect of the figure.
7. Broken Doll
This doll Halloween makeup for kids may be the stuff of nightmares since it is so frightening. It is one of the simplest yet most terrifying makeup looks you can create for your child.
8. Edward Scissorhands
Through all of the personas he has brought to life on the big screen, Johnny Depp has given us countless Halloween-worthy amazing makeup looks. This is one such character who is both creepy and adorable. The Edward Scissorhands Halloween makeup for kids is a timeless style your child will undoubtedly adore. It's also amazing for grown men as well.
9. Pennywise
Pennywise the Dancing Clown is another name to add to the list of the most horrifying characters ever. This is why it is also an excellent choice for Halloween. Since the release of the film It in 2017, it has regained popularity as Halloween makeup for children.
10. The Queen of Hearts
Keep your heads up because the Queen of Hearts has arrived. This is one of the most unique and amazing Halloween makeup ideas for kids, inspired by a book. In the film, Helena Bonham Carter performed as the Queen of Hearts. That is where the inspiration for this makeup look comes from.
11. Wednesday Addams
The Addams Family is a timeless classic that is ideal for the Halloween season. And Wednesday Addams is the ideal option for giving you ideas for Halloween makeup for youngsters this year. But be cautious. Because "she is at that very special age when a girl's only thought is homicide."
12. Chucky Halloween Makeup
This has to be the cutest Chucky in Halloween history, and we couldn't help but share. This is a simple Halloween makeup tutorial for kids. Draw a few stitch marks on the face, and you're done.
13. The Snow White
Her story is old, as is her idea for Halloween makeup for kids. It's another in the category of simple Halloween makeup looks. Rosy cheeks and ruby lips would be an excellent technique to achieve the desired effect. That's all there is to make. Isn't it simple?
14. Kids Joker Halloween Makeup
This may be complex, but it is fantastic. This joker Halloween makeup for kids produces a frightening appearance. You only need white, black, and red face paint. Go wild!
15. From Monsters, Inc. comes Boo.
Here's another of the prettiest and simplest Halloween makeup ideas for kids. You won't have to do much because Boo is a human youngster in the Monsters Inc. universe. Apply blush to look at flushed cheeks.
16. Harley Quinn Halloween Makeup
For many years, Harley Quinn has ruled the Halloween scene. This is a popular makeup option for both adults and children. It is quite simple. All you need is some white face paint.
17. Annabelle
Another cute but eerie Halloween makeup for kids. Annabelle is a scary doll from our darkest dreams. However, some children can transform this scary inspiration into something cute and spooky.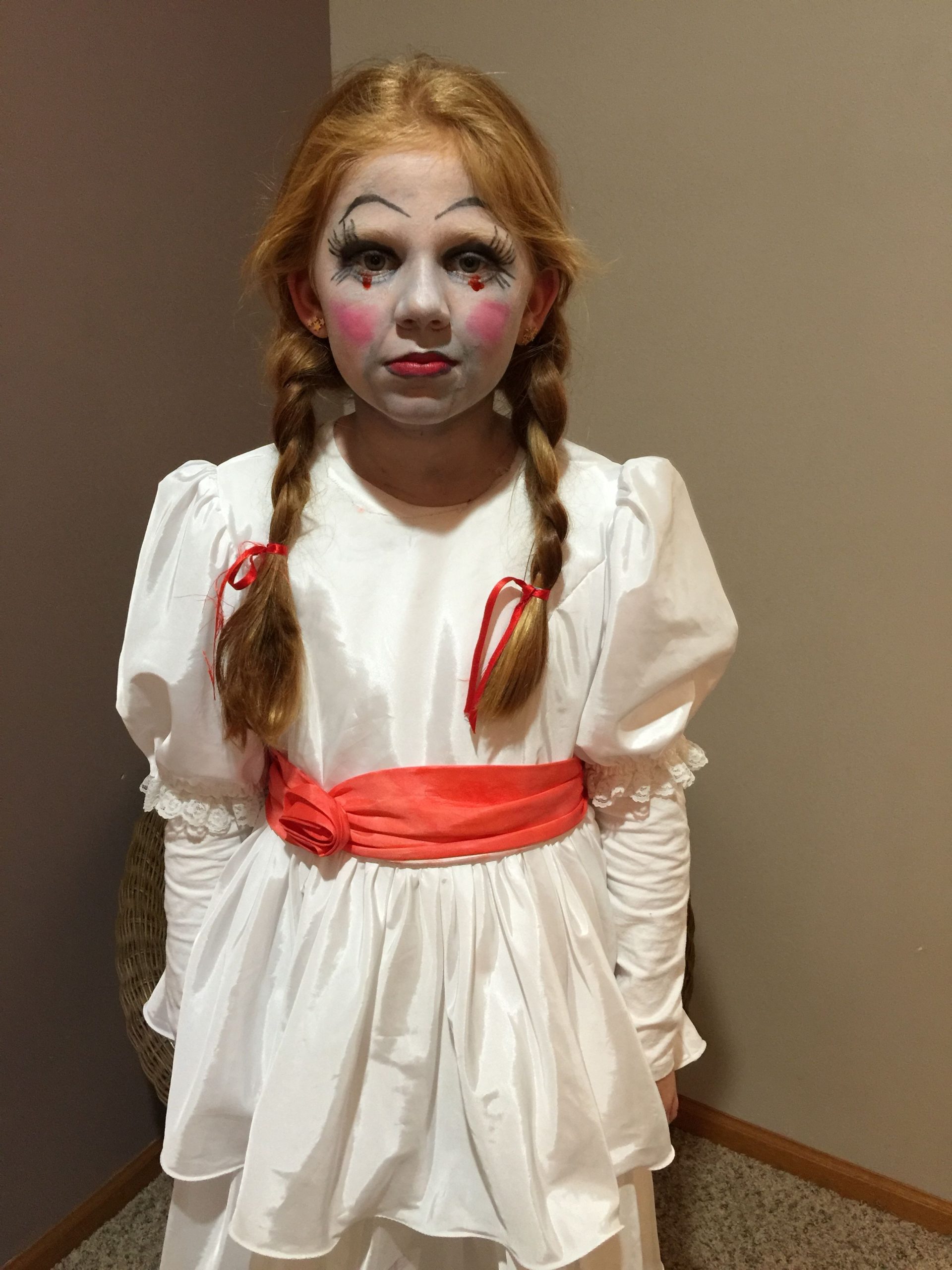 18. Ring
Prepare to lose sleep due to the creepiest Halloween makeup for kids ever. There's a reason why The Girl from the Well has inspired numerous film adaptations and sequels throughout the years. That chick is very terrifying. However, achieving her terrifyingly pale appearance is extremely simple. Apply a light layer of white face paint to the face and draw some shadows around the eyes.
19. Devil
Because of their migraine-inducing misbehavior, we inevitably dub our children "little devils." This Halloween, make this year-round threat into a costume. Use some old-fashioned face paint to create a complementary cosmetic appearance. This Halloween makeup for kids can make your child stand out.
20. Maleficent
Maleficent from the Disney live-action film has come to your aid like a fairy godmother. If you're still looking for Halloween costume ideas for your youngster, consider Maleficent, the fearsome and powerful fairy. You'd have to figure out how to get the wings and horns. The makeup, on the other hand, is much simpler. Highlight some cheekbones, go black with the eye makeup and lipstick, and you're done.
21. Ursula Halloween Makeup
Children make some interesting decisions, and as adults, you can't help but agree. Here's one such intriguing Halloween costume option, along with some beautiful Disney-inspired Halloween makeup for youngsters. Ursula, the evil sea witch from Ariel's The Little Mermaid, is a fun character to dress up as. The flawless makeup elevates the entire costume to a new level.
22. Pirate
Dress up your child like a tiny pirate!
23. Lion
Your small one can celebrate the holiday this Halloween by dressing up as a roaring lion. The same makeup might be used to create the look of a cat for Halloween.
24. Bunny Rabbit
This is a style of costume that is both adorable and widely worn.
26. The goblin
This Halloween, have your child dress up as a goblin.
27. Vampire
Vampire Halloween makeup for children is a very popular style, and it is simple to create.
28. The 'Bat Mask'
Letting your kid dress up like a bat comic character this year would be best.
29. The butterfly
Girls love this one since it allows them to rummage through their mother's beauty collection.
30. Deer
Oh, you have makeup to use as face paint. Are you a deer? This genuine deer makeup may be achieved using a black eyeliner pen, brown and white eye shadow, and a combination.
Other Articles