It's almost Halloween, and if you're looking for a wonderful costume idea, why don't you try dressing up as an angel this year? Angel makeup is a timeless Halloween look that can be lovely, celestial, or downright terrifying. Here are 21 Angelic Halloween makeup ideas to inspire your costume this year.
1. White Angel
This is one of the great ideas for your Halloween makeup, and it will make you appear to have the grace and beauty of an angel. It contains a blend of glittering silver eyeshadow and gray eyeshadow, as well as a soft lip color, and it is finished off with silver glitter applied all over the face.
2. Euphoria inspired angel
Get into the spirit of Halloween with a "Euphoria"-inspired outfit. The secret to this beautiful angel look is the glitter; use glitter to decorate the areas around your eyes you can also dab a little on your silicone makeup blender and blend it up and down your cheekbones.
3. Fallen Angel
To give your angel a unique spin, try channeling the vibe of a fallen angel. Choose eye makeup that is dark and smokey, and deepen your contour for a look that exudes an air of mystique. You can also use silver or metallic accents to your eye makeup to emphasize your angelic origins.
4. Creepy Angel Makeup
This makeup idea is creepy but amazing. It has a silver face with lashes and brows. While the face is embellished with jewels and white contacts. This look will surely be a hit at any Halloween bash you attend.
5. Angel and Devil Eye Makeup
Are you looking for a fun and different way to apply your makeup? If that's the case, have a look at this. There's an angelic pattern on one eye and a devilish red on the other. This is such a cute and innovative idea for angel makeup to wear for Halloween.
6. Crystal Angel
Take inspiration from the mystical allure of crystals by using gem-like touches in your makeup. Apply adhesive gems or rhinestones in a starry pattern around your eyes to give the appearance that you're decked out in heaven-sent jewelry.
7. Half Angel Half Devil Makeup
This makeup combination will have you looking both holy and vile. One side is bright and lovely, whereas the other is dark, crimson, and sinister. This is a really cool idea for Halloween.
8. Halo
This is a good option for a low-key angel style. It has a neutral eyelid color, a white angel wing liner, and glitter. A little halo above the eyebrow completes the makeup. This is adorable and will look fantastic with angel wings and an aura.
9. Crystal Tears Angel
Add a touch of ethereal sadness to your otherwise celestial appearance. Use a shimmering white or silver eyeshadow to paint tiny crystal teardrops beneath each eye. To put a personal and touching spin on the angelic motif, try using rhinestones or small diamonds to create the shimmering illusion of tears.
10. Cute Angel Makeup
Give this angelic yet understated style a shot. It has a beige-colored eyeshadow with white eyeliner, and there is gold that has been applied so that it seems like tears under her eyes.
11. Angel wings eyeliner
To achieve this look, create an intricate winged eyeliner that looks like the feathers on an angel's wing.
12. Scary Dark Angel
Do you like fallen angels? If so, check this out. It has dark-colored contacts, dark-colored drips coming from her eyes, and dark-colored lips. This is a truly good Halloween makeup idea for you.
13. Blue Angel Makeup
This makeup idea is unique. The makeup on this angel is blue. Her eyeliner is drawn with angel wings, and she wears blue eyeshadow and blue lipstick. If you want to make a scary Halloween statement, you should really try this.
14. Rainbow
This angelic Halloween makeup style is both creative and stunning. In this scenario, the angel does not have a gentle and radiant appearance; she is decked out in rainbow colors. This Pride-themed angel style has glittery eyebrows and angel wings on the eyes.
15. Angel of Nature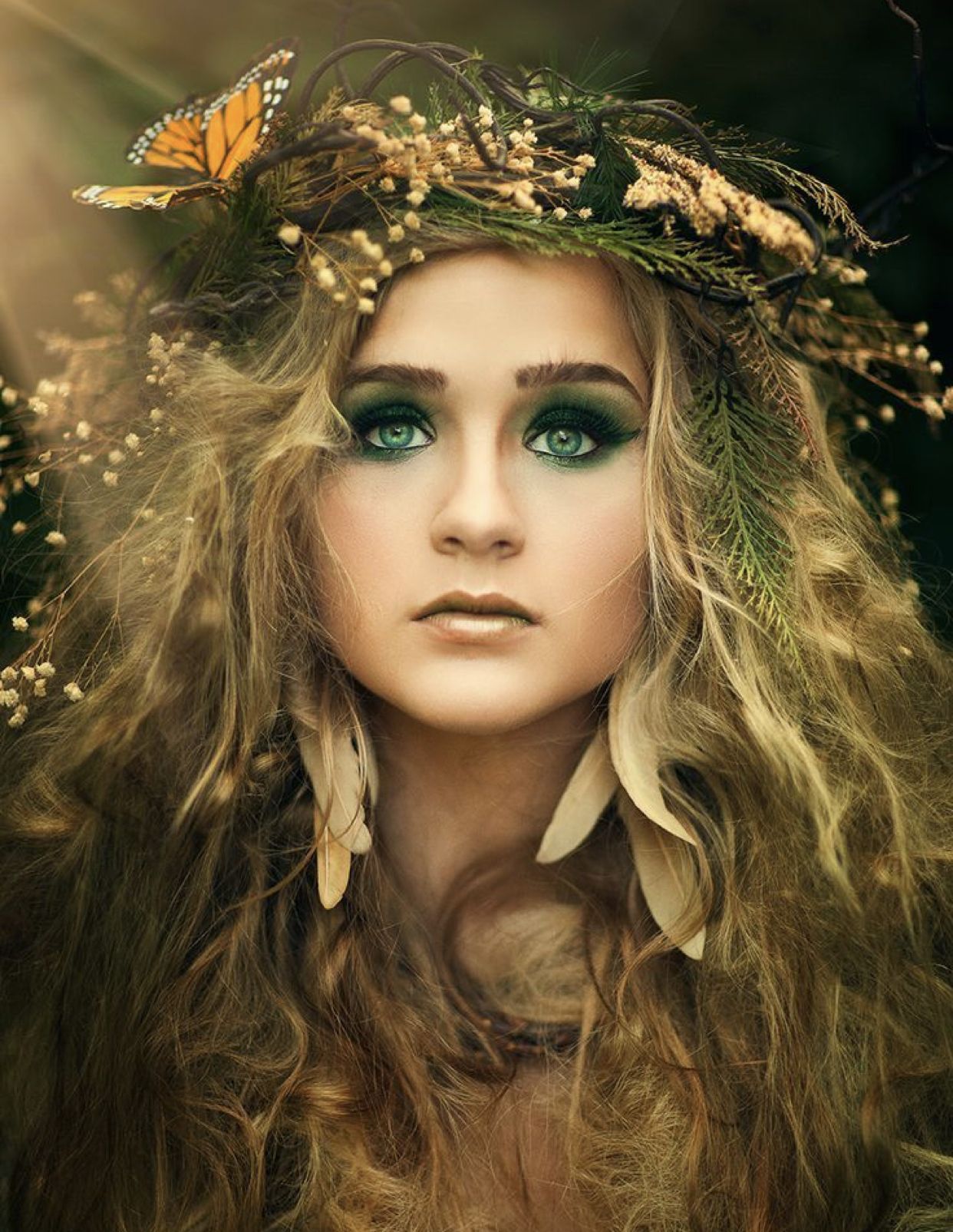 This look blends the angelic and the nature worlds together perfectly. To achieve this style, combine earthy components by applying makeup in earth tones and accessorizing with natural things such as leaves, twigs, and flowers.
16. Unique Angel Idea
Looking for a creative take on the role of angel? In that case, you should try this. Use natural makeup, but give your eyebrows and hair a blue tint, and round off the look with white contacts. You can replicate it or embellish it with stones or glitter.
17. Starry Night Angel
Create a night sky look on your face by applying a deep, dark lip color and freckles that seem like stars. For a magical night sky, try combining dark blues and purples.
18. Ethereal Fairy Angel
Combine the enchanting qualities of fairies and angels with dainty flower designs, soft pastel colors, and glittering touches in order to create a magical look. Include a flower crown to give an extra layer of enchantment to the magic.
19. Innocent Angel
Maintain a natural appearance with a clean-skinned, minimal makeup look with a hint of glitter. Keeping things straightforward is the key to this look's success.
20. Angelic Mermaid
This gorgeous one combines mermaid and angel makeup. It resembles angel wings, complete with rhinestones and sparkles, perched on the outside corners of her eyes. This fun and attractive appearance will set you apart from angels.
21. Angelic Cloud Makeup
Makeup that looks like angelic clouds might help you achieve a mystical appearance. Apply white and light blue eyeshadow to make your eyelids look like the sky. To achieve a lovely shine, add just a touch of shimmer. Create the appearance of fluffy clouds by blending powder around your temples and cheekbones.
Other Articles