Have you ever wanted to impress everyone with your alluring vampire feel on Halloween? You are in for a real treat, then! Our blog has a collection of 23 Vampire Makeup Ideas for Halloween 2023 that you can get inspiration from. Be prepared to grab people's attention and send thrills down their spines, regardless of whether you're going for a classic Dracula vibe or a modern vamp twist. Prepare to steal the show and establish yourself as the most popular guest at this year's Halloween party!
1. Fanged Vampire Makeup
No matter how carefully you apply your makeup, you mustn't forget the vampire's defining feature: the fangs.
2. Scary Halloween Makeup with Red Eyes
This makeup idea is great for scaring people! This look features red eyes, black eye makeup, and dark red lips. Even though it seems scary, recreating this look is not very difficult.
3. Gothic Vampire Makeup
Choose a stunning red shadow that dramatically sweeps off the lid in the style of a winged shape rather than going for the typical zombie effect. It is the ideal accessory for a head-to-toe black outfit with a choker featuring studs.
4. Classic Vampire
This is a great Halloween look since it is both eerie and entertaining at the same time. A touch of blood was applied to complete this appearance, which consists primarily of dark eyes and lips. You can go all out with the cape and makeup like in the picture or keep it more subdued.
5. Colorful Vampire Makeup
This vibrant and colorful look is better suited for a whimsical Halloween costume party than a more serious one.
6. Easy Vampire Makeup
Looking for a simple Halloween look to put together? If so, this is for you. A more natural look with red lips, dark eyes, and a hint of veins makeup. This is ideal for those last-minute Halloween events.
7. Spider Vampire Makeup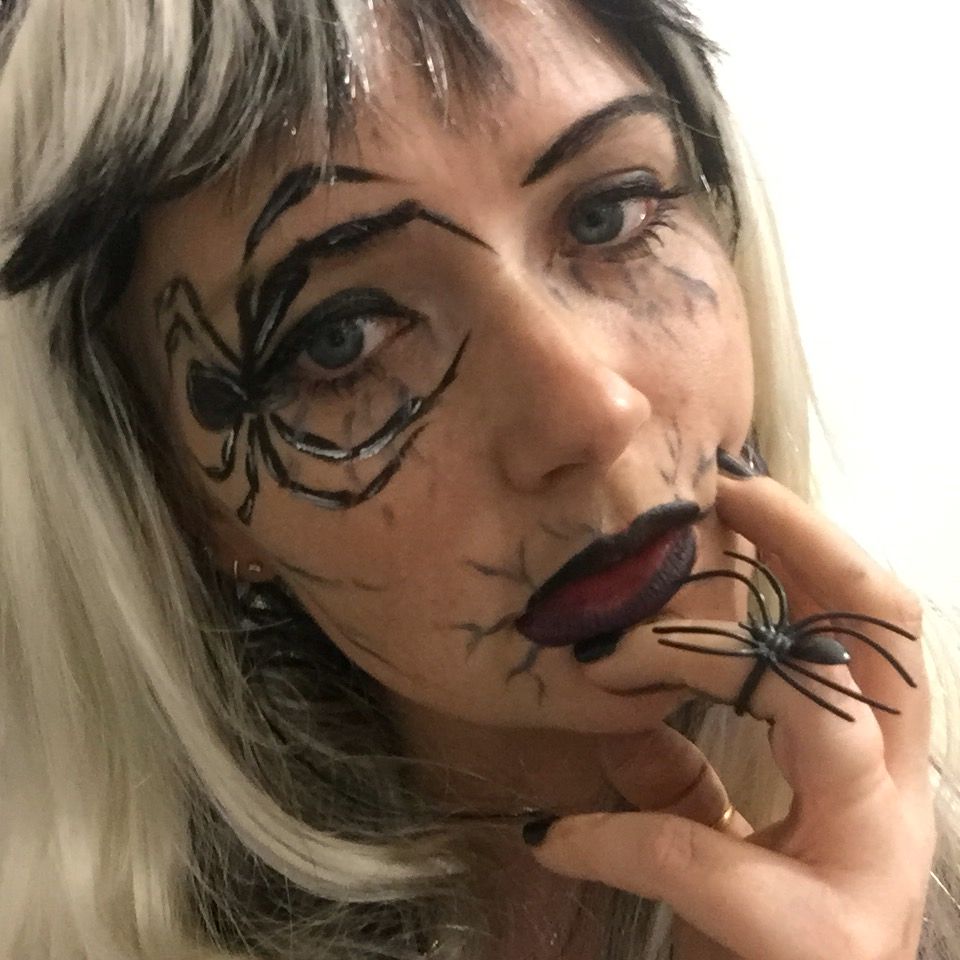 An otherwise natural look can be brought out to the forefront by adding a dramatic winged liner that is both dark and dramatic, and a spider on one of the eye  along with veins drawn on the face.
8. Ice Cold Vampire
Create an icy appearance and chill the air. Transform into a scary undead monster with pale skin, icy blue accents, and an eerie and frightening beauty. Simply add some chilly tones to your skin to obtain that eternal creepy look.
9. Pretty Makeup Idea
Next, we have a more attractive and toned concept. To achieve the spooky vampire look, apply eye makeup with a little crimson around the eyes. Finish with blood-stained lips. This is a more casual and simple-to-wear look.
10. Glam Vampire
The next makeup idea is scary and lovely!  This is a fantastic Halloween concept because it looks like a scary vampire while still being rather appealing. The veins that run under the eyes, the jewelry, and the fangs are all inspired by modern vampires.
11. Scary Vampire Makeup
The use of artificial blood is essential to the success of this vampire makeup look. When you're through, it will appear as if you just had a new feeding.
12. Spooky Vampire Makeup
This makeup look is eerie and Gothic, and it also has a traditional vampire vibe to it. It has eyes that are a combination of crimson and black in hue, and it also has red contact lenses. In addition, she has blood-red lips dripping with blood and blood on her neck.
13. Dark Vampire Makeup
Icy blue contacts contrast beautifully with very dark black and red-toned lids, creating a zombie-like appearance that's ideal for your vampire costume.
14. Vintage Vampire Makeup
This Halloween, give the look of a classic vampire a try. Put on some bold, crimson lipstick and cat-eye liner to evoke classic Hollywood glamour. It'll bring back vampire vibes and make Halloween cooler!
15. Mystical Makeup with a Moon
This makeup idea is fantastic and mythical. Use a dramatic flick of eyeliner, thick lashes, and contact lenses to pull off this look. She also has facial lines and a moon painted on her head. You can do something similar or combine the moon motif with other vampire makeup.
16. Gothic Glam
Try some Gothic Glam vampire makeup if you want to wow this Halloween. Own the night with your spooky, cool, and seductive style by applying black eyeshadow, bold red lips, and precise eyeliner.
17. Bloodthirsty Vampire Makeup
Accept the darkness with gushing "blood" tears oozing from red-rimmed eyes. For maximum impact, pair with a stark black-and-white aesthetic.
18. Vampire Makeup With Veins
If you think the vein makeup idea is cool, you absolutely have to check out this vampire appearance as well. This one offers an up-to-date, edgy, and stylish vibe at the same time. This has a platinum blonde hairdo, eye makeup, veins, and fangs that create a statement.
19. Nosferatu Inspired Makeup
This Nosferatu-inspired makeup, emphasizing sunken eyes, extended fingers, and spooky, gray-toned skin, is the perfect way to creep up your Halloween look.
20. Seductive Vampire Makeup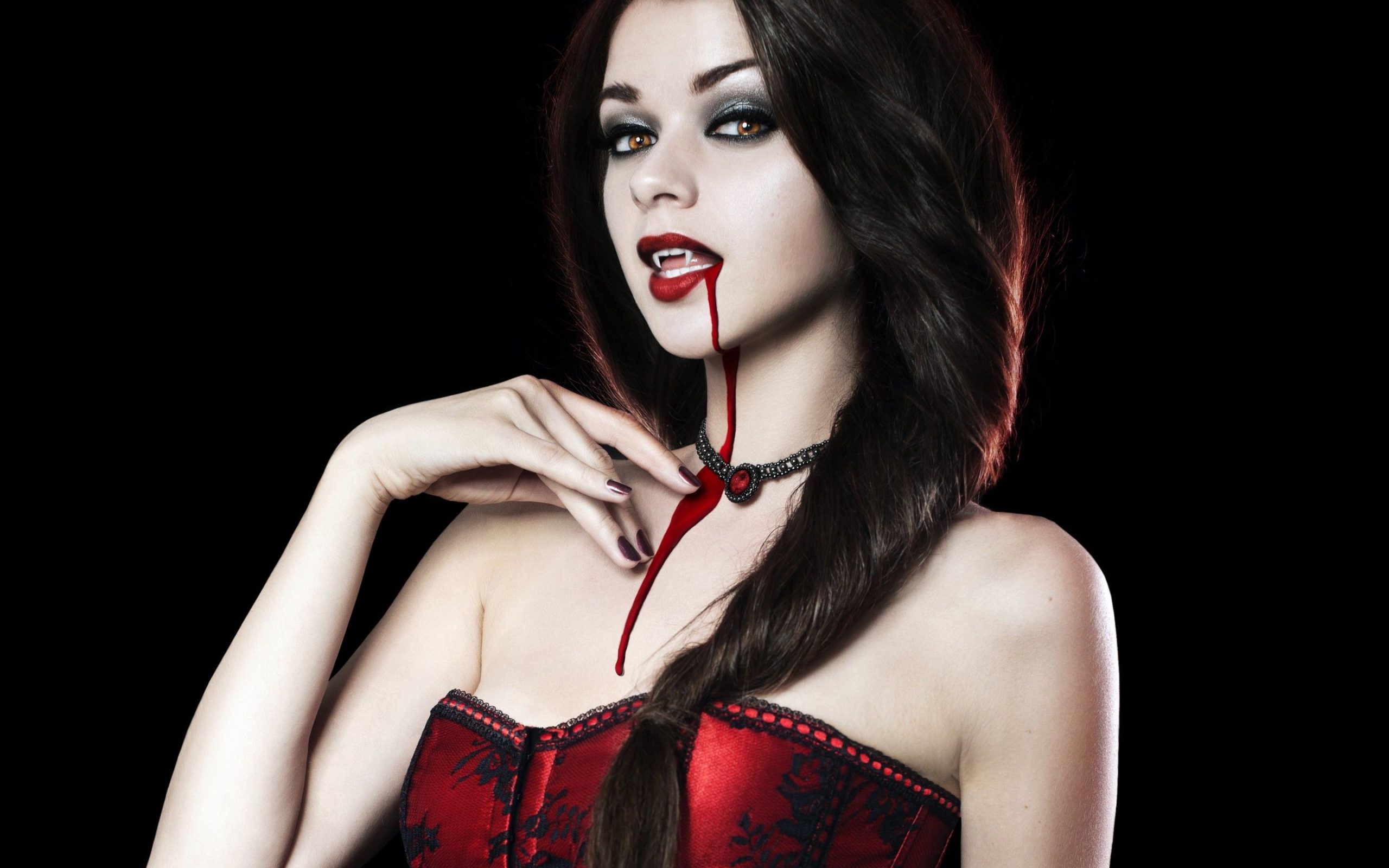 If you want to look like a sensual vampire for Halloween, the most important feature to focus on is your dark and alluring eyes. Keep your face pale and beautiful with deep red lips for mystery.
21. Glitzy Rhinestone Vampire Makeup
Make yourself into a vampire queen with this eye-catching Gothic makeup look. It has beautiful black eyes and ruby lips. This makeup is embellished with black rhinestones. You can also try this makeup look without the rhinestones. Regardless, you'll look fantastic as a vampire.
22. Creepy Vampire
want to look like a really scary vampire for Halloween? Pale skin that looks like a ghost, sunken eyes, and a few fake scars or veins will do the job. Apply some crimson lipstick to your lips, and you'll be ready to scare the night away!
23. Vampire Queen
Consider donning Queen Vampire makeup if you're aiming for a regal appearance this Halloween. Make a statement with a stunning crown, alluring eye shadows, and bold lips. The night of Halloween will belong to you!
Other Articles