Are you ready to get all dolled up for this Halloween? Except, this years doll looks won't be all dreamy and sweet. We have a collection of 20 very unique doll makeup ideas. From cute to absolutely horrifying. Which one are you picking this time?
1. Scary Bratz Doll Makeup
Sure, anyone can dress up like a Bratz doll for Halloween, but how many people will go all out and imitate this terrifying rendition? To achieve this you'll need a face paint kit, purple eyeshadow, and, of course, a lot of frickin' talent.
2. Broken Doll
This makeup appears to be a genuine shattered doll (look at those detailed small cracks on the forehead!). Aside from the details, I adore this one's strong pink smoky eye (and those super-defined brows).
3. Weeping doll
This doll Halloween makeup isn't for beginners, but even if you don't have legitimate makeup talents, it's still entertaining. How genuine and eerie do those liquid tear ducts appear? This look is a definite 10/10.
4. Extravagant lash doll
This doll makeup style is all about long, spidery lashes, thanks to a clever combination of face paint and falsies. Aside from the eyes, I love the sheen on top of the lips—genius, right? BRB, I will try to reproduce it in front of my mirror.
5. Matching doll
Looking for a nice couple costume? Allow me to introduce you to this doll makeup that matches. White eyeliner, contrasting eyeshadow, and sculpted lips and brows elevate this Bratz doll makeup.
6. Green Witch Doll Makeup
Remember how I mentioned doll makeup is completely subjective? This green look is a great example of truly personalizing your Halloween makeup. I get witch vibes from this one.
7. Wooden Doll Makeup
I'm unsure if I'm afraid or pleased by this doll's makeup—maybe a touch of both? If you want to achieve this look, you'll need a face paint kit, a fine-tip brush, pink lipstick, and crazy-long falsies.
8. Half-face Doll Makeup
A half-face makeup look is always a good choice for Halloween, and this doll alternative is no exception. I like the idea of leaving one side of your face bare (no makeup or foundation) and going all out on the other. If you're going to try this yourself, make sure you have a good face paint kit.
9. Subtle Doll Makeup
Want to stay moderate with your doll makeup? Use pink eyeshadow, purple eyeliner, and fluffy fake eyelashes to achieve a low-key Barbie look. Extra points for pulling off a stylish high ponytail.
10. Bratz Doll
What is the secret to perfecting Bratz doll makeup for Halloween? Extend your eye makeup a few inches behind your lash line to create the appearance of large, exaggerated eyes. The same goes for your lips, so ensure you have a good matte lipstick and liner before you begin.
11. Voodoo Doll
If you're not into nasty Halloween makeup, keep scrolling. Because of the extremely realistic-looking stitches and blood, this appearance is scary. To properly nail this look, you'll need some experience with special effects makeup—but the result is well worth it.
12. Barbie Doll
I'm sure we'll see a lot of Barbies going down the street this Halloween after Greta Gerwig's Barbie premiere. And I wouldn't have it any other way! Here's the deal: You only need a pink cosmetics look and a pink dress to complete the look. But you can customize it to your mood, whether for a rose-coloured eye and lip or this brilliant look.
13. Annabelle
Annabelle's makeup requires minimal skills. Skip the foundation to seem haggard and worn out. You can use it. Annabelle has orange-brown hair that may be braided on both sides with a wig. Use cosmetics to thin your brows.
14. M3GAN
Though M3GAN was not precisely a demon, it was creepy and evil. She looked very human-like, for which you don't have to work too hard. But, you must work on making yourself look perfect, too perfect to be accurate, because M3GAN is a robotic doll. Get yourself a wig if you dont have naturally blonde hair. Soft waves, blue eyes, and pale lips. There you go.
15. Chuckey
You can make this a couple costume by dressing up as Chucky and his wife. You need an orange wig and bright blue eyes. Conceal your brows and draw a couple of orange hairs to call them chuckey brows. Use some contour for the buttchin and makeup for cut marks and stitches across your face.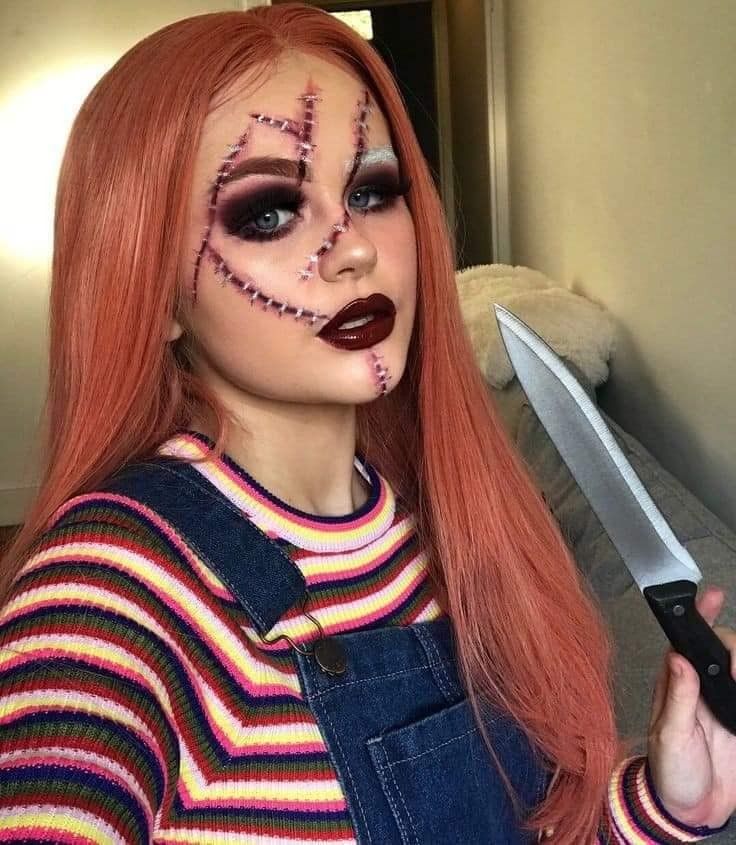 16. Marionette Dolls
Learn how to make the "cracks" and obtain those fantastic eyelashes to give a spooky spin on a classic marionette doll look.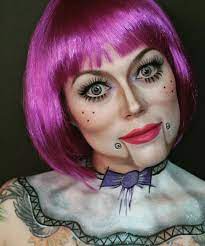 17. Squid game
The Squid Game costume may be a 2021 costume; it was popular in 2022 but will continue to be a significant favourite in 2023 because it is famous. Use the following guide for the Red Light, Green Light doll, which is guaranteed to give you nightmares no matter how often you see it.
18. Demonic Doll Makeup
This look will use a little fake bl@od or red face paint. Just make it look sinister and evil. You should look like a doll that will fetch people's souls.
19. Gothic Doll
A gothic doll is just like any other doll but a little emo. Dark makeup, dark hair, dark lipstick. Easy to achieve makeup and an effective impact.
20. Momo Doll
Remember that viral online game or challenge that had this bald and creepy doll? Yup! That's what we are going for with this look. This does require a ton of skill and prosthetic.
21. Clown Doll Makeup
There are not just feminine dolls in the market. You can go for very masculine and very terrifying looking clown doll makeup.
Other Articles