You know what they say about Halloween makeup ideas? Go big or go home. Here are 31 amazing and spooktabular Halloween Makeup for Men. Because why should women have all the fun in the spooky season.
1. Devil
Do you want a truly terrifying Halloween costume? Then the Devil should be your go-to look. This DIY makeup can range from simple to complex, depending on your time, skill, and willingness. You can add horns,bright contact lenses, and claws to make the look more realistic.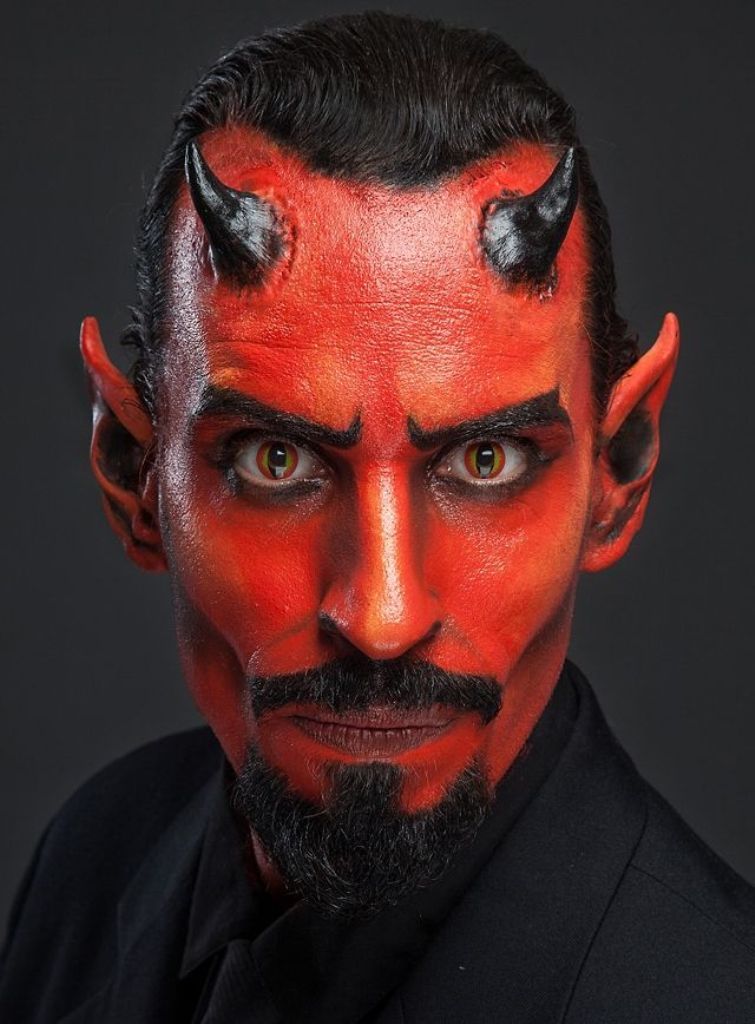 2. Day of the Dead
Calaveras are becoming increasingly popular, particularly around Halloween. They have set off many versions, from easy and plain to complex and outrageous makeup looks inspired by the Day of the Dead.
3. Clowns
It's difficult to explain why a clown is one of the most terrifying Halloween makeup looks. However, you should go for it if you want to make people's blood run cold. You'll need extra tools to pull off such complex Halloween makeup looks. In this situation, purchase a red curly wig for your Halloween hair and a clown costume for your attire.
4. Skull
For a good reason, a skull is one of the most popular Halloween makeup ideas. It is a simple Halloween makeup that takes no special sketching abilities to recreate. Steal a black eye pencil from your girlfriend or sister, darken the areas around the eyes and nose tip, then draw fangs on the skin with your jaws as a pattern.
5. Birdman
This is quite creepy. Although you will need additional equipment for the Birdman Halloween makeup look, the result is well worth the effort.
6. Vampire Halloween
Men used to choose the one and only Count Dracula for their vampire Halloween makeup in the past. However, due to the enduring popularity of the Twilight saga, many people prefer its main character, Edward Cullen. Which vampire makeup male style to go for is entirely up to you. Here are some bat makeup ideas as awell.
7. Joker Halloween
It has become one of the most famous Halloween face painting ideas since the public was introduced to the new portrayal of the Joker in the Suicide Squad film. Despite being seen as a villain, the Joker's unwavering popularity is breaking all records. We've included thorough hair and makeup tutorials to help you achieve this famous look.
8. Pumpkin
What it will look like is entirely up to you, as there are so many alternatives, you will undoubtedly find one that suits your preferences.
9. Tiger Face
If you want something unique, try tiger face paint for males. Tigers are afterall just big cats and you know how popular cat makeup is.
10. Zombie Men in Blood
Real zombies are not as sweet and cheesy as Zombieland attempted to persuade us. Vampires are cruel, scary, and dangerous, making them one of the best Halloween costumes.
11. Mortal Kombat
Mortal Kombat video games are a terrific place to get ideas for your Halloween costume. That being said, you can win by selecting your favorite Mortal Combat character.
12. Papuan
Try this face paint, and your efforts will be rewarded with amazed looks from all directions.
13. Cheshire Cat
Guys who wish to look stylish and creepy at the same time should go for the Cheshire cat look.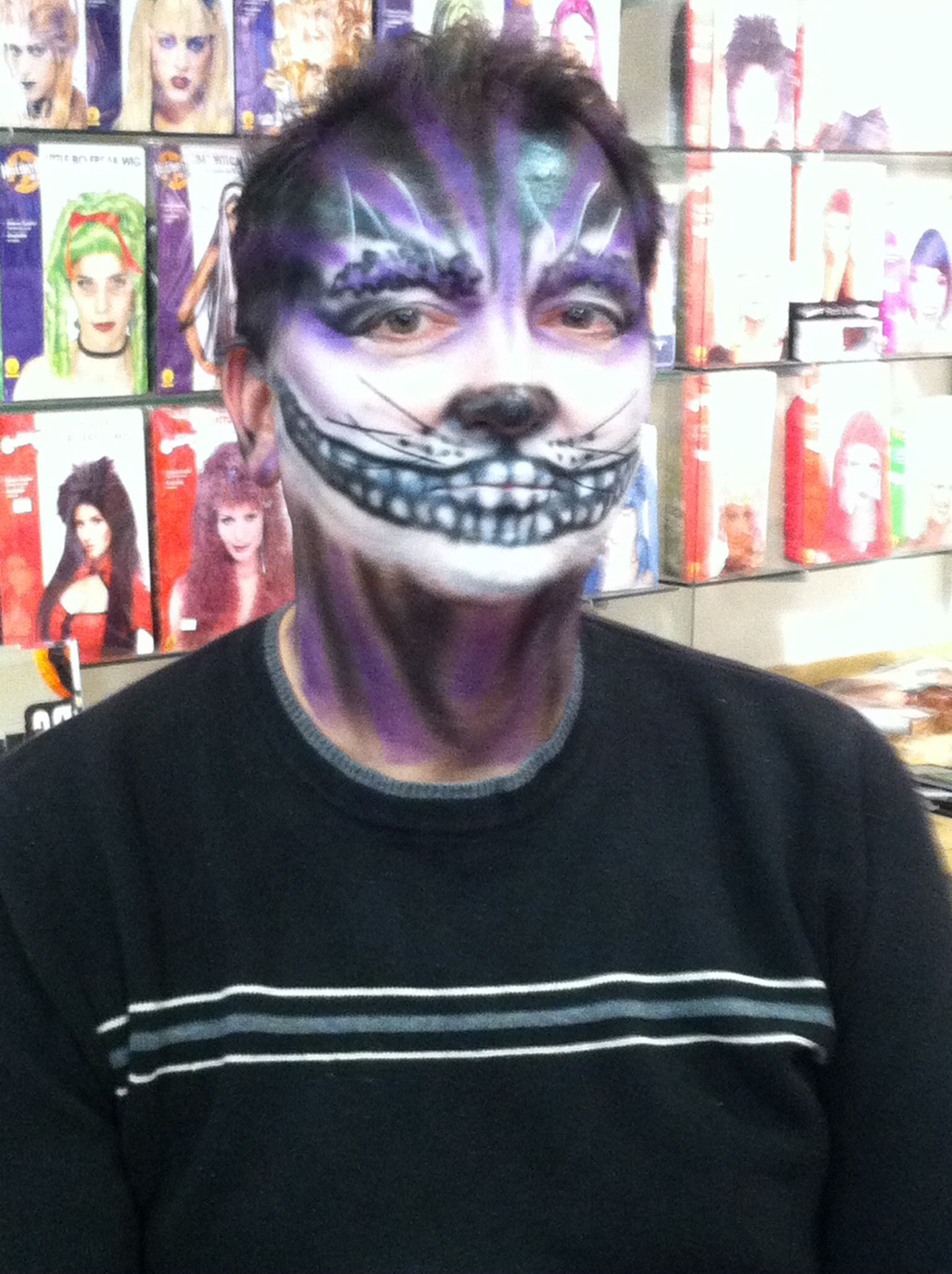 14. Soldier
Camouflage is another effective yet simple Halloween makeup for men. It necessitates using gray, green, and brown men's face paint.
15. Salvador Dali
You don't have to grow a mustache if you want to channel Salvador Dali's Halloween style. Paint it on as part of your Halloween costume.
16. Mime
A mime Halloween makeup look has a particularly scary effect. This persona will lend you a mystery air if you not only construct the appropriate guy Halloween makeup but also perform those precise actions.
17. Mad Hatter
The allure of the Mad Hatter from Alice in Wonderland cannot be ignored, especially when Johnny Depp performed it.
18. Robot
Attach cables and gears to your body with special glue to achieve a realistic appearance. However, the outfit can be anything. You can even go without a top if you like.
19. Pirate
To swiftly and effectively pull off pirate Halloween makeup, apply black eyes with streaks on your white face. Complete the appearance with an eye patch and a cap or bandanna.
20. Frankenstein
Frankenstein's Monster is one of those timeless classics that can never go wrong.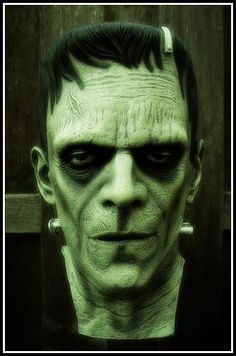 21. Werewolf
The best Halloween makeup ideas for males can be found in horror films. Werewolves are both enticing and mysterious. They merely walk among us during the day, but they transform into mighty animals at night, which is why ladies find them so appealing. As a result, choosing a werewolf Halloween face makeup look will provide you with numerous benefits.
22. Yondu Udonta
Halloween costumes for guys may be complicated and elaborate, as demonstrated by the Yondu Udonta look. However, you may require some additional assistance to pull it off.
23. Pennywise
This Halloween makeup is sure to spook out anyone who comes across you. It's a slightly exaggerated Pennywise, which makes it even scary.
24. Michael Myers
Michael Myers, often known as The Shape, is the serial murderer from the Halloween horror films. It gained a sizable fan base over time, owing primarily to its stalker character.
25. Voodoo Doll
Few things are more frightening than a walking, breathing Voodoo Doll. If you're searching for black magic for Halloween, this spell works for both men and women.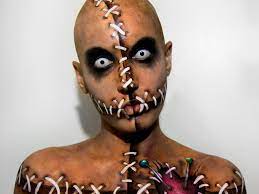 26. Freddy Krueger
If you're a fan of the Nightmare on Elm Street film franchise, you won't miss this fantastic Freddy Krueger Halloween makeup lesson, which both men and women can wear.
27. Demon
This is a fun demon Halloween costume for males that does not require any prosthetic.
28. Neon Skull
The Neon Skull is a modern and elegant take on the traditional skull makeup for Halloween for males.
29. Pop Art Halloween Makeup for Men
With this YouTube video, you can transform yourself into a comic book or pop art-inspired figure! We like how simple but distinctive it is.
30. Edward Scissorhands
This character has become one of the most beloved of all time, thanks to Johnny Depp.
31. Jack Skellington
This look was discovered, and we adore the imaginative twist on this classic A Nightmare Before Christmas character!
Other Articles