The devil was once god's favorite angel. Many people assume devil to be really pretty, which leaves room for Halloween makeup experiments. You can go for a gruesome looking demonic devil and also a glamorous one. The choice is yours. Check out these 30 unique and extraordinary devil makeup ideas for 2023.
1. Easy Devil Makeup
Not interested in painting your entire body crimson for a Halloween costume? Same. To top off your devil makeup, go for a glossy red lip and a liquid red eye shadow.
2. Purple Devil Makeup Idea
This look is ideal if you want your devil makeup to give off purple demon emoji vibes. After you've finished your look, spritz on a setting spray to keep your makeup from sliding off midway through the night.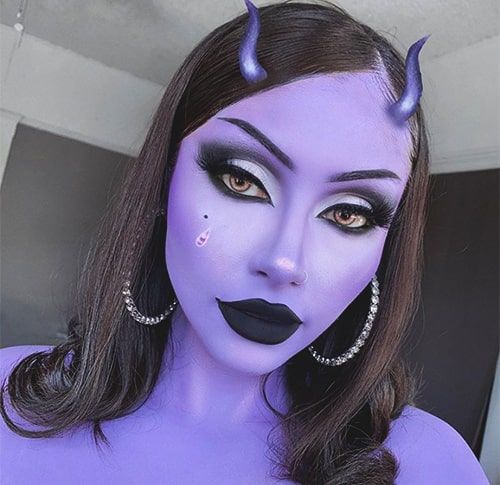 3. Gory Devil Makeup Idea
Want to make your devil makeup a little more spooky? To achieve this horrific effect a pair of black contact lenses will complete the possessed look.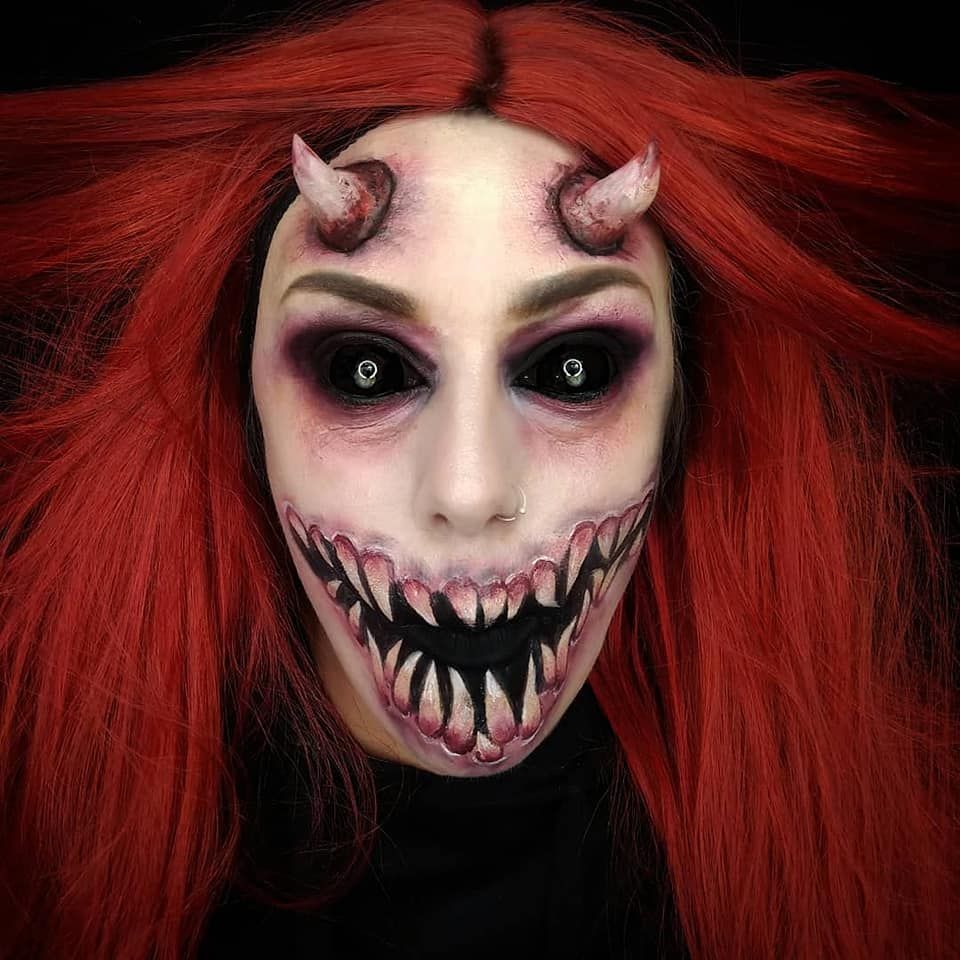 4. Jeweled Devil Makeup
Yes, devil makeup may be entertaining! Here's evidence. To achieve this look, add some stick-on gems around your eyes to adorn your face.
5. Half-Angel, Half-Devil Makeup
Want to include a little nice girl into your devil makeup? Apply red eye shadow to your right eye, draw horns on it, and then switch to an angel feeling on the left.
6. Red Eyeshadow Devil Makeup
You don't always want to go all out for Halloween, so try for something a little more low-key. Don't worry, I've got you covered. All you need for this devil makeup is some red eye shadow and a black liquid liner.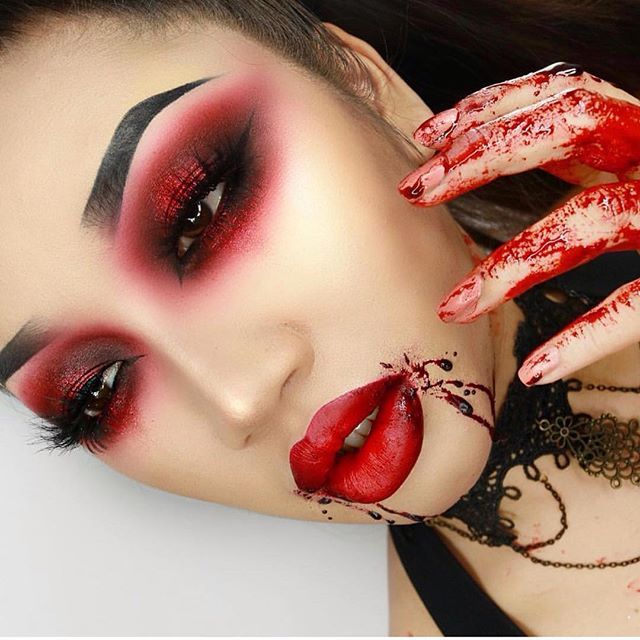 7. Devil Tail Eyeliner
Isn't it true that the devil is in the details? By adding an arrowhead point to your eyeliner, you can transform your cat eye into a cute devil tail.
8. Teary Devil Makeup Look
Take a cue from the main character of Euphoria, Rue, and flaunt some glitter tears with your devil makeup.
9. Red Face Devil Makeup
If you're serious about living the devil's life, go all out with the red face paint. Next, apply mascara and false lashes to make your eyes stand out against the blood-red paint. And you can never go wrong with black lipstick.
10. Black and Red Devil Makeup
Make it goth, but make it devil. To simulate fake blood, dribble face paint from the corners of your mouth and eyes. It's the ideal frightening finishing touch for any demon makeup.
11. Black Lip Devil Makeup
To be honest, devil makeup is incomplete without the color red. But it never hurts to mix things up a little. Instead of opting for a sweet apple-colored pout, try some black lipstick.
12. Jack-O-Lantern Devil Makeup
To make this Halloween mashup, combine your devil makeup look with a jack-o-lantern. Start slowly when adding black paint to construct your mouth, because it's much more difficult to reverse if you paint on too much.
13. Glitter Eye Devil Makeup
Add a dash of glitter and you are good to go.
14. Demonic Illusion Makeup
This Halloween, use makeup to frighten! Devil illusion makeup. The makeup artist made her mouth look like her skin has ripped, revealing the devil. Scary contact lenses and black demon horns complete her makeup. This party makeup is great.
15. Scary Possessed Girl Makeup
Devil movies often show scary possessions. This prompted this next concept. She has a bloodied cross on her forehead, bloody eyes, black lip and eye makeup, and scary contact lenses. This Halloween costume is like a Wednesday Addams combination. You can attempt this makeup with another costume. The page below lists all makeup products used.
16. Half-Devil, Half-Skeleton
Next, a Halloween hybrid. This makeup artist made devil-skeleton makeup. Her crimson face has black contacts and one side of her mouth has skeletal teeth. Her skeleton makeup covers one side. Unique idea. You can make this or a half-skeleton/half-devil design.
17. Devil-Horned Makeup
Simple, eerie makeup? This idea may suit you. Pretty, terrifying devil makeup. The artist added horrific horns to smokey eyes and red lips. The horns were made with Ellimorph Plastic and applied with liquid latex and spirit gum. This might be a last-minute costume if you got horns on a headband.
18. Half-Devil, Half-Glam
Another half-and-half makeup idea follows. The makeup artist has drawn a line across her face and torso this time. Glam and devilish. This Halloween makeup idea is lovely and diabolical.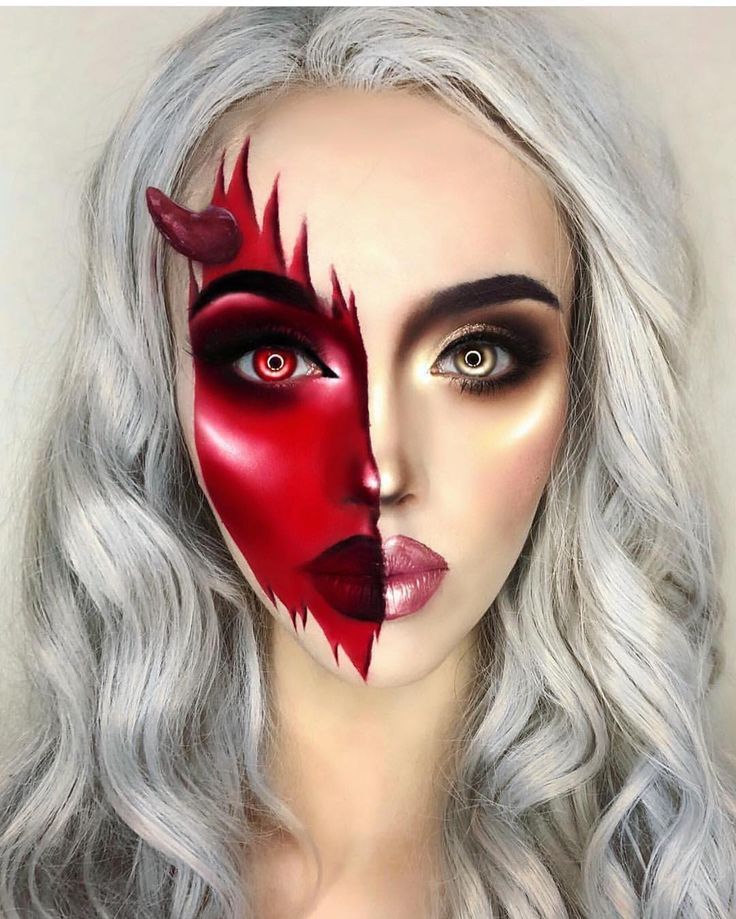 19. Crossed Devil Makeup
This is an example of full-on demon makeup. Devil makeup is perfect. Her face is devil red, she wears contact lenses, there are upside-down crosses, a cool illusion, and a devil horn.
20. Devilish Makeup
This following makeup look may make you think of the devil as beautiful! Red-faced devil. The red lip look great with the eye makeup. She looks chic as a terrifying devil! This makeup is party-ready.
21. Fantasy Devil Makeup
Fantasy makeup is next. She has extreme eye makeup and is half devil and half angel. We like this since it's original. Recreate this or paint your full face crimson to seem diabolical.
22. Horned Black Devil Makeup
This Halloween, look spooky with this. She wears black specs and eyeliner. Red lips and black horns complete the look. This makeup is scary, especially at night. Those horns are available online.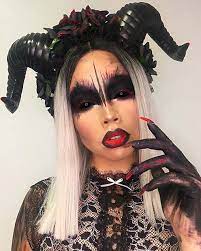 23. Red Gold Devil
Creepy but glamorous makeup is next. Strangely, this devil is both. Black and crimson sculpted skin with gold drips and eye makeup. Horns and colorful contacts finish this appearance. It's wonderful for makeup enthusiasts.
24. Zodiac Devil
Love horoscopes? That's you. Aries demon. Aries is a fiery sign like Leo and Sagittarius. A more magical, fun, and original devil. Recreate or use a different fire sign symbol.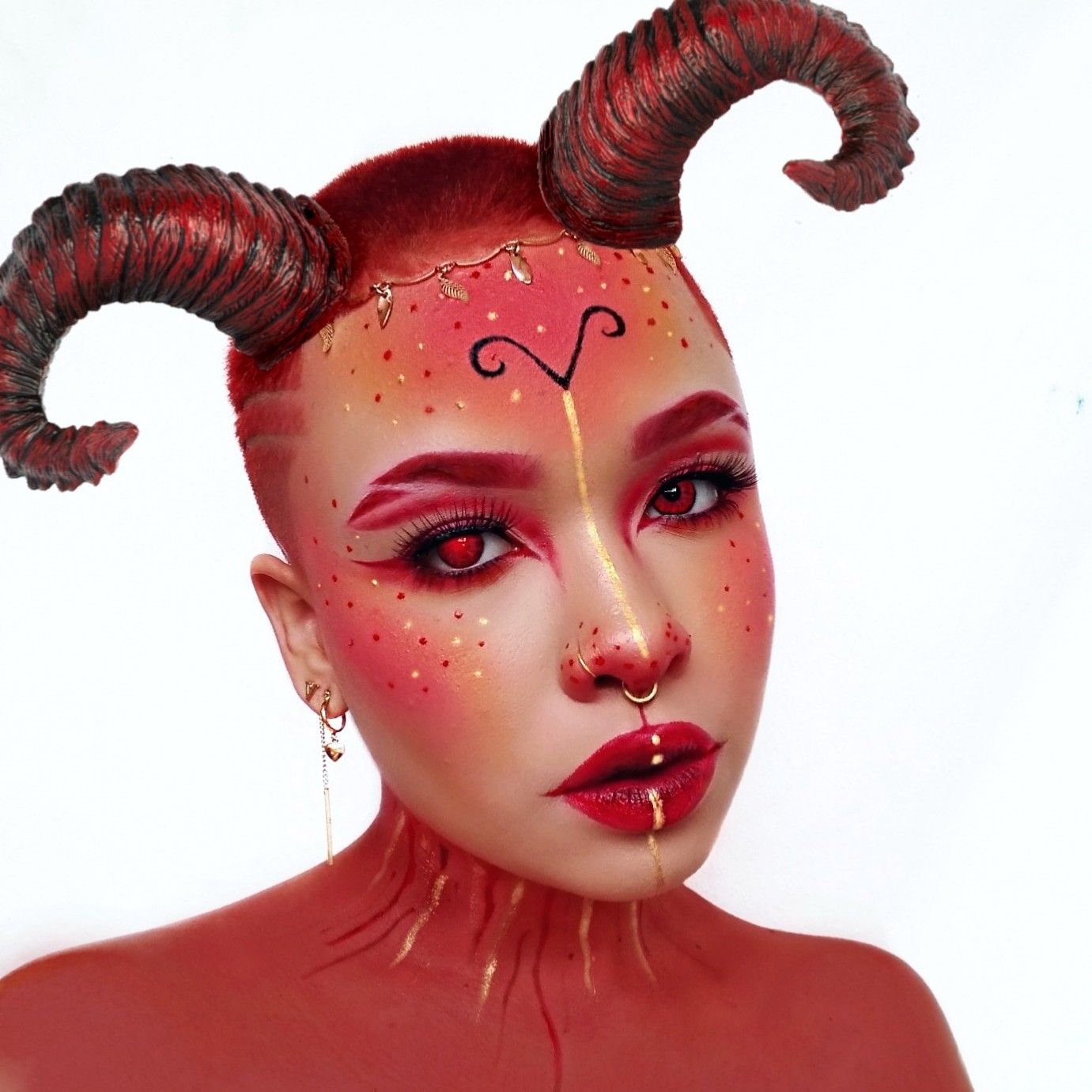 25. Vintage Devil
Next, a fun makeup idea. Retro demon makeup. Her red face, glittering eye shadow, and black lips are classic. Black sparkly horns and costume complete the look. The hair and makeup make a lovely 50s devil.
26. Cartoonistic Devil
Cartoon devils follow. She painted her face and body red and made illustration-like characteristics. This demon is amusing and not terrifying. Recreate this at home with practice.
27. Vamp Devil
This devilish style is excellent for anyone who wants to feel sexy and glamorous.
28. Angel and Devil Eye makeup
This is the usual angel vs. devil makeup but instead of working on the whole face, just work on the eyes. Red eye-shadow on one side and glittery white and blue on the other.
29. Flaming Devil
A little difficult and a lot time consuming. This makeup brings the wrath of hell, into the reality. use orange yellow and red colour to create the warm tone. Make it look like the hell fire and you are ready to ace the devil makeup game.
30. Glossy Devil
A mix of glamorous and gore, this look is a must for all the bad bishh girls out there.
Other Articles