Even though lip glosses were a thing of the past, makeup trends are changing quite drastically. You might remember the time when every woman used to sport a glossy look with lip glosses and shiny eye shadows. That look was looked down upon even a few years back, but now, lip glosses are making a comeback. Many of you might remember the sticky texture of the glossy lipsticks. That is one of the main reasons behind the demise of the product. But now things are not the same anymore. Gloss lipsticks are anything but sticky nowadays.
Most of them are created with beneficial ingredients that make them non-sticky and hydrating. They not only look chic, but they offer a sophisticated appearance also. You will be pretty mesmerized by the intensity of the glossiness of these latest lipsticks. Apart from providing a wonderful demeanor, these lipsticks also make your lips hydrated and smooth. In case you are excited about getting on the lip gloss bandwagon, this blog will help you a lot. Over here, you are going to find out about the top ten gloss lipsticks with the necessary details. By studying this article, you will find your perfect lip gloss in no time.
1. MAC Bronzer Lipstick
The Bronzer Lipstick by MAC is one of the most coveted gloss lipsticks on the market right now. This lipstick is so shiny that nobody would be able to look away from you. As the product comes in five different shades and three different textures, you will be able to choose from a lot of other options. By sporting any of these shades by the MAC bronzer lipstick, you will get to achieve a unique and chic look.
Apart from the lipstick functionality, the outer presentation of the bottle is quite fantastic as well. You will genuinely be the center of any occasion if you start wearing this product.
2. Revlon ColorStay Overtime Lipcolor
The ColorStay Overtime Lipcolor by Revlon is not merely a lipstick but a fully functional gloss also. By the name of the product, you can understand that it is perfect for more extended wear. Users have sported this lipstick for more than 16 hours and still maintained their fresh-look. As the lipstick offers full coverage to your lips, you can wear it for multiple occasions. As the product is created using the SoftFlex formula, your lip color will not crease or become cakey after prolonged usage.
The lipstick also contains soy extract and chamomile, and that is why it offers excellent moisturization to your lips. You will get not only glossy but also super-soft and smooth lips.
3. CoverGirl Outlast All-Day Lip Color
CoverGirl's Outlast All Day Lip Color packaging will remind you of the days when lip glosses were the craze. But do not mistake the texture of this brilliant gloss lipstick to that of the older glosses. This lipstick is created using moisturizer and an advanced formula that makes it perfect for wearing in any climatic condition. The product is so comfortable to wear that you will not notice that you are wearing a lip gloss.
The best part about this product is that your lips will not get any creases or crumbs after applying it. You will maintain the shiny and non-sticky look for more than 16 hours in a day without any sweat.
4. Revlon Ultra HD Matte Lip Color 
The Ultra HD Matte Lip Color by Revlon is one of the best gloss lipsticks that you can find online. This lipstick offers a matte yet velvety look and makes your lips genuinely soft and smooth. As the product is extremely lightweight, you can wear it for long hours without any difficulty. Moreover, the product is prepared using a 100% wax-free formula, which is why it is so easy to sport.
The lipstick is created by using a gel formula that makes it pretty easy to apply. Moreover, the fragrance of the product is pretty good as well. All the shades offered by the lipstick are of high definition. You will be able to choose your perfect shade quite easily.
5. bareMinerals Gen Nude Patent Lip Lacquer
If you wear the Gen Nude Patent Lip Lacquer by bareMinerals, you will be able to sport a highly fashionable and chic look. As the product is created using the Moisturizing Mineral Complex, you will achieve soft and smooth lips in no time. The lipstick offers high-shine, as well as a full coverage, look quite successfully. You can even wear this product daily without fearing about your lip's health as it is formulated to be great for your skin.
Apart from the lipstick's texture and quality, the applicator of this gloss lipstick is quite good. You can apply the product evenly within seconds due to the great applicator.
6. NYX Professional Makeup Slip Tease Full Color Lip Oil
If you are looking for a high-quality yet affordable gloss lipstick, then look no further. The Slip Tease Full Color Lip Oil by NYX Professional Makeup is the perfect product for you. As the lipstick comes in the form of an oil, you will get to achieve super-shiny and moisturized lips throughout the day. You might think that the product might make you uncomfortable, but do not panic. This lipstick is lightweight and great for wearing long hours.
All the hues offered by this lip oil are quite prominent. You will get vibrant yet silky-soft lips by sporting this product. Moreover, the product provides a superb satin-matte finish, which is pretty uncommon for a lip gloss.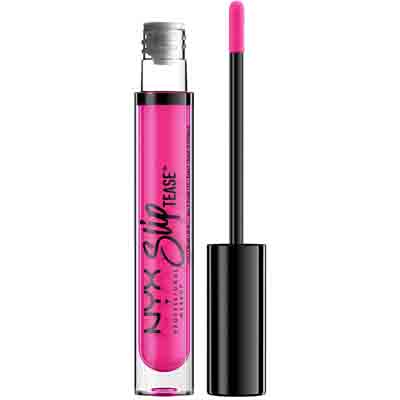 7. Tarte Travel Size Double Duty Beauty The Lip Sculptor Double Ended Lipstick and Gloss
The Travel Size Double Duty Lip Sculptor by Tarte is a revolutionary product that allows you to create a matte and glossy look correctly. As the product has two different endings that offer to be a lipstick and a lip gloss, it becomes relatively easy for the user to other sport looks. The product contains coconut oil that helps in making your lips hydrated, smooth and soft. Moreover, the product comes in so many different shades that you will have no problem choosing the right shade.
Apart from all the fantastic features, the lip sculptor by Tarte is exceptionally affordable. Moreover, the ergonomic design of the gloss lipstick helps you in carrying it around.
8. Juice Beauty Phyto-Pigments Liquid Lip
The Phyto-Pigments Liquid Lip by Juice Beauty is one of the best gloss lipsticks available on the market right now. As the product is created using organic and botanical juices like fruit stem serum, it is entirely safe. Moreover, the Phyto Pigments available in the lipstick make the hues extraordinarily bold and vibrant. That is why you get highly-shiny lips after wearing the product.
The product also contains antioxidants and different essential vitamins. That is why your lips stay hydrated, healthy, and smooth after daily usage of this lip gloss. It helps in reducing the wrinkles and lines on your lips.
9. NYX Professional Makeup Cosmic Metals Lip Cream
The NYX Cosmic Metal Lip Cream is an excellent product if you want to get glossy lips quite quickly. As the product offers a glistening and metallic look, you will be able to wear it in parties and other fabulous occasions quite frequently. The lip cream is so fantastic that it makes your lips visibly softer and smoother after daily usage. Moreover, the product is so easy to apply that you will not have to spend a long time doing your lips.
This gloss lipstick can be applied directly to your lips. You will not even have to apply moisturizer or primer before using the product.
10. PYT Beauty Double Duty Lipstick plus Gloss
With two different sides providing the excellent matte and glossy look, the double duty lipstick plus gloss by PYT Beauty is one of the best products in this list. The product helps you save money as it serves the purpose of two different products. You can use it as a matte lipstick, or else you can also use it as a gloss. In both cases, the results will surprise you. As the product is created using shea butter, mango seed butter, Vitamin E, etc. your lips will stay hydrated and soft after using it.
Moreover, the product is hypoallergenic; that is why it can be worn any user without any fear.