Halloween is just round the corner and you bettwe start picking your halloween costume. But before you do that here are some Halloween Makeup Ideas 2023 that will make you look, spookier than ever. Check these out.
1. Brabie
I'm sure we'll see a lot of Barbies going down the street this Halloween after Greta Gerwig's Barbie premiere. And I wouldn't have it any other way! Here's the deal: You only need a pink cosmetics look and a pink dress to complete the look. But you can customize it to your mood, whether you choose for a rose-colored eye and lip or this full-on brilliant look.
2. Glinda
People are looking forward to seeing aAriana Grande as Glinda in the upcoming Wicked movie, so they have to try on this costume. Simply get a few essential beauty items, such as a pink-toned eye shadow pallet, a light-pink lip gloss, and a slew of sticky rhinestones. And if you're committed, wear a long, pink gown and wave a wand around. After all, you're a decent witch. Ariana Grande Tattoos are also something that you might want to check out.
3. Cleopatra
If you have a gold-cream eyeshadow to pat on your lids, lips, and cheeks, you already have the foundation for this look. It's highly pigmented, but you can also blend it for a more diffused look. If you want to take it further, use gold false lashes.
4. Pink Cowgirl
If your vibe is "yee-haw, but make it shiny and pink," this is the most straightforward costume on the list. Because this look is heavy on glitter, don't be hesitant to cover your entire face with a mix of metallic and glitter eye shadows in various hues and textures. And if you went to a bachelorette party this year, I'm sure you already own a cowgirl hat.
5. Eras Tour Era
If you couldn't get enough of copying Blondie's makeup on the Eras Tour this summer, the Lover-era heart is arguably the most identifiable for Swifties and onlookers alike. But here's a little tip from when I recently duplicated this look: Outline the shape of your heart with a beige or white eyeliner pencil first to get the shape right, then dab the glitter on top—this way, you won't have to re-do the glitter a million times.
6. Mad scientist
I'm utterly obsessed with YouTuber Cydnee Black's Halloween makeup lesson, which recreates a terrifying scientist after an experiment gone bad, yes, safety glasses are essential. Trace gray or black eyeshadow over the outside rim of your spectacles while wearing them, blur the lines out with a fluffy brush, then add dots of darker smoke around your face with the same brush for a chaotic finish.
7. Eleven from Stranger Things
Still can't get enough of s? Try this simple Eleven costume from Season 3 that only involves a little fake blood under your nose. Keep the rest of your makeup simple. You get extra points if you wear an '80s-printed button-down and beach waves.
8. Fairy
The cornerstone for this cute fairy costume by Eve First is a lot of cream blush and artificial freckles, which you already know how to do if you like makeup. If you don't already have a faux freckle pen, you may achieve the look by dabbing a brown lip liner or eyebrow pencil across your nose and cheeks. Add some flowers on your skin for the dreamy look.
9. Vampire
Is Halloween complete without a vampire makeup look? Stick to smoldering colors of dark berry and black to slay your makeup like Buffy slays those vampires. Long fangs are optional, but a dribble of blood from red lip tint around your mouth is not.
10. Bratz Doll
You'll need a lot of lip liner, lipstick, and lip gloss to exaggerate your features for this doll makeup look (or any doll makeup, really).
11. Suicide Squad Joker
Was the Suicide Squad Joker the best Joker? No, but the smokey eye, facial tattoo, and overdrawn lips make for a fantastic Halloween makeup look. Grab some bright green temporary hair color to sell it.
12. Maleficent
Maleficent's cheekbones, on the other hand! You'll need all of your contour kits for this look, as well as the ability to contour so you can sculpt some chiseled features befitting the evil fairy.
13. Scarlet Witch
If you saw WandaVision this year, channel the superhero with this red-hair Halloween costume and quick Halloween makeup look that's genuinely as easy as it gets. Apply little eye makeup and red lipstick, and you're ready to combat crime.
14. Wednesday Adams
Wednesday Addams is a classic. Halloween costume idea. She is possibly the only person who wears more black than I do. All you need is a matte lipstick and gray eye-shadow.
15. Witch
Sorry, but I couldn't go through a list of simple Halloween makeup techniques without including the ultimate classic: a witch. A gray-toned smokey eye with winged eyeliner and matte black lipstick is the foundation for this look. However, like Maryam Maquillage, you can amp it up with a bit of green eye shadow as blush, duo-chrome highlighter, and dramatic nose contour.
16. Zombie
If you have a contour palette you rarely use, now is the time to put it to use because this zombie look is all about solid shadows and highlights. For that lifeless look, start with a good-coverage foundation lighter than your natural skin tone, then go HAM with a dark, pale-toned contour on your cheekbones, nose area, and temples for a sunken-in effect.
17. Olivia Rodrigo
Olivia Rodrigo, the CEO of Generation Z, is the ultimate Halloween makeup inspiration this year, and this video showcases four styles that make for an iconic group costume. If you want to go with the Sour cover, grab a mix of flat and 3D stickers to provide contrast and dimension to your face. Not to mention Liv's characteristic winged eyeliner and glossy lips.
18. Marilyn Monroe
This Halloween, expect to see many Marilyns commemorating the new film, Blonde Beautiful, starring Ana De Armas. Regardless of your feelings about the film, it's an excuse to wear full glam in October, complete with contour, red lipstick, winged eyeliner, neutral eye shadow, and Marilyn Monroe's signature beauty mark. But don't worry if you think all of this makeup is too harsh.
19. Boggart Snape
Remember when Neville faced a boggart, and his worst nightmare (Snape) emerged from the wardrobe dressed in his grandmother's clothes? It does, however, make for a fantastic costume concept.
20. Voldemort
You can not miss this costume if you are a harry potter fan. Lord Voldemort is a difficult one because you have to conceal your nose before any other makeup. But, once you're done, people will fall in love with it. Also, don't forget the bald cap.
21. Black Swan
A solid pair of fake lashes, some white and black eye shadows, and some steady hands are all you need to accomplish this gothic ballerina look.
22. Bambi
Here's a look that everyone will adore. Begin by applying dots throughout the face, along the brow and cheeks, with any face paint. Then, with brown eyeliner, line your lips thickly, shade the sides of your nose area, and overdraw your brows. Finish with pink glitter eyeshadow and pink lip gloss to complete the look.
23. Morticia Addams
Sophie Turner accomplished it, and you, too, can. While a long black wig is required, the Morticia Addams style is relatively straightforward. Use a foundation three to four shades paler than your typical hue to create that undead effect. Then, line your eyes with black eyeliner, and darken your brows to match your hair. Finally, accent the look with super-glam, cherry red lipstick.
24. Billie Eilish
Billie Eilish's appearance is as fantastic as her songs and easy to copy at home. Bryant suggests using a large, loose-haired makeup brush to sweep taupe eye shadow beneath the eyes to create a deeper pocket. Line the waterline and apply mascara. Black body paint, water, an eyeliner brush, moist cloth, and lip gloss produce the drip look. "Wet the brush and pack black color under the lash line," she advises. Then lightly massage the color with a moist towel to break up the pigment and reveal some flesh. Repeat until desired depth." Re-wet the brush, drip the face and neck, and let it dry. Use a little larger lip brush to apply lip gloss over your eyeliner from the back of your hand to add depth and dimension to your wet look.
25. Annabelle
Annabelle's makeup requires minimal skills. Skip the foundation to seem haggard and worn out. You can use it. Annabelle has orange-brown hair that may be braided on both sides with a wig. Use cosmetics to thin your brows.
26. Valak
Valak is one of the most horrifying-looking nuns from the conjuring. It would help if you had a bit of white face paint for this look because Valak lacks Vitamin D and is pale. Black eyeshadow because this demon has a terrible sleep schedule and harries substantial dark circles. Some black lipstick for the chapped valak lips, and don't hesitate before smearing some lipstick on your chin and teeth. Add some details using black face paint and finish it with white contact lenses.
27. Samara From The Ring
We are again going for a pale-looking demon, but this time it's a demon child who looks soaking wet at all times. Long black hair, preferably dripping wet. White face paint for a pale white body. Contact lenses for that demonic stare. Some Dark blue and black eyeshadow for the details that will make you look like you died while drowning.
28. M3GAN
Though M3GAN was not precisely a demon, it was creepy and evil. She looked very human-like, for which you don't have to work too hard. But, you have to work on making yourself look perfect, too perfect to be accurate, because M3GAN is a robot. Get yourself a wig if you dont have naturally blonde hair. Soft waves, blue eyes, and pale lips. There you go.
29. La Llorona
This demonic bride is the one if you are looking to go all out this Halloween. A bridal dress with a veil is a mendacity. Some white facepaint, Black facepaint for the details, dark eyeshadow, and pale, worn-out lips. Don't forget to add those black tears. La Llorona also has those burning yellow eyes, for which you need some contact lenses and a wee bit of rage.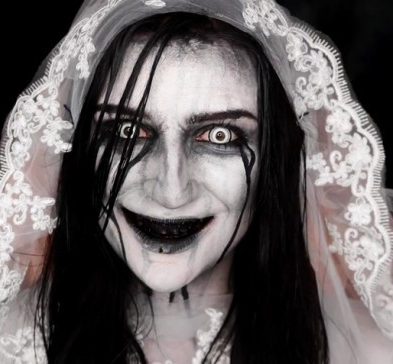 30. Chuckey
You can make this a couple costume by dressing up as Chucky and his wife. You need an orange wig and bright blue eyes. Conceal your brows and draw a couple of orange hairs to call them chuckey brows. Use some contour for the buttchin and makeup for cut marks and stitches across your face.
31. Texas Chainsaw Massacre
For this look, you need a ton of Prosthetic makeup, foundation, a semi-bald wig, and black eyeshadow to make your eyes look hollow under the leather facemask. This look can be controversial for some people, especially if you live in Texas.
32. Ariel
Take a cue from one of the year's most popular films and break out the shells and sequins! Though Ariel's makeup is much simpler, you can enjoy your night beneath the sea by adding bright eyeshadow and scales.
33. Scarecrow
We prefer scarecrows that are less scary and more charming, like this one, which has the loveliest sunflower eye makeup and the iconic scarecrow smile. This one will be finished in no time with a bit of face paint.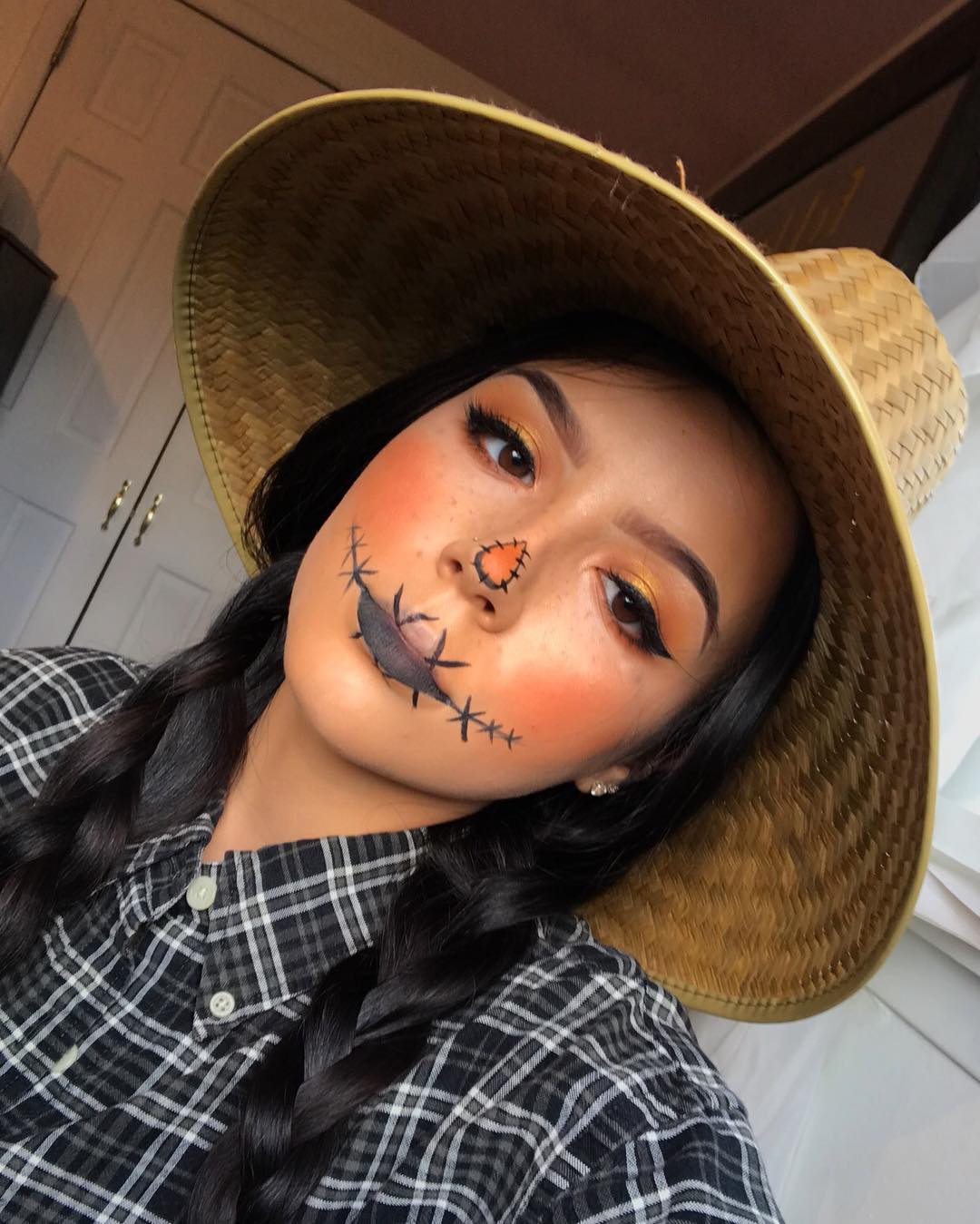 34. Mime
If you don't already have the requisite wardrobe pieces to look the part of a mime, finding a striped top and a black beret (or any other black hat) is a breeze. Begin with a white base for your makeup, then get creative! With black eyeliner, you can add features like hearts or triangles around your eyes.
35. Forest Elf
This technique is ideal for children and adults who wish to dress up as forest elves for Halloween. Green eye shadow, curling designs, and a woodland-inspired crown will complete your outfit.
36. Sugar Skull
This sugar skull style is inspired by the Mexican holiday Day of the Dead, and involves black and white facial makeup and a steady hand for creating gorgeous blue floral designs.
37. Pumpkin
This jack-o'-lantern appearance is fantastic! You'll need orange and black face paint and a few simple procedures to achieve this gourd-geous look.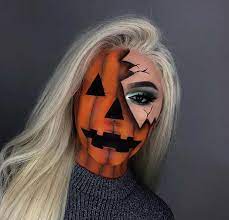 38. Glow-in-the-Dark Makeup
Perhaps you don't want to go with a specific Halloween makeup look. Show off some glow-in-the-dark glitter makeup that can be done all over your face or only on your eyelids in that case.
39. Makeup for Marionette Dolls
Refer to this video to learn how to make the "cracks" and obtain those fantastic eyelashes to give a spooky spin on a classic marionette doll look.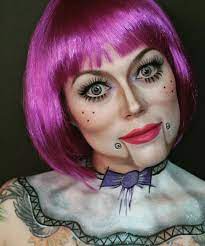 40. Makeup for Frankenstein
Only want to put on a little makeup for Halloween? With just a little white face paint (or white powder, if you like), gray eyeshadow, and drawn-on stitches, this Frankenstein look is light on makeup.
41. Beetlejuice Halloween Makeup
We expect to see some primary character energy when the film adaptation of Beetlejuice is finally released in the near future.
42. 90s
Our fixation on the decade of the 1990s is still ongoing.
43. Ursla
This hilarious Ursula outfit calls for an ombré purple wig, blue eyeshadow, giant eyelashes, crimson lipstick, and a crown. Get the look by gathering these items.
44. Squid game
The Squid Game costume may be a 2021 costume; it was popular in 2022; nevertheless, it will continue to be a significant favorite in 2023 because it is famous. Use the following guide for the Red Light, Green Light doll, which is guaranteed to give you nightmares no matter how often you see it.
45. Black Panther
This Halloween, give this Black Panther-inspired look a shot if you're looking for something more complicated. You'll need some gold paint, some black body or face paint, and some molding clay to complete this. Because this look is very complex, you may need to put in some practice time before your Halloween party.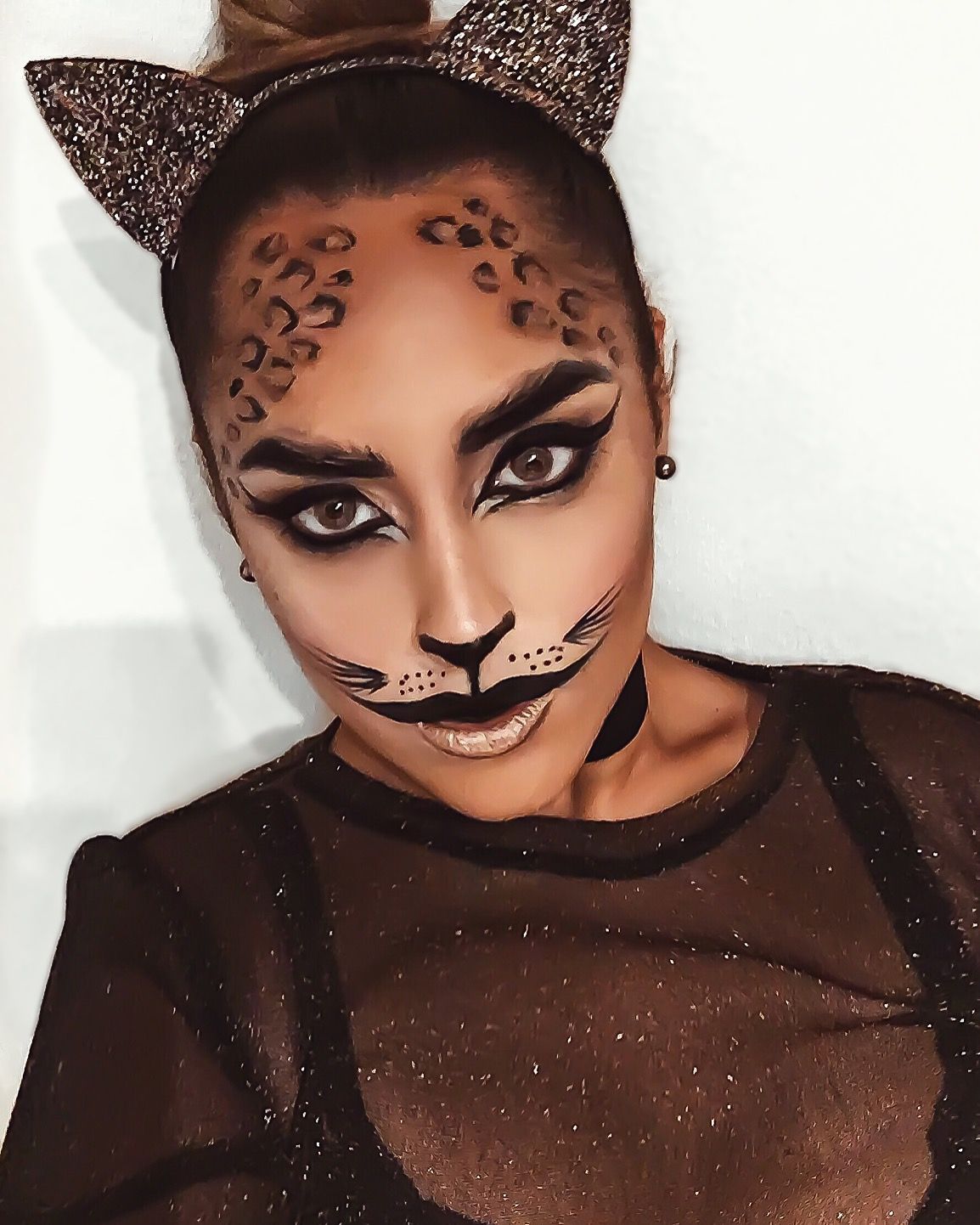 46. Euphoria
To pull off the Euphoria look, you'll need all of your most beautiful and sophisticated makeup. This particular guide demonstrates how to achieve a glittering blue and purple eye shadow look, along with a pink frosted lip and a plethora of jeweled accents to finish it off. One of the things we appreciate best about a style inspired by Euphoria is that you may interpret it in any way you desire – it's all about being creative!
47. Vecna
There is no more difficult costume to accomplish this Halloween than Vecna from Stranger Things season 4. This outfit needs special effects makeup, artificial blood, and frightening contact lenses. You might be terrified to look in the mirror with this makeup on.
48. Corpse Bride
This is the only makeup you'll need to pull off the Corpse Bride costume. This look requires a lot of patience, but the result is well worth it. With this makeup, you're sure to take first place at any costume party.
49. Avatar
We'll never get enough of Avatar and the inspired makeup looks. Grab a lot of blue eye shadow, iridescent powder, and patience for this glam variation.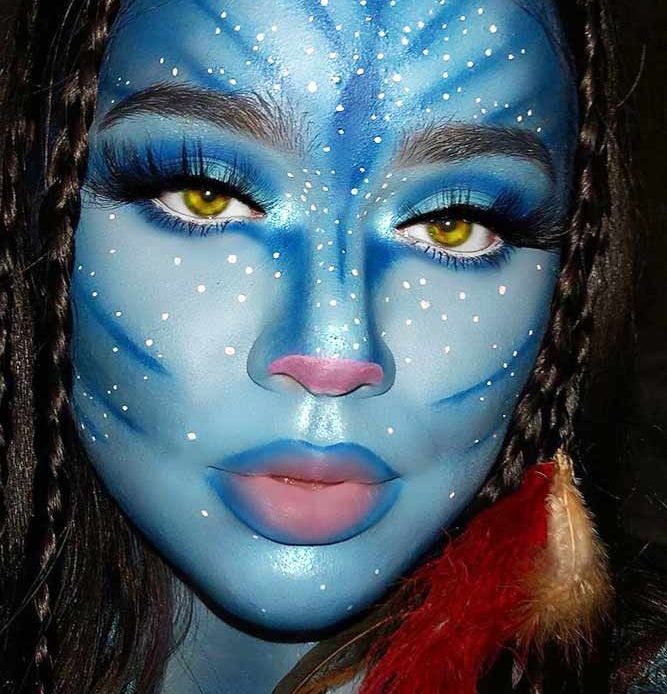 50. Ice princess
This Halloween, don't just be a princess; be an ice princess. This tutorial will show you how to create a stunning blue-toned makeup look appropriate for an ice queen.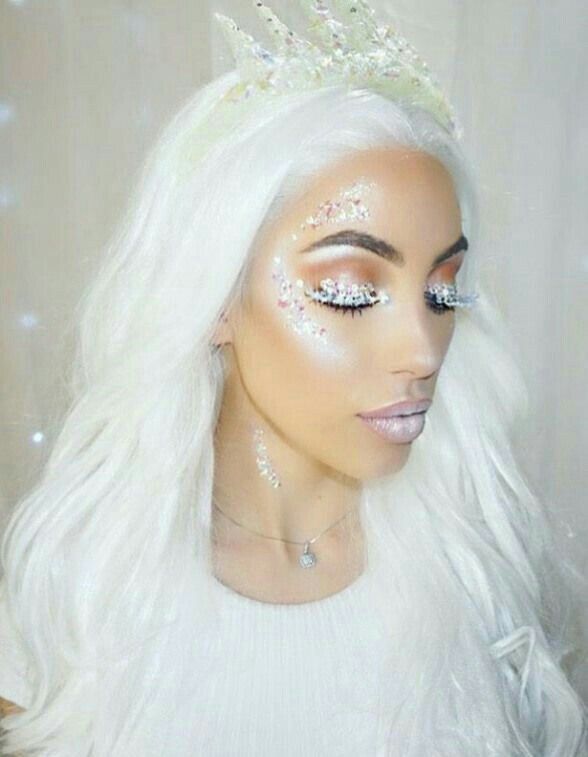 Other Articles