Halloween is a great time to experiment with different looks. Becoming a clown is undeniably a popular choice among many individuals as it never fails to send chills down our spines. In this blog, we will look at various clown Halloween makeup ideas that will help you to convert your face into a bright and exciting clown. So, if you're seeking a unique and memorable Halloween look, keep reading to learn how to create fantastic clown makeup
1. Classic Clown
This traditional clown makeup look contains all of the essentials, such as points beneath the eyes, a dot on the nose, and dramatic lips. You only need red lipstick and black eyeliner to create the lines and diamonds beneath the eyes, the dot on the nose, and the lengthened outside corners of the lips for this effect.
2. Blue Clown
To personalize this outfit and make it uniquely yours, you will need some blue lipstick, some detailing brushes, and some face paint
3. IT Clown
The widely-known film IT has made it appear as though this makeup is one of the most popular choices. The IT clown is eerie and unsettling, and the new appearance of IT served as motivation for the following makeup look. It's a really gorgeous design, and recreating it for Halloween couldn't be easier.
4. Pastel Clown Makeup
Consider applying cosmetics in gentler tones, such as pastels, rather than shades that are more bright and eye-catching. To accomplish the look described above, create a "pennywise" smile on your upper lip with a pastel red pink and use a wide range of colors for your eye shadow.
5. Glam Clown Makeup
It's likely that having glam clowns has become something of a trend. If they weren't already, this clown makeup looks precisely like what it sounds like. The one thing that can't be left out of this getup is a generous application of purple highlighter right on the apples of your cheeks.
6. Creepy Clown
The following makeup style is one that exudes creepiness and is executed superbly. To truly round off the look, put on some UV liner and white mesh contacts. For a more Halloween-appropriate color scheme, you could replace the green with red or purple instead.
7. Vibrant Halloween Look
This style is very lively, packed with bold colors, and incorporates a lot of typical clown painting themes. Even though it's supposed to be frightful, there's no disputing that this has a dazzling aspect.
8. Circus Clown
To achieve the adorable clown makeup look befitting of a circus performer, begin with a colorful cut crease and then apply dramatic black triangles over your brows and cheeks. This will give you the look of a cute clown. To cap off the look, apply some red glitter lipstick to your lips.
9. Pretty Clown
Makeup for Halloween in a clown style using pink eyeshadow and glitter is quick and easy. Even if you are not the most experienced with makeup, you should be able to pull off one of these cute clown looks for Halloween.
10. Clown Skeleton Makeup
The skeleton and Halloween have some connection to one another. On All Hallows' Eve, the holiday simply would not be the same without the appearance of a few skeletons here and there. To get this look, you must apply contouring to draw attention to the hollows of your cheeks, jaw, and chin. The eyes will be those of a jester, and the lips will be those of a skeleton.
11. Rainbow Clown look
You don't need to look any further than this magnificent pattern if you really do want to wear every hue of the rainbow for your clown makeup. This one involves a reasonable artistic ability, but if you get it off, it will get people talking at your Halloween party.
12. Cute Clown Makeup
This clown makeup, which has the appearance of cherries, is quite vivid and vibrant. This is an excellent option for you if you are looking for incredible clown makeup.
13. Jester Makeup
The jester makeup style is the simplest and easiest of them all to achieve. All you need to do is apply eye and lip makeup only in black! Create the look of jester eyes with black eyeliner, and lengthen your lips with a dark black lip tint. To achieve the effect of a jester, smoke out your eyes using shades of black and gray eyeshadow.
14. Gangsta Clown
Check out this one if you are seeking ideas for gangster clown makeup because it has some great ideas. This variation is relatively straightforward and has black accents on the nose, around the eyes, and across the bridge of the nose, as well as dark red lips.
15. Happy-Sad Clown
On one side, strike a balance by employing brilliant colors and playful touches, and on the other side, hint at melancholy using muted tones and teardrop details. This artistic duality captures the essence of a complex feeling, resulting in an unforgettable and thought-provoking wardrobe choice.
16. Black clown makeup
This option for a clown makeup look for Halloween is a terrific choice for anyone searching for an effortless appearance. The fact that it is cute and trendy, as well as the fact that it is not scary, makes this an excellent option for the event.
17. Creepy Yet Cute Clown Makeup
Choose a style that has parts of both terrifying and cute, such as this clown costume, if you are unable to decide between pursuing the scary Halloween costume road or the cute one for this year's celebration.
18. Colorful Clown
If, after drawing your black points around your eyes and corners of your lips, you still feel as though your appearance is missing something, you can add a few extra points below your eyes by using colorful eyeliner.
19. Arthur Fleck Clown Makeup
When it comes to the Joker, you have several different alternatives to choose from; nevertheless, to complete the clown makeup used by Arthur Fleck, you will need to have blue diamonds around your eyes with tears, a red nose, and, of course, green hair. For the hair, use temporary dye and face paint.
20. Halloween Clown Makeup
You can never go wrong with Halloween makeup, so here is an idea for some simple Halloween makeup you may try. You'll need eyeliner, eyeshadow, and dark red lipstick for this look. Create the points above and below the brows by drawing them on with black eyeliner. A shade of smoky lipstick can help you achieve the ideal look for Halloween.
21. Pennywise Clown Makeup
It's never a bad idea to wear half a face of makeup for Halloween, and this adorable Pennywise clown look is proof of that. You can go all out with red and white face paint on one side of your face while leaving the other half of your face looking all glam and gorgeous.
22. Glittery Clown Makeup
The idea of wearing glittering makeup may have never crossed your mind. This particular one is eerie in addition to being one of a kind. You will need some red glitter, some paint for the tip of the nose, and some paint for the eyes of the jester. The lipstick worn here is also glitter, but to make it consistent with the rest of the look, the smoking effect is achieved using black eyeshadow.
23. Smokey Eye Clown Makeup
The emphasis is placed on eye makeup in this particular instance. The smokey eye is well-known for being a deeper look achieved by blending two colors perfectly. It can be challenging to reproduce the same effect on different parts, but if you already know how to accomplish it, you have an advantage.
24. Beautiful Clown Makeup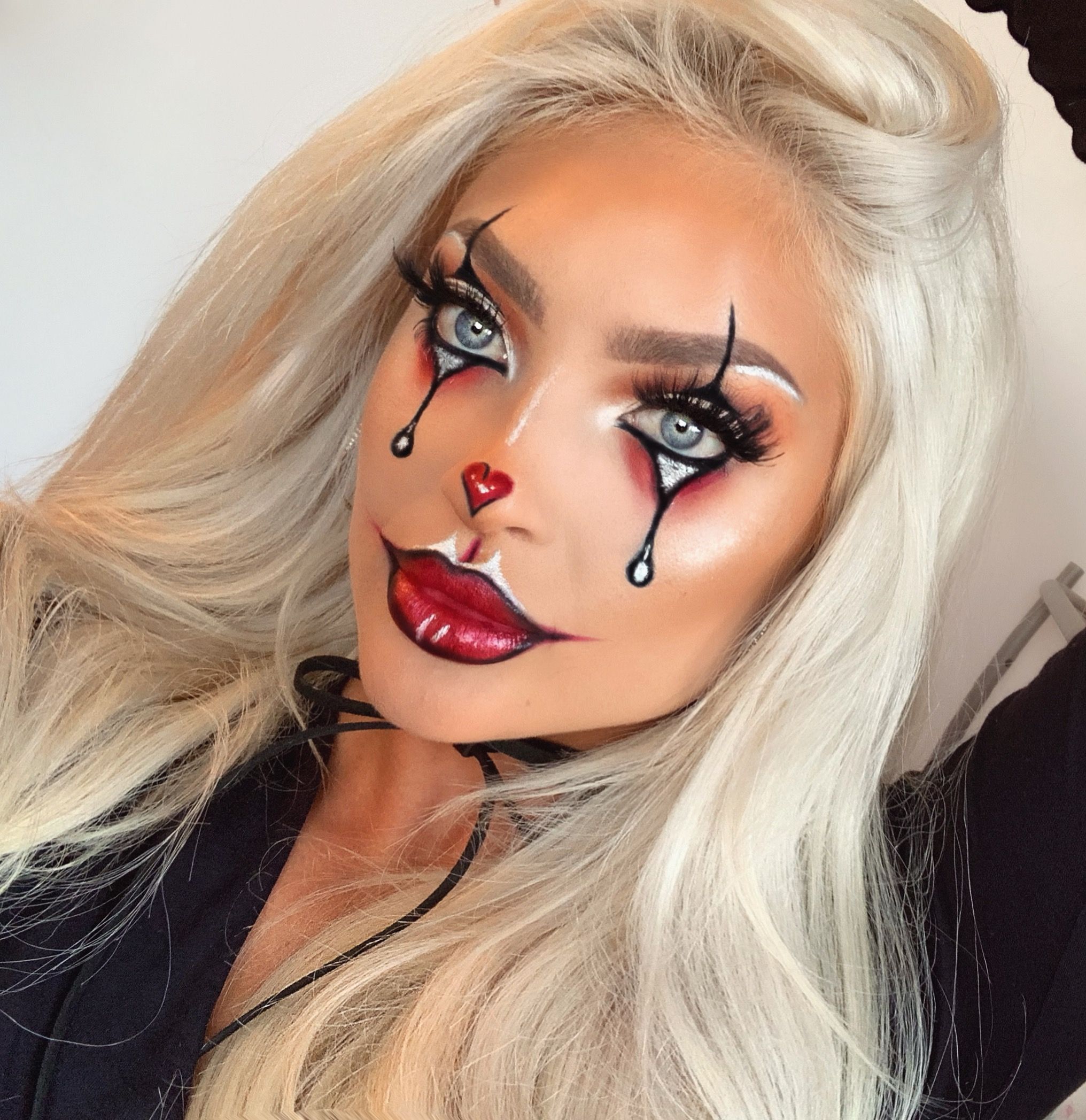 Whoever said that clown makeup couldn't make a person appear lovely was wrong. Just take a look at the one in the image. That sweet little tip of the nose fashioned like a heart is quite endearing. Your stunning good looks are sure to enchant everyone who attends the celebration.
25. Bright Color Rainbow Clown Makeup
It's possible that when it's Halloween, we'll get caught up in the thought that the only colors we should utilize are black. An illustration of how bright and cheery colors can yet be frightening during Halloween may be seen here. You can build your version of a horrifying joyful clown by drawing inspiration from this picture.
26. Candy-Colored Cute Clown
Embrace pastel colors and come up with a cute and lovable clown character. Imagine shades of pastel blue, pink cotton candy, and mint green. Glitter can be added for a touch of extra pizzazz, and garish bows and ribbons in gigantic sizes can serve as accents.
27. Pop Art Comic Clown
By imitating the pop art style, you can transform yourself into a living comic book character. To capture the essence of a comic strip, use bright primary colors, black outlines, and exaggerated facial expressions.
28. Harlequin Romance
Combine red and black to make a stunning harlequin-inspired clown. To convey a sense of gloomy elegance, apply complex details around the eyes and lips and wear an ensemble consisting of black and white.
29. Horror Haunt Clown
Alter your appearance to that of a scary clown at a haunted house for people who enjoy a frightful twist. Combine scary face paint with black eye shadow, ragged clothing, and a hauntingly frightening smile to create a look that is sure to send shivers down people's spines.
30. Scary Clown Makeup
This frightening clown makeup is simple to do while also being interesting to look at. You may achieve this look by getting a lot of glitter, crimson, and black cosmetics for the eyes and lips.
Other Articles