If there is one thing that defines Halloween, it is the use of makeup and costumes. And we all know how much fun kids have with face paint. However, not everyone has the same expertise with makeup brushes; thus, putting makeup on their children is a nightmare for them. However, we want to look both spooky and beautiful on Halloween, skull is a  good choice. Therefore here are some excellent skull makeup ideas for you to choose from. Checkout more Halloween looks. 
1. Half-Face Skeleton Look
The best part about a split-face skeleton look is that you can still play up the opposite half of your face with a sexy smokey eye and red lipstick,  leave the rest of your makeup clean and neutral. The black and white face paint will be your best friend for this look.
2. Minimal Skeleton Look
Check out this guide for basic, charming, somewhat-easy skeleton makeup instruction. Starts with a wonderfully smokey, vamp eye, then draws lines over her lips and shades in her cheekbones for a gaunt, skeleton look. Make sure to have liquid eyeliner and artificial lashes for this one.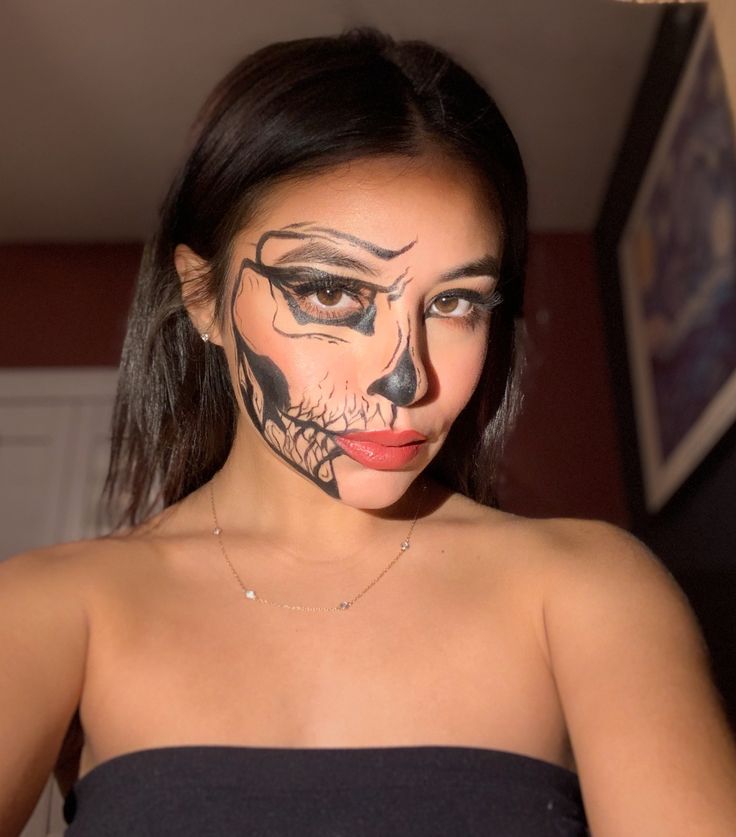 3. Half-Face Mask
If you're looking for a more subtle approach to skeleton makeup half-face Halloween look. You get all of a conventional skeleton's eerie, deep features, but you top it off with an excellent smokey eye and pretty brows. Before you try this one, remember to put on some face paint.
4. Pumpkin Skull Makeup
It lands halfway between a pumpkin and a skull, and the result is incredible. Just remember to place your Amazon order for orange face paint before you attempt this one.
5. White and Simple Skull Makeup
To achieve this skeleton makeup, you only need white face paint and a few basics. Follow along to see how quickly this complete appearance comes together.
6. Melting Skull Makeup
Another inventive take on skeleton makeup that appears to be melting. Makeup beginners should avoid this style, but you'll love the finished effect if you have a steady hand.
7. Frosted skull makeup
Sure, anyone may show up to a Halloween party wearing skeleton makeup, but how many people will go all out with an abstract appearance like this? Skeleton makeup with glitter, highlighter, and long lashes for a fantastic costume.
8. Neon Skull Makeup
Want to take your skeleton makeup to the next level? The vibrant colour palette should do the trick. White eyeliner or face paint is an absolute must for this look—it will provide a lovely contrast against the colours and anchor your skeleton detailing.
9. Blue Skull Makeup
If you're not like the conventional skull hues, try this method for an unexpected flash of colour. The blue details in this skull will set your costume apart from the crowd, especially when paired with sparkly eyeshadow and glitter brows. What's not to love about this?
10. Glam Skeleton Makeup
Yes, skull makeup can look glamorous—all it needs is a lot of highlighter, glitter. To achieve this thick smokey eye, you'll need a lot of black eyeshadow, so stock up on one of these options before planning your Halloween look.
11. Simple Skull Makeup
I get it: it's sometimes easier to assemble your Halloween makeup at the last minute. When in doubt, simple skeleton makeup is a super adorable choice you can easily copy with your cosmetics. Put on an all-black ensemble, and you're ready to go.
12, Bejewelled Skull
It is no longer a secret that sugar skull makeup is the most famous skeleton appearance. Besides, nothing exceptional is required to get there, just a little paint and ability.
13. Glitter Skull
Every party necessitates a particular appearance, and Halloween is, without a doubt, the most spectacular of all. That means you'll have to look your best when the occasion arises. These skeleton makeup ideas can make your job much easier!
14. Colourful Skull
You can find any skeleton makeup you want on the Internet. The only challenge emerges when attempting to pull it off. It would help if you relied heavily on your makeup talents for a faultless appearance. This one, on the other hand, is unique. You need to blend a variety of colours, and that's it.
15. Galaxy Skull
Include hues inspired by the cosmos, such as neons, blues, and purples, in your skeleton makeup for an extraterrestrial take on the look.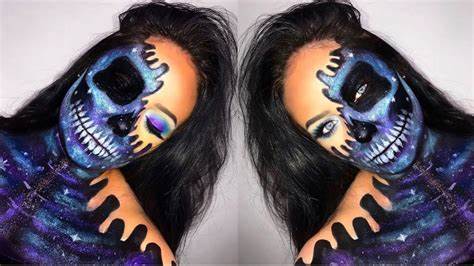 16. Candy Corn Skull
What are two of the best aspects of Halloween? Makeup with candy corn and skulls. So why not combine the two by creating candy-corn skull makeup? To truly commit to the image, replace the skull's "teeth" with silhouettes of small candy corns.
17. Pastel Skull
This skull makeup was produced in bright pastel colors and is an abstract drawing rather than the realistic skulls you usually see on Halloween. This is an excellent opportunity to demonstrate your artistic abilities.
18. Floral Skull
Want to add some whimsy to your skull makeup? Add floral motifs like this floral work, while keeping the rest of your makeup beautiful.
19. Purple Skull
Incorporate your favourite colour into your skull makeup, and accent the look with accessories like this floral headpiece.
20. Traditional Skull
This traditional skull makeup tutorial demonstrates the most straightforward approach to improving your shadow placement for the best impact this Halloween.
21. Classic Skull
Do you want to keep your skull makeup as minimal as possible? To create the effect of a full face of skull makeup, add abstract lines around the eyes as well as a tooth silhouette.
22. Red Skull
To be eye-catching, red skull makeup does not have to be hyperrealistic. If you're choosing a vivid hue, experiment with simple designs. Red reminds of the devil. Which adds more spook to the look.
23. Cheshire Cat Skull Makeup
Jewels accent this elaborate skull makeup look and serve as a face mask. Try this technique to keep your skull makeup simple but eye-catching. This cat skull makeup is just perfect.
24. Butterfly Skull
Nothing beats lovely skeleton makeup, so why not incorporate some butterflies into your skeleton makeup look this Halloween? If you are feeling a little more spooky, you can also add spiders.
25. Rainbow Skull
This rainbow skull makeup is glam and seasonally suitable, giving you the best of both worlds.
26. Pearly Skull
Nothing indeed says glam like diamond-and-pearl skull makeup. Make an abstract version of the traditional skull makeup for Halloween with the stones.
27. Glossy Skull
Simple, no-fuss skull makeup by applying a dewy highlighter to all exposed regions of her face. She takes the look to the next level by sprinkling glitter on the high points of her face, and we love it.
28. Realistic Skull
If you want to make it simple, but not necessarily easy, we recommend this. With precise shading and numerous small touches, this style needs concentration and focus, but you'll receive comments all night.
29. Gold Skull
Gilded version of the magnificent and meaningful sugar skull makeup. Mixing medium and loose pigment, and as an additional treat.
30. Sugar Skull
Sugar skull makeup, also known as Calavera makeup, is a makeup style that is used to mimic the appearance of the character La Calavera Catrina during Day of the Dead celebrations.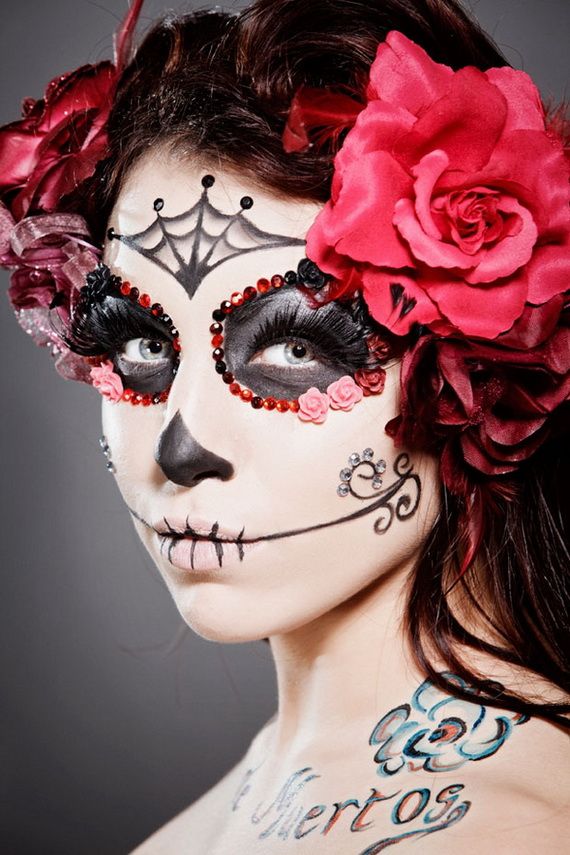 Other Articles