This article will discuss one of the few tattoos still connected with crime and the "bad life". Cobweb tattoos. This essay will explain why this Tattoo should no longer be associated with crime, antisocial, or racist groups. Cobweb tattoos are popular among tattoo lovers, incredibly old-school or classic tattoo fans. What do you think about seeing an elbow or knee spider web tattoo? As shown below, appearances can deceive.
History
The past is associated with poor life and criminality. What is the underlying meaning behind spider web tattoos? Its origins can be traced back to the Russian penitentiary system. And it is that there is a tremendous tattoo language in Russian jails, in which prisoners communicate signals to each other based on what they have inked on their skins. In such circumstances, the spider web is frequently tattooed between the thumb and forefinger. In addition, a spider in the web indicates that the inmate is addicted to drugs. On the other hand, spiderweb tattoos have been connected with racism and other radical movements, such as anarchists or extreme right-wing parties, after acquiring popularity outside of Russia.
Dark Past
Today, very few people choose to have a spider web tattooed because of the several negative implications discussed in the preceding section. The truth is that many people decide to get this type of Tattoo in great locations, such as the knees, elbows, or even the armpits. In many circumstances, individuals merely do it because it appears to be a lovely and exciting tattoo. Some individuals use a more philosophical language and seek a meaning related to past difficulties that have been bound to them for a long time but who are now free or seek that freedom. This Tattoo is popular among enthusiasts of traditional tattoos.
Designs
1. Blackwork spider tattoo on shoulder.
It's a fantastic piece. The way the legs sneak across the shoulder so quietly, yet realistically, is excellent. A shadow under the legs would have improved this piece.
2. Tattoo Spikey Spider On Web
The placement of this Tattoo is ideal for the triceps area. The length and size of the Tattoo fit perfectly. The artist did an excellent job with line work and blackwork arrangement and execution.
3. Blackwork Spider Forearm Tattoos
Tattoos that look like they belong together yet don't. It's incredible how they complement each other on opposing arms. Looking attentively, you may see a white highlight in the spiders. However, this was generated by leaving free places. I like it when people get two identical tattoos.
4. Tattoo of a Spider on a Woman's Triceps
I like how the spider's shape flows with the client's triceps; its slender body is ideal for the location. It's incredible how it appears to be walking down her arm; really creepy but also very interesting and wonderfully done.
5. Tattoo of a Hanging Spider on the Sternum
Tattooing the sternum is a very seductive spot on the body, especially if it hangs down onto the stomach. I like how the black is solid, and the negative spaces provide the sense of fur or "fluff" on the spider. The alignment complements the client's sternum curvature.
6. Tattoo of a Blackwork Spider on a Woman's Ribs
Another outstanding blackwork spider tattoo. The ribs are an excellent choice because there is plenty of room to go big. I adore how the spider is moving up the client's tummy. You would need to find out what you were looking at from the front, so seeing it from the side will be a pleasant surprise.
7. Beautiful Fineline Spider Knee Tattoo
If you're seeking knee tattoo ideas, this is for you. A lot is happening here, yet it could be more apparent. The knee is an excellent location for this Tattoo, especially as two spiders almost frame the knee. I like how delicate the spider web is and how the artist used the same method to embellish the spiders, which ties the whole thing together.
8. Tattoo of a Beautiful Spider Spinning a Web
As terrifying as spiders can be, this blackwork spider tattoo has a beautiful and peaceful vibe. The artist did an excellent job with how she spins her web that wraps around the client's elbow. The wispy network webs under the spider's legs give the tattoo movement and make it appear as if the spider is gliding on her web, a stunning piece by a talented artist.
9. Tattoo of a Neo-Traditional Spider-Girl
The colour packing and bold line work are incredible, and she knows how to design highly creative tattoos, as evidenced here. There's something about spiders that gives off a feminine aura. Thus, including a woman's face in this piece is lovely. Excellent work.
10. Tattoo of a Spider on a Woman's Stomach
Stomach tattoos might be an artist's worst nightmare because it can be tough to tattoo a client who is continuously breathing and moving their abdomen. This artist certainly has a lot of talent because there isn't a single thing wrong with this piece. This is one badass Tattoo done by a brilliant artist, from placement to execution.
11. Doll Head Spider Tattoo in Blackwork
Do you remember the eerie Toy Story toy? What about the one with the doll head and spider legs? That's what this Tattoo reminds me of. This Tattoo is dubbed "dark art" since it has a scary aura. What I particularly like about this piece is the subtle shading hints that contrast with the black shading in the legs. Overall, a fantastic tattoo from design to finished work of art.
12. Triceps Black Widow Tattoo
I appreciate the charcoal appearance because it is pretty abstract while still adhering to the constraints of the blackwork style. The way the legs extend produces a downward motion that corresponds to the shape of the client's triceps. Because the client's skin is pale, the black ink on her arm stands out and nearly looks to sparkle. Congratulations to the artist for this gorgeous Tattoo.
13. Tribal Spider and Chrome Tattoo
The liquid-like texture is actually what the artist calls "chrome tribal," which is an exciting style. Because the spider is so contrasted, the chrome effect almost appears to be the spider descending into liquid due to its lightness. I like the placement; the triceps are an excellent location for something that will wrap around or flow with the curvature of the arm.
14. Ankle Spider Tattoo
This Tattoo was created just for the customer, and it is stunning. Because the shape is vertical, it produces a downward motion that benefits the ankle. I like how the white highlights shine out against the black shade. You did an excellent job on this one!
15. Full Sleeve Monstrous Spider Tattoo
Wow! As terrifying and eerie as this Tattoo is, you can't help but like it. The spider's single menacing eye peering down beautifully gives me shivers. I love how the artist combined several styles to create this fantastic Tattoo, and I'm sure the client is overjoyed to show off their badass sleeve.
16. Ankle Black and Gray Spider Tattoo
How fantastic are the shadows under the spider's legs and the negative space spider web? It gives the Tattoo a 3D effect and makes the spider appear to be crawling up the client's leg.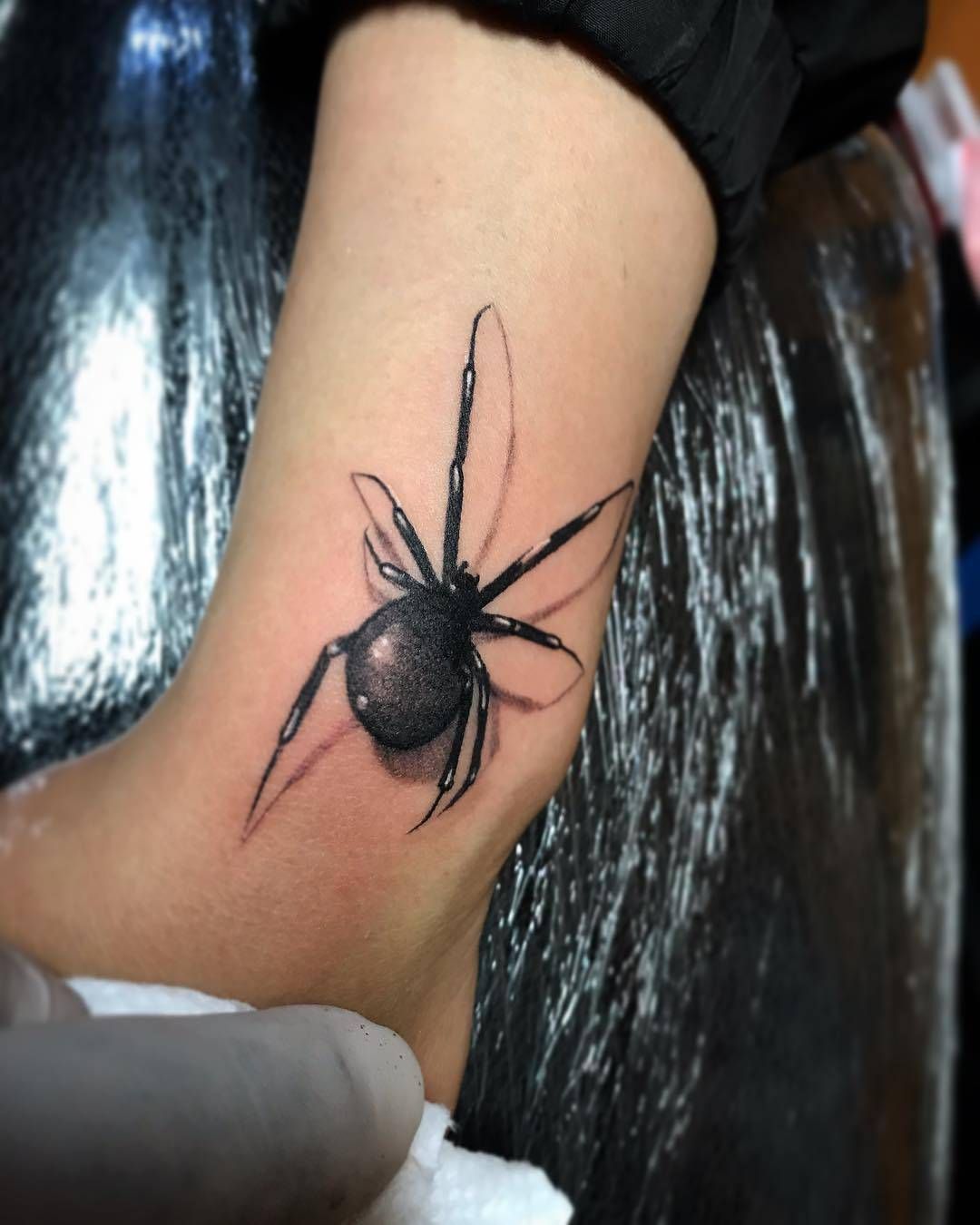 17. Traditional American Spider and Web Tattoo
I love it when individuals have large tattoos on their forearms; it's such a noticeable place with plenty of room to experiment with your design. Instead of double-lining the entire piece, the bold lines in this Tattoo were most likely done with a round shader to achieve constant thickness. Because of the dark, grainy shading that would never work for any other style save this one, American Traditional tattoos are one of my favorites.
18. Tattoo of a Phantom Troupe Spider
Are there any anime fans out there? If you're a fan of Hunter x Hunter, then this is the spider tattoo for you. I like how the spider's legs have wispy legs and delicate lines that create webs. This traditional blackwork piece has solid black packing and gradient black pepper shading.
19. Tattoo of an Alien Spider
It's a spider. Is it a visitor from another planet? Who can say? What I do know is that this is both strange and amazing. If you like the Alien vs. Predator movies, this Tattoo has a Facehugger look, which is horrifying because we all know what they do! The line work is flawless, and the overall design is highly symmetrical, which can be challenging if you're not a skilled artist.
20. Tattoo of a Neo-Traditional Spider
I don't think I've ever said it, but how adorable is this spider? This Tattoo is cute, even with its crab-like legs and large fangs. The red and brown are incredibly brilliant, and the addition of the white gives the Tattoo that extra pop. As you can see, this is an extensive tattoo that takes up much of the client's side of the calf. Neo Traditional is a fantastic style because nothing cannot be transformed into a Neo Trad piece.
21. Tattoo of a Black Widow Spider
One of the most popular tattoo designs is the Black Widow. Its striking appearance makes it excellent for many sections of your body. The chest space is perfect for a medium-sized spider design, in our opinion. For the cover-up, an inked tattoo can be employed.
22. Foot Tarantula Spider Tattoo
This is a highly realistic tarantula tattoo. This tattoo design is in the natural tattoo style. It necessitates sensitive labour. We urge that you take care of the aftercare period till your Tattoo has healed. As a result, it is possible to avoid fading too soon. This style is also ideal for wearing on your foot.
23. Fine-line spider tattoo on arm
The fine-line technique can produce incredibly trendy and edgy spider tattoos. Furthermore, this look is pretty fashionable. The benefit of fine-line tattoo designs is that they are simple to apply. A tattoo apprentice can even carve some designs.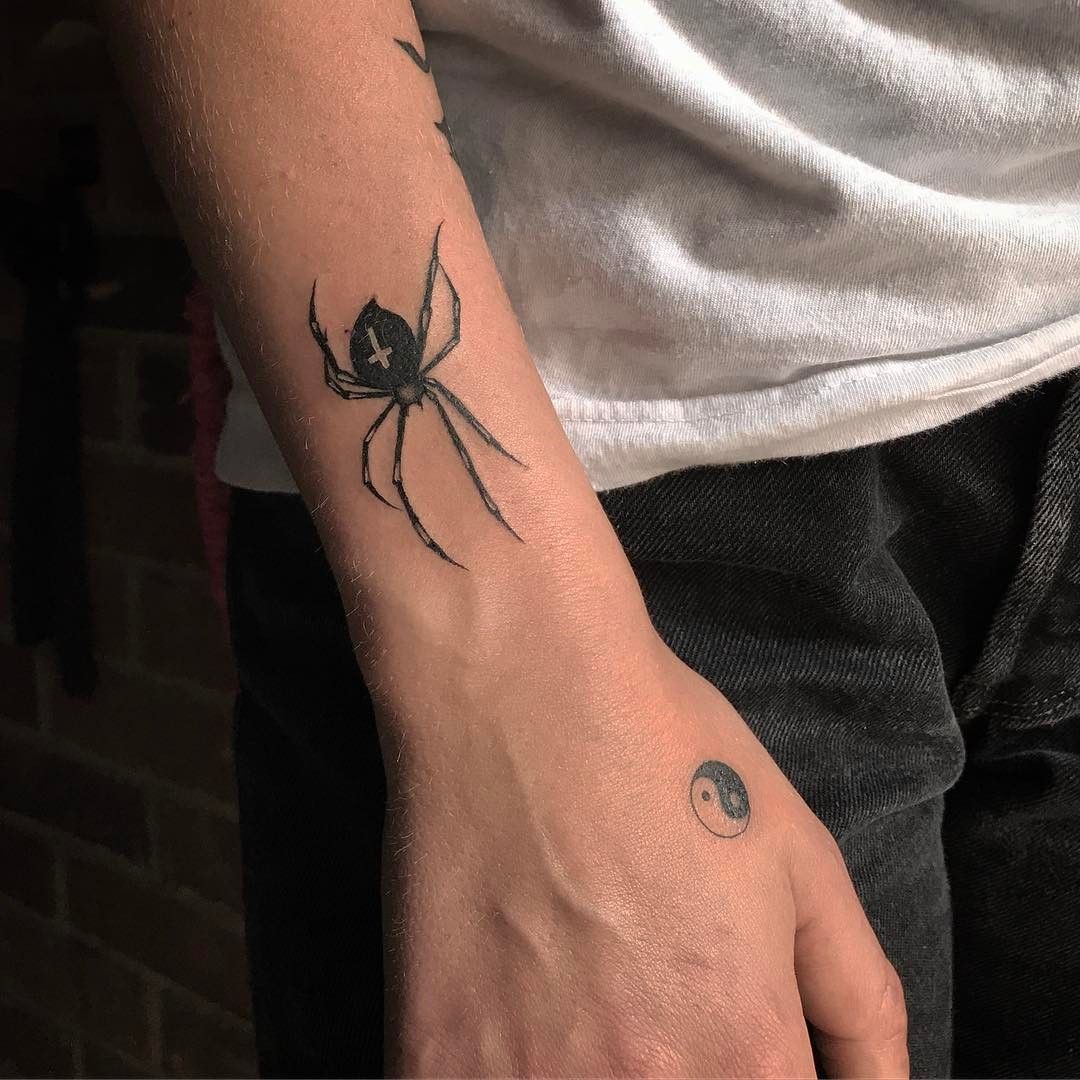 24. Neck Spider Tattoo in Minimalism
If you prefer a little, tiny, or minimalist spider tattoo, our gallery has many alternatives. One of them is this. The spider dangling from the neck is a well-known tattoo motif. However, feel free to go to the point where it looks incredibly trendy. Look through your tattoo shop's portfolio for similar alternatives.
25. Wolf Spider Tattoo
A popular spider tattoo designs is the wolf spider. Because of the wolf spider's distinctive traits, this design might make you appear bold and macho. Of course, a wolf spider design may be preferred by women. Furthermore, this Tattoo is appropriate for the hands. They are. However, due to their bone structure and tattoo gun strokes, relatively uncomfortable locations can cause agony. If you have a poor pain threshold, you should think twice before getting a tattoo on your hand.
26. Sword and Spider Tattoo
A sword tattoo is a potent symbol that represents a variety of qualities, including strength, courage, protection, justice, and honour. People from many cultures and time eras have been drawn to sword iconography, making it a popular design choice for tattoos dating back thousands of years. When combined with spiders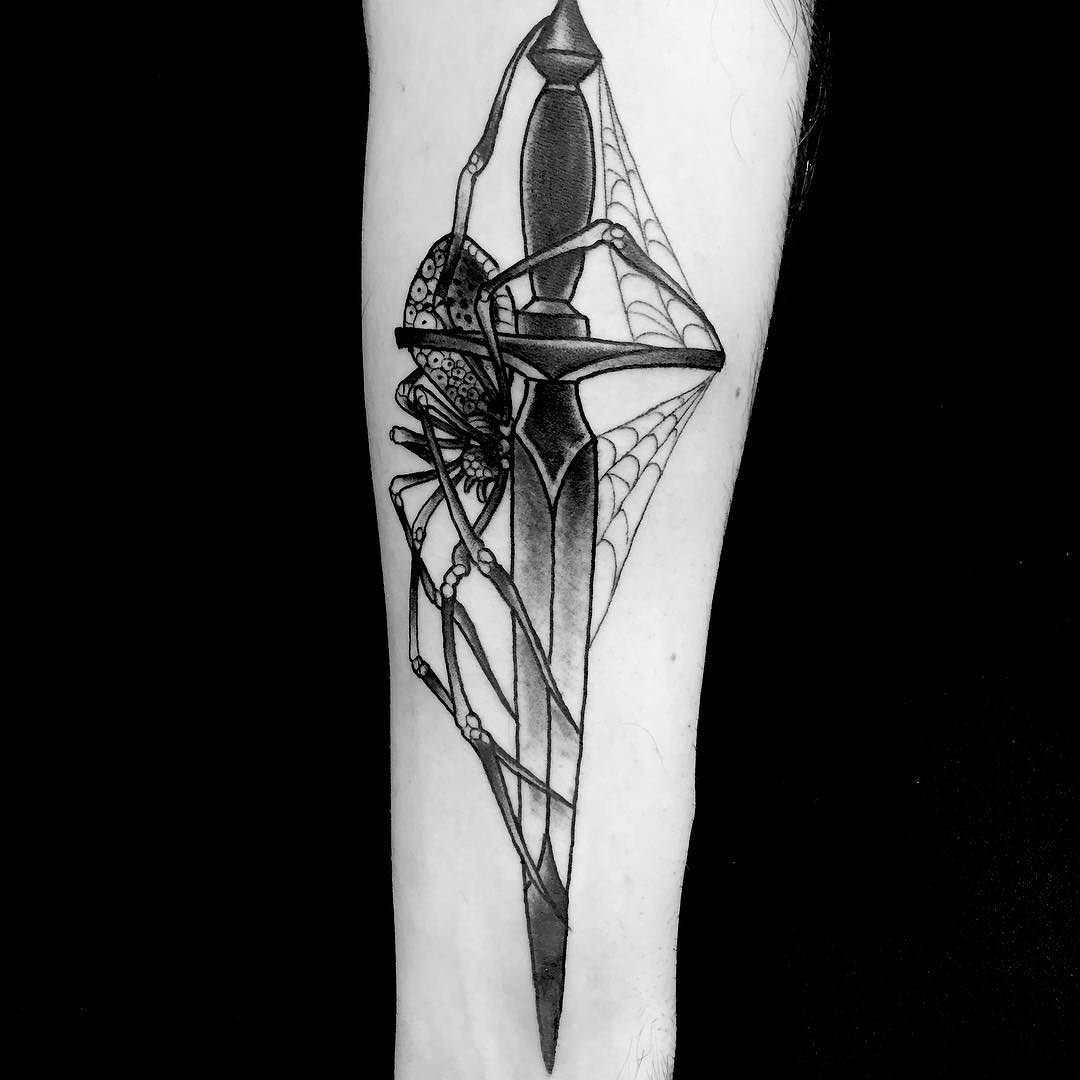 27. Rose and Spider Tattoo
Spiders are creepy insects that are a staple of most Halloween decorations, and roses are the most beautiful of all flowers that are a staple of all love symbols. There could never be a finer match. It may appear contradictory, yet it is precisely why it looks so good and profound. Sometimes the opposites complement each other the best. The rose and the spider are a perfect match. Adding colour and making the objects look lovely enhances the design.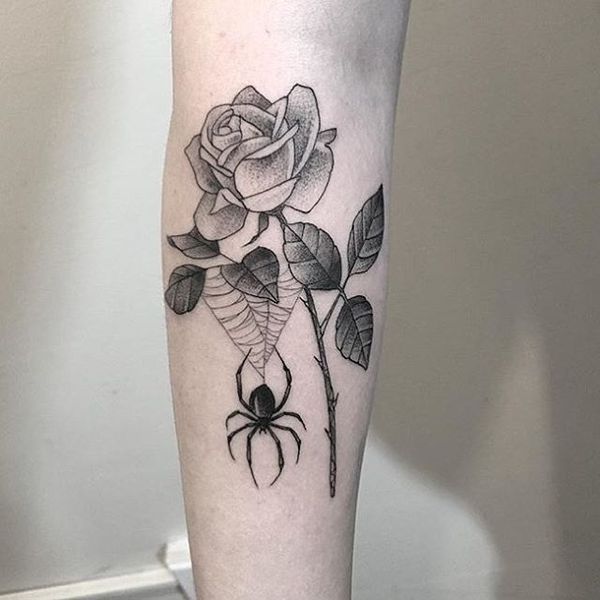 28. Spider man tattoo
Spider man tattoo designs are popular, as are Spider man characters in comic books and adapted films. The plot revolves around a young adult bitten by a spider and gains heroic abilities. Similarly, many young people get spider man tattoos on their chests or hands to demonstrate that they are brave, challenging, and life-savers for others. Furthermore, spider man tattoos make you appear proud and knowledgeable, and you make a good impression on others.
29. Spider with key Tattoo
It is critical to give a particular accent to the spider. It's unique, which adds to the Tattoo's mystery. It captures the interest of most individuals because they need help to discern the key. The entire tattoo design can be made to look like a black silhouette. Additional details enhance the Tattoo's complexity and allure.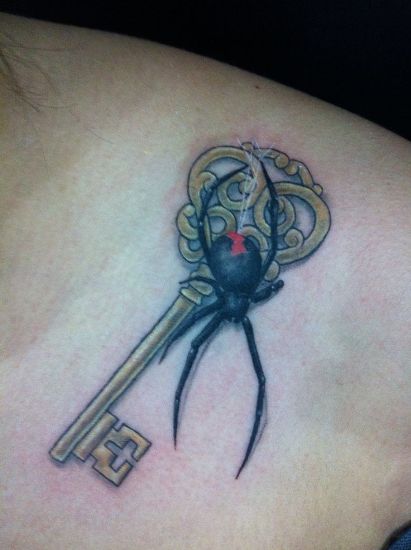 30. Malaysian Tribal Spider Tattoo
Pider tattoo patterns are thought to have originated with a Malaysian indigenous group. As a result, it is prominently featured in most tribal tattoos of Malaysia's diverse indigenous tribes. These tattoos, which depict the culture and myths of the area, are commonplace in both men and women. It can be designed in various designs, colours, and styles coordinated with other features and decorations. As a result, you can customize your spider tattoo.
Other Articles