Megan Fox, who has removed more than one tattoo. The actress, 37, was featured in an Instagram photo by New Jersey-based tattoo artist Jesse Krydick. Who was on a countrywide tour in Los Angeles. Fox's chest is adorned with a tiny star-and-moon-speckled snake wrapped around flowers. Its tongue reaching for a triangle, covering what was formerly a memorial to her ex-husband Brian Austin Green. Before the complicated snake pattern took up most of Fox's right hip, she had the name "Brian" written there. Fox and Green's divorce was finalized in 2022, which meant it was time for the Transformers actress to move on.
"I could conceal the previous tattoo behind the new snake and flowers she desired." "I'm extremely grateful for all of the opportunities tattooing has provided me, as well as all of the cool people I've met along the way," Krydick wrote in the post before praising Fox. This isn't the first time the Jennifer's Body actress has reversed a tattoo. And it's certainly not the first time her body art has been scrutinized. Throughout her career, Fox has subtly acquired (and discarded) various tattoos, usually keeping them hidden until questioned. Fox currently has over 20 tattoos, which are not always visible on the big screen or red carpet. Except for one pattern on her ankle, most of Fox's pieces are done traditionally and are entirely colourless. Starting at the top, here's a summary of the actress' elaborate ink lineup!
1. The Chinese character for "strength" is tattooed on the back of her neck.
Even though her long hair frequently obscures this modest design, Fox has the Chinese character for "strength" tattooed under her hairline on the back of her neck.
2. "We will all laugh at gilded butterflies" is written on her right shoulder.
Fox's gothic quotation tattoo on the back of her shoulder pays homage to a well-known great playwright. The tattoo "we will all laugh at gilded butterflies" refers to William Shakespeare's 1606 drama King Lear, act 5, scene 3. Shakespeare wrote, "So we'll live, and pray, and sing, and tell old tales, and laugh at gilded butterflies," which does not quite match the permanent phrase Fox chose but demonstrates her artistic interpretation of the text.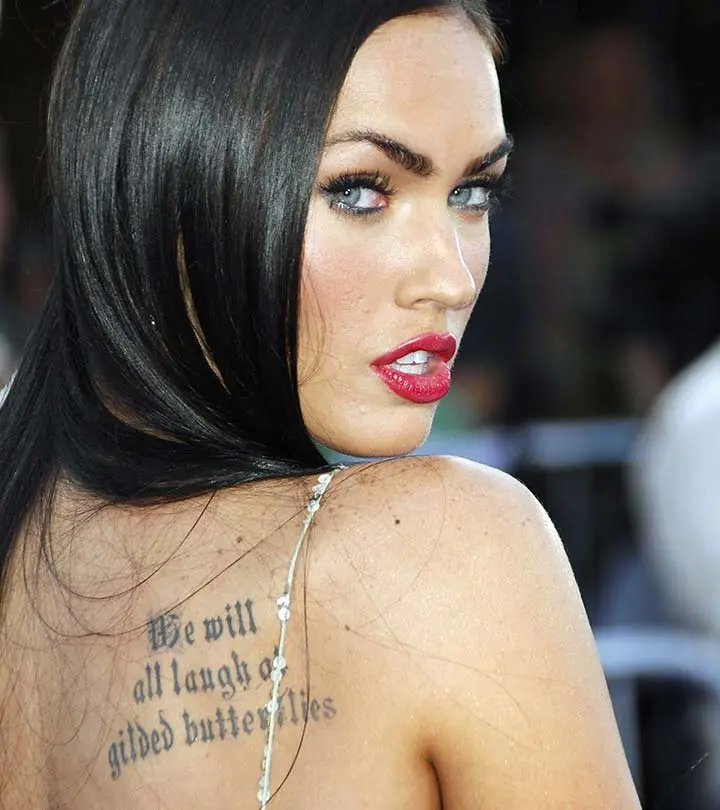 3. Under her left collarbone, the Spanish word "el pistolero," meaning "the gunman,"
Fox and Machine Gun Kelly have been an inseparable and obvious partnership since meeting on the set of Midnight in the Switchgrass in March 2020. Throughout the year, social media posts, public appearances, and Fox's appearance in MGK's "Bloody Valentine" music video revealed to many fans a growing romance between the actress and rapper. But nothing cements love like a tattoo. Fox wore a green strapless outfit at the 2020 American Music Awards in November, revealing a new tattoo on her left collarbone that said "el pistolero," or "the gunman" in Spanish. Many followers assumed the lowercase script was a tribute to her new love interest.
4. Quote by Friedrich Nietzsche "And those seen dancing were thought insane by those who couldn't hear the music," she wrote on her back.
When Fox promoted her film Passion Play in 2010, she spoke with MTV about her co-star Mickey Rourke, who inspired a large tattoo covering her ribs. "I got a tattoo that is sort of in honour of him," she explained to MTV at the time. "I've got it on my ribs." I'm unsure if it's been photographed yet, but I'm sure it will be released someday. I adore him and think he's one of a kind." According to the journal, several tabloids took that comment out of context. What began as admiration for the 70-year-old actor quickly morphed into allegations of infidelity and forbidden love.
Fox addressed her position in a later interview at the Toronto International Film Festival. "It had nothing to do with that. I have a tattoo of a Nietzsche statement that says you should march to the beat of your drummer and not be scared to do so. I was remarking that it reminded me of Mickey because he certainly isn't marching to the beat of anyone else's drummer. It isn't necessarily an ode to him."
5. "Once upon a time, there was a little girl who had never known love until a boy broke her heart," she wrote on her ribs.
This poetry has been scratched on Fox's ribcage. She has yet to mention where it came from.
6. On her left rib, there is an outline of a bird.
When Fox and Kourtney Kardashian bared all for a SKIMS campaign in September 2021, the faint outline of what appears to be a bird in flight on the front of the actress' left rib cage could not be hidden. The never-before-seen tattoo is noticeably lighter and daintier than all of Fox's previous tattoos, making it impossible to discern the design.
7. The snake pattern hides the old "Brian" tattoo.
Green and Fox have been married for over a decade, have three children, and Fox had the 90210 actor's name scrawled in cursive on her hip until this month. Fox chose a cover-up tattoo of a tiny star-and-moon-speckled snake curled around flowers, its tongue reaching for a triangle in place of Green's name. Jesse Krydick, an artist, created the cover-up tattoo, which he displayed on Instagram on July 11.
8. She used to have a Marilyn Monroe picture on her right forearm, but she has since removed it.
Green's name was not the first tattoo Fox chose to remove. The actress used to have Marilyn Monroe's face in the centre of her forearm, which is no longer visible. Fox discussed the meaning of her controversial portrait tattoo in a 2009 interview with The New York Times. "Like I said, I've always liked and been intrigued by her because she created a character she lived behind." In her films, she was always playing a character within a character. "I think the psychology behind that is fascinating," she said.
"I didn't want to be literal," she explained, adding that she didn't want to put someone on her arm, which she attempted to imitate. The old film legend also served as a warning to Fox about the hazards of the industry, reminding her not to be treated poorly, she added. Two years later, the actress stated to Amica, an Italian magazine, according to The Independent, that she was getting rid of the tattoos due to mental health issues. "I'm removing it," she told the newspaper. "She had personality disorders and was bipolar, so she is a negative character." I don't want to bring negative energy into my life."
9. "The darkest fairytale" is written on her forearm, matching MGK's.
A few months before their wedding, the couple had a joint interview for the cover of GQ, where they sat in a studio backroom and got matching tattoos. Fox's tattoo is in the middle of her forearm, whereas Kelly needed to find another available area on his hip. Fox told GQ that the phrase "the darkest fairy tale". And "alludes back to one of the first text messages we ever sent each other." Later in the same interview, MGK uses the word again while discussing the couple's passionate bond. "It's ecstasy and agony," the rapper admitted. "I don't want people to assume everything about us is perfect. I didn't call it the darkest fairy tale for nothing."
10. MGK's ring finger is adorned with a voodoo doll.
Last year, to celebrate Fox's 36th birthday, MGK released a carousel of photos on Instagram. Including one of two voodoo dolls with pinned hearts and apparent sutures on each ring finger.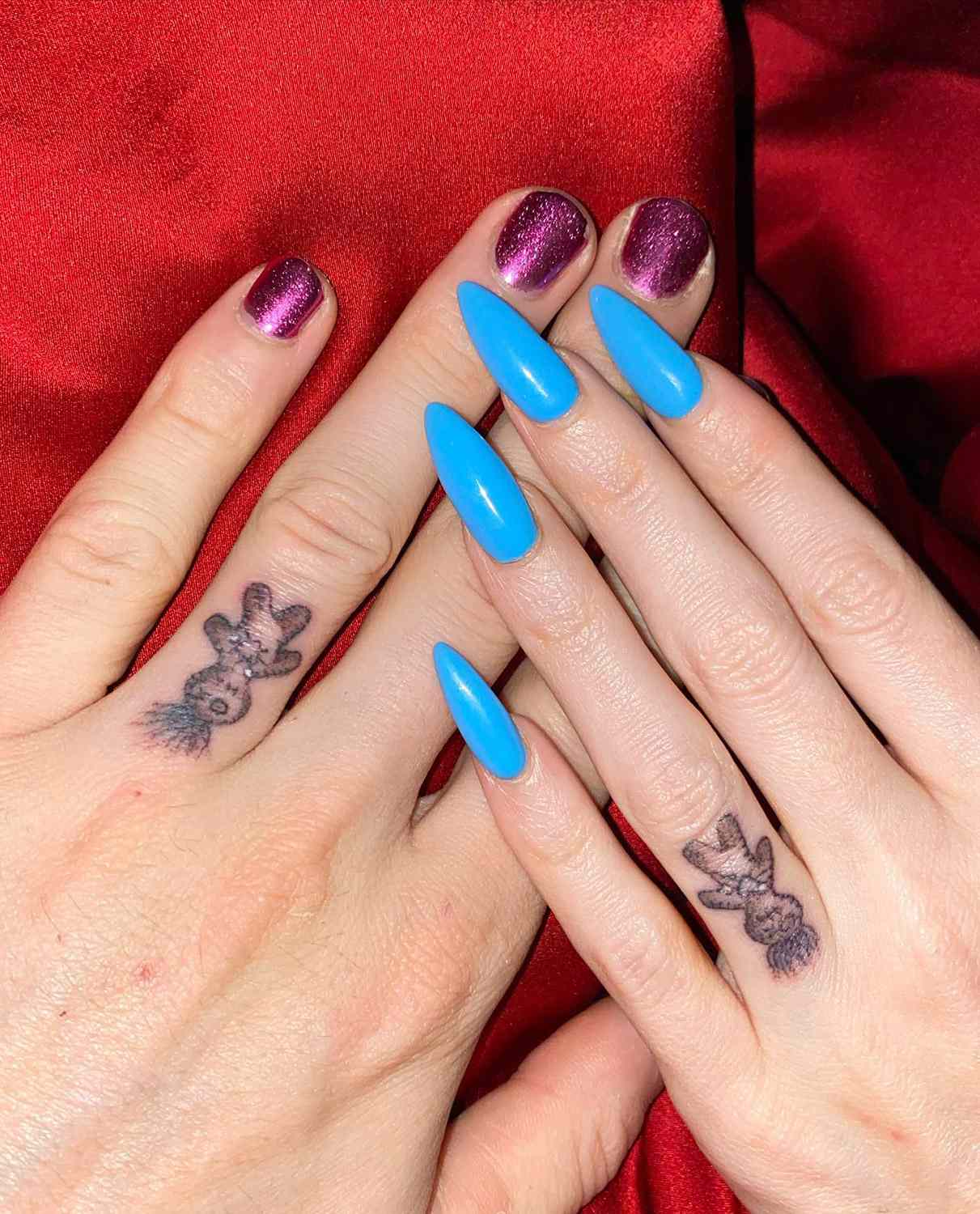 11. 19 finger tattoos with delicate lines
The day Fox debuted her "Brian" cover-up tattoo, tattoo artist Syd Smith revealed that she had put 19 fine-line tattoos. These were on all of Fox's fingers. The designs include sparkles, the number 11 on each pinky, abstract dotted designs, an eye, a moon, and what appears to be an hourglass on its side.
12. She has a Yin-Yang tattoo on her wrist.
Fox has never verified what the circular tattoo on the inside of her wrist represents. Although it appears to be a spin on the conventional yin-yang symbol.
13. On her ankle, she has a moon and a star.
The moon and star tattoo. These are Fox's only colour tattoo. It's another item the actress has kept relatively quiet about, with no indication of what the tattoo may represent. checkout more ankle tattoos.
14. Finger Tattoos
Fox visited tattoo artist Sydney Smith in July 2023 to acquire new finger tattoos. A total of 19 designs can be seen on both of her hands. Including dots, stars, crescent moons, and number 11.
Other Articles