Are you in search of that perfect element of whimsy and flair to elevate your everyday style? The bubble braid is absolutely the ultimate hairstyle to effortlessly achieve that desired look! This trendy and playful hairdo has taken the world by storm, and it's truly no surprise as to why. With its eye-catching bubbles cascading down your hair, the bubble braid is a fun and easy way to elevate your style. In this blog post, we will show you a step-by-step tutorial on how to create the bubble braid yourself.
Step 1: Prepare Your Hair
Start with clean, dry, and tangle-free hair. Use a hairbrush to detangle your hair thoroughly, ensuring a smooth base for the bubble braids.
Step 2: Divide Your Hair
To create the  bubble braid, divide your hair into two equal parts.
Step 3: Begin the Ponytail
Start on one side of your head, near the front hairline. Gather a small section of hair and tie it into a tiny ponytail. Use a hair elastic band to secure it in place.
Step 4: Create Another Ponytail
Now, move further down from the first ponytail and pick up another small section of hair below the previous one. Tie this section into another ponytail, just like you did before.
Step 5: Combine the Ponytails
Now take the first ponytail you created and merge it with the second ponytail. Use a new hair elastic to tie both ponytails together.
Step 6: Inflate the Bubble
To achieve that bubble look, gently tug the hair between the two tied ponytails. Carefully pull it outward to create a voluminous bubble effect.
Step 7: Repeat and Progress
It's time to repeat the process to form the next bubble. Pick up another small section of hair from below the second ponytail and tie it into a new ponytail. Combine this new ponytail with the previous one by using a hair elastic.
Step 8: Keep Going!
Continue repeating Steps 6 and 7, gradually working your way down the back of your head. As you reach the base of your neck and run out of hair to add to the ponytail, create a bubble by tying your hair a few centimeters down from the last bubble. Don't forget to pull the hair between the elastics to keep the bubbly appearance consistent. Repeat this till you reach the end of your hair.
Step 9: Repeat on the Other Side
Now that one side of your hair is beautifully done, it's time to move on to the other section. Start from the top, following the same process as before: create small ponytails, combine them, and inflate the bubbles.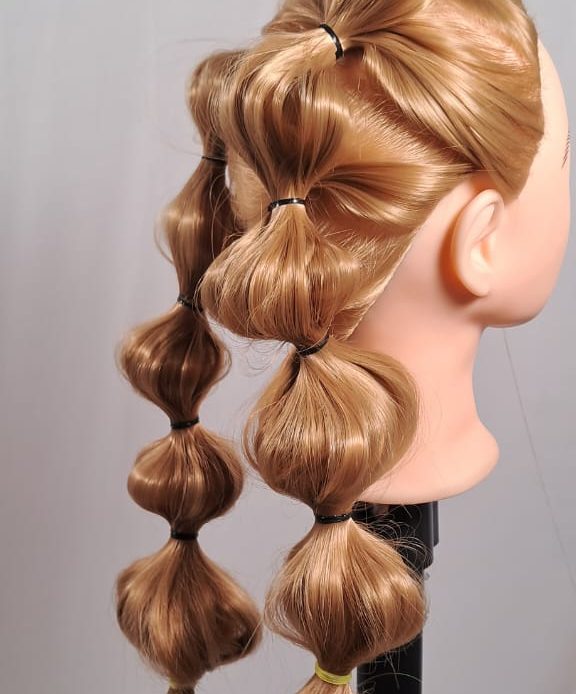 This charming and playful hairstyle is perfect for a wide range of occasions, be it a laid-back outing with friends or a glamorous special event. Experiment with different bubble sizes, or you can also take it up a notch by incorporating accessories such as hairpins or ribbons to give your bubbles a personalized touch.
Have fun rocking this adorable and trendy bubble braid!
Other Articles