Being a baddie is always in style. If you are wondering what exactly is a baddie hairstyle, then let me elaborate. A bold, classy and easy hairstyle classifies to be a baddie hairstyle. But it's not just limited to these qualities. Something that gives you power and makes you look bold and beautiful. We have a collection of baddie hairstyles for all kinds of hair that you would fall in love with. Pick one for yourself now.
Hairstyle Ideas
1.Sleek Half up with Edges
This hairstyle isn't just for the baddies but also for boss B!tches. The overall look screams power and class. A good hair gel will hold on to those edges for a long time.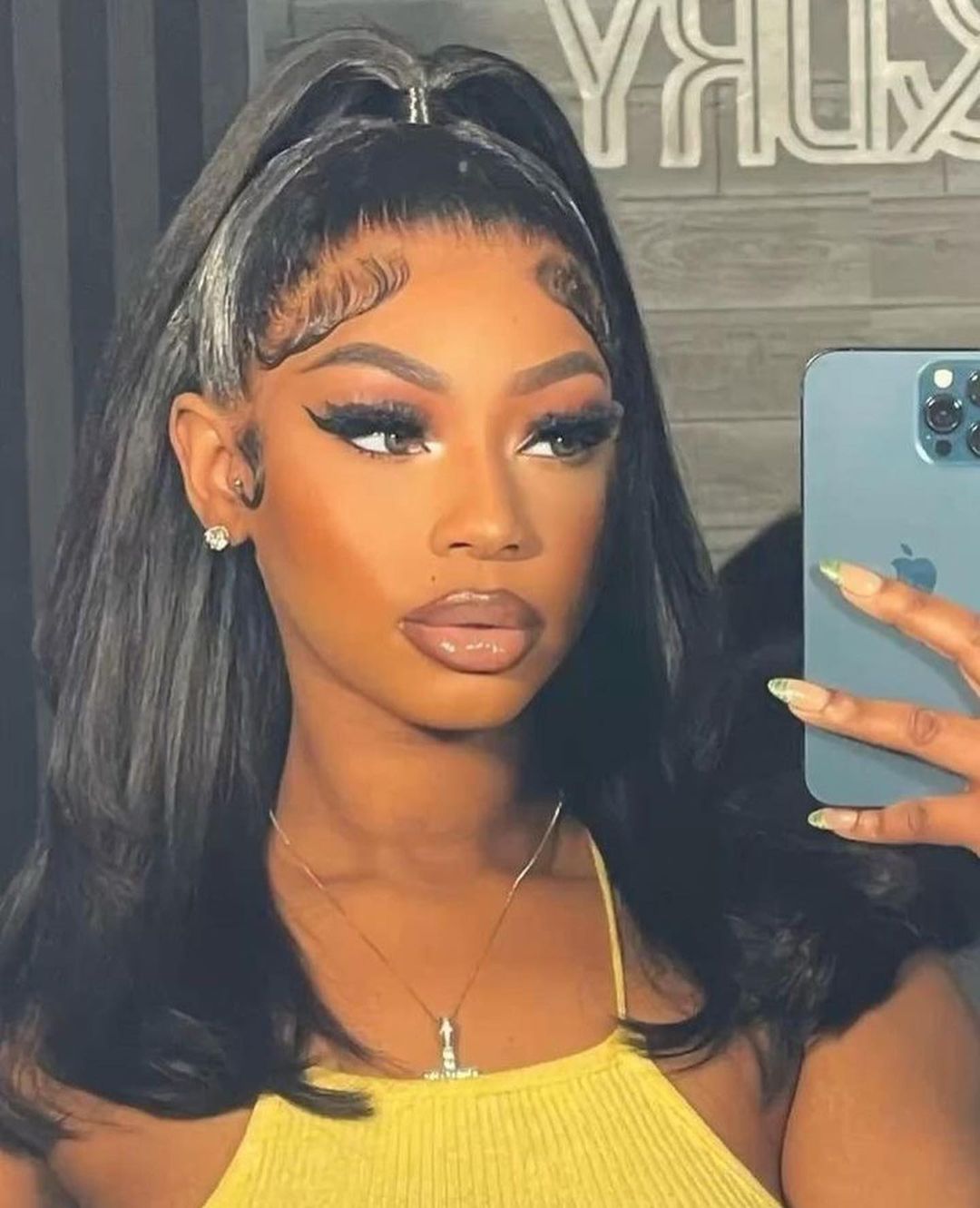 2. Ponytail with Edges
This one is super easy and yet so baddie at the same time. Honestly, it's the styled edges, adding more personality to this easy hairstyle. The ponytail isn't necessarily high or low, it's at the best medium height.
3. Half Up Half Down with Perm
This half up and half down hairstyle has been taken to a whole new level of baddie energy with those perms. The perm give the hair a healthy and lustrous look while the half up hairstyle adds the volume.
4. Sleek Space bun
Space buns are supper cool in general and they turn out even amazing if you add some hair product to smooth out the base. This beautiful baddie has Afro hair so her bun looks fluffy. But if you have straight hair, you can go for messy bun for the volume.
5. Cornrow High Ponytail
Anything related to culture specific hairstyle requires skill and patience. So does this one. These are cornrow braids underneath a high ponytail. Weaves can be used to achieve the long hair length easily.
6. Straight Cut Bob
Bob cut is usually a little slanted. Shorter in the back, longer in the front. But, this hairstyle is equal from all ends. It's in a straight line and looks very bold and clean.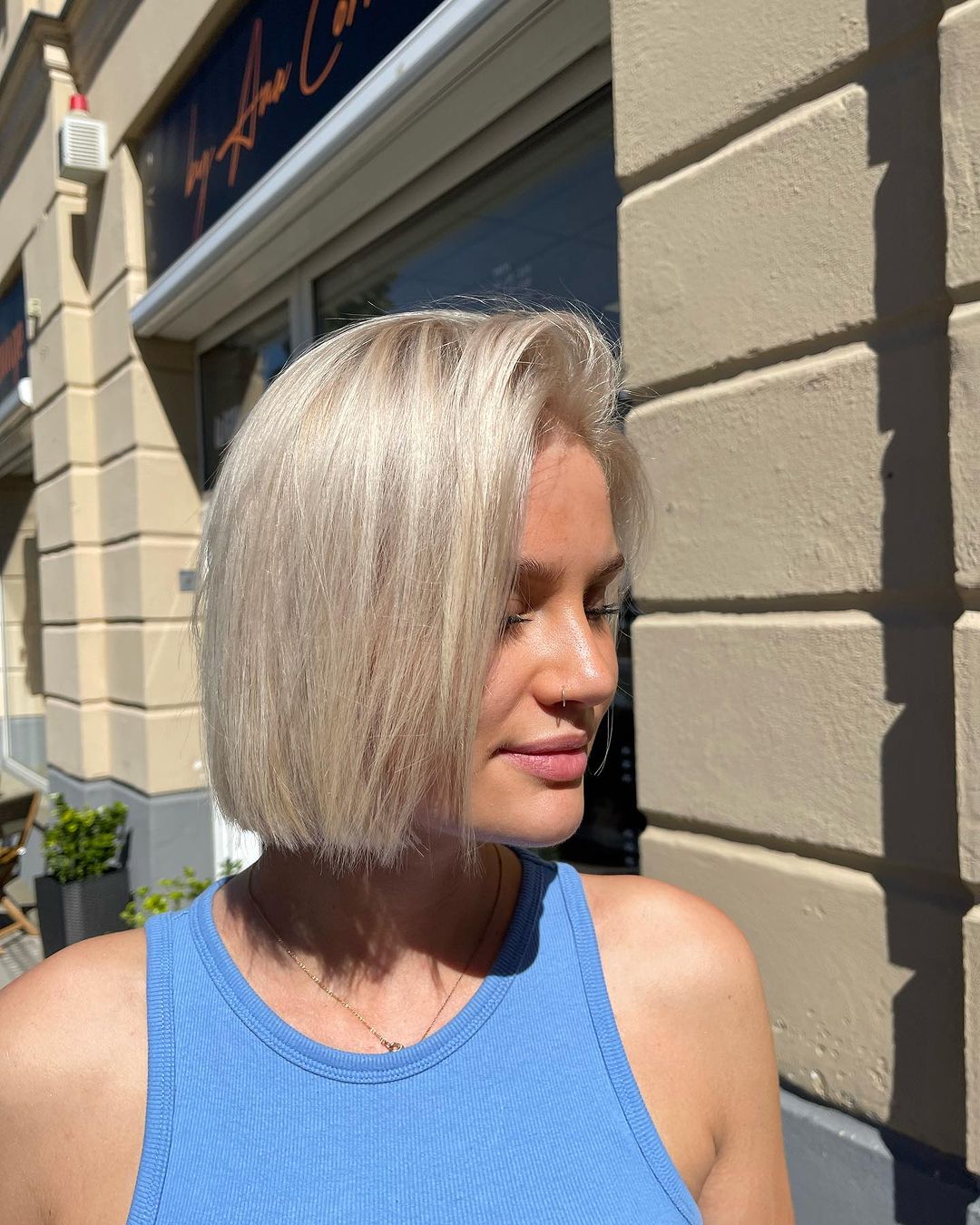 7. Afro Curls
This one is my personal favorite. Baddie hairstyles can also be cute, and this is a living example of that. It's Afro hair and perfect for all the black goddesses. Hair has been layered perfectly to form a smooth floof and the natural healthy curls are slaying the look.
8. Ariana Grande High Pony
The famous Ariana Grande's high ponytail. Though Ariana has switched her hairstyle after her wedding, this look just stuck with her fans. And we all know Ariana to be a baddie with her vibes and bold statement looks. This hairstyle is also no different.
9.Bubble Braid
Bubble braids are beautiful and look divine. This one in particular has smooth styled edges which makes the look even better. If you want, you can curl the ends or keep them straight based on your choice.
10. Wave Bob
A perfect wavy bob is a work of art. This one comes with gel styled edges and shiny finish. Use a good hairspray to lock the waves without making them look stiff.
11. Soft Curls
Soft curls have a very girly aesthetic, and when combined with right makeup and outfit, they can turn you into a baddie. The length and texture of your hair also determines the final look of this hairstyle.
12. Baddie Bob
A classic bob, parted from the middle and with dark roots, gives Kardashian vibes. And anything that reminds you of the Kardashians, is baddie material. The overall look is very clean and classy.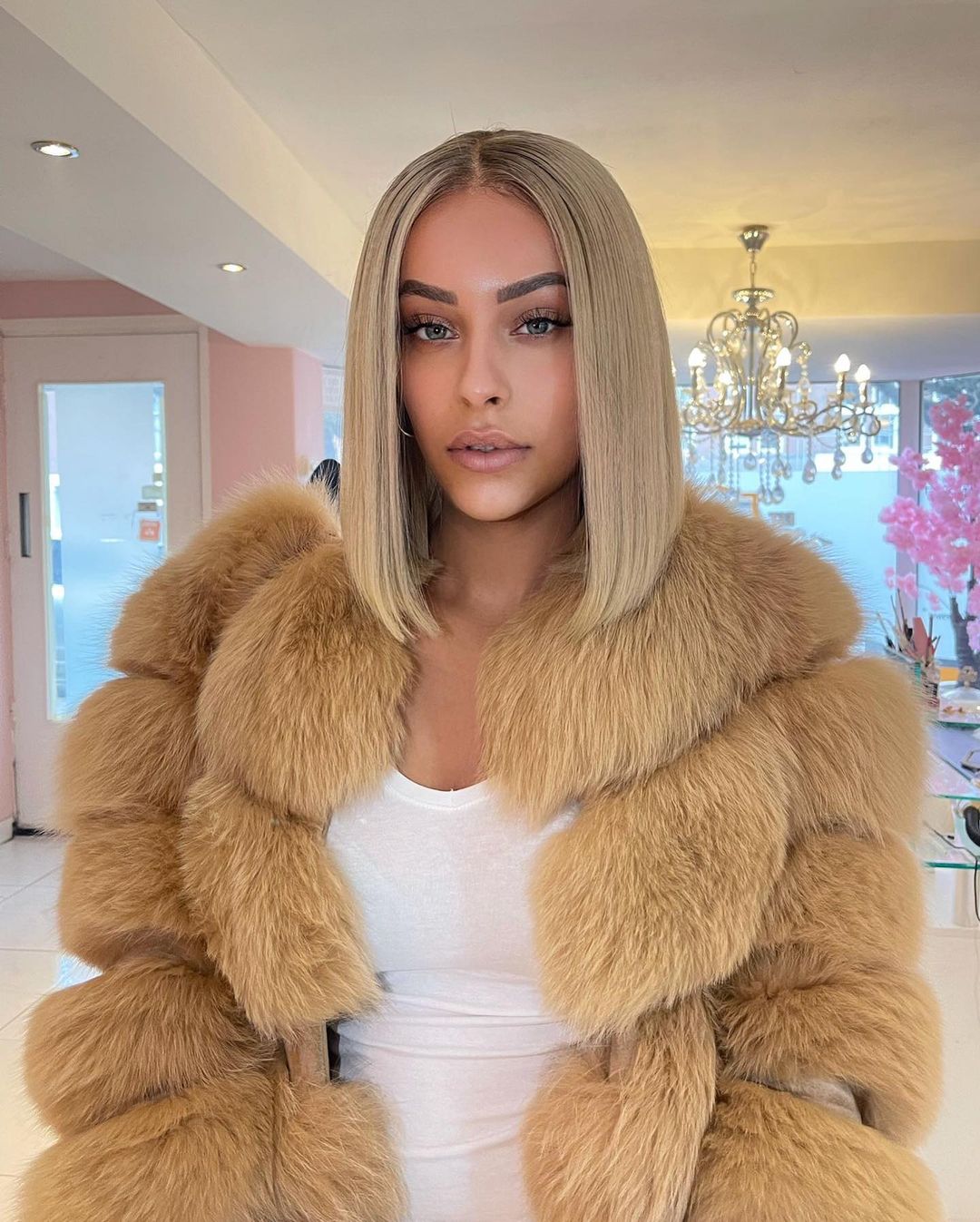 13. Straight Hair with Edges
This one is again a girly hairstyle, but the edges are badass. These edges can be styled into so many different ways while keeping rest of the hair straight. If you do it right, it can become your ultimate look for almost every outfit.
14. Roll On Bun
This hairstyle is not just for the baddies, but also for the boss baddies. A roll on bun but it falls more on the messy side of the spectrum. Leave some hair in the front and it would look even more effortless and stylish. Best part about this is the fact that it can also be a formal hairstyle.
15. Baddie Top Knot
Following the same theme, this is a bun again. We call it the knot bun because it looks like a knot. It's again a very classy and effortless hairstyle that can also be a formal one. The sleek look makes it clean and easy to manage.
16. Sleek Straight Low Ponytail
Sleek straight low ponytail is exactly what the name tells. It's sleekly straight, and a low ponytail. Very easy to achieve and shapes your face in a good way.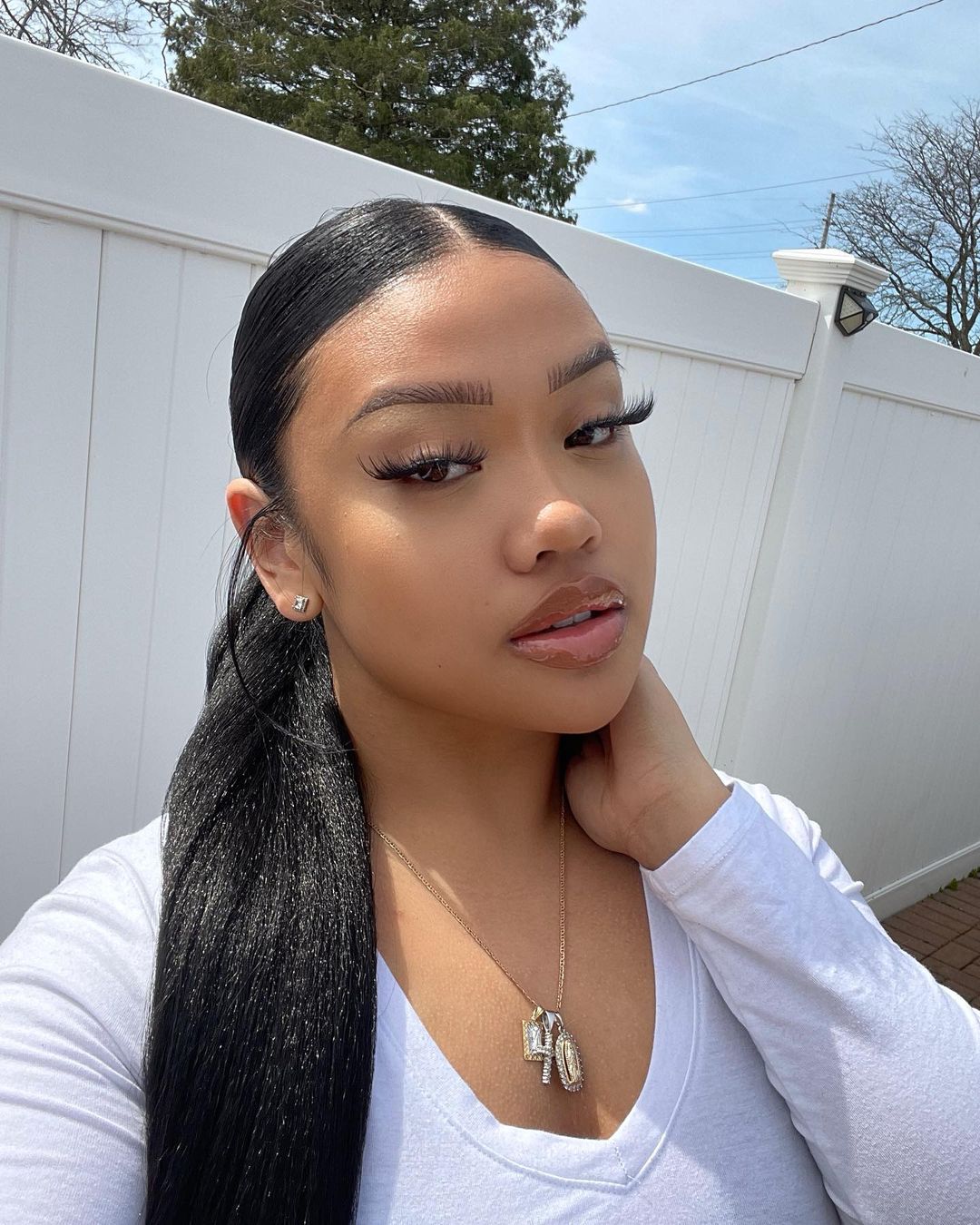 17. Ariana Inspired Short Pony
Ariana changed her hairstyle from a long high pony to a short ponytail, and this look is inspired by that. Very simple but also perfect for the baddies.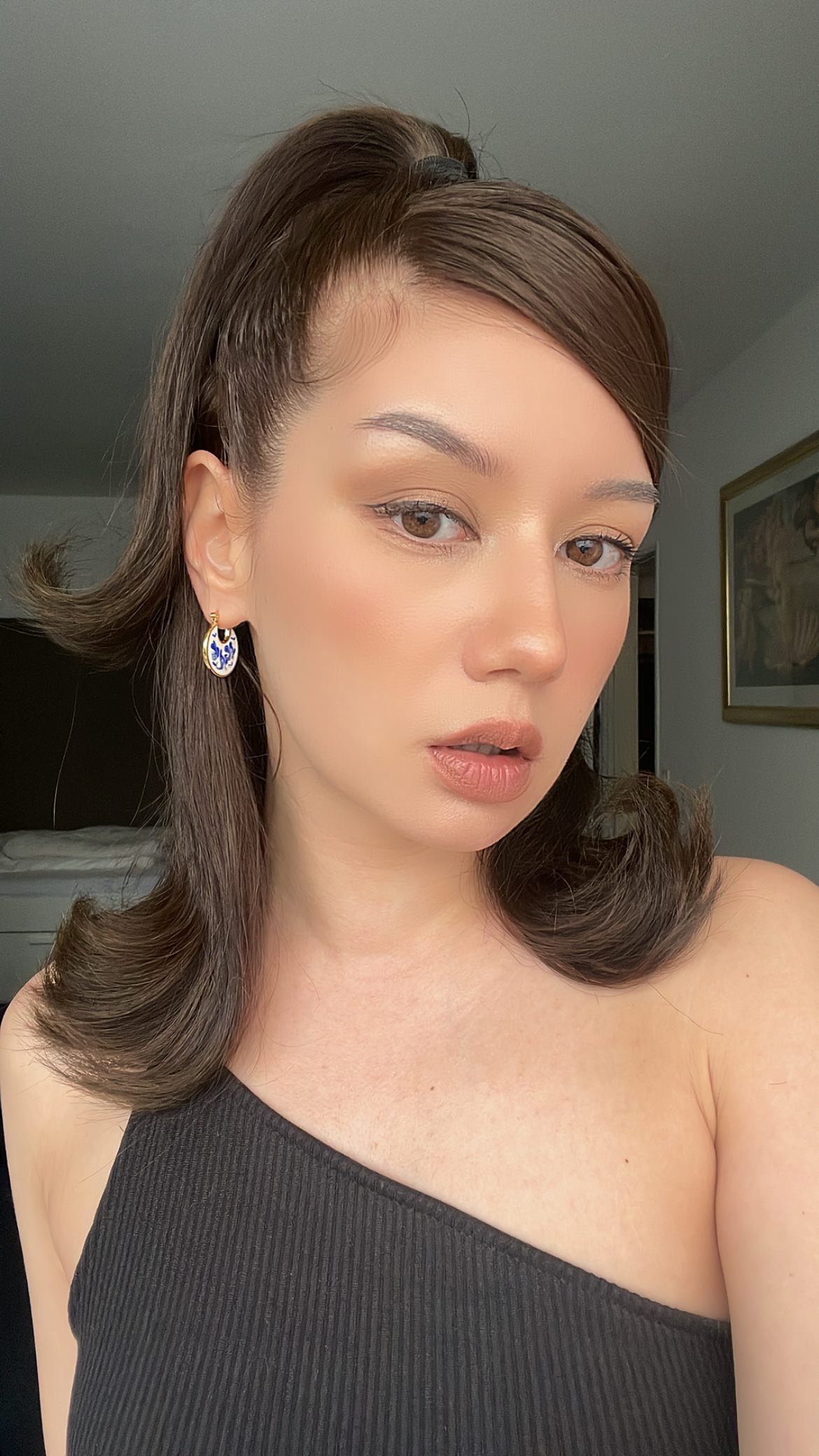 18. Doll Like Mid Part
This one is the best of both worlds. A very cute hairstyle, but when combined with the right makeup, it can turn you into a baddie from cutie. Which is exactly the reason I said, it's the best of both worlds.
19. Dutch Braid with Edges
Dutch braids are very protective hairstyles so you can definitely go for these in summers. Along with being a baddie, this hairstyle is also good for sporty look.
20. Sleek Top Braid with Edges
It's a simple three strand braid, but obnoxiously long. If you have highlights, it becomes even better, and the edges are styled using hair gel and products that give this look a glossy finish.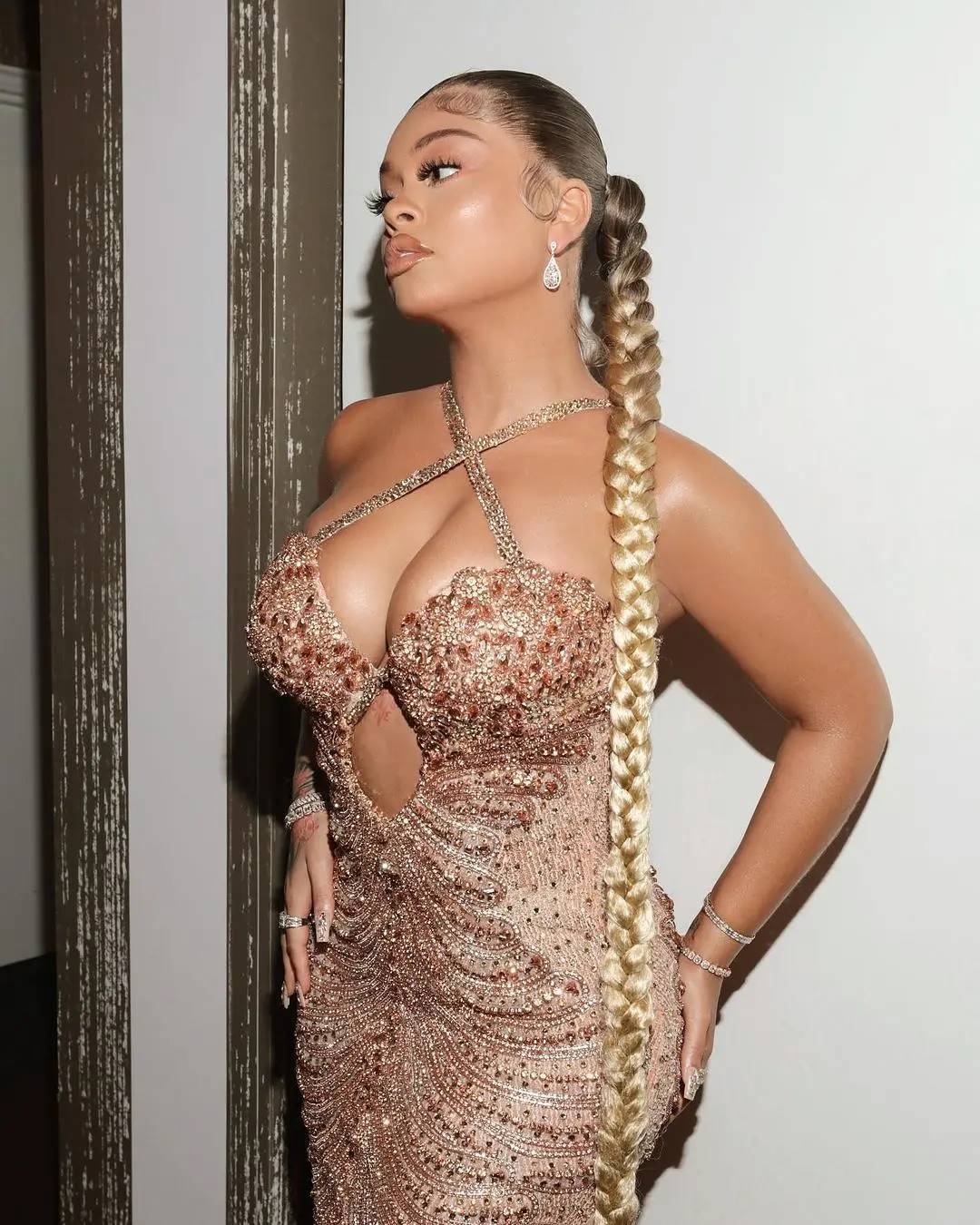 21. Short Hair Curls
These soft curls look adorable on short hair. They enhance the volume and dimension when compared to wavy or straight hair and also give appearance of highlight due to light falling differently on every hair curve.
22. Hollywood Curls
Hollywood curls are very popular among the baddies because they look classy and bold along with being an easy to achieve look. The style falls between curl and wave because the layers are not curvy enough to be called a curl but also more wavy than usual beach waves.
23. Kendall Jenner Bun
This bun is inspired by Kendall Jenner as she has been seen carrying this hair look, multiple times with grace and style. It's also very easy and hair protective so it automatically becomes desirable to people. And since it's inspired by a Jenner, it automatically becomes baddie certified.
24. Retro Baddie Bun
This hairstyle is also originally inspired by Kylie Jenner so it obviously classifies for being a baddie hairstyle. It's a retro look which is not just bold, but the sleek smooth front section is also very clean and chic.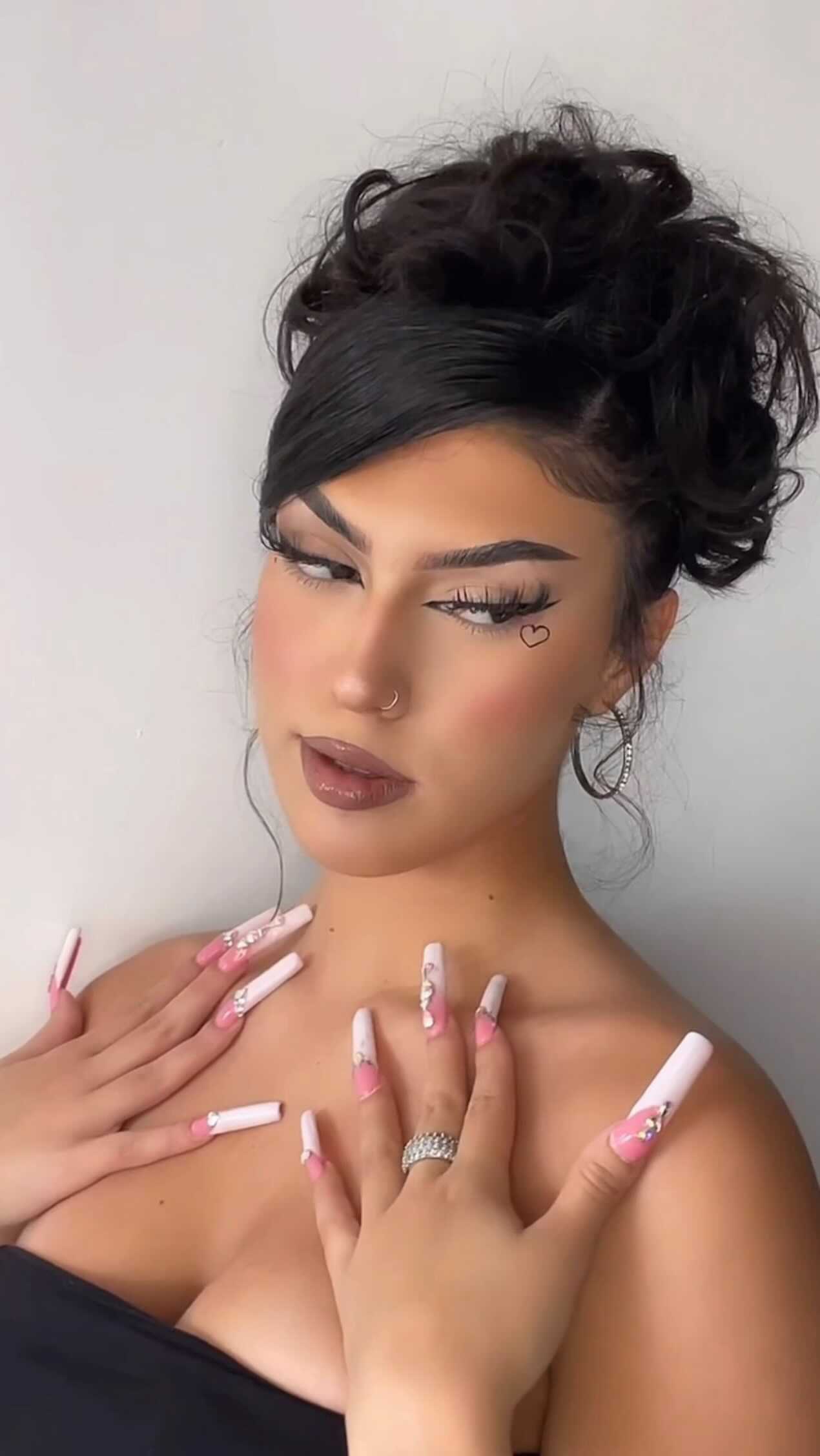 25. Kylie Jenner Retro Short Hair
Miss Kylie is back again in the list with yet another retro inspired hairstyle. It's a very sexy hairstyle, specially for short hair type.
26. Damp Hair Ponytail
This look is inspired by Kim Kardashian. Let's be honest, Kim is just straight up iconic, and this hairstyle proves that even further. A lot of hair product is used to give the hair a damp wet look and the top of the head is made into a smooth sleek ponytail. It's almost like Ariana's signature hairstyle has been given a Kardashian touch.
27. Bangs and Waves
Beach waves can be achieved using different tools, both heating and heat less ones, your pick. But regardless of what method you use, the end result is always flawless.
28. Top Knot with Bangs
Top knot bun with bands is a cute hairstyle for those who want a baddie look, but also want to keep it subtle.
29. Cornrow Braids
Cornrow braids are amazing for the black girlies with amazing textured hair. This hairstyle requires a lot of skill, patience and time. But it is all worth it.
30. Micro Braids with Curly Ends
Microbraids are obviously skill demanding hairstyle but also very cool when they are done. You can curl the ends to give yourself a dreamy and better groomed look.
Baddie Hair Colour
Apart from hairstyles, there are also a few hair colour that you can try for a baddie look.
Platinum
Platinum blonde is a very luxurious looking hair colour and also adds more aesthetic look to the hairstyle.
Cheetos Orange
Bright orange hair colour with a wee bit of natural hair colour peeking beneath it, is just beautiful.
Hot Pink
What we have here is not exactly just hot pink, Instead it's a combination. A combination of pink purple and a hint of black roots.
Billie Eilish Red
Billie Eilish Green
Billie's signature look was neon green roots. It's very unique and bold, which fits the baddie vibe.
Blue
Miss Eilish never fails to surprise with her hair colors. Similar to always, this aqua blue hair colour is a statement look from her old days.
Sunset Hair
Sunset hair colour is a combination of orange, pink, yellow and red. All these colors can be combined or just a couple of them, it works.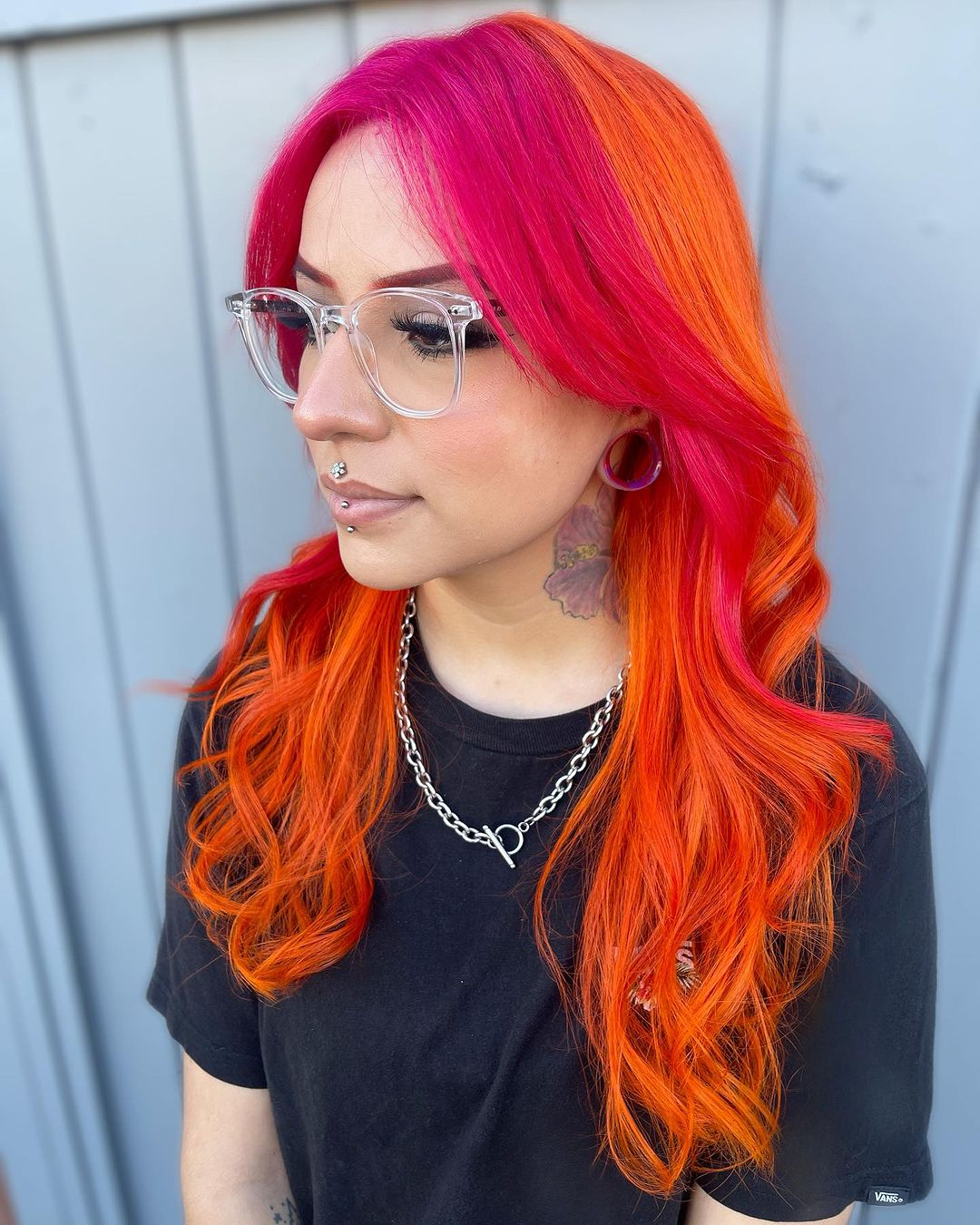 Pride Hair
Pride hair colour is basically rainbow hair colour.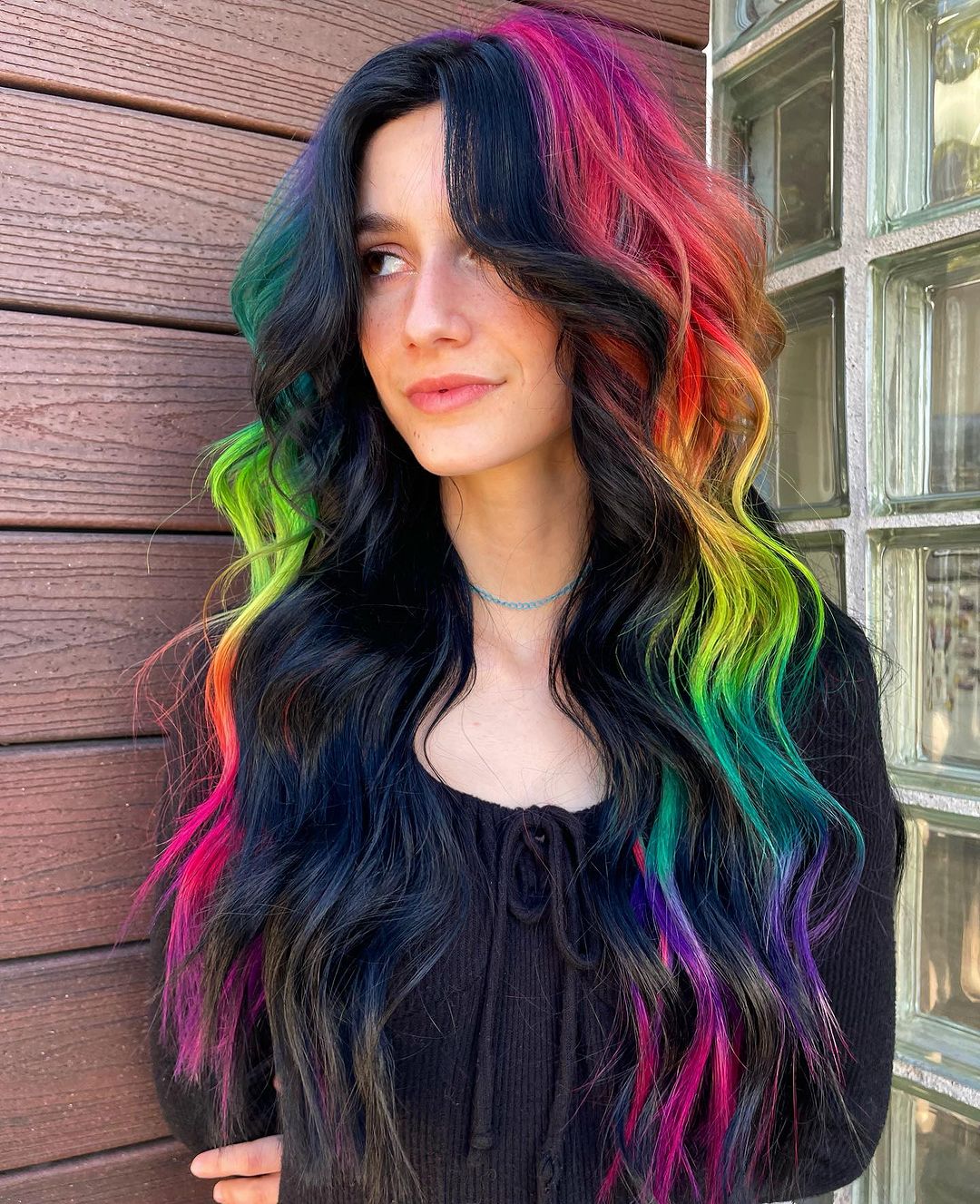 Other Articles