One thing other than music, that Billie Eilish is popular for, is her style. More specifically her outfits and hair, both of which have evolved greatly since she debuted with her song Ocean Eyes. Billie's whole personality has went under a huge change, and that change is very positive to say the least. From an emo, sad kid to a gorgeous and confident woman who knows her worth and gives her absolute best, Billie is a new person now. Her experiment with her looks is one of the many things which has been a part of this transition, and that,s exactly what we will talk about today.
Baby Blonde
In case you didn't know, Billie is a natural Blonde with dark roots. On her 21st birthday, she posted an old photo of her, from when she was a kid. Her dark roots can be seen complimenting her natural blonde hair. It's a cute photo, considering she has a unicorn cake in front of her, and she is crying her lungs out.
Blonde Teen
At this point I guess we all know that Billie was  Justin Bieber fan as a teenager. Not much has changed even though now she is good friends with him, she still admires his singing. She posted a stream of photos in February 2020, showing her fan girl moments for Justin. And in one of those photos, we can see teenage Billie with her natural blonde hair with dark roots.  To make this photo more adorable, she is even wearing a Justin Bieber tank top.
Platinum Debut
Billie made a debut in the music industry, with her song Ocean eyes, in the year 2015. The official music video released in 2016 and Billie introduced her platinum hair to her fans. Though her dark roots were still visible, she did a great job at working on her mysterious emo aesthetic with her platinum hair. this was also the time when Billie was wearing over sized outfits, and kind of made it her signature style.
Grey
Well, good bye dark roots. Because, Billie decided to go completely grey with her hair in 2017. It did not look much different from the previous hair look that she had. Just a little more coherent. None the less, very Billie vibe. However, it wasn't for long as her roots started growing out and she had a phase of dark roots again.
Lavender
In 2018, Billie's hair had a hint of lavender. It was a very subtle tint, but it was there. A lot goes into professional photos or just photos in general, lighting, contrast and much more. All these factors contribute into adding different hues in the photograph which is why this lavender tint is difficult to notice in many of her photos. However, a close up selfie that she posted without any caption, shows the tint of her new hair. Soon her dark roots started to grow again, giving her hair more of a dirty grey look.
Blue
Billie turned her blue in 2018. On August 14 she posted a picture from Seoul, Korea, where she had dark hair. The exact colour of her hair was hard to distinguish which makes me believe that it was a transitional phase between grey to blue. We know that such bold colors take multiple hair sessions to chive the final colour. On 15th August, she posted another photo from Korea with dark hair. This time the photo was taken in broad daylight, showing her slightly blue hair with dark roots. On august 16th, Billie posted her famous smiling photo with bright blue hair and very little dark roots. She captioned the photo "nori from barbie fairytopia" She kept her hair blue for a long time, redyeing it from time to time as it faded.
Teal
There was also a tiny phase where Billie had teal hair, first teal blue and then teal green. 2018 seemed to be the year where she experimented a lot with her hair colour. And I feel the teal green was a result of her faded blue hair colour. She probably just wanted her hair to breath before trying something else. Which is why she flaunted the teal.
Black
In March of 2019, Billie posted a photo captioned "diamond laces🥶 thank you @iheartradio for making me come and then not giving me the award" It was a red carpet photo where she had black hair. In the same month she released her first album called WHEN WE ALL FALL ASLEEP, WHERE DO WE GO? She can be seen flaunting her black hair in the music videos. This dark hair colour added more to her ominous and mysterious emo girl vibe.
Green roots
Billie's signature hairstyle. Black hair with neon green roots. This indeed is a very unique colour choice to go with and it made her fandom crazy. In July 2019 she posted her green hair photo on Instagram with the caption "what do you want from me" which is her lyrics. A tiktok video started surfacing during this time, where a fan claimed that she had this hair colour before Billie. This fan also claimed that Billie was eyeballing her green hair when she attended one of her concert and the next thing she knew, Billie had the same hair. This video went viral on many social media platforms, but at the end of the day, who knows if the accusations where true or not. This also became the time that Billie was obsessing over neon green, she made her aesthetic.
Blonde
Billie stuck with her green roots for a long time before breaking the internet in 2021 with her blonde bob hair photo. She captioned it "pinch me", and honestly same Billie, pinch me please. Because she looked divine, she looked mature, she re-branded herself from punk emo to dreamy Disney and it was unbelievably beautiful. Suddenly, it was the old Billie again with her natural blonde hair. The only this keeping this look from being repetitive was the absence of her dark roots. She revealed in an interview that her green hair was attracting too much attention wherever she went and she wanted a little anonymity. Which was the reason she dropped her signature hair colour.
Brown
Blonde Billie had her screen time and fun. But dark hair Billie was back again, as she posed a picture captioned "Miss me?". Yes we did Billie, Yes we did. She rocked her blonde hair for 8 months before dyeing it b. This hair colour definitely complimented her eyes and also gave her a mature look but lasted only around a month and a half.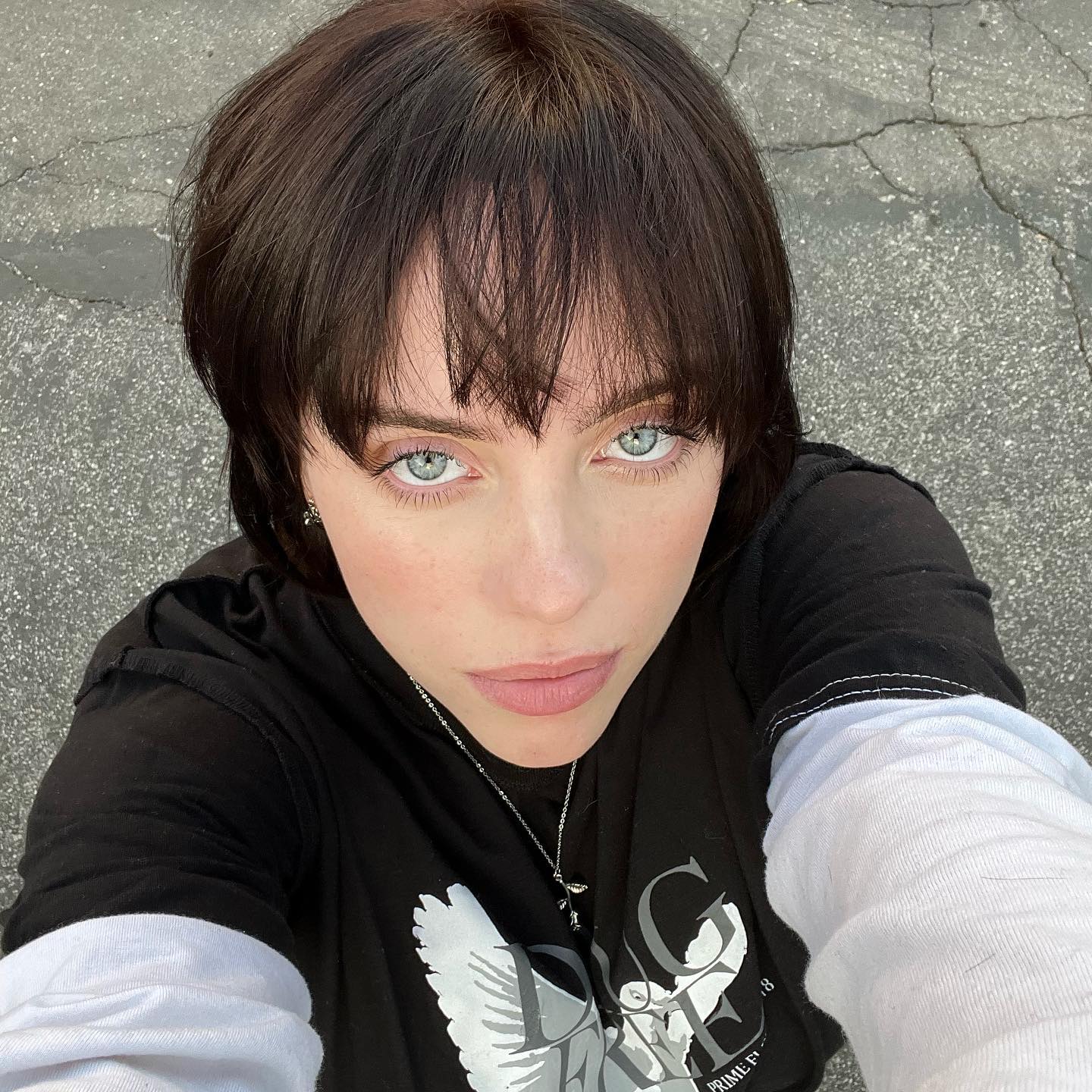 Black Again
Billie went back again to her black hair with bangs. She revealed this look by posting a selfie that she clicked in her flight.
Red Roots
Billie returned with her signature hair colour style but instead of neon green, this time it's hot red. She posted a photo on August 4th 2023, captioned "remember me?" This photo looks very similar to the one she posted for revealing her neon green hair. She played with colors to match her hair like she did in 2019. Classic Billie.
Other Articles