As winter is approaching, it's time to pull out your beanies. This versatile hair accessory can instantly elevate your look while providing warmth. There are different ways to wear a beanie for a stylish look that can take your hairstyle to the next level. Here are Stylish and cute hairstyles that you can try with your favorite beanies.
1. Straight Beanie Hairstyle 
This is a classic and simple way to get a chic look when you pair your beanie with your straight hair. It's an effortless hairstyle that can be worn anywhere. All you have to do is straighten your hair and put on your beanie that compliments your outfit.
2. Twisted low Ponytail
Style your winter look with this twisted low Ponytail that looks cute and effortless. Tie your hair at the nape of your neck, creating a low ponytail. Now, make a hole just above the hair tie-ins, ert the Ponytail through it, and hide the hair tie by wrapping a section of hair on it.
3. Side Braid
Try this side braid hairstyle, just like Taylor Swift has done. She paired a blue beanie with a side braid along with face-framing bangs. It gives a polished look without taking too much effort.
4. Pigtails
No doubt, Pigtails are a cute hairstyle that instantly elevates your overall look. Here, she styled her short hair with low pigtail ponytails with face-framing tendrils that look comfortable yet stylish.
5. Cornrow Braid
These beautiful cornrow braids are for those who look bold and edgy look. These tight braids not only provide a fashion-forward look but also protect your hair from winter elements.
6. Double Bun
If you are into a more fun and playful kind of look, then this double bun hairstyle is a perfect choice for you. Split your hair into two mak, a loose bun at each side, and pull out a few strands of hair from the front.
7. Side Swept Bangs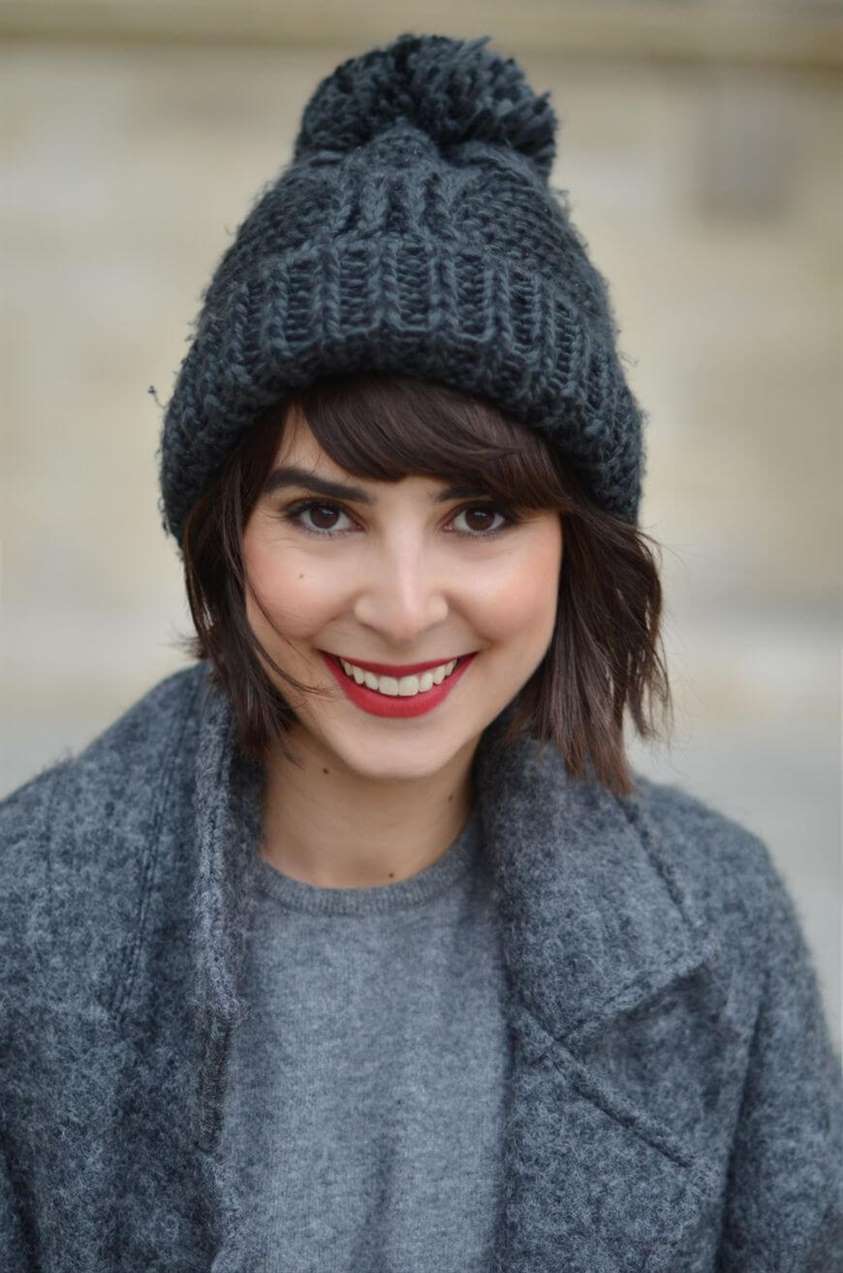 If you are having a bad hair day, don't worry. Styling your hair this way will save your day. Keep your bangs out or sweep your hair to one side, pull the rest of your hair into a bun, and put a beanie over it, and you are ready to face your day with style and confidence.
8. Fishtail Braid
A Fishtail braid gives you a much more elegant look that looks super cute when paired with a beanie. You can either go with a pigtail braid or a single braid at the back. You will still look cute and classy.
9. Loose Curls
This is a stylish hairstyle with a relaxed vibe that can be easily achieved. Give Your Hair loose, voluminous curls using a curling iron, and get ready to rock any occasion with style.
10. Beachy Waves
This is another relaxed and carefree Beanie hairstyle that you can try this winter. It's a versatile style that goes well with any of your outfits and makes a suitable option for any occasion.
11. Bubble Braid
This eye-catching Bubble braid beanie hairstyle gives a playful touch to your winter look. Keeping your hair secure, this style is easy to achieve and requires you to create sections down the length of your Ponytail, securing each one with an elastic band.
12. Messy Pigtail Braid
Feeling lazy to spend too much time on a hairstyle, then go with a messy pigtail braid . This hairstyle can make you look stylish without any fuss.
13. Lob With Bangs 
If you have short hair like Taylor Swift, then you can create a cute look with a beanie just like she did. All you have to do is brush your hair normally as you do, sweeping your hair at one side and simply putting your beanie over it.
14. Low Bun
Try this simple and cute low bun beanie hairstyle with your favorite beanie. This look is super easy to create and gives you a carefree vibe.
Other Articles