Vikings are known for being fearless and strong with a very strategically smart mind. These qualities make them unique and popular. The Viking women are also very passionate and powerful. Along with their beauty they are also known for the strength. Their style also represents the same. Viking hairstyles are bold, beautiful and mostly braided. Here we have a bunch of viking hairstyles that you can choose from.
1. Shieldmaiden Braids
This hairstyle is inspired by the fierce shieldmaidens who fought with courage and strength. This style includes braids on both side of the head, along with one plumpy braid in the center.
2. Crown Braid
Crown Braid wraps around the head, giving the appearance of a crown. This hairstyle is definitely feminine and delicate looking but very protective at the same time, just like viking women.
3. Mohawk Braids
Mohawk Braids are very similar to a general Mohawk hairstyle. But the hair at the center is braided. This braid could be of any kind, and one can even make multiple braids out of it.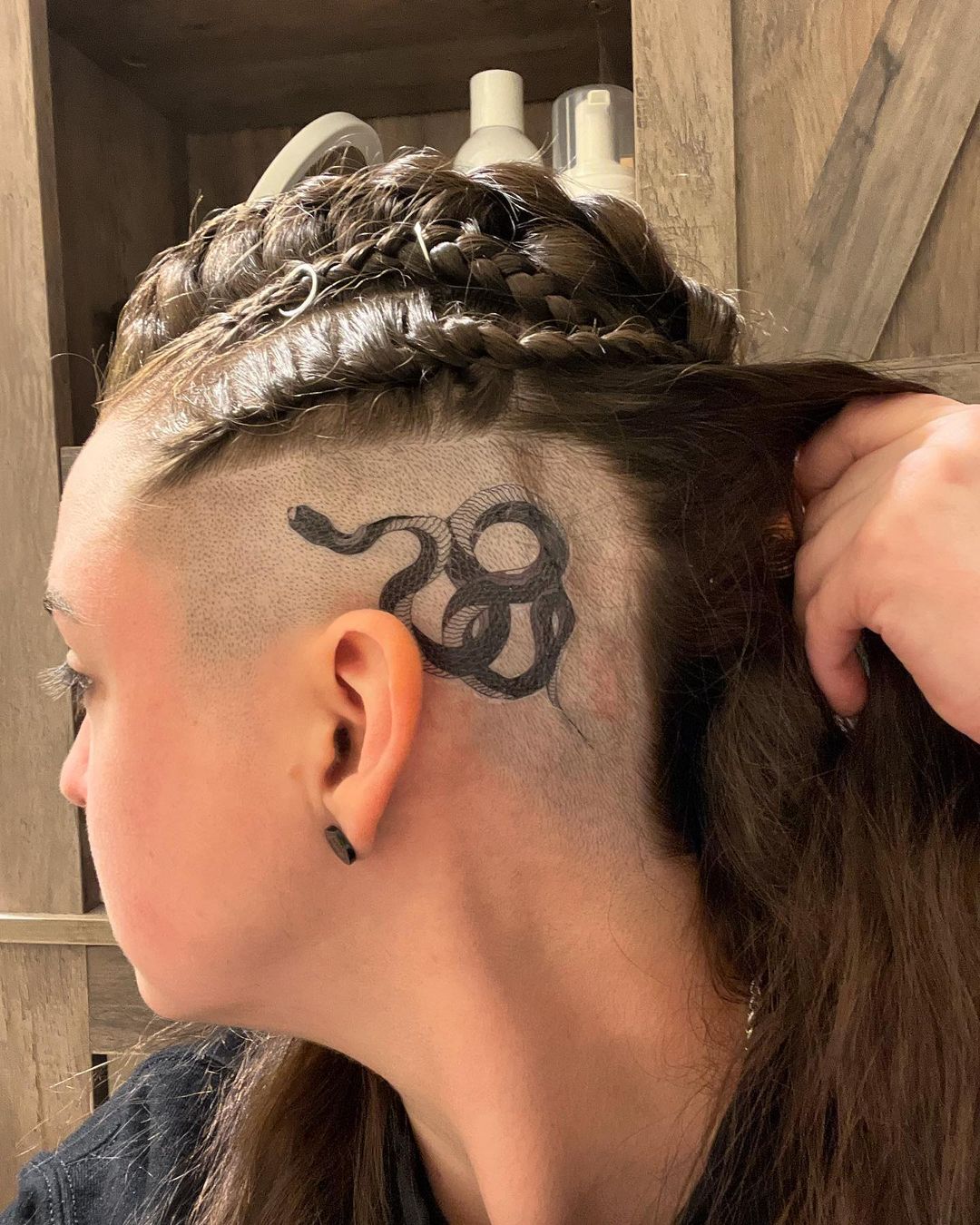 4. Freyja's Fury
This hairstyle is named after the Norse goddess of love and war. Which clearly shows two characteristics, softness and fury, both at the same time. This hairstyle represents these characteristics well. Multiple delicate braids have been woven together to form a complete hairstyle along with some loose ends as well.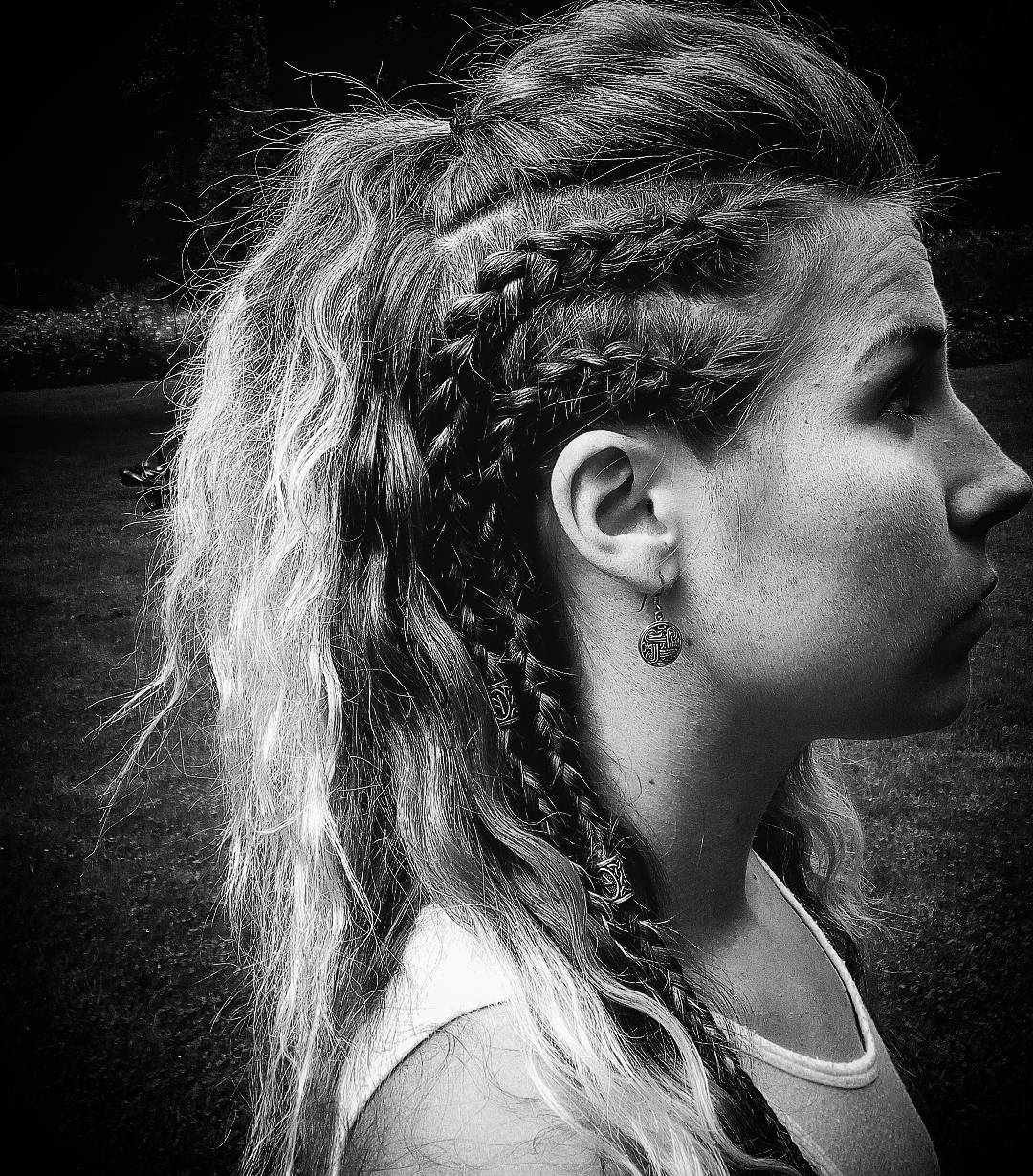 5. Runestone Rows
Since this hairstyle appears like carved out runestones of ancient Vikings, the same falls to be pretty appropriate. People also call it cluster braid but again, some people have a very different understanding of both these hairstyles individually.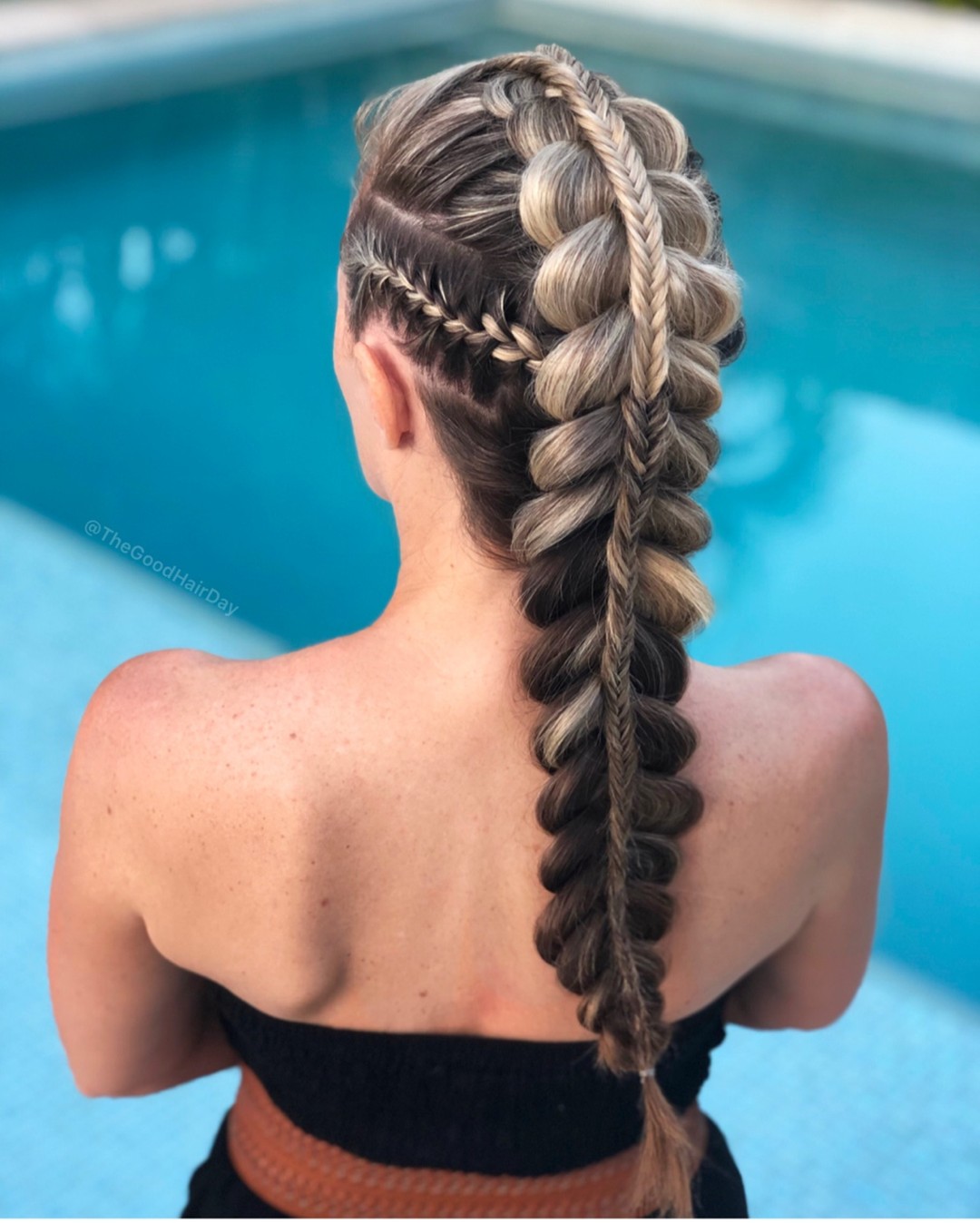 6. Lagethra Hairstyle
Inspired by the the Viking shield maiden Lagethra, her signature hairstyle came into being. This is a great combination of power and femininity both at the same time.
7. Twisted Braids
Twisted braid is a rather fancy Viking hairstyle. Where a single braid is made out of multiple twisted braids combined together.
8. Multiple Braids and Locks
This hairstyle is also a classic. Multiple delicate braids submerging into a massive bulky braid. There has been a good use of rings and beads in this hairstyle to accessorize it better.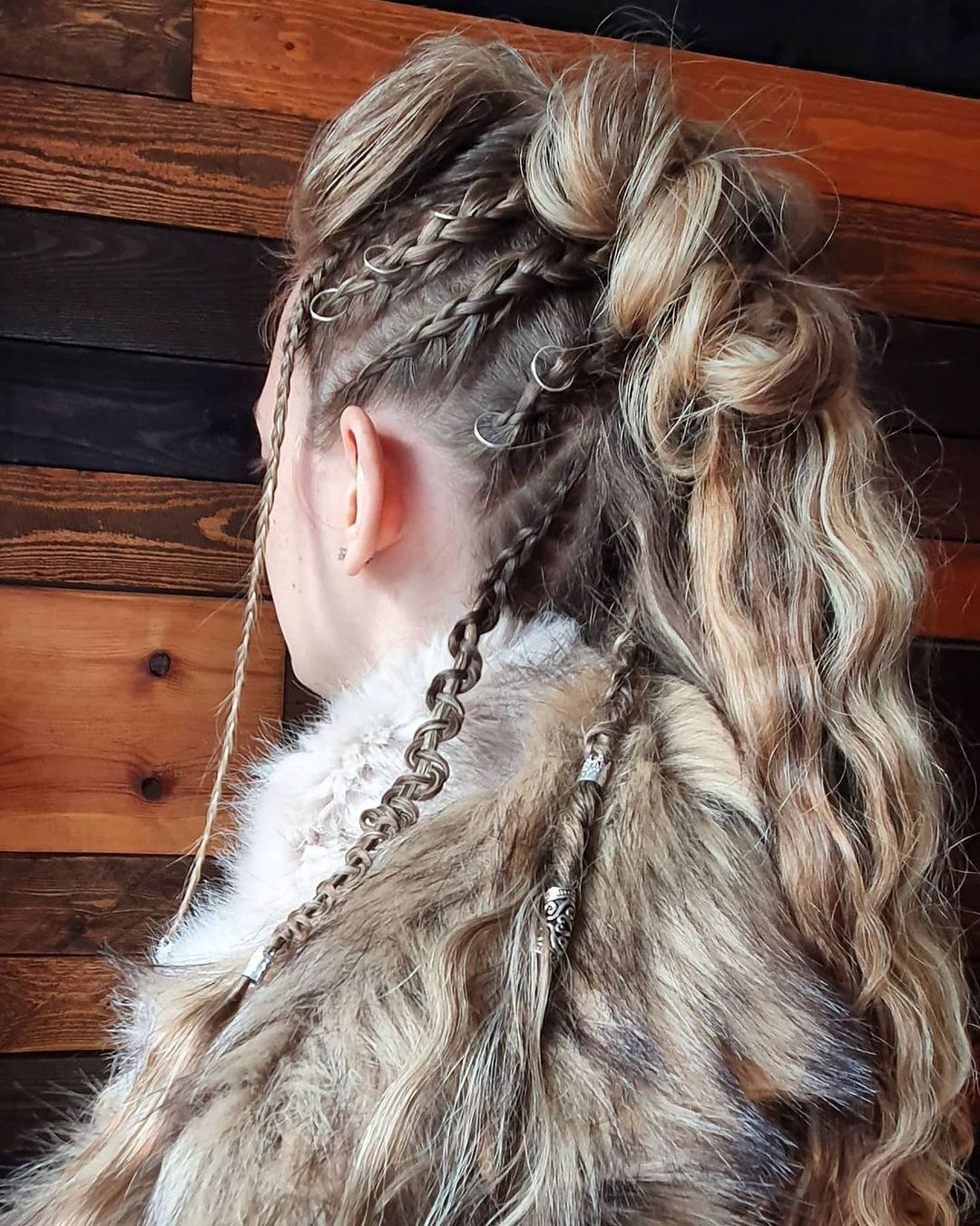 9. Trovi Braids
This is one heck lot of skill consuming hairstyle. Multiple delicate little braids combined into a bubble braid.
10. Viking Bun Ponytail
This one is cool and also very easy. It's a combination of a ponytail emerging out of a bun. Traditional Viking hair clips can be used to give this hairstyle a better look.
11. Viking Messy Braid
Messy hairstyles are adored in almost every culture and Viking hairstyles are no exception. This hairstyle is a simple three strand braid but it has a messy look that appears effortless.
12. Bubble Braid Viking Style
Bubble braid, but make it Viking themed. This bubble braid is combined with a couple of side braids and is styled on a Mohawk styled hair.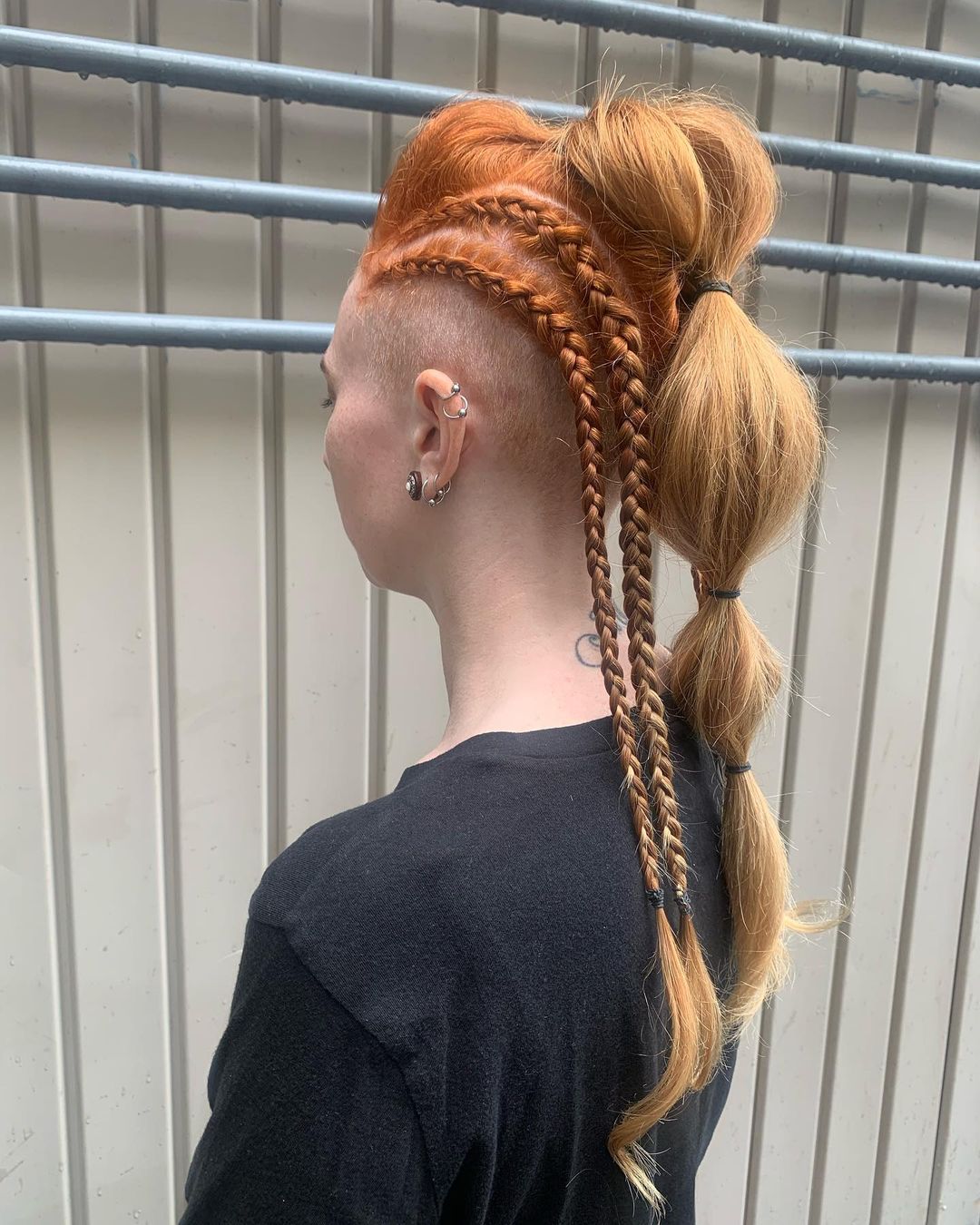 13. Edgy Viking Top Braid
This hairstyle could be considered a little edgy when compared to all the other hairstyles. There isn't much braiding involved into this hair look and majority of hair is loose and untied. The top section has been braided using hair beads to give a mat like appearance.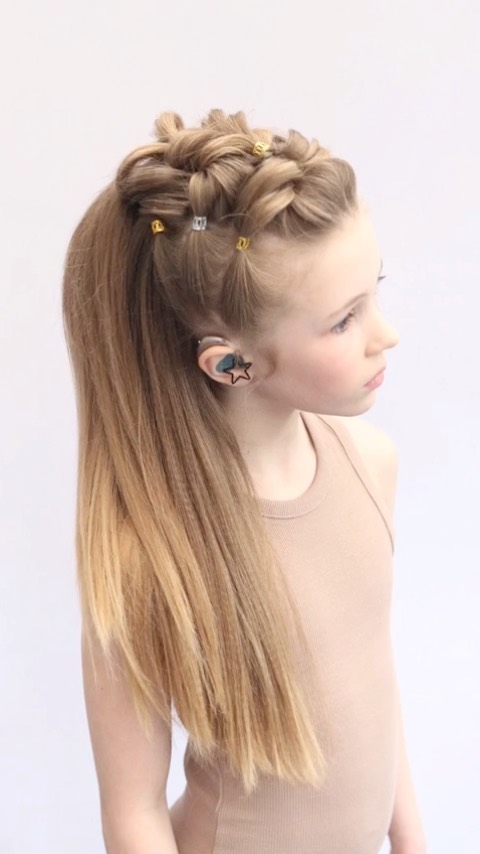 14. Braid Band
A braided band is also a Viking warrior hairstyle. this is where the crown  braid is not braided entirely but just in the front section. This makes the braid work like a hairband.
15. Semi Trapped Braids
Semi trapped braid is an amazing hairstyle for curly hair because there is already a lot of texture. The hair is half up and half down with braided top that looks adorable.
16. Viking Bride's maid
This hairstyle is very elaborated and a ton of hair accessories have been used to make it look shiny and bright. This can be a great hairstyle for bride;s maids or even for the bride. A viking wedding will be a suitable occasion for this hairstyle.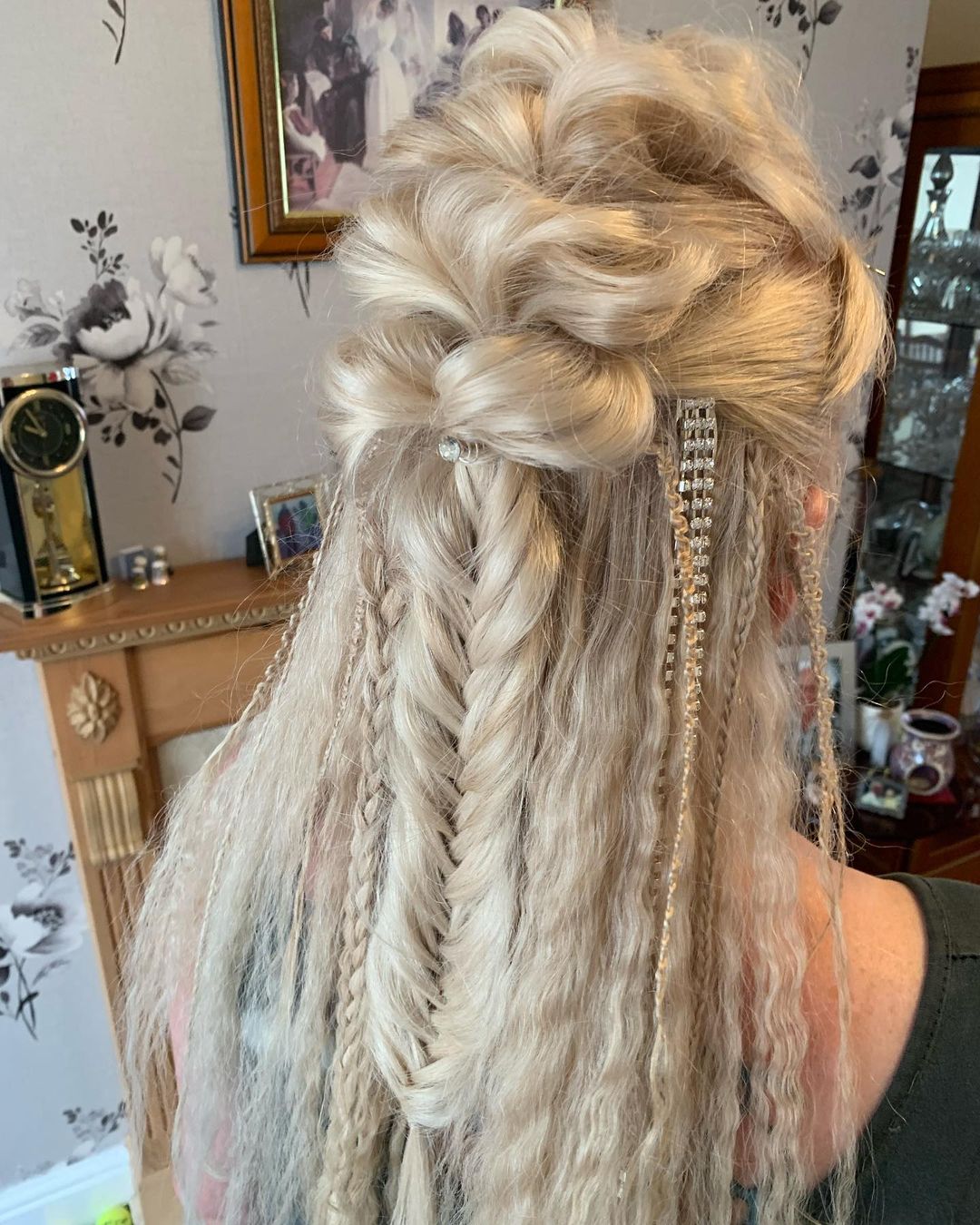 17. Viking Loose Hair
This hairstyle is one of the few casual ones. The front section is braided into multiple braids but the back portion is loose and open. A very subtle hairstyle for the viking women.
18. Edgy Warrior Updo
This warrior updo is definitely protective for the hair like all other warrior hairstyles. But, this one has a wee bit of an edge to it. It's funky and cool with some loose hair locks that are giving a feminine vibe.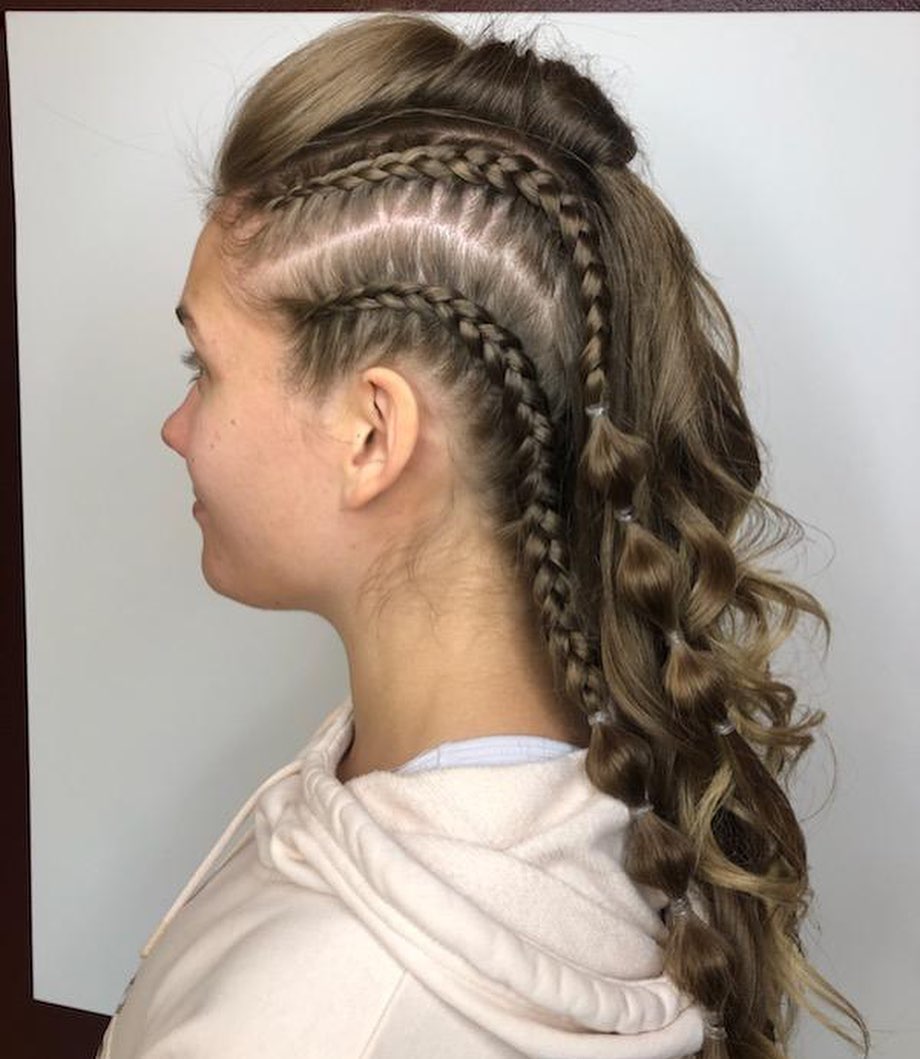 19. Dreadlocks Viking Braids
These are dreadlocks braids. Just like the name suggests, these braids are made out of dreadlocks.
20. Short Hair Fancy Viking Hairdo
This hairstyle is again one from the fancy ones. There has been a good use of hair accessories and even clips made out of crystal for the authentic viking touch.
21. 4 Strand Braid Ponytail
I call this an easy hairstyle. A four strand braid from the side, incorporated into a low ponytail. A very relaxed hairstyle that could be worn everyday.
22. Viking Bride Infinity Braids
This hairstyle is very elaborated and is suitable for special occasions like weddings. More specifically this is a great hairdo for the bride. It's called the infinity braid because there are many different typed of braid incorporated together in this single hairstyle. Reverse crown braid, mat braid, french fishtail braid, bubble braid, loop braid with lose hair locks as well.
Instagram @irina.abramova_hair
23. Viking Cluster Braid
This is a chaotic looking hairstyle but that is because there are multiple braid woven together to make this look come alive.
24. Warrior Updo
This warrior updo is suitable forshort hair viking women. It's very edgy and bold at the same time has the viking vibe that is the theme of this look.
25. Dutch Braided Pony
This is a Dutch braided pony, because the pony itself is made out of multiple dutch braids. You can choose to keep the ponytail high or low based on your choice.
26. Reverse Crown Braid
Reverse crown-braid is just like a crown braid but instead of wrapping the whole head, it only wraps the back section.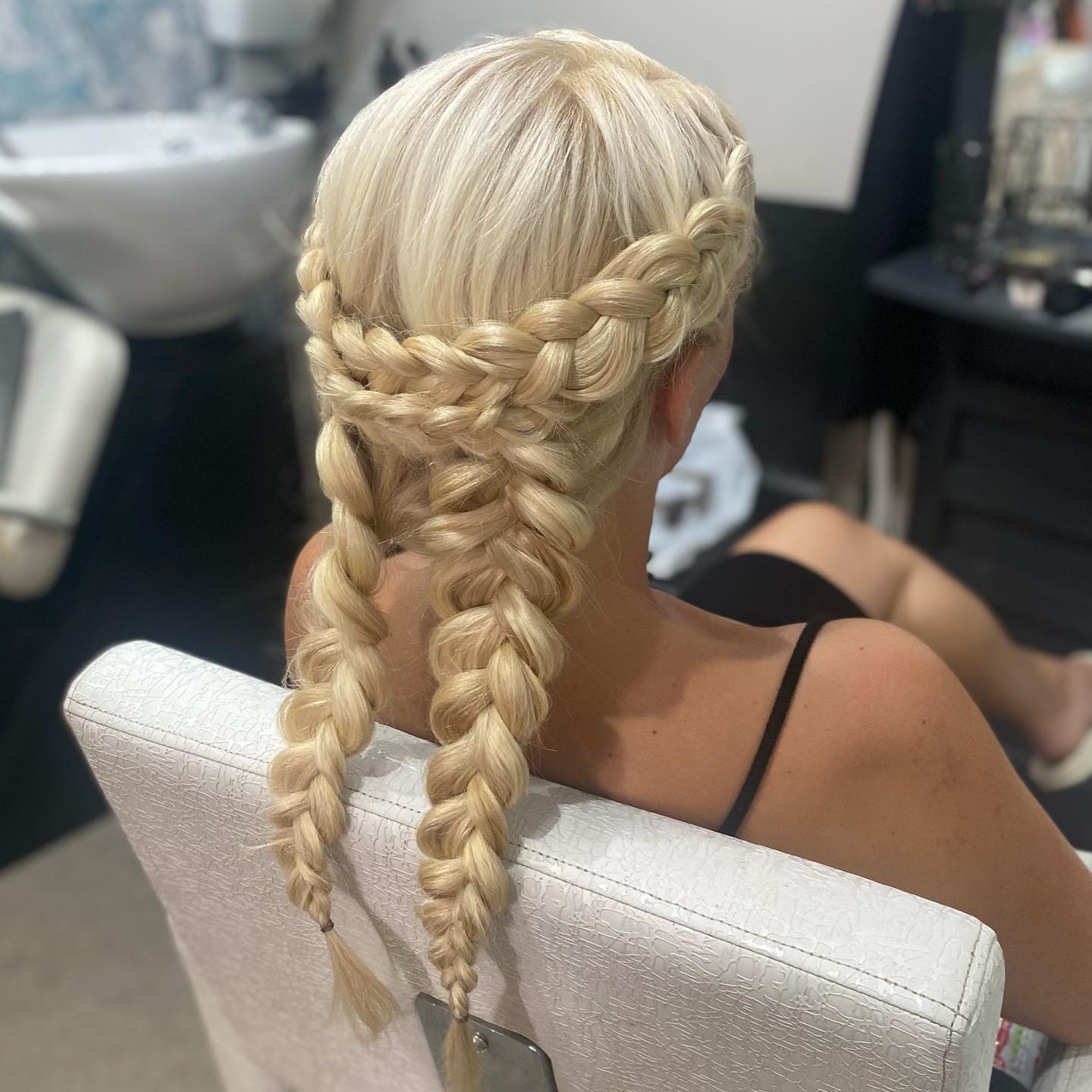 27.House of Dragon Braids
This hairdo is inspired by the House of Dragon from the Vikings series. A very complicated hairdo as it looks, but once you start the braiding process, it sorts itself out.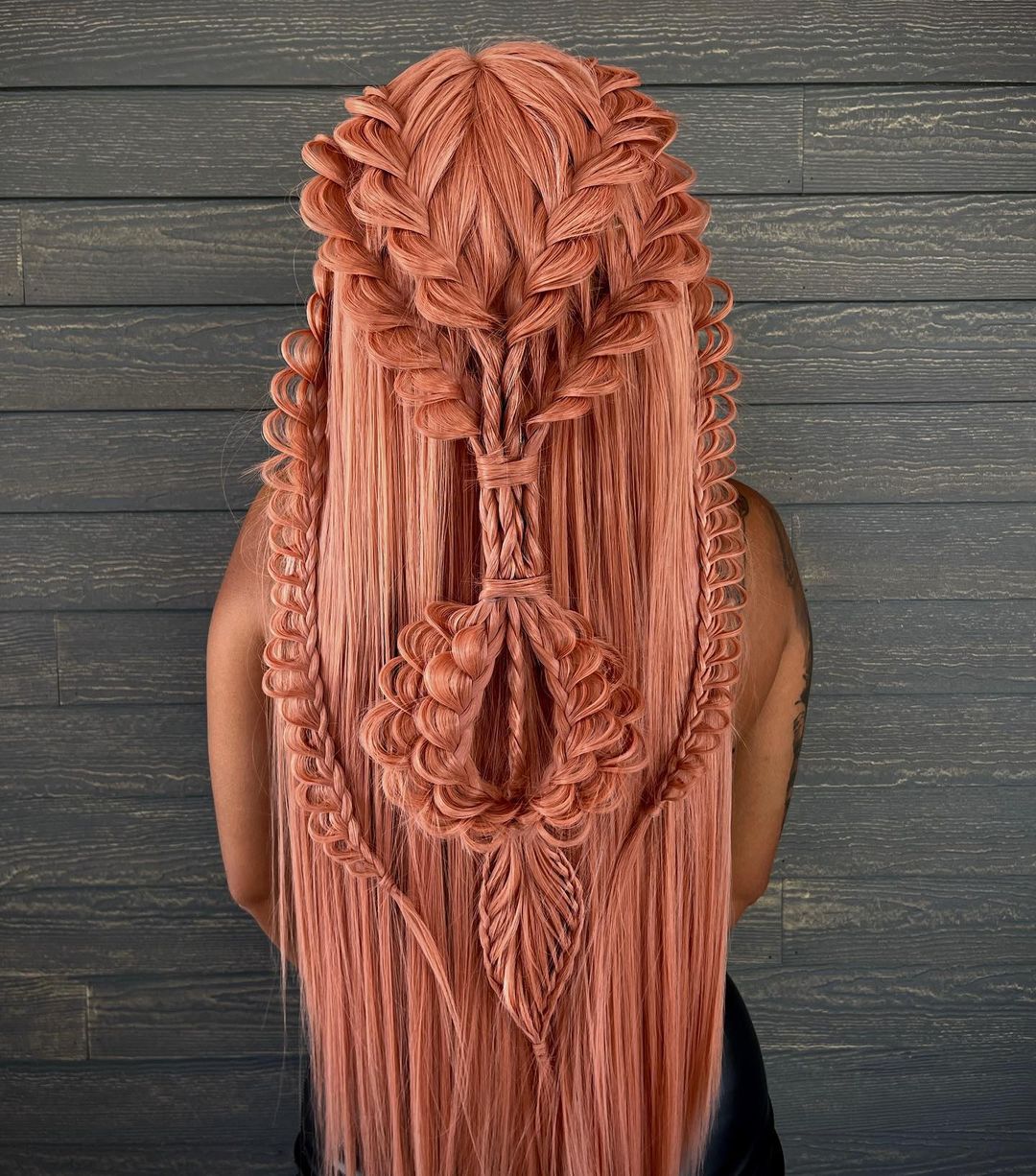 28. Viking Braid Bun
This is a simple knot bun made out of a few delicate layers of braids.
29. Half Braid
The half braid is a classic half-up hairstyle where half of the hair is braided while the other half is free.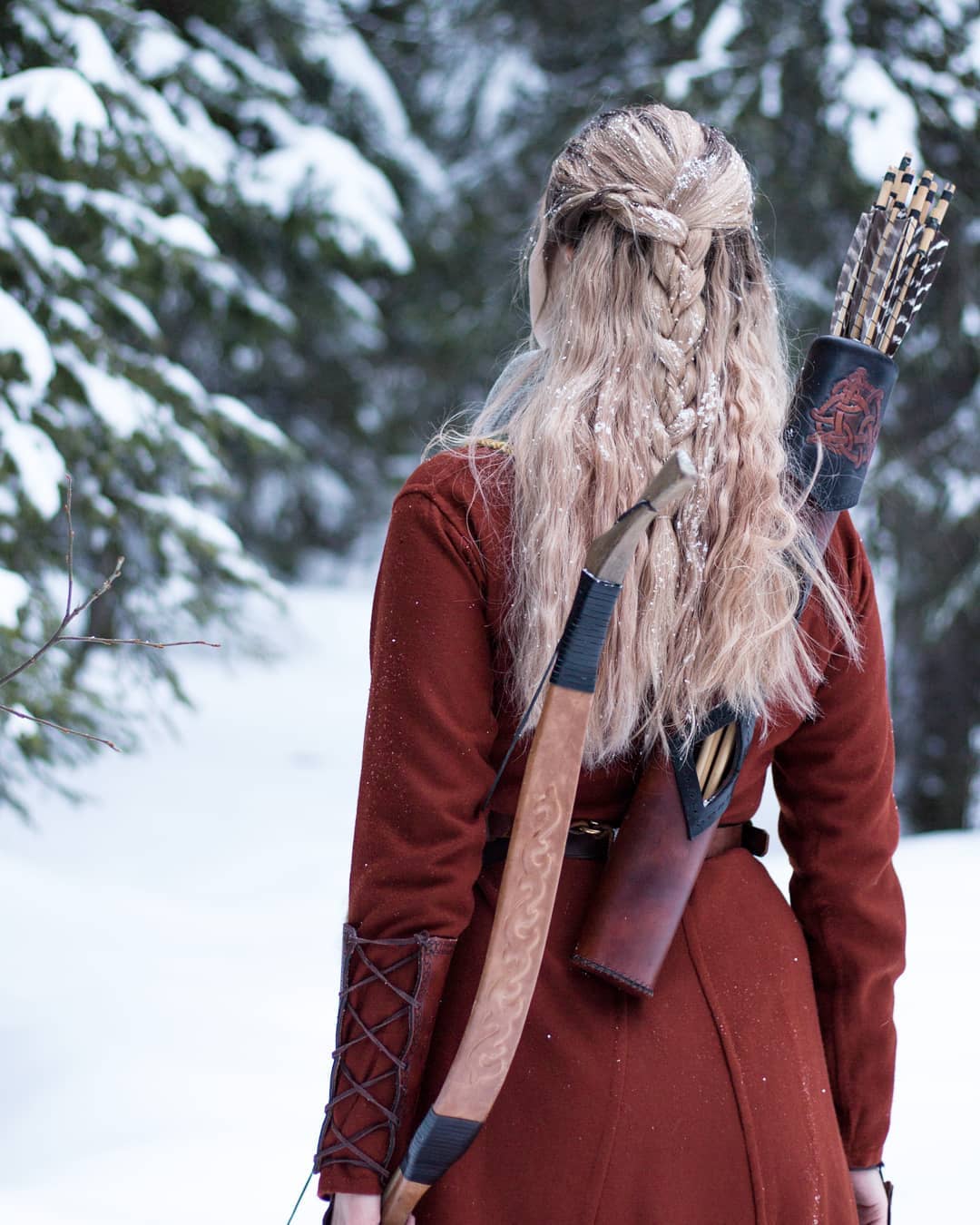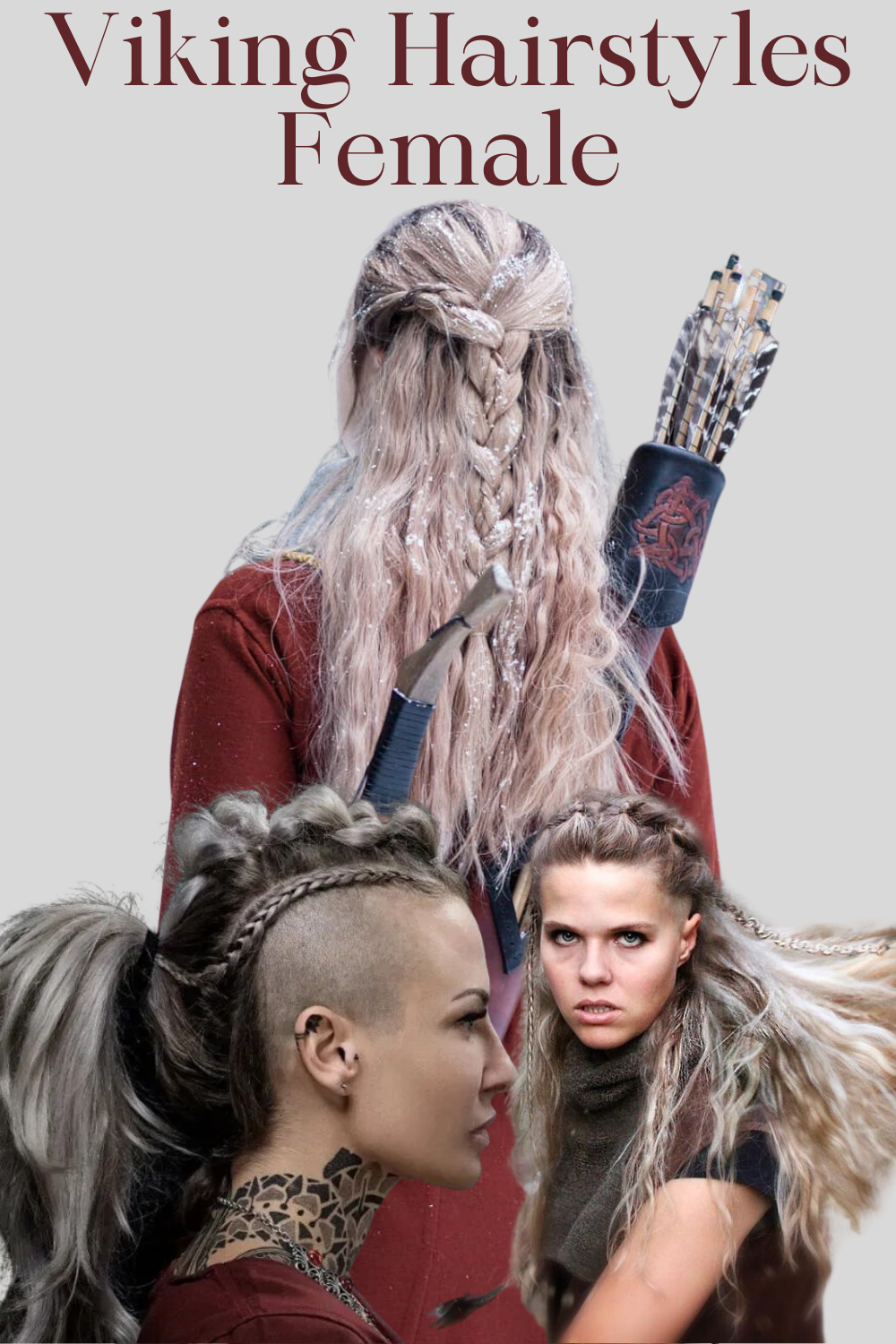 Other Articles