While the chances for haircuts for men may seem endless, inevitably, the most fashion-minded of men will ultimately need more inspiration. If the time has come for you to consider other hairstyles, you should consider sporting a male ponytail.
Here's a selection of some of the best ponytail styles for men, including all textures. Have a look at the ideas and choose the right one for you.
1. Dreadlock Hairstyle
The gallery begins with this large ponytail for dreadlocked hair. This is a classic style that is very popular among professional athletes. The best part about this style is that it emphasizes your dreadlocks without damaging them because the ponytail is tight enough.
2. Shaved Hair with a Ponytail
Following the classy ponytail's footsteps, we present this central ponytail on shaved or undercut hair. To achieve the same effect as the model, start from the hairline. To fix and tame unruly hairs, apply wax to the hair.
3. With Bandanas
A high ponytail is ideal for gentlemen with thick, straight hair. Allow your hair to fall freely to add a punk element to the updo. Finally, embellish the look with bandanas or scarves.
4. Braided Ponytail
At the start of the new year, the famous apple ponytail of K-pop idols is here to stay. It features a super high ponytail that is perfect for medium-length braided hair. The idea is to leave the apple's high stem to create a modern and playful look. Try making two ponytails from the braids as in the image. Both the looks are equally flattering, believe us!
5. Long Straight Hair in a Half ponytail
This half-ponytail with a knot is ideal for men with extremely long hair. It looks best on straight hair and is achieved by gathering most of it in a half ponytail. Depending on your preference, tie the knot or leave the tail loose.
6. Loose Waves and a Ponytail
The famous bunny tail ponytail is ideal for medium hair. This ponytail emphasizes your hair's natural waves while exuding a modern and trendy vibe. Use a rubber band the same colour as your hair to add a personal touch.
7. Messy Ponytail
If you like messy hairstyles, this loose ponytail is perfect for straight or flat hair. The hairstyle's appeal stems from its dishevelled appearance, which includes a loose strand and an incomplete ponytail. Just don't let all of your hair down when wrapping the elastic band to achieve the desired effect.
8. Hairstyles with Curly Tails
Gather your curls into a centre-of-the-head ponytail, as shown on our model. This style is straightforward and provides a very uncomplicated appearance. It is appropriate for the gym, the office, or a romantic date.
9. The Wet Look
This look will look great if your hair is shorter. Apply hair wax or gel to your hair and pull it back. Try not to scrunch or stick it up too much at the top; the volume at the top is much more flattering than having all your hair stuck up.
You'll look great for special occasions.
10. Collected Braided Ponytail
The braid is a popular hairstyle for both men and women. We recommend a root braid from the crown of the head or one without it and then a ponytail of all the loose hair. A classic braid will also look great if you need more crafty, as shown in the picture—a desired look for all those men with long hair.
11. A Low Ponytail
We're not going to overlook the classic, the low ponytail. But this time, we're going to wax the front hair to keep our little hairs in place. A middle parting can be left open or pinned back. The ponytail will then be secured at the nape of the neck with a thin rubber band.
It is a more sophisticated and elegant hairstyle than the ponytail you previously wore.
12. A High Ponytail
This style of ponytail is lovely. Fill in the top of the head with volume and tie it off at the bottom, covering the backcombing with the front strands.
With an elastic band, gather all of the hair in the middle of the head above the nape of the neck, leaving the volume at the top.
You will have a perfect, fashionable ponytail that will complete your look.
13. With Bobby Pins
Ever seen a man with bobby pins or colorful brooch? Well, it has become a trend these days. As shown above, tie your hair into a tight ponytail and add some bobby pins. Make a French braid at the centre to give it a cool look.
14. Braids into a Ponytail
Braids for men are also popular; we have root braids, reverse braids mixed with other braids (Viking style), and braids in loose hair. This Viking-style ponytail is famous nowadays as it ties all your hair into a long twisted ponytail with dreadlocks over your head.
15. Half High Ponytail
Another celebrity hairstyle is the half ponytail (if you wear it polished and tight, it also causes the same anti-ageing effect as the previous one). Pull the top part of your hair into a ponytail to achieve it. The rest of your hair can be worn straight like your idol, with waves, or completely curly; this hairstyle is suitable for all hair types!
16. Bubble Ponytail
The bubble ponytail has quickly become one of the most popular hairstyles, and we adore it because it is so much fun. I'm sure you already know how to do it: pull your hair into a ponytail and use rubber bands to complete the length of your mane. It takes less than 5 minutes and produces excellent results.
17. Ancient Style Ponytail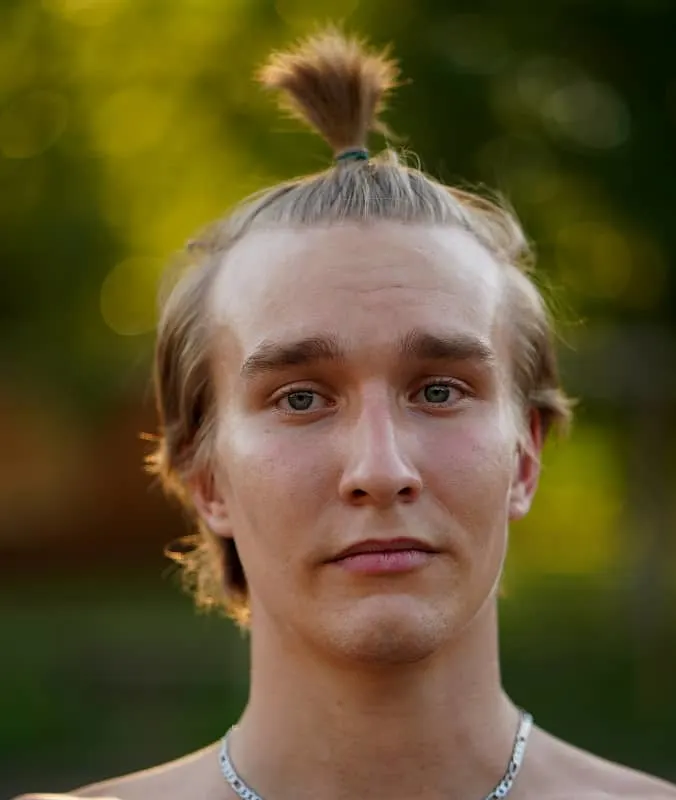 Sometimes the most basic solution is the most effective. Nothing beats a classic ponytail for keeping your hair in place. You can try on different types to see which one feels the most comfortable and looks the best on you. One on top, at the crown of your head, and one on the bottom, at the nape of your neck. It is entirely up to you.
18. Using Beads
Try some root braids at the crown of your head and adorn them with funky colourful beads and ribbons if you wish to. Now, tie them together into a single high pony. Ready!
19. Side Ponytail
A casual ponytail to the side is all you need to try! Tie a simple chic voluminous ponytail to either side, and you can continue your gym. A perfect casual approach.
20. Sporty Two Ponytails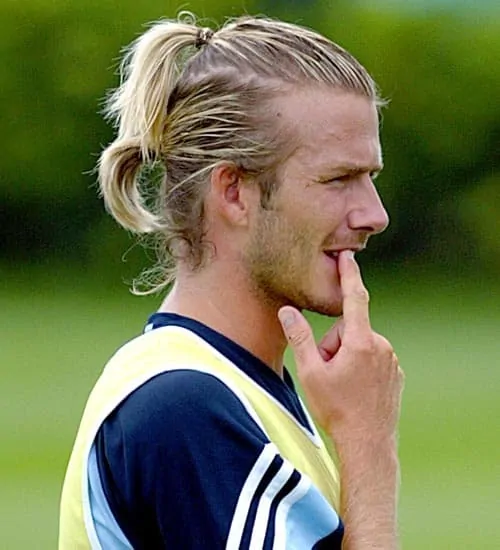 We all want to look sporty and stylish one day. There is no way around it. Here's one such sporty male short ponytail look that's both stylish and edgy. What better pony style to try if you want something low-maintenance but still want to try a pony? Men are natural sports fans, and this look can entice them with its bold and stylish appearance. Tie two ponytails above each other, and you're ready for your game!
21. Men's Ponytail Japanese
The most popular ponytail style among Japanese men is presented here. It is well-liked in many circles, and the Japanese are well-known for flaunting their healthy and thick hair. So, why would you pass up this opportunity if you have thick hair? You will be satisfied if you try this casual style. Men who prefer a smooth appearance and long hair may prefer this style. Twisted braids and braids at the sides make this a unique and classy hairstyle.
Other Articles