Braided quince hairstyles are one of the most valid options for making your look stand out in 2023, but don't worry; even if you love this style, if you look at updos and half updos that are emphasized with a beautiful quince crown or headdress, you won't know which idea to go for. Let's check out the hairstyle trends for quinceanera.
1. A low-maintenance updo with crossed braids
A low updo is created by crossing and twisting two side braids. This could sum up this look, which also includes a subtle volume at the crown of the head to balance out the rest of the hair.
2. Braided strands with crown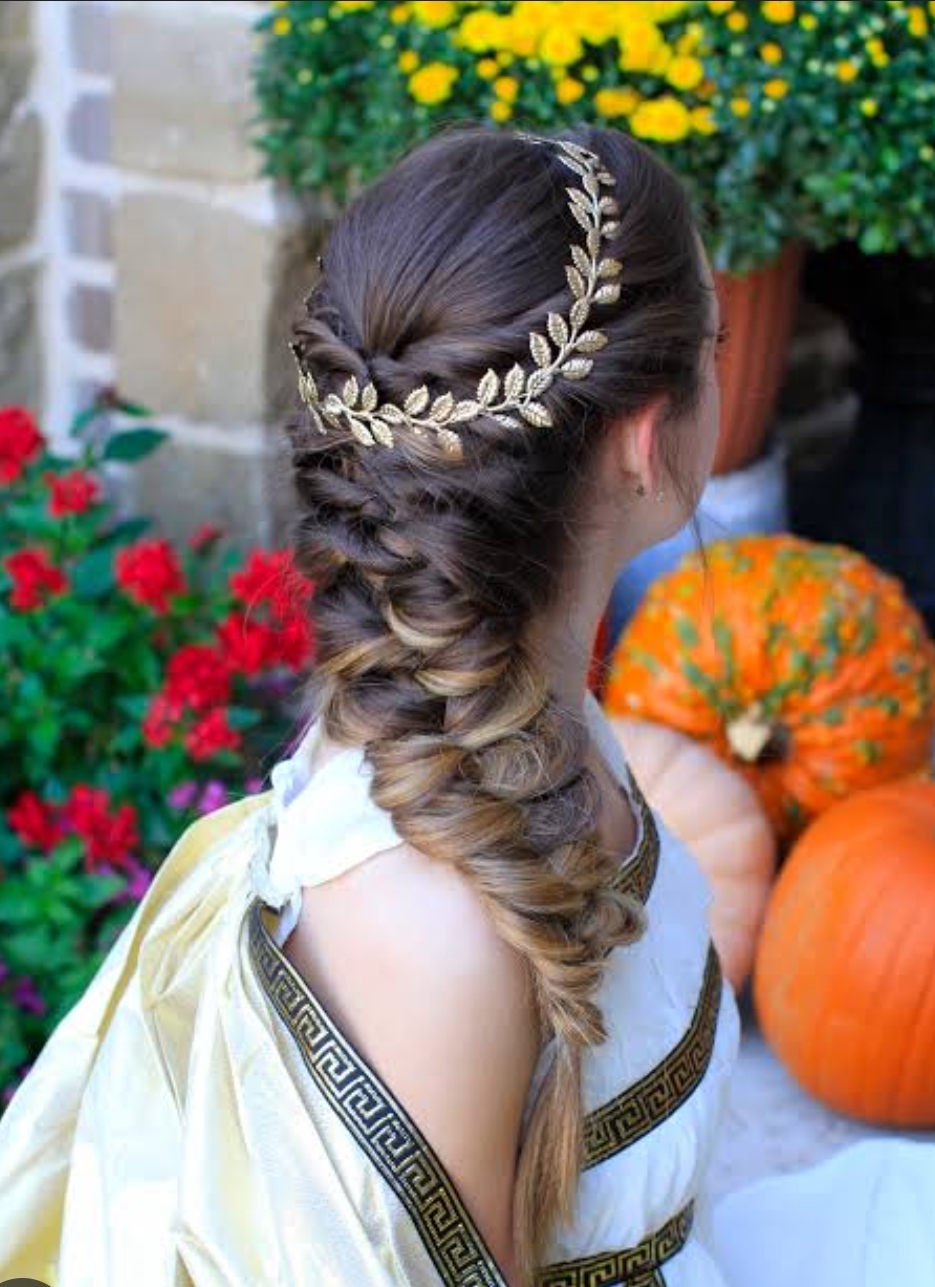 This will sound strange, but here it goes: boho braids braided together or simply a wide single boho braid. To form a single braid, loose braids are woven together. The twists on top add texture to the hairstyle and complete the look of the intricate updo. And finally, add a beautiful tiara of your choice and you're absolutely ready.
3. Pearl-encrusted updo
Because of the curly hair as a base, this updo has a distinct personality. And thanks to the pearl tiara that run through the structure and aid in carefully holding the crossed curly strands.
4. Appliqué and ponytail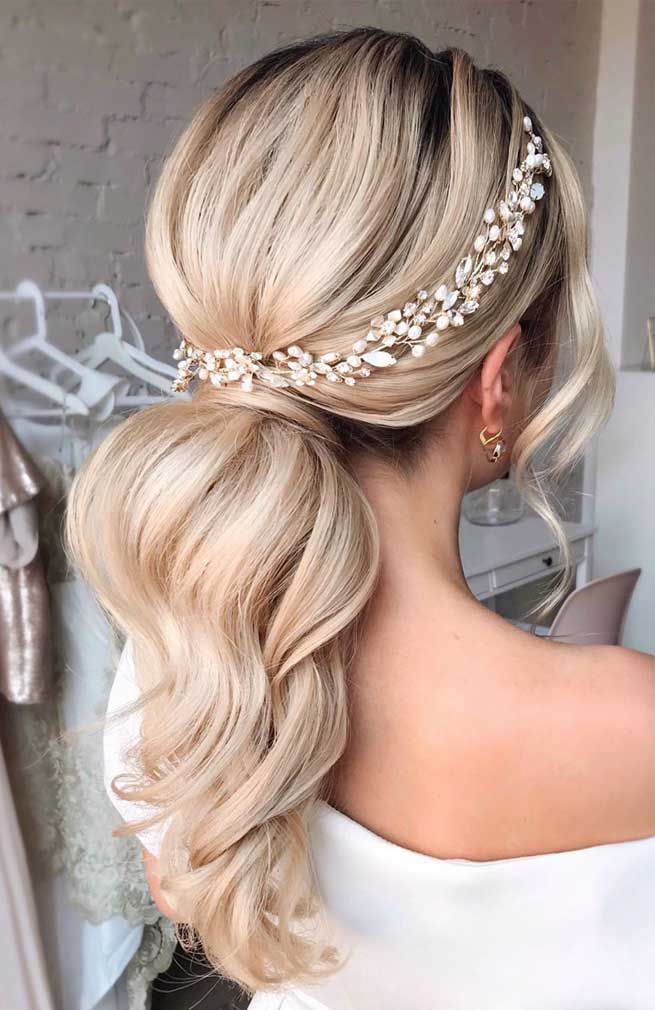 No matter how high and well-executed, Ponytails are an excellent choice for quince hairstyles. It has a sixties vibe with some volume and a short middle parting. A rhinestone tiara, such as the one shown, or a similar accessory, adds a festive touch.
5. Braided crown with a fishtail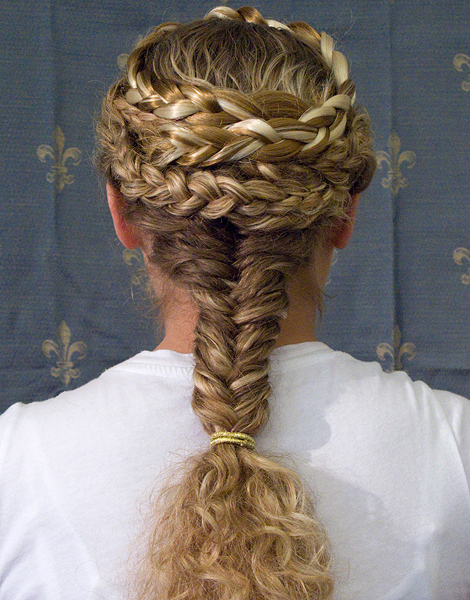 Any look can be transformed into a quinceanera hairstyle if you start with healthy, shiny, well-styled hair. These twists are no different. You can add a modern touch by styling half of your hair crowning over the head with a clip or buckle. And the rest of your hair should be tied into a fishtail at the back as shown in the image.
6. French updo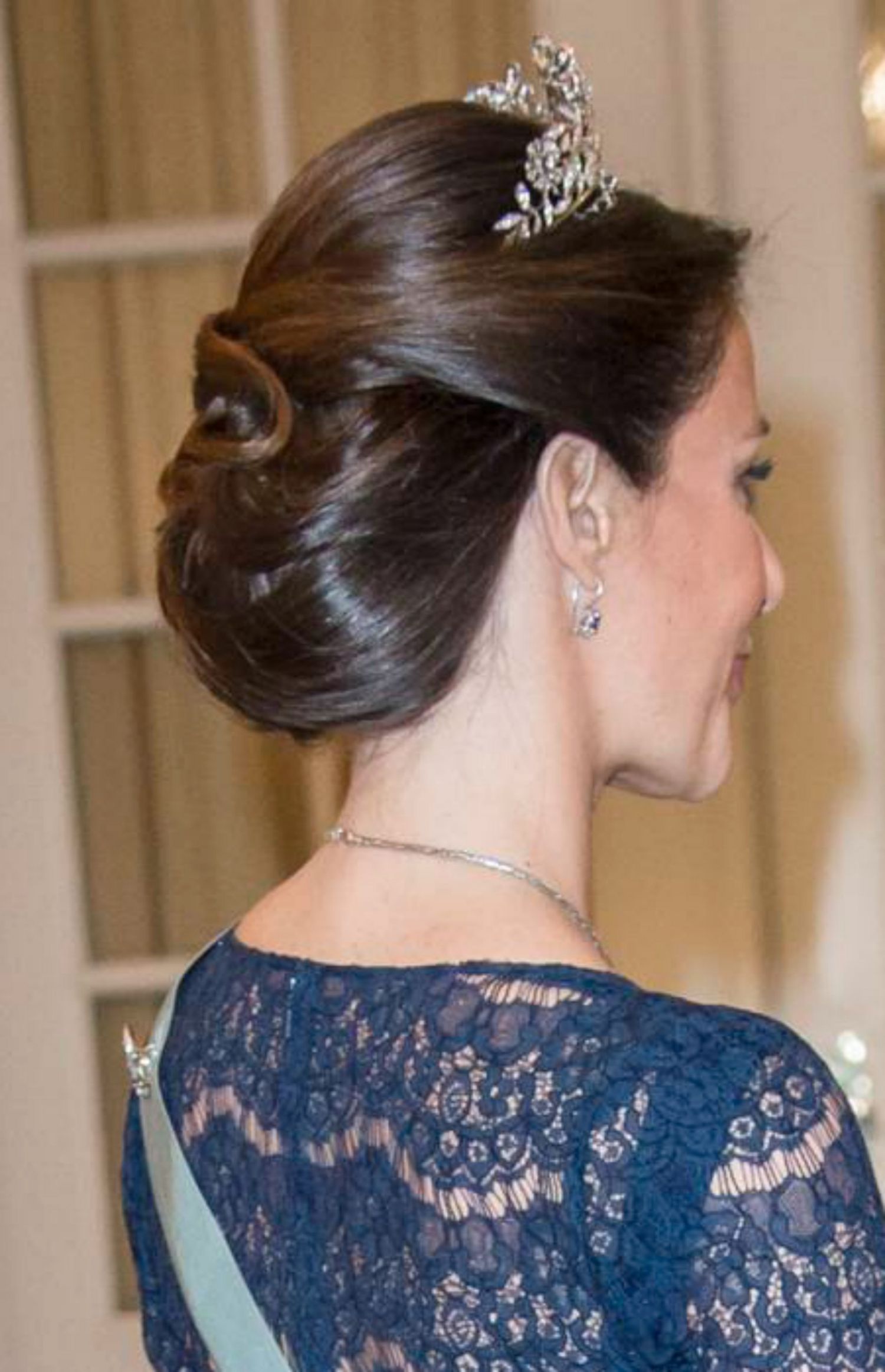 A timeless and classic updo that works for both short and long hair. This is the French twist hairstyle with the wrap-around effect. It can be made in a vertical line or a different direction, with more or less volume on top and with or without an accessory.
7. Side low braided updo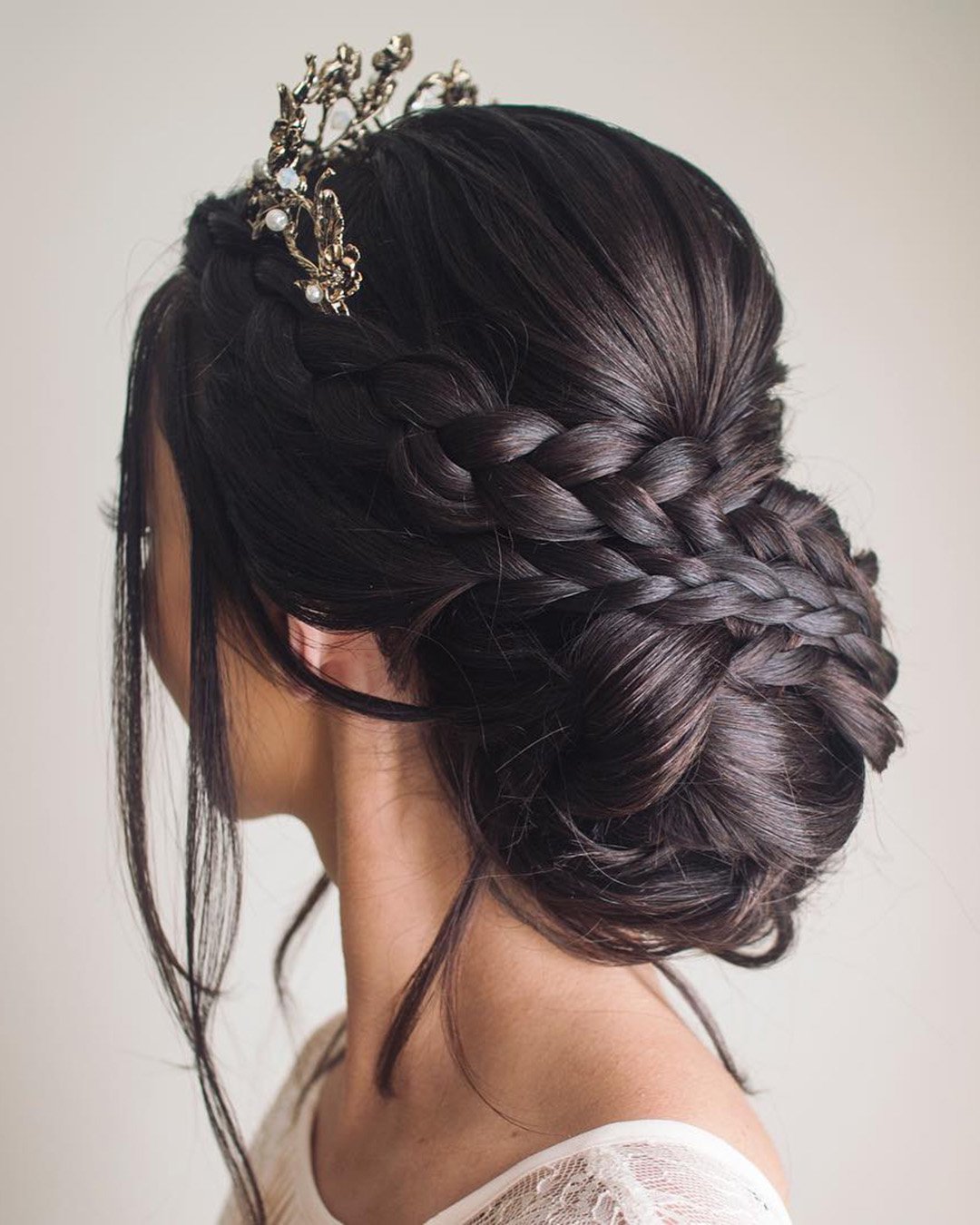 The Dutch braids that follow the hairline and work their way over the low updo make this chignon stand out. The volume at the crown of the head and the broad, loose strands at the front lend a vintage feel to the look.
8. Tiara and loose hair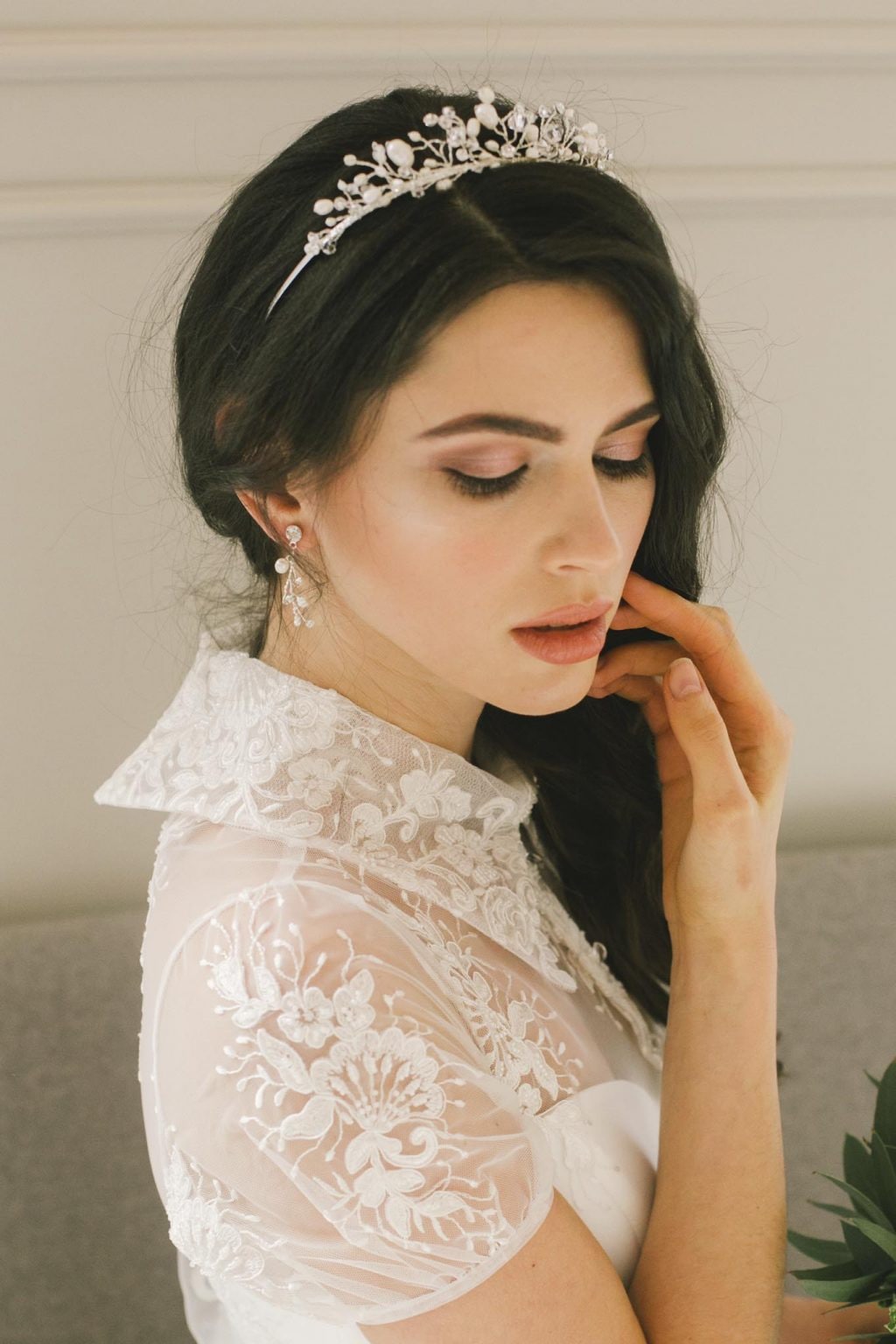 Another simple option that works just as well as the other quince hairstyles we've seen. The combination of loose hair and a tiara is unbeatable. You can wear it with a middle or side part, straight hair, curls or waves, and hair of any length.
9. Updo with a twist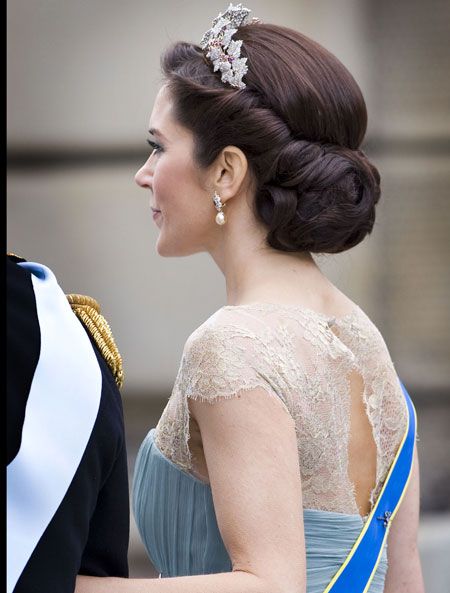 This updo was created by twisting on themselves several ponytails, one underneath the other. For a better finish, the last one's end was twisted inwards. The finishing touch? Some tiny natural flowers are arranged haphazardly.
10. A half-updo with a tiara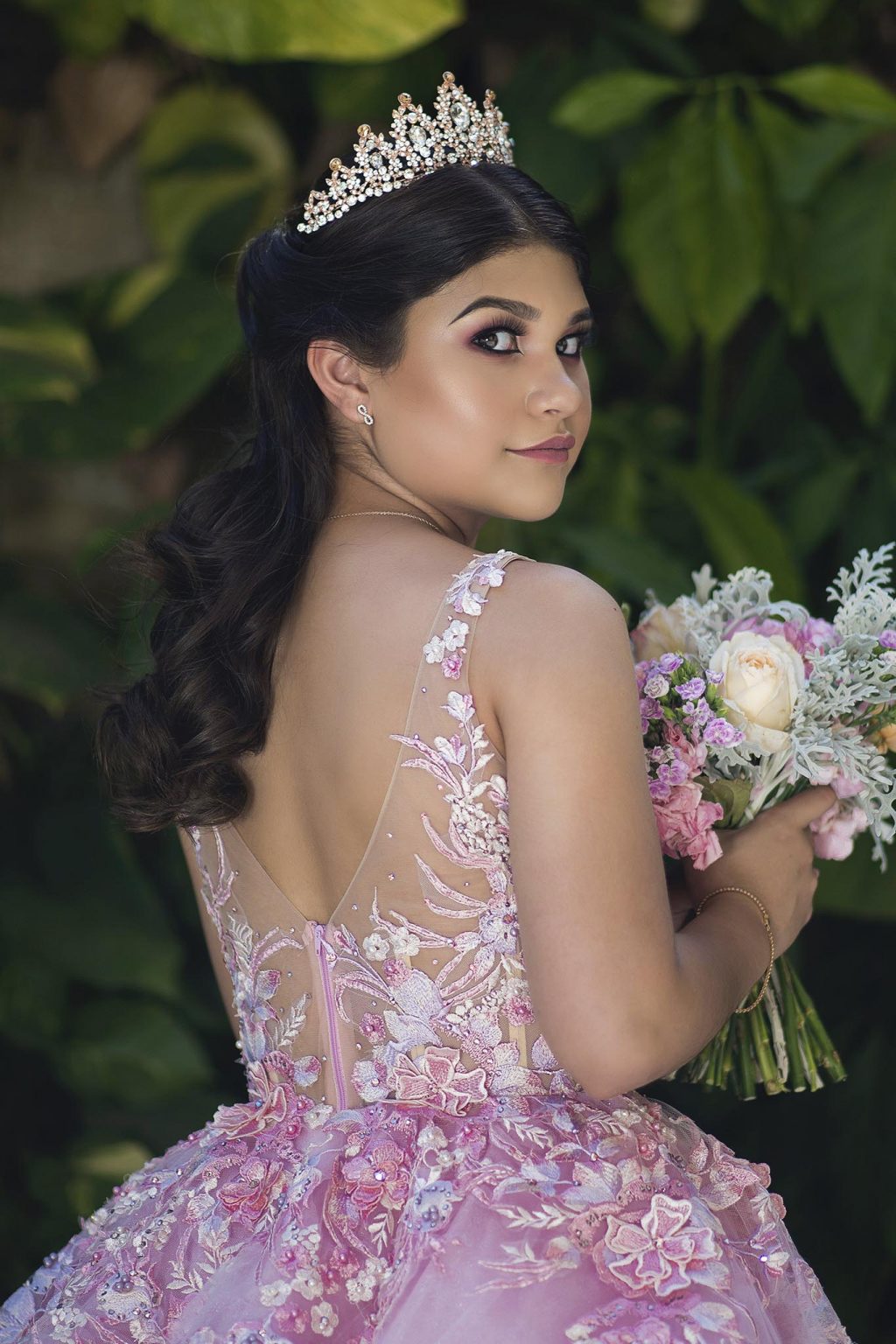 What would a Quinceaera hairstyle be without tiaras and crowns? These are necessary accessories. There are tiaras with rhinestones, crystals, flowers, and many other embellishments. They give the hairstyle, presence, and a lot of light. A simple half-updo with a middle parting was used in this case.
11. Braided knots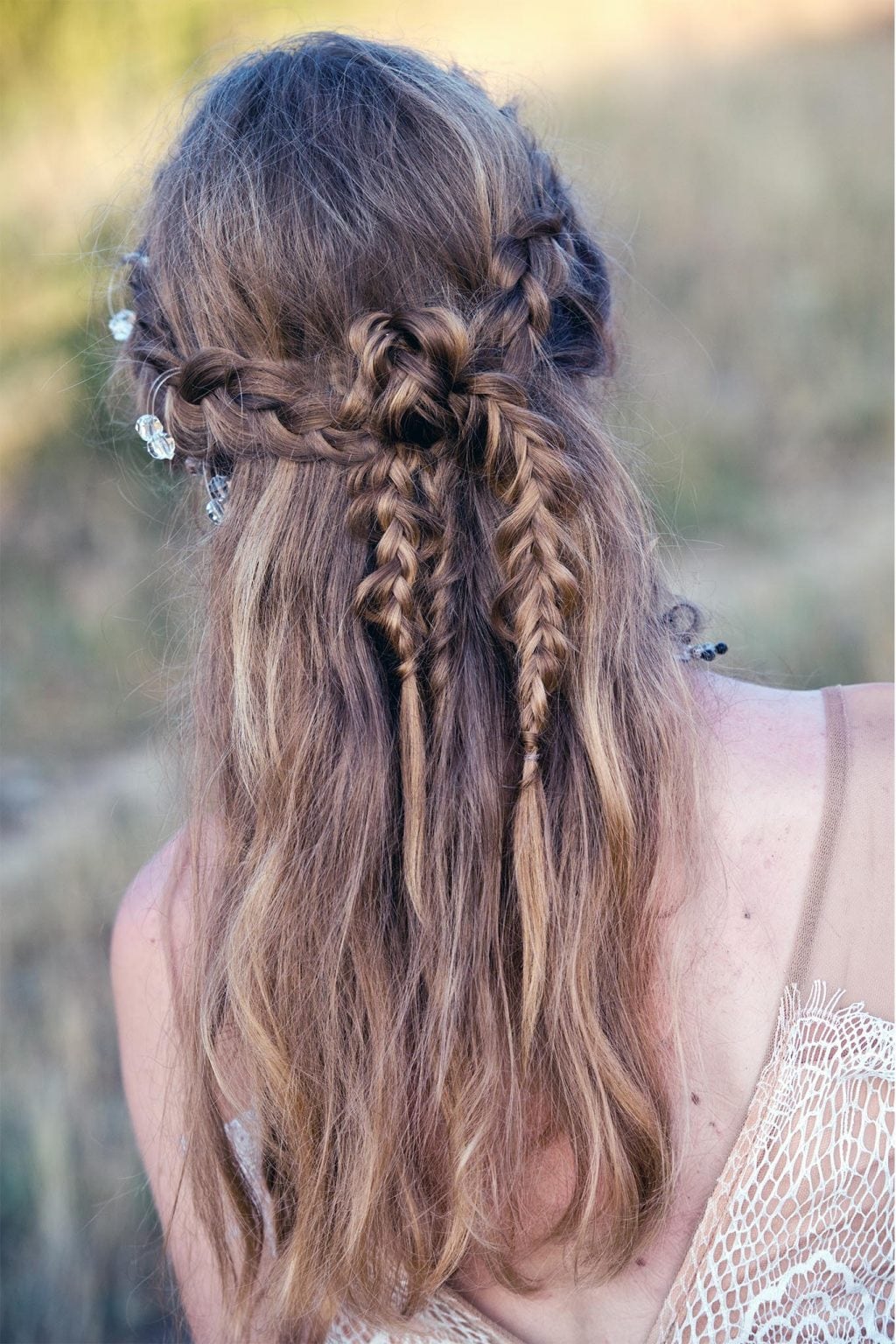 This hairstyle is built on two side braids knotted at the back and will appeal to the most bohemian of people. A third braid is woven below the knot to complete the look, and transparent beads are added. What is the secret? To achieve this effect, gently pull the braids' sides.
12. Braided half-updo
This hairstyle begins with a half-tail that is intertwined with two side braids. On top of that, delicate tiara is arranged in a manner reminiscent of Greek hairstyles.
13. Twisted half-up hairstyle
The hair is long and messy for this look. It also features a half-updo and a stunning tiara. This is a stunning hairstyle that will dazzle everyone. It is ideal for anyone who desires to go casual with tiara. You can achieve the same look with shorter hair and any tiara.Try twisting the sides of your crown or into braids and tie them at back. A simple and elegant look.
14. Curls in a half-updo
Do you like tiara hairstyles? If so, this concept is ideal for you. We have a long mane with lovely curls here. A small section of hair is pulled back, and the hairstyle is completed with an elegant tiara. It's a lovely and stylish look ideal for your Quinceanera celebrations.
15. Elegant braided crown
Want to avoid putting on a glitzy crown? Why not try a braided one instead? This hairstyle has a beautiful braided crown and loose curls in the front. As you can see, it's a lovely updo ideal for a party. You can recreate it or add embellishments such as spirals. There are numerous tutorials available on the Internet that will show you how to achieve a similar hairstyle.
16. Princess hairstyle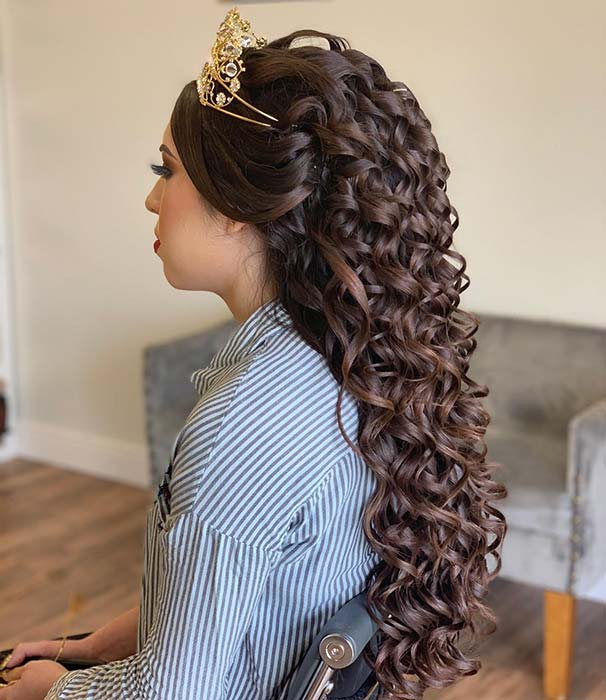 The next hairstyle is ideal for a princess. We have very long and curly hair here. It is completed with a lovely tiara. This is a stunning hairstyle that will suit anyone. You can use hair extensions to achieve this look and any tiara.
17. Tiara-encrusted messy updo
Following that, we have a chic and elegant hairstyle. The hair is styled in a low, curly updo with the volume on the crown. The hair is topped with a shiny accessory and has loose curls in the front. It's a lovely idea and another vintage-inspired hairstyle.
18. Floral accessories for an updo
This hairstyle is ideal if you want a unique and stylish look. An updo with a side braid is shown here. The hairstyle includes a headband and a beautiful floral accessory. We adore accessories because they set apart a hairstyle from the crowd. Any hairstyle can be accessorized.
19. Crown with middle-parting loose waves
Do you enjoy wearing headbands? Then this is the idea for you. This hairstyle has simple and lovely curls with a gleaming and regal crown. It's a stunning hairstyle that's ideal for such a special occasion. This look can be achieved with any tiara. This hairstyle also works well with curly hair of any length. Middle part your hair and you're ready.
20. Quinceanera Hairstyle for Long Hair
A Quinceanera hairstyle with a crown will leave an impression on any guest. If you have a standout dress, keep your hair long and straight. You want to appear to be a princess, not a clown.
21. Quinceanera hairstyle with a puffy crown
A ladylike quince hairstyle is something you will undoubtedly desire. Make a high, voluminous bun and adorn your head with a crown. Everyone must understand that you are the center of attention and that the event revolves entirely around you.
22. Quinceanera Chignon on One Side
If you want a Mexican quinceanera hairstyle, this is the best example. Make a sizeable one-sided bun with curly hair and a headband-shaped tiara in the center of your head.
23. Quinceanera Short Hairstyle
You are a diamond, and you must shine brightly at your party. A short quince hairstyle with waves will have everyone admiring you. Wear a silver crown in your hair and accessorize with a necklace and earrings.
24. Flower crown chignon
A low braided bun will give your hair a lot of volumes. Place a small flower crown on your head for a beautiful, simple, and practical look. A pair of pearl earrings will give you an elegant look.
25. Beehive style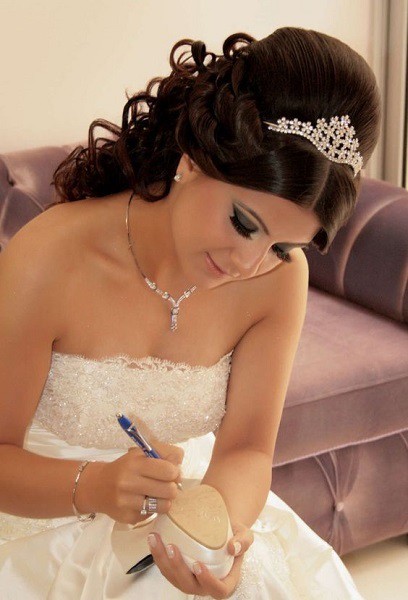 Some girls may believe that retro hairstyles should be abandoned, but the most stylish divas understand that no hairstyle is genuinely outdated. Consider making a beehive on top of your head and letting the rest of your curly hair fall down your back.
Other Articles