Every year, there is an abundance of witches travelling from parties to trick-or-treating during the Halloween season. Playing dress-up as a witch during fall festivities is one of the most popular costumes, presumably because of the ease with which it can be put up. Here are some simple Halloween makeup ideas.
1. Classic Witch Makeup
The three main aspects of the witch makeup look are a neutral face base, dead lips, and smokey eyes! Remember to complete the look with a witch hat and broom.
2. Hocus Pocus Witch
These makeup styles and the best Hocus Pocus Halloween costumes honour everyone's favourite sister-witch trio.
3. Ursula Sea Witch Makeup
Add this giant Little Mermaid character to your witch outfits with purple, blue, and silver accents and solid red lipstick.
4. Silver Witch Makeup
This style requires a long silver-toned grey wig, a black witch hat, and perfect makeup with deep purple lipstick!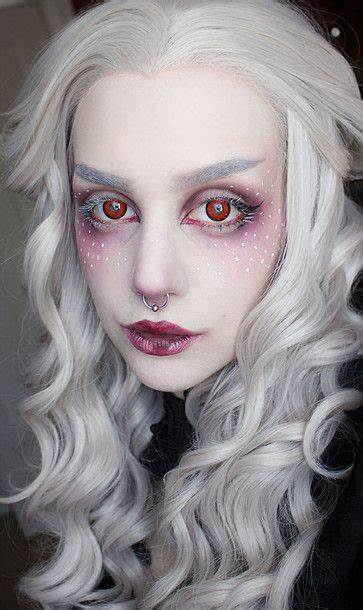 5. Sabrina the Teenage Witch Makeup
The magical costume pays homage to everyone's favorite young witch. Shoulder-length dishevelled golden hair, a dark headband, incredible matte makeup, and dark red lipstick create a stunning appearance! A vintage-inspired crimson dress completes this lovely outfit.
6. Green Highlight Witch
Use green accents instead of a green face for a more striking Wicked Witch of the West.
7. Haunted House Witch Makeup
This excellent spooky house scene face paint is complex. Black silhouette artwork on an orange and gold background makes a spectacular Halloween night look.
8. Glam Green Witch Makeup
We adore the added touches to this evil witch look, such as the extra long eyelashes, rosy cheeks, and black dots. Remember to apply matching makeup on your hands and neck.
9. Green and Purple Potion Witch Makeup
Cast a spell with this one-of-a-kind hair-makeup combination: purple potion neck art and wavy purple hair. Violet eyes and berry lips add a feminine touch.
10. Glinda
People are looking forward to seeing Ariana Grande as Glinda in the upcoming Wicked movie, so they have to try on this costume. Simply get a few essential beauty items, such as a pink-toned eye shadow pallet, a light-pink lip gloss, and a slew of sticky rhinestones. And if you're committed, wear a long, pink gown and wave a wand around. After all, you're a decent witch. Ariana Grande Tattoos are also something that you should check out.
11. Maleficent
Maleficent's cheekbones, on the other hand! You'll need all of your contour kits for this look, as well as the ability to contour so you can sculpt some chiselled features befitting the evil witch.
12. Scarlet Witch
If you saw WandaVision this year, channel the superhero with this red-hair Halloween costume and quick Halloween makeup look that's genuinely as easy as it gets. Apply little eye makeup and red lipstick, and you're ready to combat crime.
13. Morticia
Morticia's long dark hair and flowing black outfit make her appear witchy, yet she's just a human who loves gothic things and the occult, which may explain the misperception. People often dress as her in witch costumes. Morticia gets psychic glimpses like her daughter Wednesday. Their ancestors were psychics and witches.
14. Glittery Purple Witch Makeup
Create an out-of-this-world look by creating a shimmering full-face look with purple and silver tones and glittering highlights.
15. Colourful Witch
Fun, rainbow hues and glitter! Transform traditional witch makeup from terrifying to charming in an instant.
16. Spider Eye witch
Draw a curving line with a spider dangling from it with a fine-tip black liquid eyeliner. Make multiples for a terrifying effect.
17. Green Witch
The two colours of green combined and highlighting the "wrinkles" around the eyes and mouth give this witch face character.
18. Green Witch Red Lips
This witch makeup has a smooth, sculpted effect that is topped off with bright red lips for a sensual touch.
19. Cresent Moon Witch
Moon is a potent source of energy in the magic world. This makeup includes a crescent moon on the forehead to make you look like the Luna witch.
20. The Good Witch
Do you want to go dark this Halloween? Choose a bronzed smokey eye with an abundance of warm blush and some face glitter. Finish the delicate appearance with a lovely pink lipstick appropriate for a witch. Witches are alright.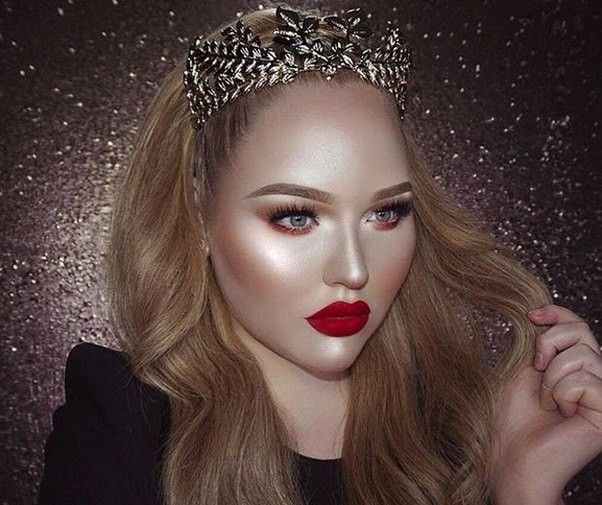 21. Purple Witch Makeup
Though this is a look that requires a lot of purple face paint, it is one that you can achieve with only a little inexpensive cosmetics. Apply the purple base coat with a makeup sponge first, then swipe on the yellow eyelids, add a winged liner, and brighten cheeks with a beautiful peachy blush. Complete the outfit with Halloween-themed body stickers.
22. Witch Batty
Make a witchy winged liner by shaping it into the silhouette of a bat. It's not as complicated as it appears—it's an enlarged cat eye. Extra points for putting little bats on your lips.
23. Witch in Black and Orange
To begin, powder the entire face to give the skin a creepier, washed-out appearance. Then, to reproduce this incredibly stylish effect, use the evergreen Halloween colour combination of black and orange. The pale skin, combined with the deep, smokey eye, defined brows, and bold lips, is ideal for a modern witch with a trace of evil.
24. Red Blood Witch
Beginners can achieve a unique look without much effort by replacing black liner with a blood-red hue in a winged shape. Add a matching red lip and call it a day to finish the look.
25. Sugar Skull Witch
For a somewhat different look, pair one of the holiday's most famous motifs—the sugar skull—with your witch costume. Pick three colors—for example, white, black, and teal or pink—paint the face white, colour in deep black eye sockets, and then add a few colorful embellishments. Sure, some precision is required, but the result is spectacular.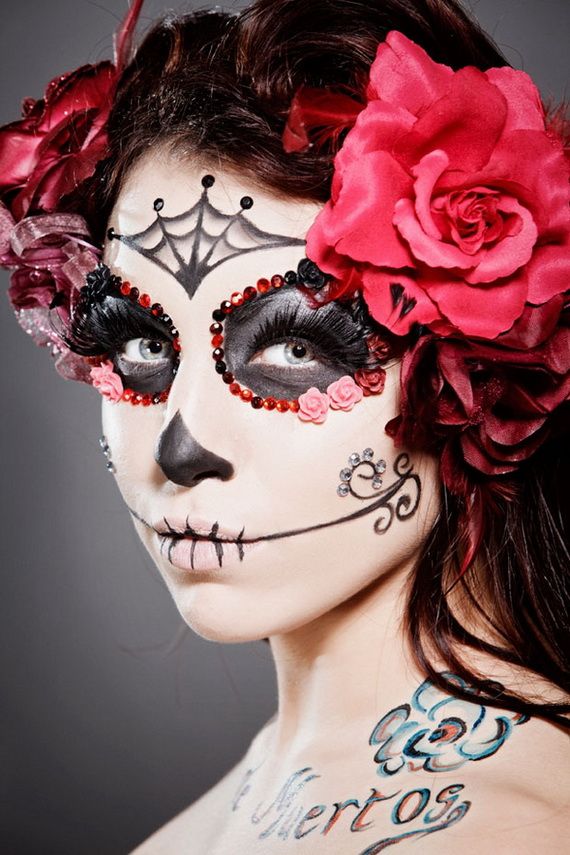 26. The Aged Witch
Even the most optimistic can instantly be transformed into an old haggard witch with some good shading and adding a few warts and moles. Make sure your palette is well-stocked with nudes and browns—you'll need these colours for shading.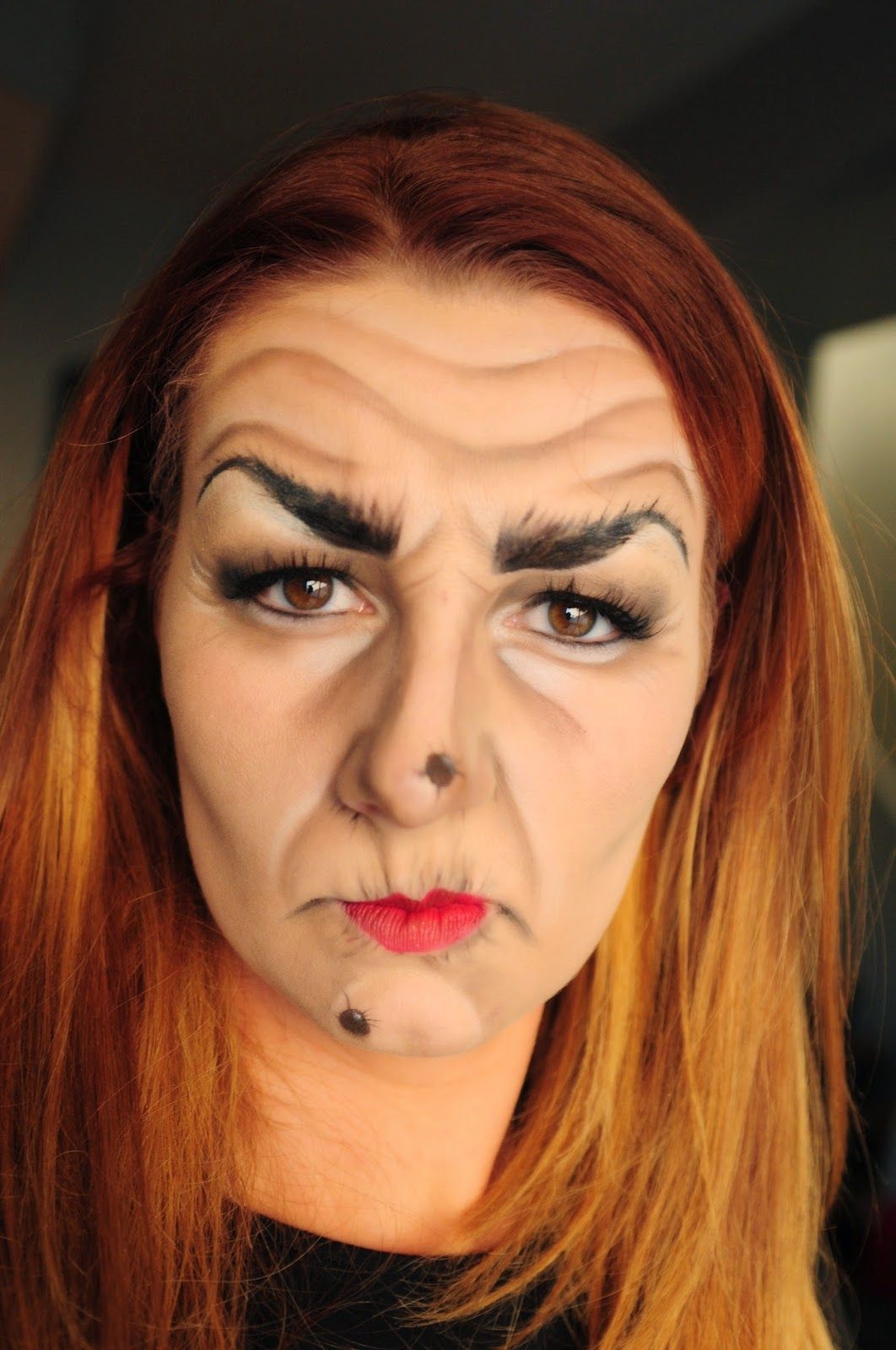 27. The Rainbow Witch
Who says witches have to wear all black? This colourful design adds a little cheer to any good witch's outfit and is also an excellent alternative for kids. It's also relatively easy to duplicate. Choose a rainbow palette, swipe on the grading colors, and finish with fine gold glitter to make things sparkle.
28. Hermoine
She is the best witch of her age in the Harry Potter universe. She is also straightforward to dress up as, including her makeup. Keep it minimal with that frizzy brown hair.
29. Third Eye Witch
Witches are known for their mysterious abilities, which inspired our following concept. This witch's makeup is all black, including black lipstick and black eye makeup. The look is completed with a third eye. A third eye is thought to be all about psychic skills, higher wisdom, and other things. We adore this one-of-a-kind and fantastic concept. You can copy this or choose another third-eye design. There are numerous tutorials available online.
30. Witch Makeup for Magical Illusions
Next, we have another illusion idea that appears to have been generated by magic! The makeup artist produced green melting makeup. This design is looks fantastic! This type of makeup will require expertise and patience, but the results will be stunning.
Other Articles