Hair in two tone colors looks incredibly beautiful. Such way of coloring the hair offers the users amazing way of styling the mane. We all are born with a typical color of hair; but, the idea of coloring hair in two tones gives us the freedom to break the shackles of limitations posed by nature. You actually can come over the shortcomings of hair by giving it different shades and look interesting. Two tone hair is easy to maintain, does not require frequent visits to salon and looks great too.
So, here we bring you the best two tone hair color ideas that you can fiddle with while thinking of giving your hair that much needed makeover.
Best two-tone hair color ideas for sunny days
Summer is round the corner and you definitely are going to spend more time outdoors. How about preparing your hair for the fun? Colors like loads of orange matched with spicy tomato, light ginger, coppery shades are finest reflections of the bright sun around. You are sure to chirp up the scene as soon as you step out to sunny outdoors with such shades on the head.
Awesome combination for brown hair
If you are proud owner of a coffee colored mane, or need something extra to go with your natural brown flicks, you can try caramel and honey combination. This style of coloring adds exuberance to your personality and makes your facial features more charming than ever. Also, the roughness of hair is easily subsided with this funky combination that never goes overboard.
Effective way to cheer up graying hair
Hair going grey is not a thing of remorse anymore, In fact, you can use this opportunity to add more colors to the mane and beautify it in different taste. The best combination you can try is a mix of coppery highlights and dark brown lower streaks. This look is ideal even for the office styling and does not accentuate your hair features excessively.
Black hair can also be colored – try these!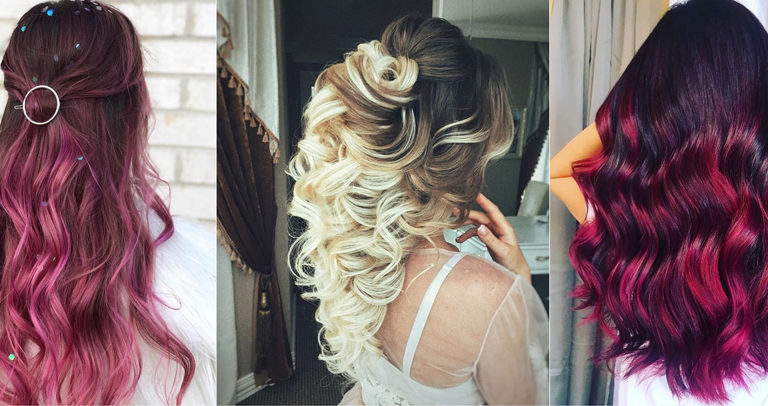 Dark black hair need not stay boring, this is actually true! Beating the notion that black does not go well with any other color is possible with the use of very funky colors. For example, bring in the shades of bright pink, sea green, purple highlights – one at a time or in combination of two or more. The hair will get funkier look and the black color will never come in your way of looking fashionable. Give your bohemian color of hair a stylish twist with such colors and see for yourself how these bring more life to your everyday styling.
Two tone hair color ideas serve the purpose of making the hair look fuller. These ideas also create a positive effect on the face and accentuate the facial features in a very tasteful manner. Thus, by choosing two tone color ideas for hair, you actually are serving three purposes in one go – a. you are redoing your appearance beautifully, b. making your hair look fuller and bouncier and c. achieving a different style for your hair. So, discover the new you – that person that is worth 'dye'-ing for!
Other Articles