It has always been a great way to have tattoos bearing numerals as they signify some specialty or mystery related to it. The popular Roman numeral tattoos with an excellent presentation of catchy fonts and the 3D effect is all one wants to add more charm to their personality. Roman numerals have been considered as the sign of love and signify the good old memories that one wants to be always reminded of. They're exciting and have an extraordinary look. Roman numerals appear mystic, unlike the simple numbers. They're undeniable and attractive, and so people tend to have Roman numeral tattoos.
One may get a roman numeral tattoo which may be a birth date, wedding date, birth date of some loved one or any other special event of life. Romanian numeral tattoos are in fashion nowadays. It has been noticed that many celebrities do have Roman numerals tattoos on their bodies too. Some of them are Justin Bieber, David Beckham and more.
The Roman numeral tattoos designs can be carved in different sizes, fonts, and colors. They're simple to print. These tattoo designs are vulnerable and may include symbols such as dragons, animals, patterns and other whirling designs.
Roman numerals tattoo designs
One may get inked on different body parts depending on their comfort and the designs they've in mind. Some of the ideas have been listed below, just have a look at them.
1. Roman numerals on fingers
One can get a tattoo done on fingers bearing Roman numerals such as number one written on the first finger. Roman numerals have a flowery look, and so they add prettiness to the fingers.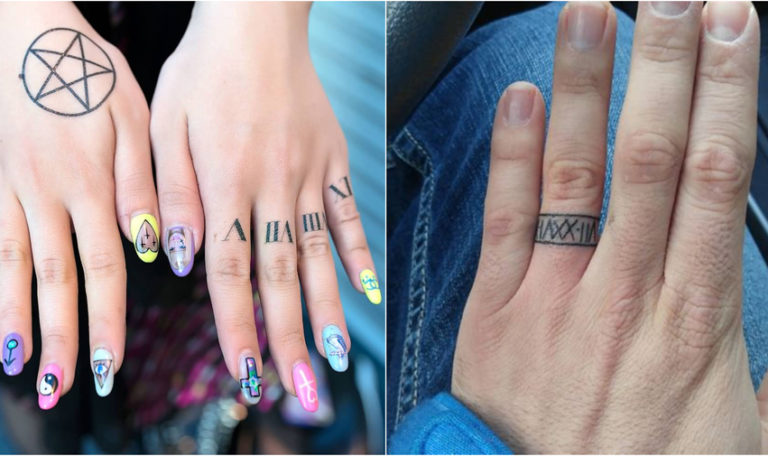 2. Cat scratching roman numerals tattoos
This tattoo seems fascinating as the Roman numerals have been written on the back and it is generally XXIV. The tattoo is being said so as when a cat is drawn below these numerals with its legs, it appears as if the cat has scratched it. It is one of the best and classic roman numeral tattoo design.
3. An infinity symbol
The infinity symbol seems like an 8. One can have a tattoo such that the Roman numerals are written forming a shape of infinity, and they have a special meaning to them due to which they're special. It can also be modified to an abstinence symbol which is used against HIV/AIDS.
4. Wedding date with Roman Numerals
It's a special roman numeral tattoo design which both the partners get drawn on their chest as a symbol of their love. They preserve that special date and the memory cherishing the togetherness and their vows. It also has a heart that signifies the love by having it on the chest along with the wedding date in Roman numerals.
5. An Anniversary date on the wrist
One may get a tattoo of their anniversary date on their wrist in Roman numerals to make it unique and show its importance. It is like a constant reminder of the bond that two people share. It is precious and yet simply a wonderful tattoo design.
6. A Roman Clock Tattoo design
Most of the clocks are designed with Roman numerals as they look magnificent. Some people do get a tattoo of a Roman clock on their backs or the chest. It gives an elegant look though it is a simple one and a flower is drawn into the center of the clock.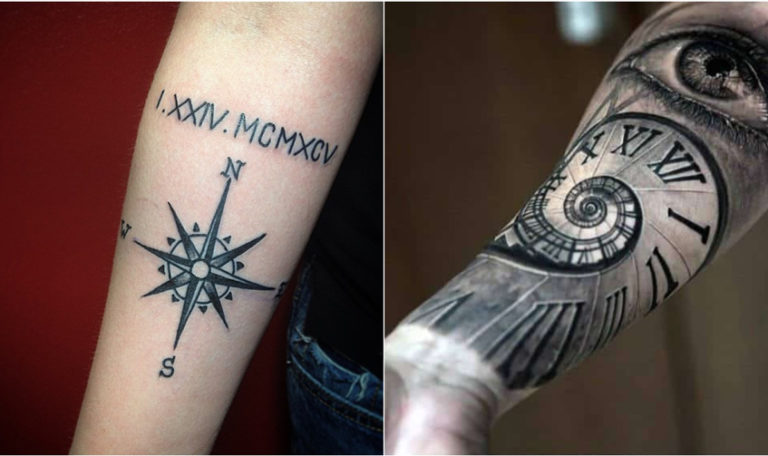 7. Roman numeral tattoo on the back
One may get a Roman numeral tattoo on their back. It can be any numeral one may want to have. Having a tattoo on the back is quite good as it allows more space and the tattoo can be drawn finely. Some have an ideal Roman numeral tattoo and so having it drawn on the back is a feasible option.
8. Traditional lions head design
One may have a traditional lions head design tattoo on their back with the Roman numerals and several clock gears spinning around. It is a clear mix of two different styles.
9. A rose design
One can have a rose design Roman numeral tattoo with the numerals on the foreground. These numerals encircle the rose, and if appropriately seen, one can notice the two clock hands coming out from the middle of the rose.
Try out these amazing classic Roman numerals tattoos and define yourself most uniquely and impressively.
Other Articles