Does every new Zayn Malik haircut enthrall you?
If you like One Direction's music, you've probably noticed one of the band's members with stunning hairstyles. Yes, we are talking about Zayn Malik, and you might be surprised at what other looks he has in store for you. It's not just you who admires him; many others also admire him and would like to learn something from this fashion icon.
Here are 48 of his best hairstyles and haircuts that will catch your eye and make you wish your hairstylist would treat you to a look like this.
1. Short Hair Spiky
Let's begin with one of its popular hairstyles of Zayn, the one with spiky one. If you have short hair, try this short spiked-up hairstyle to make you feel lighter and relaxed.
2. The Messy Spiky with Waves
Well, do you want to try spikes with some twist? Here's the other one with a messy look. Take your favorite gel and create a messy or zig-zag look without setting them up.
3. Faded Sides with Short Hair
Another hairstyle option for Zayn's fans with short hair. Why don't you try this gelled-up look with faded sides? Ask your hairstylist to give you a faded look and style your hair similarly to Zayn Malik's.
4. Undercut Puffed-up Men's Ponytail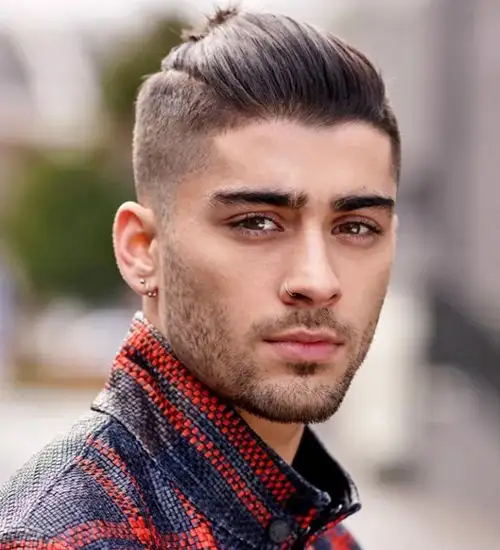 Do you love undercut hairstyles? This option is definitely for you to try. Opt for an undercut like Zayn's and create a slicked-back puffy ponytail at the back. This look is favorable for men with diamond-shaped faces.
5. Zayn Malik's Longer and Dirty Spiky
What do we mean by dirty spiked-up? Are you intrigued enough? Zayn's look with this dirty shade of black with blonde is what we are talking about. It doesn't look like its name suggests; instead, it helps you achieve a longer spiky cool look.
6. Short Hair Gelled-up with a Side-part
Look at him; isn't he adorable in this short hair gelled-up hairstyle? All you need to achieve this hairstyle is some dedication and gel. Apply it to your hair and part it to either side, disorderly.
7. The Quiff Hairstyle
Did you think about the quiff hairstyle? Here it is. Take your hair to the back using a boar brush and set them accordingly. This hairstyle is popular among men for a reason. Please have a look and give it a try!
8. Two-Toned Wavy-up with Fringe
What do we want to convey when we say two-toned? Yes, we are talking about the blonde and black color shades. Take your hair for a wavy look and give it a two-toned (any two contrasting colors) touch like your fashion icon Malik's.
9. Shaved Sides with a Messy-up Hairstyle
Another hairstyle idea with a messy look. This time, shave your head from both sides and let the top of your hair long. Now using your fingers mess them up for a casual look.
10. Undercut with Hair to the Side
Time for a side-swept hairstyle. Indeed this undercut hairstyle looks impressive with Zayn Malik's fashion sense. Wear your long hair from the top to the side and show off your undercut.
11. Long Hair Swept to the Side
Impressed by the previous one but don't have an undercut? Worry not cause we have another superb option for you. Zayn Malik's side-swept look without shaved sides. Apply hairspray to the hair as you sweep them to the side for a party look.
12. Shaved Sides with Raised-up Hair at the Top
Till now, you have got the secret that Zayn's most-seen hairstyles are ones with "shaved sides." So, this time, be ready to show off your long top hair by raising it disorderly using a gel. It indeed provides a rockstar look.
13. Messy Bangs with Full Beard
An option for Zayn Malik's fans who have a full beard with long hair. Yes, this hairstyle with messy or shaggy bangs is a cute one—a perfect choice for your summer bath at the beach or while surfing.
14. Messy Quiff with Longer at the Back
Quiffs are only sometimes connected to formal hairstyles. You heard it right; this fabulous hairstyle includes messy quiffed-up hair with more extended tips at the back, as shown in the above image. You can now wear it casually.
15. Long Waves with Side Undercut
A good choice for wavy-hair owners, If your hair is long enough to be gelled up into a toupee style. Here, Zayn Malik got a way of wearing it. If you love highlights, it would be perfect for you with that undercut.
16. Sleek Top-bun with an Undercut
If you're looking for men's bun hairstyles, your wait is over here. Tie a bun onto your sleek-backed hair with a rubber band on that butch cut. Again, a suitable hair gel will do the magic.
17. Faded Sides with Ocean Waves
Earlier, we have already talked about Zayn's two-toned hair. This time we have brought you a styling tip. Curl your hair up or into ocean waves—an excellent hairstyle for men with a longer top and faded sides.
18. Unruly Pompadour Hairstyle
Zayn Malik wore this hairstyle for most of his early fame. Similar to the quiff hairstyle, this doesn't include a rolled-up back; instead, it has a flat surface at the top with raised length. Achieve this hairstyle with the help of your fingers and comb.
19. Open-book Hairstyle
No, we are not talking about an actual book; instead, this hairstyle would turn your hair into an open book. Part your hair from the center and ask your barber to give you a bowl cut with faded sides like Zayn in this photo.
20. Mono-tone Fire Looking Waves
Look at the above image carefully! Were you able to observe the fire-like waves at the top? Even if you don't have fiery-colored hair, this will look the same as Zayn has wearing it. Quite different and admirable from the spiked-up hairstyle.
21. Pastel Pink Waves
Now, we will discuss some attractive highlighted hairstyles of Zayn Malik, starting with the pastel-pink tone. Who said pink is a color of women? Color half lengths of your long hair at the top with black root color. Now, style them in whatever way you want.
22. Highlighted Butch Cut
You can highlight all of your hair in a pastel tone as well. And even if you wish to achieve a short butch cut, we have gathered some fantastic styling options. Adore your short pastel-pink-colored hair this summer.
23. The Bushy Spikes
Bush on your hair? It may sound funny, but it looks eye-catching once applied to your hair. Another highlighted color option (any contrasting colors) and applying a hair gel raise them for a dry and rough look. It truly has a gangster look.
24. The Comb-over Hairstyle
Consider a comb-over hairstyle if you have black or brunette-colored hair, whether short or long. This hairstyle needs a little oily touch on the tips and combs them back for an elegant look and well-maintained hair.
25. Long Yellow-colored Tips
Yellow highlights are not trendy, but Zayn knows how to create his trend. Color your long hair yellow at the ends and achieve a carefree look. This hairstyle only needs a little attention as it would be the center of attraction around you.
26. Unshaved Mohawk Style
Mohawk hairstyles are not always about shaving your sides; you can now achieve it by gelling up your hair ends from the crown to the back of your head, as in the above example. Also, the pale side brows that join to the light beard make it noticeable.
27. The Peacock Trend
You might have come across the peacock-colored hair trend among women. This time, Malik has brought something different for you. Choose the green and blue tones and ask your hairstylist to give you the same appearance. The contrasting colors work at their best on natural black-colored hair.
28. Shaggy Hairstyle with Bangs
As their name suggests, shaggy hairstyles need long and messy hair. You're lucky if your hair is long enough to be styled at the front forming bangs. Achieve an admiring and carefree look with this option.
29. Combed-back with a Headband
A 90s hairstyle for men with mid-length hair, whether curly or straight. Choose a plastic band or the metal one, like Zayn is wearing here. Comb back your lengths with the help of this headband and wear it to your sporty events or gym training.
30. Slicked-back Hairstyle
The most-awaited hairstyle for parties and red-carpet moments is here. Celebrities wear this very often on their big day. Take hair gel onto your palm, slick back all your hair (short or long), and consider having a wet-look effect for better styling.
31. Hot-pink Highlights
Other than pastel pink, do you wish to try another pink tone? Zayn Malik is here to introduce us to this hot-pink hair color. What's interesting about this hair color is the long-lasting effect of such a contrasting black-pink shade.
32. Loose Ponytail with a Headband
Previously we talked about a headband for combing-back hair. Let us now create a low ponytail at the back with a headband accessory at the top. If you're a long-haired sportsman, don't hesitate to try this out.
33. The Natural Butch Cut
Consider having a butch cut for a light-head feel—natural hair colors such as brown, blonde or black look good with this haircut. You won't have to waste hours choosing a suitable hairstyle.
34. Mid-part Bangs with Long Hair
A retro look for long-hair owners. Take a fringe from each side of your hair and put them to the front. Mid-part your rest of the hair and comb them at the back—a casual and retro hairstyle from the 90s.
35. Short Mohawk Hairstyle
Why short hair, Mohawk? Because this hairstyle features short hair at the back while long hair at the front. Unlike the previous one, this is for the ones with an undercut or faded sides. Spike up all the hair (including the back), and you're done!
36. Icy Blonde Hair with Shaved Pattern
Our next highlighted hairstyle idea for today is "icy-blonde." As the same suggests, this hairstyle looks super cool on men with shaggy hair. For a unique hairstyle, try making a pattern to your shaved nape of the neck, such as lines, stars, or whatever you wish.
37. Double Ponytail
One hairstyle from ancient times to our modern men. Try making two ponytails vertically to the back of your head and tie them using rubber bands. This might sound strange, but this is the new trend out there. Look at Zayn Malik showing off his hairstyle publicly.
38. Messy-up with Bandanas
Already tried the previous hairstyles with metallic headbands? Why don't you have a look at the one with a scarf or bandanas? This is also a trend of the moment. Choose a matching or contrasting scarf and use it as a headband for a relaxed and rocking look.
39. Messy Hair with Green Tips
Swipe your curly hair to the sides and try having green-colored hair ends for a funky appearance. Shave the back of your head and the sides of the head, leaving the top longer. A few colored strands would look incredible on dark-colored hair.
40. Grey Highlighted Buzz Cut
To all the men who shall have grey hair one day, this hairstyle needs your attention. Color your hair tips grey with black root color. This is quite common nowadays to blend the grey hair strands due to aging.
41. Messy Bun Hairstyle
A casual men's updo hairstyle idea for you. Tie your hair into a low messy bun, letting the front fringes loose to achieve a glamorous look. This can be worn anywhere, whether at home, work or parties.
42. Long Hair with a Side-parting
An elegant long hairstyle with a side part. Comb your hair slightly to the side and at the back. You might have seen this hairstyle at celebrities' parties and workplaces. Wear it with a three-piece suit for an ever-lasting impression.
43. Mid-parted Quiff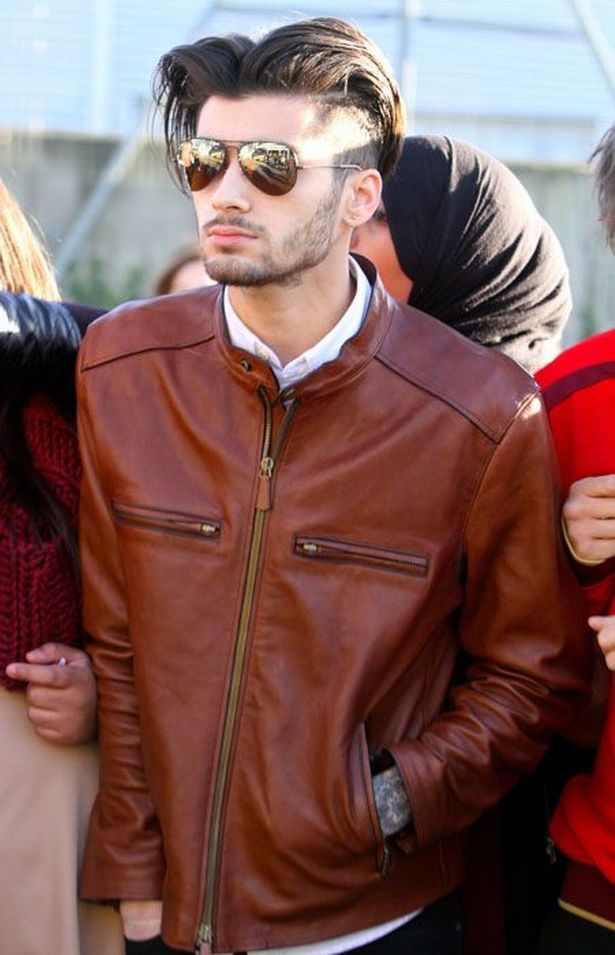 A heart-shaped hairstyle with a mid-part on shaved sides. Twist your front fringes to the back in a heart-shaped form and comb the rest of the hair to the back. Apply gel if it's too dry to handle.
44. Gelled-back with Loose Fringe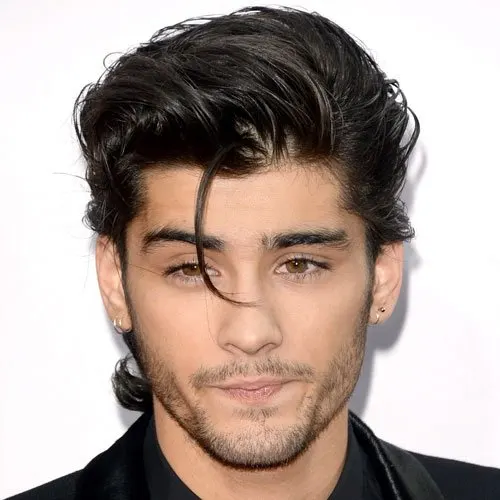 The most-sexiest look of Zayn Malik features this fringe at the front over his brows. It looks equally attractive whether you try it on highlighted hair or dark-natural tones. Use a small amount of hair gel to stick the hair at the back.
45. Long Curls to the Front
Curl your hair if you don't have it naturally, and then let them fall upon your forehead to create messy or curly bangs' look. It's ideal for professional or casual photoshoots.
46. Wet-look Hair with a Ponytail
Slick back your hair for a wet-look effect and form a ponytail at the back. Now, tie it with a hair accessory or men's brooch. Wear it to a formal function, ramp-walk, red carpet, or even casually.
47. Layered Hair with a Center Part
We have one for you if you have a long layered haircut and want a styling tip. Try a center part, show off your layers to the sides, and return to the previous era.
48. Dirty Blonde Look
And the last we have for today is one of the most admired looks of Zayn Malik. Look at his golden beard that matches his hair color. This gives an old-rich man's appearance and is equally admirable.
Other Articles