47 ways to style your crochet hairstyle. Here's how. Every black woman's natural hair journey ends when she's worn every ringlet, freedom 'fro, wash-and-go, press-and-roll, rod set, and blowout flat iron look there is, and she needs a break. Crochet braids come in handy here.
This innovative braided hairstyle, typically achieved by winding synthetic hair extensions through your natural hair with a crochet needle, is a simple and stylish way to sport a new and updated hairstyle while protecting your natural hair. Furthermore, with so many different hair textures, the styling options for crochet hair are genuinely limitless. So whether you want a long hairstyle or are in the mood to go short this time, there's always an excellent crochet style to consider. Here are our top picks for the best crochet hairstyles to try for your next trendy hairstyle, ranging from glamorous curls to chic updos.
1. All curls, half up, half down
The half up, half down curly crochet look a la Gabrielle Union is an easy and natural crochet hairstyle that looks great on all black women. Tie half of your hair using bobby pins or a rubber band.
2. Box braiding
Box braids are long-lasting and can help your natural hair grow out; however, if you choose a small size, like star Eva Marcille, they can take several hours to install. Install crochet box braids and braid the perimeter of your hair for a multi-crochet hairstyle to save time.
3. A ponytail with curls
A curly crochet ponytail is a quick and easy hairstyle that can be completed in less than an hour. Ideal for women who, like Issa Rae, are constantly on the go.
4. Curly bob
Skai Jackson, an actress, demonstrates how to achieve a professional look with a curly updo. Save your time with this crochet-inspired hairstyle that you can keep by simply trying into a high ponytail at night.
5. Crochet style with Bangs
Rihanna demonstrates how to create a multi-textured crochet look with cornrows and multiple braids crocheted into a ponytail.
6. Afro Bouffant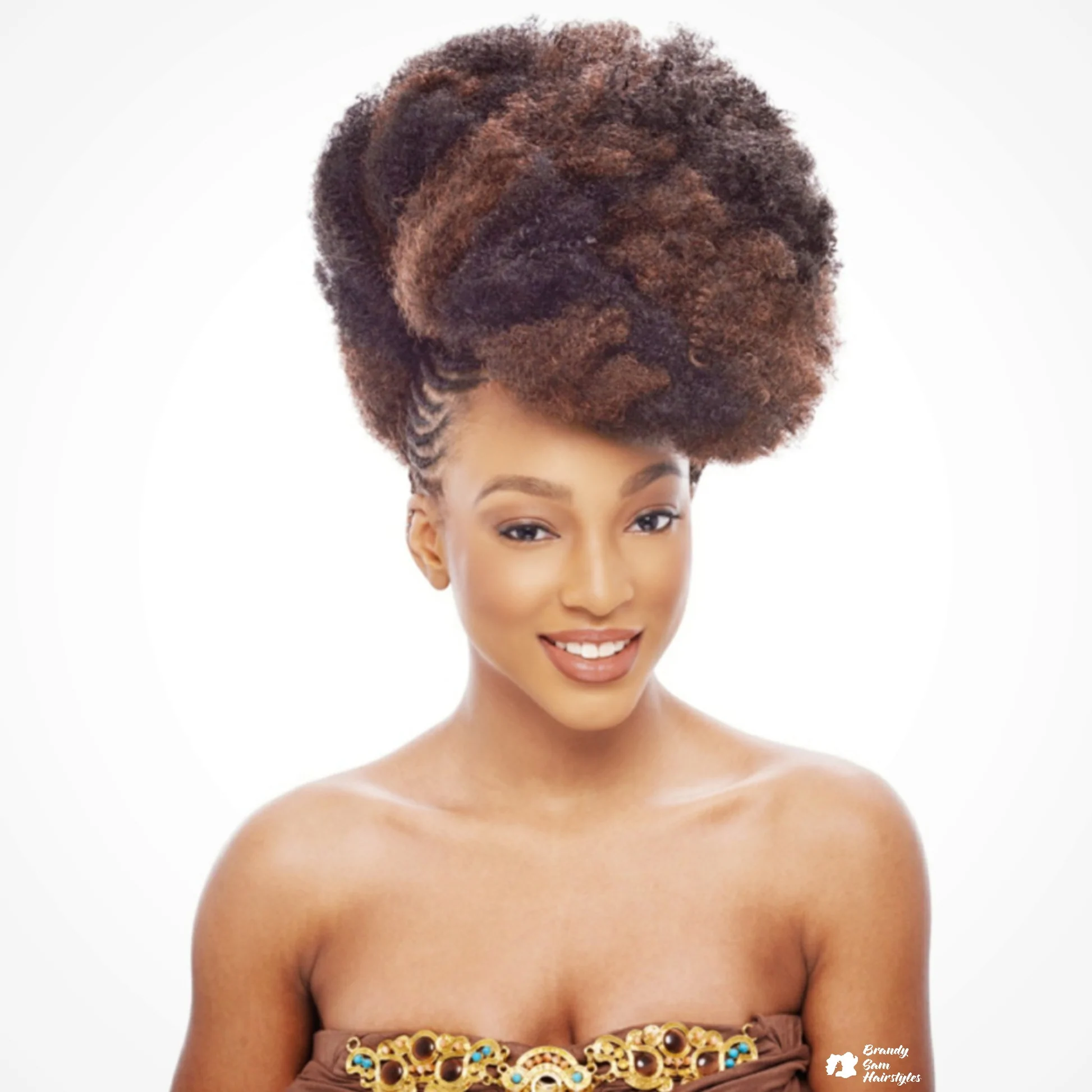 Try this crocheted afro bouffant for an easy-to-maintain updo. This looks stunning with an ombré brown ensemble. Try weaving cornrows to the side for a flattering look.
7. Braided top-knot
Steal actress Sanaa Lathan's look for a classic braided crochet style that will make you look effortlessly chic: stack a few tight braids in an elegant high knot on top of your head.
8. Loose curls
With these soft, beachy waves, Dani T's wavy, loose straight cut deviates from "classic" crochet braids. The pop of color will prepare you for the red carpet or the perfect selfie on your way to work.
9. Layered crochet braid
A romantic style that will make you look like you just got back from the beach. Tie your hair in cornrows at the crown and let the rest hair loose.
10. Crochet face-framing hairstyle
Taraji P. Henson's bronze twist-out adds more volume than her natural hair could achieve. You can try a long hairstyle and a bob hairstyle, as shown in the image.
11. Hairstyle with a side part
A light and seductive hairstyle. If you have hazel eyes, don't hesitate to show them off with golden and caramel tones.
12. The wavy sensation
Angela Bassett's popular crochet wig with loose curls is the ideal choice for enhancing hair volume and bringing out the glamour of the red carpet.
13. Beach curls that are loose
A boho look that is appropriate for a variety of occasions, from formal events to lunches with friends. This crochet hairstyle is adaptable and can be parted to the side of your choice for various fabulous hairstyles. You can wear your beach curls loose, ponytail, or a half-up, half-down style like hers.
14. Incredible Afro
Try a crochet curly afro to protect your natural hair without over-manipulating it. Many celebrities wear this voluminous protective hairstyle, as it is a great way to go big.
15. Pixie Cut
Tempted by the beauty of a pixie cut but afraid of a big cut? Crochet is the answer. Women go for a sporty look with this pixie cut with big, soft, stacked curls created with synthetic hair braids.
16. Full-bodied curls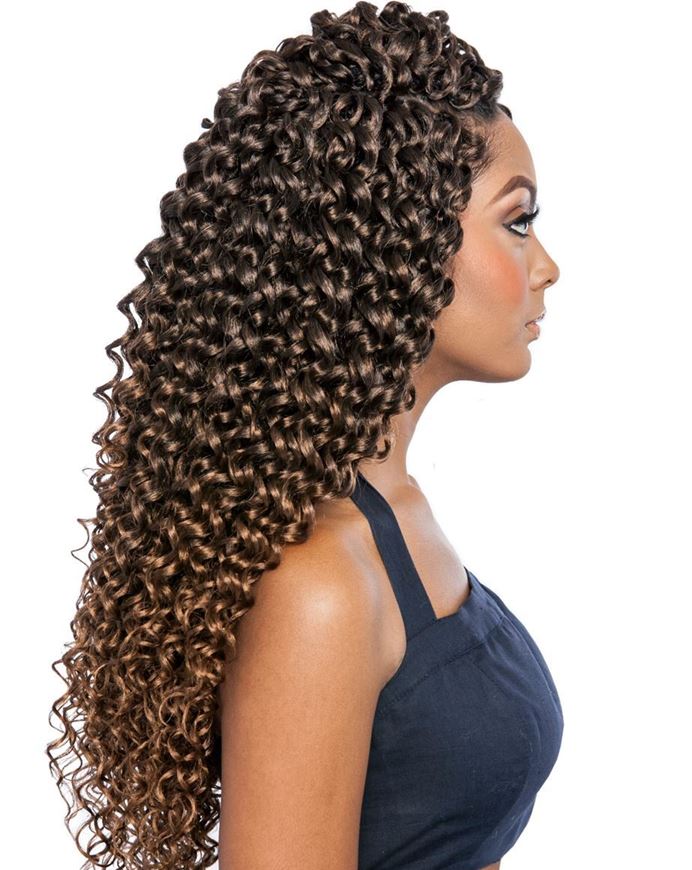 With this full-bodied style, aim for length and a tight, even curl. You can wear it down, up, or a little of both to create a variety of looks with this versatile cascade of curls.
17. Inverted crochet braids in short lengths
The beauty of a braided crochet hairstyle is that you can immediately get the perfect shape and length. Select the appropriate style for your face shape to look effortlessly fabulous.
18. Get a hair updo
Willow Smith, a singer, and presenter, dresses up her updo with locks, which I adore. She's been wearing this hairstyle since childhood—a fabulous and popular hairstyle on your way.
19. A hint of blonde
A variety of hair textures and colors? At this rate, you'll be calling yourself alter ego names with each new crochet look! Blonde is an eye-catching color, so why not try this?
20. Straight hair with a side part
A chic and traditional two-part straight hairstyle – the volume it adds is irresistible! You can also try a bun updo, ponytail, or accessorized hairstyle over this one.
21. Pixie with a lot of volumes
This light, bold, curly pixie will surely get you many compliments. Because it's a "leave-in" crochet braid, your natural hair will be completely protected from anything that gets in your way.
22. XXL faux crochet
Make an oversized look like actress Amandla Stenberg's by braiding three crochet braids and wrapping them in twisted hair for faux tresses look.
23. Red Bohemian crochet
This is an eye-catching hairstyle. The combination of colors and textures will be noticed. Captivating. Its unique feature is its Boho (half braids and half loose) style.
24. Semi-collected two-ponytails
Make two voluminous ponytails like Issa Rae's for an elegant, texture-filled look. All we have to do is collect the back hair with bobby pins for a semi-updo look.
25. Voluminous frizzy hair
As shown in the image of singer Jill Scott, who has the same whole and curly hairstyle as we are discussing. Ideal for family vacations. Every day, your hair will look great – and the same!
26. Asymmetrical bob
Asymmetrical hairstyles are a stylish way to update your short bob. We're obsessed with Kerry Washington's short hairstyle, which she achieved with straight crochet braids.
27. Salt and pepper crochet cut
We all love crochet styles with highlights, but how about something more sophisticated than gold tones? This layered bob features a contrasting black and white color scheme for a truly one-of-a-kind look.
28. Mambo Braids
Keke Palmer's mambo braids give us a big braid style without the hours spent in a salon. The Crochet style is a lighter option that won't pull and tug at your temples.
29. Crochet wig
Take inspiration from Simone Missick's crochet look. It's even more accessible than the braid method with synthetic hair attached to a braided crochet wig. You'll be glowing and as good as new in no time.
30. High Bun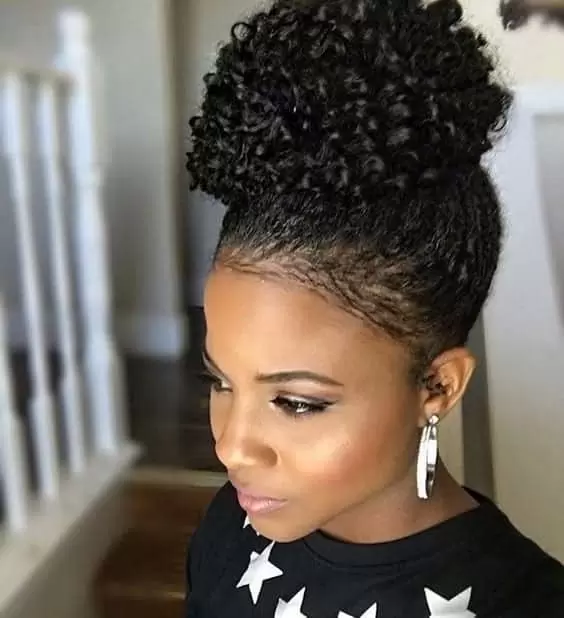 This professional and casual crochet hairstyle includes a fantastic natural-looking high bun. Try this for your next meeting.
31. High updo with cotton-candy crochet twists
Something you'd want to wear to a fun occasion. This updo with cotton-candy-colored locks is simple to style, and it looks great with accessories like sunglasses.
32. False high-braid
Crochet braids, like Issa's, can be completed in under two hours. Experimenting with new looks is great without committing to a long-term look. Try this mixed braided hairstyle.
33. Long ocean waves
Another lovely, natural-looking crochet hairstyle with a lovely curl pattern and root lift. Such elegant crochet hairstyles appear and feel polished while remaining casual.
34. Purple crochet
Were you bored of wearing the same hair color every day? Try this beautiful purple curls crochet. Your weekend getaway calls and demands that you wear this look.
35. Curly springs
As actress and writer Quinta Brunson did, take your crochet style to the next level by adding color and movement. Wear auburn crochet extensions and let the springy curls spring out from the back of your head to recreate her stunning look.
36. Half-up space buns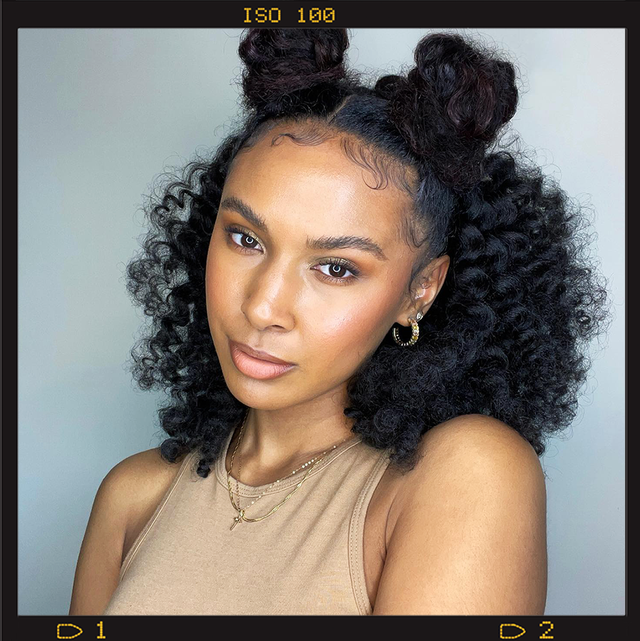 Turn heads with a curly crochet style into a half-up with two space buns. This hairstyle would give you an eye-pleasing and comfortable look.
37. Afro updo
Save hours attempting to stretch your curls into a glamorous 1970s-style afro. As celebrities often do, stick to a crochet updo curl style with an invisible parting.
38. Dual-colored braided top knot
Make a top knot with your dual-colored curly hair for an easy crochet look. Crocheting in a top knot adds volume, allowing you to go for an over-the-top look like the one in this photo.
39. Concentrated twists on the front
Push your high ponytail towards your forehead, allowing your loose curls to frame your face with a faux fringe style. You can also follow Rihanna's ombré updo, which is stunning.
40. Perfection in passion twists
Passion Twists have a natural, feminine appearance. Order a crochet hairstyle like actress Skai Jackson's instead of spending hours at the salon to save time.
41. Crochet braids for grey hair
This edgy and fabulous hairstyle will surely be a hit with ladies who love to rock their grey hair! Twist thick crochet braids and add some beautiful beads as well.
42. Twisted buns with loose hair
Alicia B. Gettys, an influencer and blogger, is well aware of the versatility of the crochet route. You can go with some long, twisted buns or mini-buns, look like she did here, and let the rest of the hair loose.
43. Crochet and cornrows
Felicia Leatherwood, a celebrity stylist specializing in natural hair, has been applying her #blackhairmagic to the stunning Issa Rae for years. Thanks to Leatherwood, Rae debuted a stunning half-up/half-down look with cornrows in front and festive crochet braids in the back.
44. Half crochet braid
Try a hairstyle with braids and defined waves if you want something different but still want to wear pretty curls. Add beads to adorn your hairstyle.
45. Twisted buns over the head
Relax your look with this over-the-head look featuring tiny buns with crochet twists. It looks like mini buns and is best for a summer look.
46. Crochet mermaid waves hairstyle
With the ends dipped in golden blonde, this adorable crochet hairstyle with auburn mermaid waves becomes much more enjoyable. This chic bohemian crochet style will keep its appeal from the office to a poolside party.
47. Cornrows with flat twists
If you have curly hair and are concerned about its texture, try flat braids and crochet like actress Keke Palmer. Flat braids will last for weeks, whereas crochet curls are simple to care for.
Other Articles