Finger tattoos are more happening solutions if you cannot afford precious rings to adorn your hands. These tattoos are small, simple and quite intriguing as these are developed on a story that reflects a lot about the person's mindset. So, listed here are 12 interesting finger tattoo designs that speak a lot as well as beautifully about the person you are and the message you send to the world.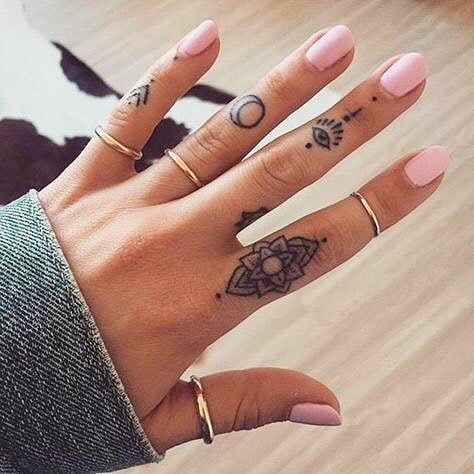 1. Woman with Snake Tattoo on Her Finger
This woman's thumb is adorned with a lovely splash of blue color. This small snake is more attractive than threatening, thanks to the use of the Watercolor style. Although the black lines on the snake's body show attention to detail, the overall design screams simplicity. Yes, it's a simple snake tattoo, but it's also very sophisticated.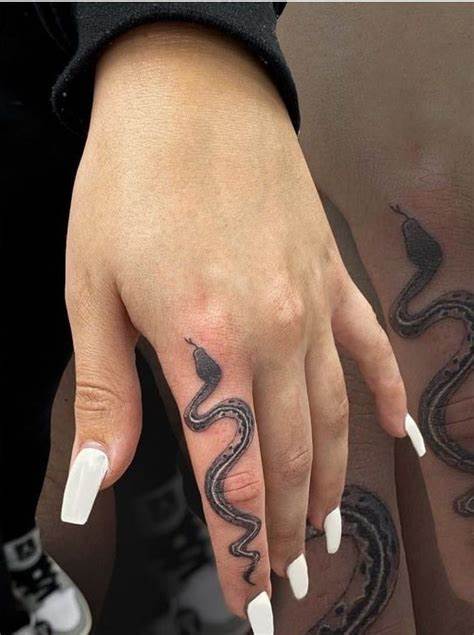 2. Tattoo of a Rainbow Ring Finger
This is a lovely tattoo. The majority of Line Work tattoos are colorless, with only black lines. Not in this case. The use of muted colors lends this painting a lightness and delicate sense. It's perfectly inked (look at those lines), and it looks like a piece of beautiful gold jewelry on the index finger, simply waiting for compliments.
3. Side Finger BE GOOD Tattoo
Another subtle tattoo that makes a big impression. The Text style is similar to graffiti, with one or two words. It's  words, suggests that the cosmos supports you on your spiritual journey if you are kind and good. May you flourish in the future.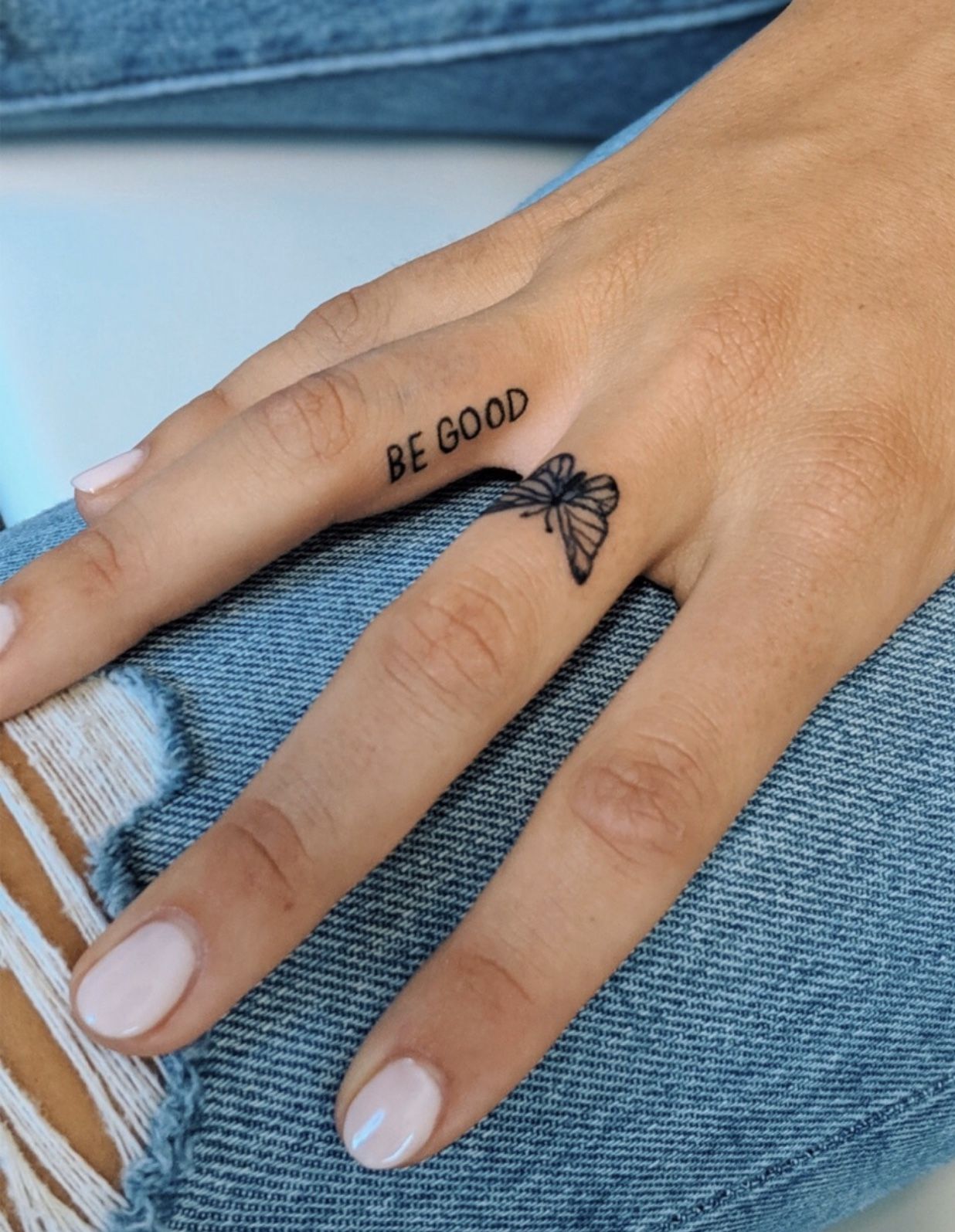 4. Finger Tattoo with a Minimal Wave
Does anyone else say "Waves"? This tattoo is Instagram-worthy. You can get an awesome minimal tattoo with just one continuous, tiny black line. It's not only beautiful but also intriguing. What does it imply? I'm not sure, but I'm guessing this person enjoys going to the beach. And I'm sure this small tattoo will spark a lot of conversation. It's a great method to meet new folks.
5. Thumb Tattoo with Skull and Crossbones
The Black and Gray style employs just black ink, which is subsequently diluted down to produce various hues of gray. From the skull to the bones, this little tattoo is a terrific demonstration of shading skills. The simplifying principle of the Minimal style, which is also employed here, argues for the inclusion of only essential design elements. Instead of adding more detail, the space surrounding and in between the skull and bones frames this design. The detailing in the skull is really out of this world.
6. Matching Black Line Finger Tattoos
These tattoos are a perfect illustration of the Line Work style. Nothing but thin lines, no color, 2D, and a simple minimum design can be found here. To me, the precisely straight lines that span the length of this couple's ring fingers are a modern twist on an old statement: wedding bands or simply commitment. Beautiful, strong, and unique.
7. Flower Finger Tattoos That Are Adorable
What a lovely way to beautify your hands (and brighten your day) with these adorable flower tattoos. A simple flower pattern is central, as is the case with Minimal style; no additional adornment is used. This style's purpose is to capture the object's essence, in this example, a flower: prettiness embodied.
8. Tattoo of a Black Lotus Flower on the Fingers and Hands
This is an excellent example of the Black Line style. Flowers, as seen here, are frequently the subject of choice and are rendered with only black ink. There is a lack of color, typically linked with floral-themed art. This lotus tattoo is absolute sophistication, from the expert shading of the petals and leaves to the beautifully flowing stems.
9. Woman with a Star Tattoo on Her Finger
This star shines without any extra decoration. Thin black lines construct a star on this woman's thumb in a delicate Fine Line style. It is short, sweet, and to the point, a lovely exclamation point to the decorative mani.
10. Finger Tattoos with Snowflakes
These snowflakes are inked in the Minimal Style on the inside of each middle finger. The design is detailed but simple, with free areas within and around each snowflake. A relaxing effect is generated by using two nearby hues (from the color wheel). A nice touch is the snowflake elegantly embellishing the woman's mani.
11. Tattoo of the Sunset on the Finger
Here's a fresh take on the Old School tattoo style, specifically its placement. This design employs strong black outlines and a limited color palette. Consider the traditional tattoos associated with sailors. This was nearly always on the arm or chest. This tattoo, on the other hand, is boldly inked on the finger. We have palm palms, the ocean, and a gorgeous sunset with expert detail. Is anyone up for a drink?
12. Finger Tattoo with a Minimal Flower and Vine
This ring finger tattoo looks like a little flower, and two branches have just fallen on your finger – and in the correct spots. Oh, how lovely. Even better, these two aren't going anywhere. The flower is beautifully inked in a Minimal style, with fine lines and a slight splash of color. This dreamy minimal design is enhanced by open spaces within the leaves and in between the petals. Exquisite.
13. Finger Tattoos with Rainbow Dots
Aren't the three small dots above each nail adorable? Dots in the Dotwork style are placed next to one another without ever touching. These little tattoos come to life thanks to the spacing and usage of diverse colors. Small in size but powerful in impact. They're fantastic!
14. Finger Tattoo of the Ace of Clubs
You may communicate a lot with just a few words or a symbol. This small Text style side finger tattoo certainly does. Text style can convey a message through the words used or the font used. This tattoo is both feminine and daring. The ace of clubs is a symbol for persons who are not aromantic but are asexual. When you want the whole world to know, sometimes a tattoo is the best way to convey it.
15. Tattoo of a Lion on the Finger
Perhaps you didn't consider it, but your finger could be the ideal location for a lion's depiction. At least, that's what this woman thought. Only black ink is used in the Black and Gray style, which is then watered down to achieve gray tones. These are then used for shading, as seen on the lion's face and mane. This approach necessitates considerable skill.
16. Tattoo of a Minimal Cosmic Finger
Your lovely manicure just got better with Saturn and the moon on your finger. While many finger tattoo designs are bold, this one complements your body without being overpowering.
17. Roman Numerals Finger Tattoo
Black line Roman numerals inked at the top of this woman's finger are accented by two adjacent finger rings. The overall design is one of grace and beauty. The numbers are characteristic of Text style where a few words or numbers are the art. Of course, choosing specific words or numbers adds meaning to the design.
18. Middle Finger Tattoo for Women
This woman's middle finger tattoo features beautiful black lines, spirals, and geometric forms. This is an example of Line Work. The middle finger here is a long enough canvas for the sweeping pattern. With a lovely man, I'm sure everyone will agree that this is finger "jewelry" at its finest.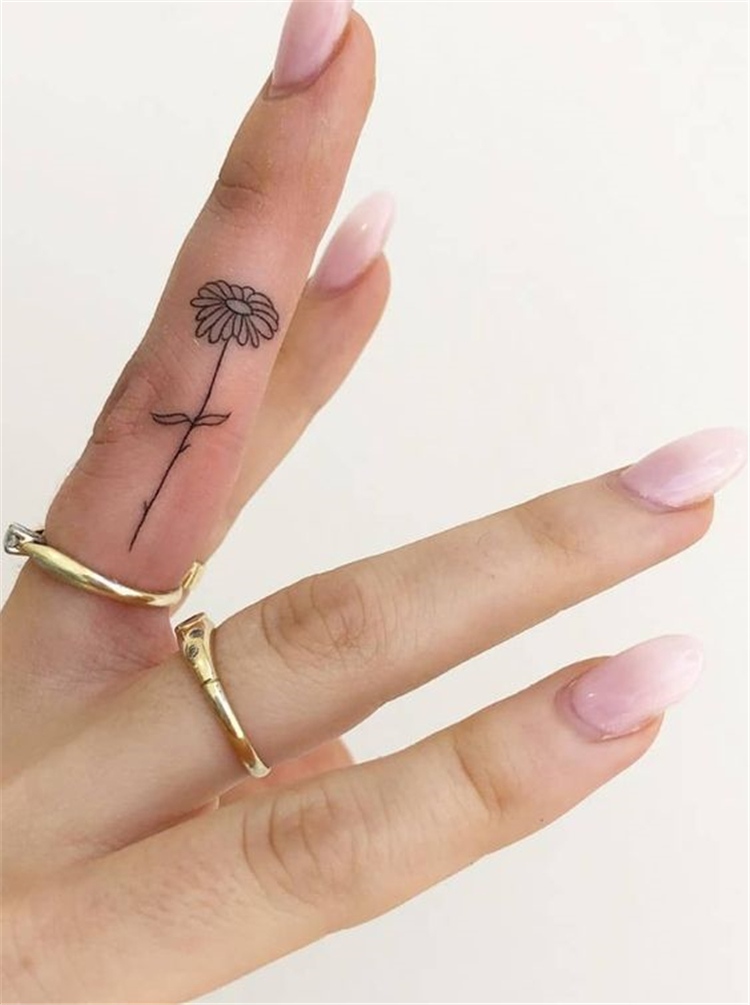 19. Finger Tattoo with a Minimal Heart Outline
The Minimal aesthetic is evident in this small ring finger tattoo. The heart design is unadorned, consisting of a single thick continuous black line. We simply have the outline of a heart and nothing else. Even without any embellishments, the significance of this tattoo is evident. It expresses LOVE.
20. Tattoo of a Rose on the Finger
This tattoo's Old School aesthetic has come a long way. Old School, often known as the American style, is distinguished by strong black outlines, basic shading, and a limited color palette. It's what your grandfather's tattoo was made of; think pin-up females. Who wouldn't assume this red rose tattoo is new? It nicely adorns this lucky lady's finger in place of jewelry.
21. Finger Tattoos of Hello Kitty
Is that a Hello Kitty on this lady's index finger? These miniature figures are adorable. The lighthearted nature is reinforced by the Minimal style, which aims for a basic design with no extra detail or shading to add complexity. The beautiful pattern is then finished with a lovely red bow.
22. Beautiful finger tattoo designs for all fingers
This is something unique, interesting and directly from the good books of an innovative design thinker. The user can have a collection of designs inked on all the fingers and the size of design is corresponding with that of the finger. Thus, the most elaborate one comes on the first finger or index finger. Since the smallest finger will not be exposed much, a simple tattoo but beautiful in design does the job easily.
23. Tattoo for bohemian taste
Bohemian fashion is lot about discrete colors like black and white in jewelry. The beautiful finger tattoo having anchor and arrow or sun's ray in design shows a person filled with hope and determination. The person knows where his path will lead and how he is going to embark upon the journey. Enriching the tattoo in combination with rings makes the whole look truly stylish. Tattoo ring designs can be created in a variety of ways, some of which are derived from the Arabic Henna designs too.
24. Finger Tattoos as an extension of design on wrist
Tattoo on the wrist may have a central design. The parts of the same design when inked on the finger create a uniform look. It makes the whole of hand look as if it is embossed with beautiful jewelry. So, when you don't want heavy jewelry to go with your look, this tattoo ring design based finger tattoo work the best.
25. Tribal lotus tattoo
A lot is said in the small elements used in the finger tattoos that are making use of very unique elements in the design. This minimalistic look never goes over the top and brings a lot of style the way you dress your fingers.
26. Creative design – a branch ending in a flower
When you have given your relationship the best possible ending, and are happy about it, you bloom like a flower. This emotion is best depicted with a branch ending in flower that stands for abundance of emotions, of people and of lot of love in life.
So, try using these designs to get your fingers inked. The whole idea is to make the look as classy and creative as possible without making too bold of a statement.
Image Source:- #inkedtattoo #tattooedgirls #tattoos #artoftattoos #fitnesstat #tattooedgirl #ink #inkedtattoo #tattooslifestyle #bodytattoos #tattooartist #tattooart #tattsmode #ink.tatts
Other Articles