thanksgiving Outfit ideas
1. Denim Dress Thanksgiving Outfit Ideas
I love denim personally, whether it's jeans or jacket. Here we have a cute little denim dress. This can be such an adorable thanksgiving outfit idea.
2. Mini Skirt With Long Coat
This outfit is giving me New York vibes because look how chic it is. The handbag and pointy boots are adding more flavor to this look.
3. Puffy Sleeve Dress
If you are thinking about thanksgiving outfit ideas then there can not be anything better than this dress. The puffy sleeves are cute and adorable.
4. Floral Dress
You just never go wrong with dresses. This floral dress is a great pick to wear on thanksgiving because it's not entirely a summer outfit, the sleeves are good for chilly fall weather.
5. Cozy Sweater With Skirt
This outfit shows the weather transition so well. It's a sweater which is cozy for the crisp weather and the skirt is giving fall vibe. Not to forget the colour combination is great for thanksgiving.
6. Matching Sweater Skirt
Very cute, very french if you ask me. It's a subtle soft girl aesthetic that i am receiving from this outfit. The knee high boots are adorable.
7. Jeans and Blazer
Combine casual with trendy and that is exactly what this outfit is. Make sure the colors compliment each other for the perfect thanksgiving look.
8. Turtleneck and Mini skirts 
This outfit is very casual but at the same time if you add some good gold accessories then it could become the perfect thanksgiving outfit.
9. Long-line with Boots
Make sure you are incorporating soft and warm colour in the look. Try staying away from the black colour.
10. Pullover Jeans And knee high Boots
Tell me this outfit doesn't look comfy as heck and you will be completely lying. The Knee high boots are adding more style to the look.
11. Turtle neck Dress with knee high Boots
Thanksgiving outfit ideas can be sexy too if you want. This one is a great example of that. A beautiful turtle neck dress with knee high boots.
12. Long Line with Scarf
Look at this adorable long line with scarf and if you want a little extra cuteness to be added, wear a beanie on top.
13. Knee Ripped Jeans with Comfy Sweater
This one is a very casual outfit idea and it's perfect if you an active day planned. If you are spending your day with your family outside then this outfit will be perfect.
14. Wrap Around Slit Skirt with Pullover
This outfit is giving me October vibes, it's a cute outfit none the less. Wrap Around Slit Skirt with Pullover. It's a great way to incorporate print into your style if you want to.
15. Long Slit Skirt with Crop Top
Yet another outfit that would help you incorporate print into your style. These knee high boots are adding more personality to the look.
16. Poncho Sweater
This carries a little Christmas vibe but don't worry, thanksgiving and Christmas aren't much far from each other anyway.
17. Boot cut Jeans with Sweater
Jeans are so cool specially when you know which one is the best to pair with a good top. Boot cut Jeans with Sweater is a great choice.
18. Knee Length Leather Skirt with Bodycon Top
Very chic. This Knee Length Leather Skirt with Body con Top look very stylish and shows that you know how to add patterns into your look.
19. Body-con Dress
Keep it simple, keep it straight. A simple body-con dress will be a great choice for thanksgiving outfit.
20. Leather Pant With Sweater
A bold look none the less. However, it does carry the thanksgiving vibe. If you style your accessories well with this look, it would give off a sexy vibe.
21. Mesh Top with Long Skirt
Mesh tops are very adorable in general. Pair them with a cute bra-let and a skirt. Tell me what can be cuter.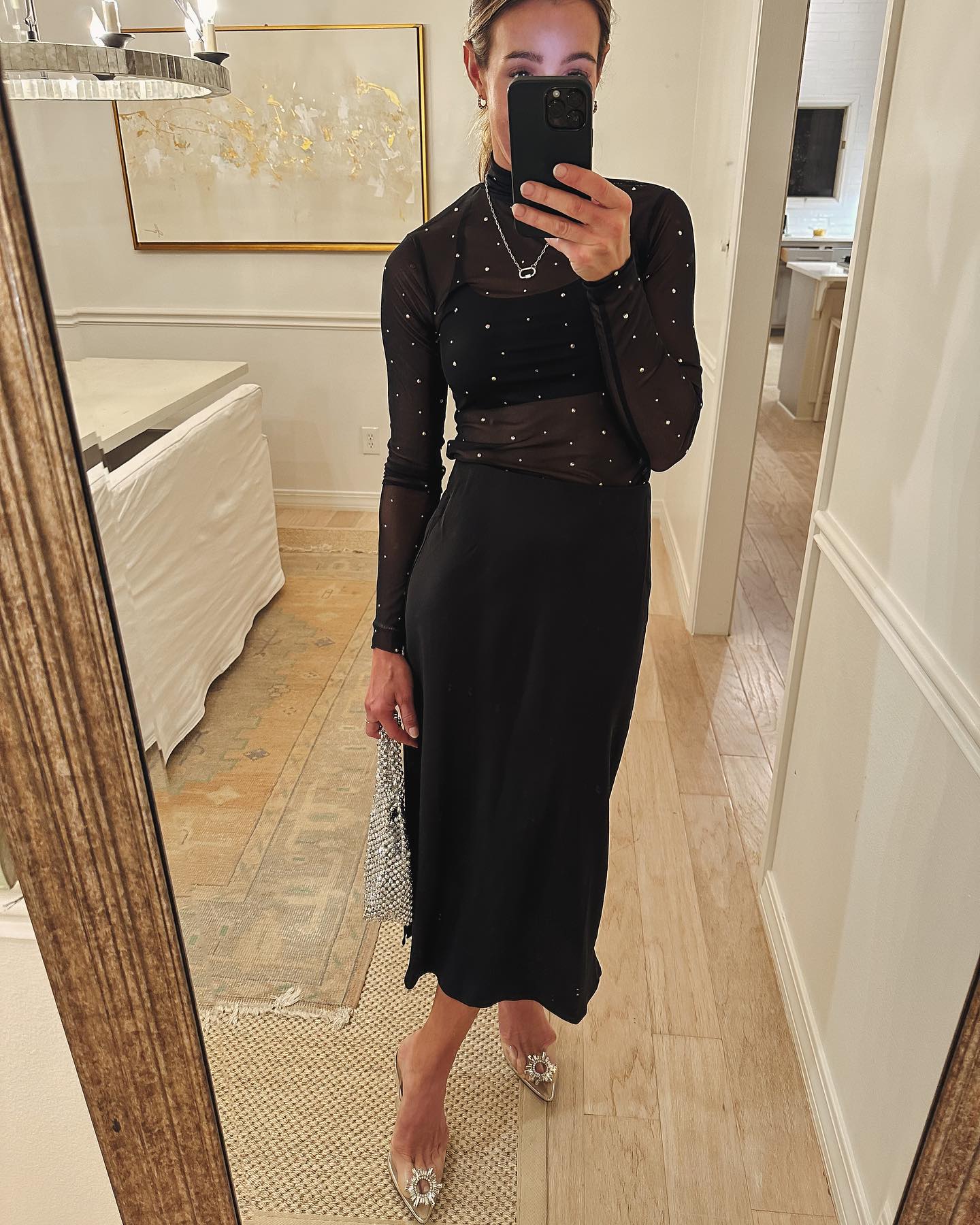 22. Shimmery Trouser with turtle Neck
This thanksgiving outfit is definitely one for parties. The shimmery trouser with turtle neck is a great way to create a balance between party look and subtle look.
23. Uggflufff Jacket
The ugg fluff jacket is such a cute choice for thanksgiving outfit ideas. It's soft fluffy and comfy.
24. Tie Waist Cardigan with Leather Pants
The Tie Waist Cardigan is giving soft aesthetic while the leather pants add a little edge to the look.
25. Leather Jacket
Are you into biking or any other outdoorsy activity? Well, this style is great for that matter. The leather jacket is giving off a rough and tough vibe.
26. Cheetah jacket
Cheetah Jackets are very cute and in trendy. Pair the jacket with warm colors and you will pleased with the look.
27. Off Shoulder Sweater
Off shoulder sweaters are great for the thanksgiving season. Not to warm and also not cold. Overall very cute.
28. Plaid Swing Dress
This plaid swing dress is very minimalistic and effortless but tell me it doesn't look cute when styled with a pair of good footwear.
29. Tweed Skirt with Crew Neck
This tweed skirt with crew neck top is again a great example of casual and cute combined together. Wear some high boots for the fall season vibe.
30. Coord Set
Co ord sets are super trendy these days and look how put together they look. The jacket matches with the trouser and everything goes together so well.
Other Articles