With all the women empowerment coming in as a range, working women have taken to being stylish and fashionable too. A working woman cannot do without carrying a laptop, and she would want it to do it in the most stylish way which would add to her personality and would be comfortable to carry. A good laptop bag is essential for a working woman as well as a college going girl. You need to choose a good laptop bag if you are a frequent traveler or an everyday laptop user. Some stylish laptop bags are listed below. Have a look and choose the best that suits your comfort, personality, and usage.
1) Coach designer laptop bags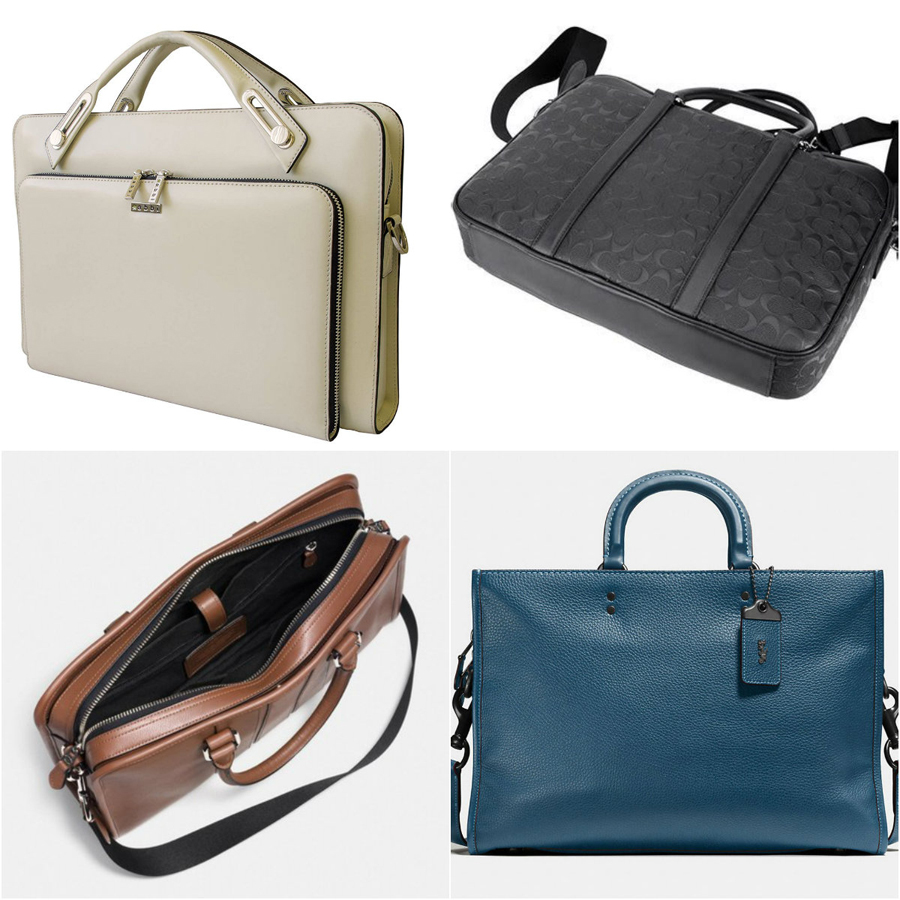 Coach is a signature brand which not only is stylish but also provides you with great bags that last a long time. The laptop bag called 'The Rogue' is the correct choice when it comes to style fashion and investment. It is a bag which can easily accommodate your 15″ laptop, as well as can be used to carry iPad, notebook, Kindle and other electric gadgets which you may need. It also comes with an extra leather attachment to keep your cosmetics and essentials you cannot do without. All this is provided in this one laptop bag without compromising in style.
2) Rolling laptop bag by Kenneth Cole
Working may require a lot of traveling, and if you are a frequent traveler, then this bag is the best choice for you. It is a bag that comes for a purpose and knows how to deal with your traveling requirements. The exterior of the bag has a look of a tote bag if not extended. It is made of high-grade nylon having three compartments inside. This helps to organize your laptop and the other things you need while traveling without any hassles. This bag gives a chic and feminine look while you carry it.
3) Michael Kors backpack

Michael Kors brings a designer backpack for you which is just more than a tote bag with a sleek look. It comes in the brand's signature print giving it a luxurious, chic and fashionable look. It comfortably accommodates your laptop, iPad, Kindle Reader and other accessories that you may need to carry. This bag is the most feminine looking stylish backpack which you would not want to leave at any cost.
4) Ted Baker laptop bag
Ted Baker signature bags come in girly, pastel shades. The Ted Baker bags speak of its style and function. If you are a Ted Baker brand fan, you will know that the brand is not just an accessory. The laptop bags are slim and sleek which fits a 15″ laptop, tablet, notebooks and other documents. Not much to choose in the brand but the laptop bag from them add to your fashion and style aesthetics.
5) Women's messenger laptop bag by Kate Spade

The Kate Spade laptop bag comes in an old-school design of a messenger bag. This bag looks like a tote, full of style in a Kate Spade signature print. It has extra compartments to keep your smartphones and other gadget essentials in an organized way. This bag can be carried like a tote or like a cross body messenger bag. The Kate Spade messenger bag suits best for both colleges going as well as working women adding to their style and personality.
You may choose a laptop bag of any brand but be careful when you select one. It should be comfortable for you to carry whether you are in office, college or traveling.  A good laptop bag should also add to your fashion sense and personality and make you stand out from the crowd, and of course, it should be chosen to suit your affordability.
What are you waiting for girls? Go and choose the best one for yourself!!!!
Other Articles