You may have many reasons to grow your hair fast. An occasion or event coming up or a haircut you are regretting, there are a few natural ways to boost up your hair growth. Enriching hair treatments, Regular hair care routine and proper diet would help your hair growth abundantly. Different people may have different speed of hair growth, but you will have to devote all your hard work and be patient to maximize your hair growth in a short period.
There are three critical ways to accelerate and maximize your hair growth they are as follows:
1) Try Natural Treatments
A warm oil scalp massage
A massage with warm oil improves the hair follicles and keep your scalp healthy. Coconut oil, olive oil, jojoba oil, argan oil are the oils that can be used to massage the scalp. The oil should be warm enough to soothe your scalp and not scalding hot to make you uncomfortable and damage your hair. The scalp should be massaged very gently with your fingertips (not your fingernails) in slow circular motions.
You can also get it done by someone else who is ready to help you. A massage of 3to5 minutes would be enough. The oil should be allowed to sit on your hair for about 30 minutes and then shampoo to remove the oil. Try to oil your hair on the days your shampoo is scheduled so that you do not end up washing your hair often than usual as this would also cause hair damage.
Make a hair mask

To accelerate your hair growth. It is advisable to apply a hair mask month or twice a week. A mask can be made by combining one cup of coconut oil with one tablespoon of almond oil, macadamia oil and jojoba oil. This mask should be kept on your hair for 10 minutes followed by a shampoo and a conditioner process as you would normally do. Try putting this mask on the days when your shampoos are scheduled to avoid over washing your hair.
Try the castor oil treatment

Castor oil is very advantageous for skin and hair. Castor oil helps your hair to grow faster and become more healthy. Apply castor oil by massaging on your scalp and allow it to settle down. Cover your hair with a plastic shower cap so that the oil stays. Leave the oil in your hair overnight. Shampoo and condition follow the next morning. Make sure that all the oil is removed from your hair.
Apply apple cider vinegar
Apple cider vinegar is one effective way to remove dirt and oily residue from the hair. It also helps to remove the stuck styling products you have used on your hair. 2 tablespoons of vinegar added to 2 cups of water should be used to rinse the hair. It should be done on alternate days when you do not shampoo your hair. You may get a strong smell of vinegar which slowly fades off.
2) Follow A Good Hair Routine
Shampoo your hair regularly
You should shampoo your hair regularly. It should be done at least two to three times a week to keep away the dirt and do away with the oiliness of your hair. Shampooing helps to hydrate your hair resulting in self-repair of the hair. Your shampoo schedules can increase or decrease according to the type of hair you have oily or dry.
Condition your hair regularly
You may shampoo your hair twice or thrice a week, but every time you get your hair wet in the shower, you need to use a conditioner. A conditioner helps to increase the lipids and proteins of the hair and helps the hair to grow long and healthy.
Cold rinse your hair
At the end of the shower, it is important to rinse your hair with cold water even after you have used hot and warm water for your shower. Cold water helps to seal the cuticle and give the hair strength. It is also important to rinse your hair with cold water after conditioning.
Avoid styling tools
Styling tools like hair dryer, hair straightener, curlers destroy the quality of your hair. The heat produced by these machines damage the hair highly Try to cut down on the use of these machines to get back the natural look of your hair and let it grow and fast, healthily.
Get your hair trimmed regularly
It is always advisable for hairdressers and stylist that one should get their hair trimmed by 3 millimetres every 6to8 weeks. This prevents split ends to erupt. Split ends decrease the growth of hair. A trim would avoid it and help faster hair growth.
Brush Your Hair before bed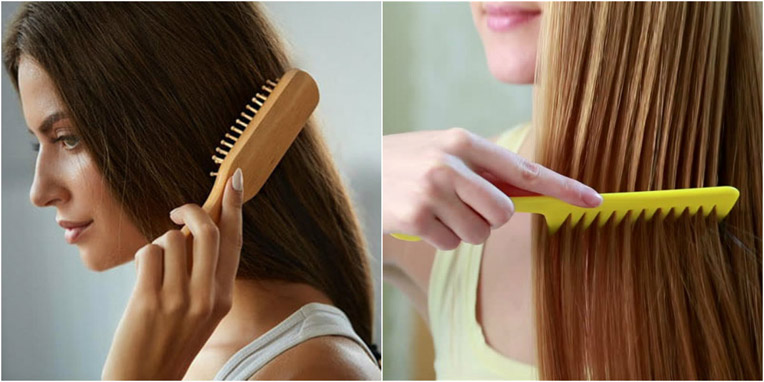 It is a bad habit to over brush your hair as it damages it and leads to poor growth. You should be in a habit to brush your hair twice daily do not force your brush on the tangles as it would cause breakage of hair. Take small sections of your hair and comb it smoothly.
3) Adjust Your Diet And Habits
Take hair boosting supplements
There are many multivitamins available in the market which boost hair growth. Its intake should be added to your daily routine. Some vitamins that are very beneficial for hair growth are biotin, Vitamin C and vitamin B. Before starting on with any supplement consult a doctor.
Eat foods that are high in protein
Increase in protein intake helps to accelerate your hair growth. It also helps to decrease hair loss. A balanced diet of beans, nuts, whole grains and meat is a must. If you are a vegetarian, you should have proteins through soy-based proteins along with avocado and lots of broccoli. Processed meat, full-fat dairy products should be avoided. Healthy carbs should be added to your diet that is high in fibre and full of nutrients.
Try the inversion method
Inversion method is a process when you invert your head so that it is below your heart. This stimulates the blood flow towards your head and helps in hair growth. This can be done by following different yoga asanas. A massage before the inversion method has very encouraging results.
With the above-given home remedies, hair care routine and diet habits it is also vital to living a stress-free life. Stress leads to all kinds of diseases, hair fall and damage included. Manage your stress with proper exercises, diet, hair regime and simple remedies for faster growth in your hair.
Other Articles