The blazer dress, adopted by all fashionistas, is a wardrobe must-have this season. This piece's structured cut and elegance make it ideal for evening wear or chic daytime looks. Discover our outfit ideas for wearing this new must-have in new ways.
A blazer dress is always a good choice. It's the promise of an effortless look, as elegant as it can be. The lines of the blazer dress are recognizable among a thousand, thanks to its pronounced shoulders, straight cut, and sensual buttons, making it a wardrobe staple. The blazer dress, adapted from the men's wardrobe, is as fashionable as its male counterpart, the blazer jacket.
The tuxedo dress has imposed itself on the catwalks of fashion week since its debut a few seasons ago and is constantly renewed to adapt to the inspirations of each. Black or colored, fitted or oversized. This it-piece is declining in thousand-and-one ways to dress with style in all the silhouettes this fall!
Here's a look at the most fashionable models who are elegantly at the forefront of the latest trends, as well as our tips for staying stylish in any situation.
What are the most fashionable blazer dresses for fall-winter 2022-2023?
Everything is possible this season, whether you prefer the oversized trend or revealing your curves in a fitted model. For the undecided, such as Camille Cerf, it is possible to wear both, with a model fitted on top for the masculine side and fluid at the bottom for sensuality. Playing up the boyish style will also be very trendy, so we went with an XXL cut that elegantly structures the silhouette.
Small piece of advice: if we don't find a model we like, don't be afraid to check out the men's collections. We find a male suit jacket that makes us stand out and put it on! We don't forget to mark and refine the waist with a pretty fine belt, which is trendy right now and will draw attention to the body.
At the end of the year, the trendy options for blazer dress lovers are numerous. While the classic model will always have a small impact, we let ourselves be tempted by other equally chic materials such as satin, pleated, and even leather to fully play the sensuality card! Striped prints are hot right now, so go for it!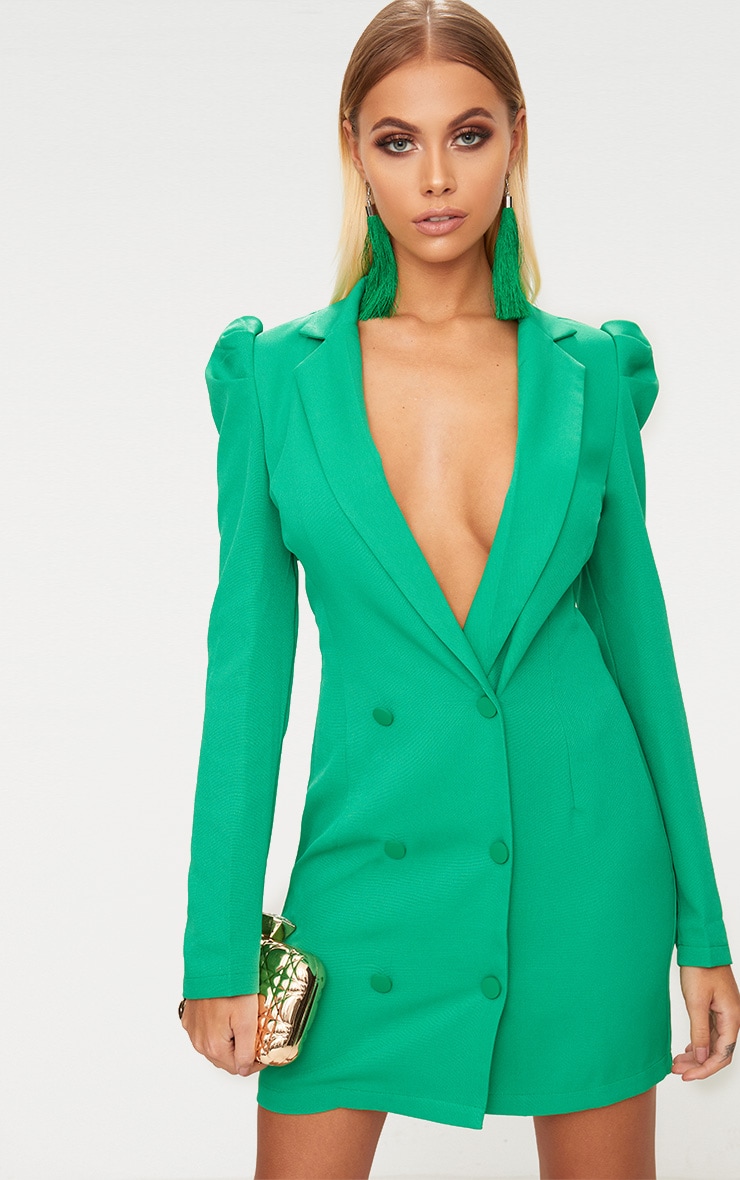 Other fashion details, such as puffed sleeves, a slit, or a plunging neckline, will add a stylish twist to the outfit. Even though we love the blazer dress for its ease of dressing in the blink of an eye, accessorizing it well is the key to a perfect look! Instructions for adopting without falsifying this end-of-year must-have.
How should a blazer dress be worn to stay on the cutting edge of fashion?
The main benefit of the blazer dress is that it provides a chic appearance with minimal effort. The tuxedo dress will sublimate all morphologies whether you wear it to a party or work because that is what we like about this piece; it fits everyone.
It enhances our assets whether we are small, tall, thin, or round. It's a sturdy piece that can stand on its own, so there's no need to make a bunch of them. To avoid false steps and an overly strict appearance, it is necessary to accessorize while sober. It looks great with a pair of trendy ankle boots or delicate pumps. It depends on the weather whether you wear black tights or not. We don't mind wearing cute boots with platform heels, which are fashionable this fall-winter.
Don't worry if you don't like heels; the dress suit can also be worn with a nice pair of flat shoes like ballerinas, derbies, or even white tennis shoes! To add a glamorous touch to the outfit, we adorn ourselves with a beautiful long coat, and the trick is complete!
Other Articles