Celebrities have a life apart from what we see on the screen. Their personal life and personality is best represented by the choice of their body art. Similarly, the "Love You to Lose Me" singer has been embracing the art of permanent ink for over a decade, using it to represent friends, her career, and her religious views. Selena Gomez has a remarkable, ever-growing tattoo collection, and they may be the most stylish designs we've ever seen. In this blog dealing with the topic of Selena Gomez Tattoos, we will dive into the Rare world of Kindness and Love that Selena has created for herself and her fans.
Read More About Ariana Grande's Tattoos Here. 
1. The semicolon
The brunette beauty wears a clean and sleek semicolon on her wrist in recognition of the program she created, 13 Reasons Why, and its theme. The Project Semicolon, a suicide prevention and mental health awareness organisation, popularized the sign.
2. Number 1
On August 18, 2018, the Wizards of Waverly Place actress shared an Instagram photo of her "1" rib cage tattoo, which she got alongside best friend Courtney Lopez to commemorate their bond.
3. Number 4
The same day she had the number "1" tattooed on her rib cage, she also got the number "4" tattooed on her arm with three other pals, which she also displayed on Instagram. "4, because you will always be my 4 for the rest of my life." "I adore you, ladies," she said in the post.
4. A Corresponding Arrow
Gomez and Julia Michaels have identical hand tattoos designed by artists London Reese and Brad Reis that incorporate a sleek tiny arrow at the base of their thumbs. "My arrow points to you forever," she stated on November 11, 2019, in an Instagram story.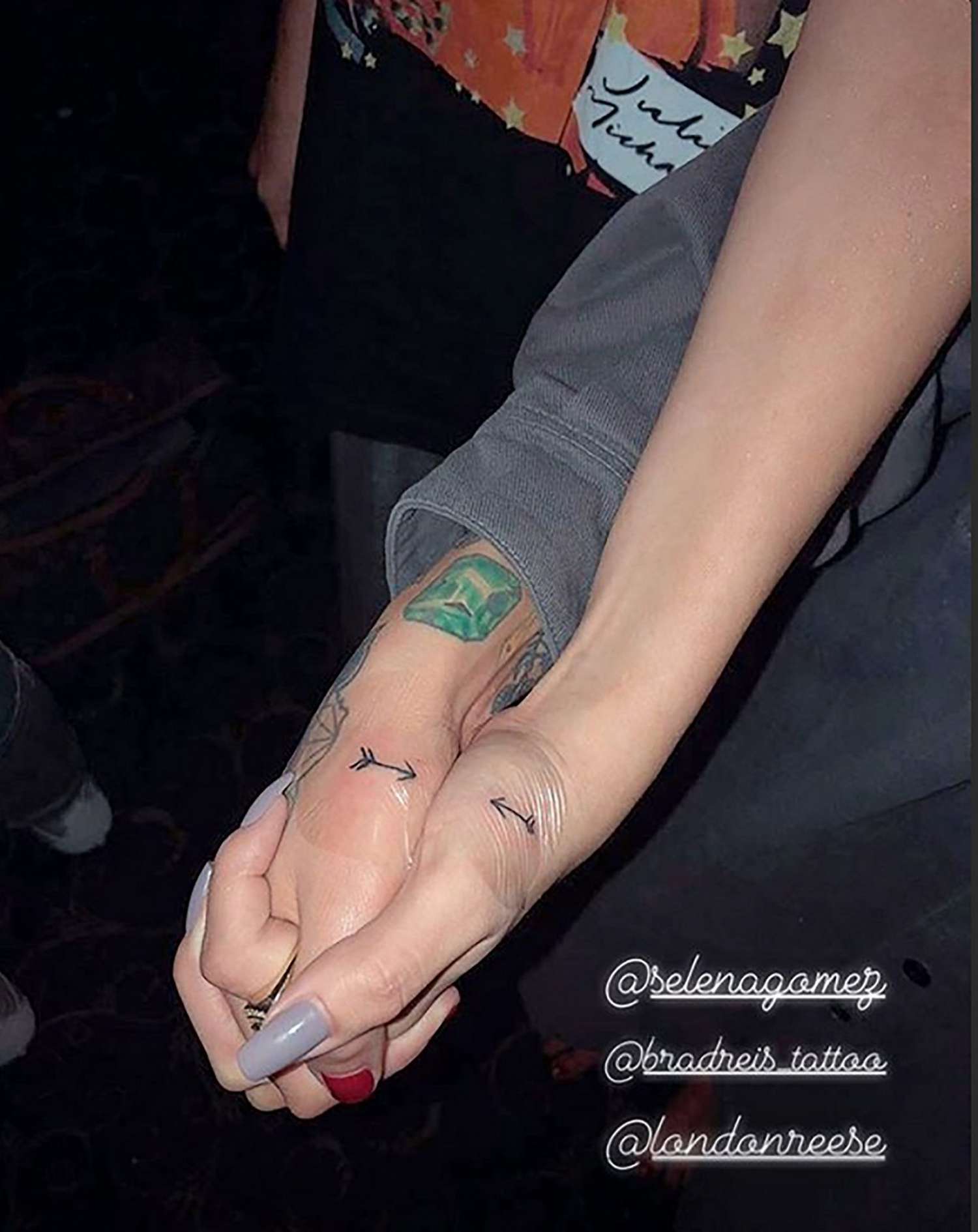 5. Rosary Beads in Prayer Hands
The former Disney Channel singer came to Instagram to show off her big thigh tattoo after singing two new songs at the 2019 American Music Awards on November 24. The black-and-white shaded artwork, done by her go-to Bang Bang, showed two hands in prayer posture grasping a pair of rosary beads.
6. Her Kidney Transplant Inspiring
In the "Rare" music video, which premiered on January 10, 2020, the singer displayed a number pattern she had tattooed on her upper arm following her kidney transplant. She informed Capital FM in December 2019 that she and Raisa received identical tattoos to mark the encounter. "I got the date of my kidney transplant, and I did that with the girl who gave me the kidney."
7. "Rare"
In honor of her latest album, the "Lose You to Love Me" singer unveiled a neck tattoo that says "Rare" designed by Bang Bang Tattoo in an Instagram picture on January 15, 2020.
8. A Delicate Cross
Following the release of her fourth EP, Revelación, in April 2021, the "De Una Vez" singer got a beautiful cross tattooed right above her left collarbone. Bang Bang, Gomez's go-to tattoo artist, posted a photo of the artwork on Instagram, adding, "We [heart] @selenagomez."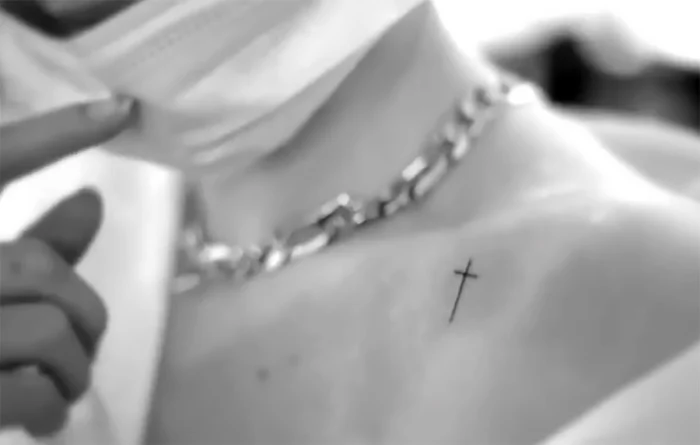 9. The "g" Tattoo
A cursive g behind her ear. Selena hasn't revealed the purpose behind this one, but some believe it's a tribute to her younger sister Gracie. If true, this is wonderful!
10. Sunshine
Gomez also has a sunshine tattoo on her right foot. And this little guy is thought to be named after Selena's grandma, whom she previously referred to as "Sunshine" on Twitter.
11. "1976" in Roman
This is "1976" in Roman numerals, which also happens to be the birth year of Selena's mother, Mandy Teefey. Bang, the tattoo artist, told E! News it was "a tribute to a family member who she said means a lot to her. Selena was afraid it would hurt, so she gripped her closest friend's hand the entire time. But she did an excellent job."
12. Musical Note
Admirers initially mistook this for a heart, but Selena clarified to Access Hollywood, "It's a music note."  "Everyone assumed it was a heart for some reason, although music has had a significant impact on my life. I was named after a singer, I sing, and I have several additional personal reasons. That's all I've got."
13. "Love Yourself First" in Arabic
Selena Gomez always preaches kindness and self love, which makes this tattoo a representation of her personality. She has "Love Yourself First" written in Arabic on her rib area. Another tat from Bang Bang in NYC, who told E! News, "Selena already had it written out exactly how she wanted." The tattoo is around 4 inches long and takes 30 to 45 minutes to complete. Laying things out is the most time-consuming phase. 'We messed around with it, laying it down until we discovered the ideal location."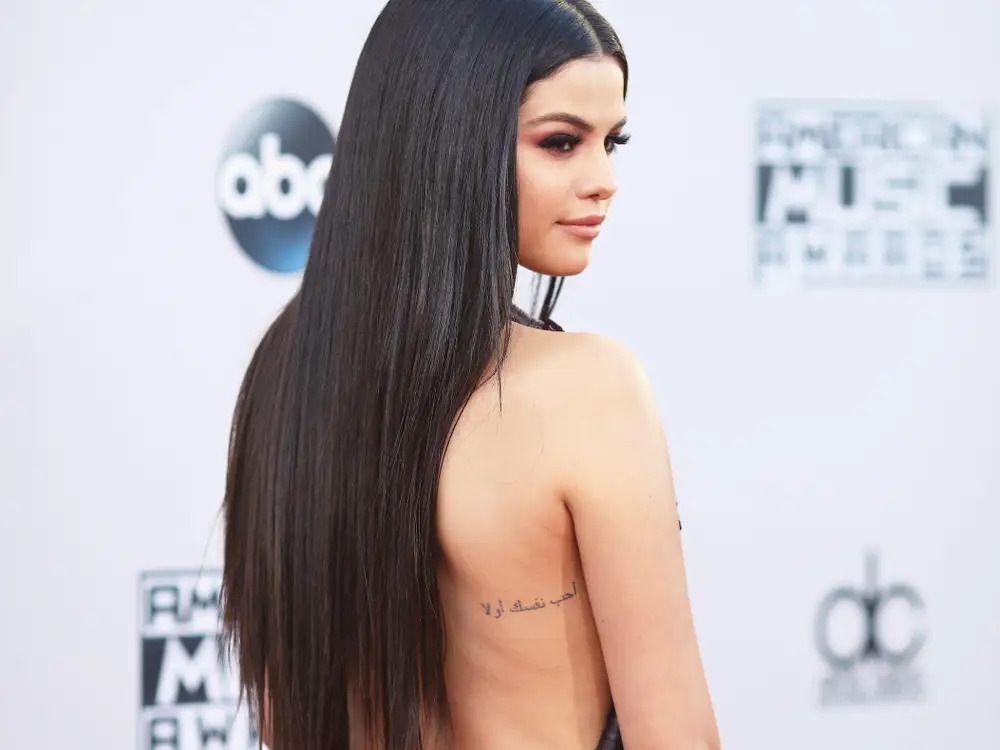 14. "God Who Strengthens Me."
This is apparently a twist on the popular Bible verse that says, "I can do all things through Christ who strengthens me," Selena managed to keep it a secret from followers for over a year.
15. Om (Maybe)
Is that a smear on Selena's hip? Fans believe it's a harbinger of om. I'm not persuaded, but why not try?
16. Watercolor Rose
A water colored tattoo. Selena debuted a new tattoo of a rose with a dripping stalk in the middle of her back in December. The rose is a matching tattoo she received with her close friend, former Victoria's Secret model Cara Delevingne. "I met her when I was around 16 years old. She refers to me as 'Rosebud.' So it's a moniker," the Rare Beauty CEO explained on Live With Kelly and Ryan. "I've always wanted a rose, and now I've got one, and I love it."
Other Articles