There has been a rising awareness among people regarding the preference for organic products, including organic shampoos, in recent times. Organic shampoos are those that are made out of natural and plant-based ingredients, without the addition of any kind of harsh chemicals or synthetic additives. Therefore, organic shampoo is entirely natural, which is precisely why it is considered to be better than non-organic ones. A desire for healthier and more sustainable alternatives drives this shift towards organic hair care products. Let us read through to find out Organic Shampoos' Benifits in maintaining overall good hair and scalp health.
1. Gentle on the Hair and Scalp
A significant benefits of using organic shampoos is their gentle formulation, which can readily benefit both the hair and scalp. Unlike non-organic shampoos that contain sulfates and paraben, organic shampoos use natural cleansers and moisturizers. These natural elements are gentle on the hair and scalp to help maintain the natural pH balance of the scalp skin and prevent dryness, irritation, and dandruff. In addition to this, organic shampoo is less likely to rob the natural oils from the hair, leaving it soft, shiny, and healthy.
2. Filled with the Goodness of Nature
Organic shampoos are made out of entirely natural ingredients and hence loaded with vitamins, minerals that play a significant role in hydrating the hair along with providing it with the required nutrition. Most importantly, the goodness of the natural ingredients is kept intact since these shampoos are devoid of harmful chemicals or ingredients. It is to be kept in mind that every hair type is different, and these organic shampoos act on the hair as per its texture.
3. Devoid of Any Harmful Chemicals
Non-organic shampoos often contain chemicals like artificial colours, synthetic fragrances, and preservatives that might harm health. On the other hand,
organic shampoos are made from natural and certified organic ingredients, thereby minimizing the exposure to potentially harmful substances, which proves to be immensely beneficial and can be used without hesitation since they are free from any severe side effects.
4. Non-Allergenic in Nature
The ingredients used in the manufacturing of organic shampoos are entirely natural. Therefore, organic shampoos can readily reduce the risk of allergic reactions, scalp irritations, and the absorption of toxins through the skin. Moreover, these shampoos are perfectly suitable for allergy-prone or sensitive skin. The gentle formulation of organic shampoos can soothe and calm sensitive skin, providing relief and comfort.
5. Properly Nourishes and Strengthens Hair
Organic shampoos contain natural ingredients specially known for their nourishing and strengthening properties. Natural elements such as aloe vera, coconut oil, argan oil, and other herbal extracts. These can play a significant role in helping to repair damaged hair, promote hair growth, and enhance overall hair health. Moreover, these natural ingredients provide essential nutrients & vitamins that help revitalize the hair follicles, resulting in healthier and more resilient hair.
Why Choose Organic Shampoos from Lotus Organics?
Lotus Organics is a well-known brand that manufactures completely organic skin and hair care products. Loaded with the goodness of natural ingredients. As the products are devoid of harsh chemicals, the integrity of the natural ingredients is kept intact, which is an advantage. Organic shampoos from Lotus Organics are made up of entirely natural ingredients. Which are beneficial for maintaining overall good health of hair and the scalp.
Check out the top three organic shampoos from Lotus Organics.
a) Lotus Organics Hair Fall Control Shampoo – Crafted with care for controlling hair fall
b) Lotus Organics Intensive Scalp Care Shampoo – Suitable for treating the scalp in the best possible manner
c) Lotus Organics Dandruff Control Shampoo – Perfect to use for controlling excessive dandruff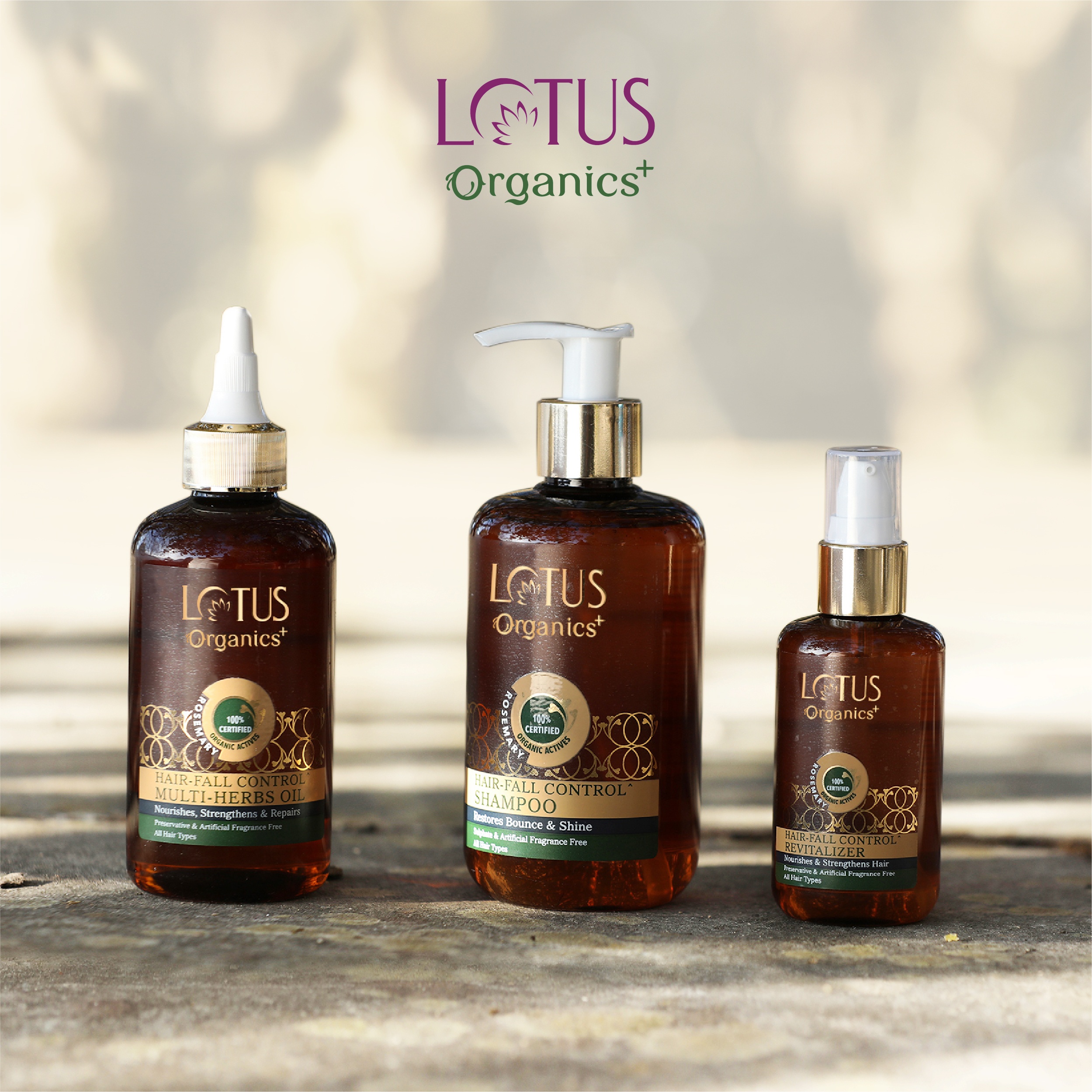 In conclusion, organic shampoos by Lotus Organics offer many benefits beyond simply cleaning your hair. From nourishing and strengthening your hair to protecting your scalp and the environment. Organic shampoos provide a holistic approach to hair care. By choosing organic options, you can prioritize your health, minimize exposure to harmful chemicals, and contribute to a more sustainable future. So, switch to organic shampoos and enjoy the natural benefits they provide for you and the planet.
Other Articles