Are you looking for natural makeup for upcoming events? Dear reader, you have arrived at your destination. Try the latest eye makeup with natural makeup tips as the season (weddings, baptisms, and communions) has begun, and the word "party" makes our daytime makeup tremble. Many people do not know how to recreate natural eye makeup, and even fewer know the latest trends or what types of makeup look good with brown, green, or blue eyes; some are explicitly looking for fantasy makeup that appears exceptionally natural.
If you've come this far looking for an almost invisible beauty look because you want that "no makeup, makeup" effect for your next party… then this article might help you. And I refuse to give up the option of wearing natural-looking rather cute and fun makeup. Have you ever heard of the term "aesthetic makeup"? Did you know that 1960s makeup is popular? Whatever natural makeup protocol is followed for daytime weddings, it's 2022, and Euphoria makeup has marked another level of fantasy before and after in our lives. So, finally, Glamour has arrived! (That's all.)
Here are a few beauty trends to help you succeed like never before at your events. Who says you can't be daring with natural makeup? Follow our assistance to discover out.
1. BROWN EYES MAKEUP
If you're looking for a natural brown eye makeup look for a daytime wedding (or event), look no further: nude lipstick, lightly lined eyes, a bit of brown shadow in soft tones (almost unnoticeable), and eyelash extensions! With extensions, you can achieve a red-carpet-worthy look without overdoing it with makeup. And if you want to add a fun touch to your look, copy the look in the photo: use the brush to add a little pink shadow to the tear trough, and you're done! Simply sublime.
2. NATURAL GREEN EYE MAKEUP
If you have green eyes and need a natural makeup look for this season of non-stop events, try the look in the photo. Brown makeup, and all earth tones in general, highlight your eye color: try a light smoky eye and avoid cutting yourself with the illuminator; precisely, these touches of light allow you to sculpt the proportions of your face. Experiment with contouring, and don't forget about the gloss!
3. NATURAL BLUE EYE MAKEUP
Makeup for blue eyes can be as natural as you like: your eyes speak for themselves. Use mascara to lengthen your lashes and matte red lipstick to highlight your lips. It will enhance your appearance by 200%. For a more polished look, highlight your cheekbones with a peach-toned blush. Are you ready?
4. MAKEUP FOR THE DAY
We spend our entire lives worrying about daytime makeup: whether it's too daring, whether "how can I go with red lips," whether the eye line is appropriate for the morning… It's all over! Even if you choose a makeup look with red lips, you can achieve a natural finish like the one in the photo. What is the secret to natural makeup? If you over-highlight your lips, go easy on your eyes, and vice versa. That's the end of it.
Do you dare to add a glam touch to your look with eyebrow lamination?
5. MAKEUP FOR THE EVENING (NATURAL)
If your events are at night and you need a non-dramatic evening makeup look, go for terracotta tones and an intricate touch to your eyelids with gold shadow. This party makeup is one of our absolute favorites because it can be worn for any occasion and still look elegant. The line of the eye is more a function of your personality: if you're an extreme eyeliner, don't be afraid to use it if the occasion calls for it, but if you prefer to lengthen your look with something more subtle, try the reverse cat-eye, the TikTok viral makeup that swept the world in 2021.
6. MAKEUP FOR FANTASY
Thank you, fantasy makeup. I love how trendy it is and how they have finally given voice to our inner "drama queen." But, since I know you're looking for natural makeup, I'll tell you that you can recreate fantasy makeup without going to extremes: dolphin face (which is super trendy), a little glitter on the eyes, and, if you dare, an extra touch with ornaments such as stars, pearls, or gemstones. You don't need as many as shown in the photo; a couple or three will suffice. Sorry, but this is the cutest (and most alluring) makeup in the world.
7. AESTHETIC MAKEUP (NATURAL)
"What exactly is aesthetic makeup?" you may be wondering. In a nutshell, aesthetic makeup is about creating a glimpse that is true to you and your style. It's a versatile type of makeup that changes depending on how you feel daily, your essence, and your mood so that it can vary from one style to the next. What is the key to achieving beautiful makeup? It must be Instagram-worthy; if it is not photogenic, it is not aesthetic. If you're stuck for ideas, try this 90's aesthetic makeup!
8. MAKEUP FOR SMOKY EYES (AND NATURAL)
Smoky makeup isn't natural if it exists at all. If you're determined to look great for your next party, go for natural makeup and finish with smoky eyes like the ones in the photo. Tip: Use different earth tones on your eyelids and lips, and use eyeliner to add a glam rock touch to your smoky eyes. You will undoubtedly succeed.
9. WEDDING MAKEUP DAYTIME
Do you need makeup for a daylight-hours wedding? Choose a natural eye makeup based on terracotta tones and go ALL IN on red lips. There is no winning combo for an elegant and refined look, and you will be the wedding guest with the most "likes." Enjoy with gold highlighter and contouring to highlight your features.
10. ROCK MAKEUP (THE 1980'S)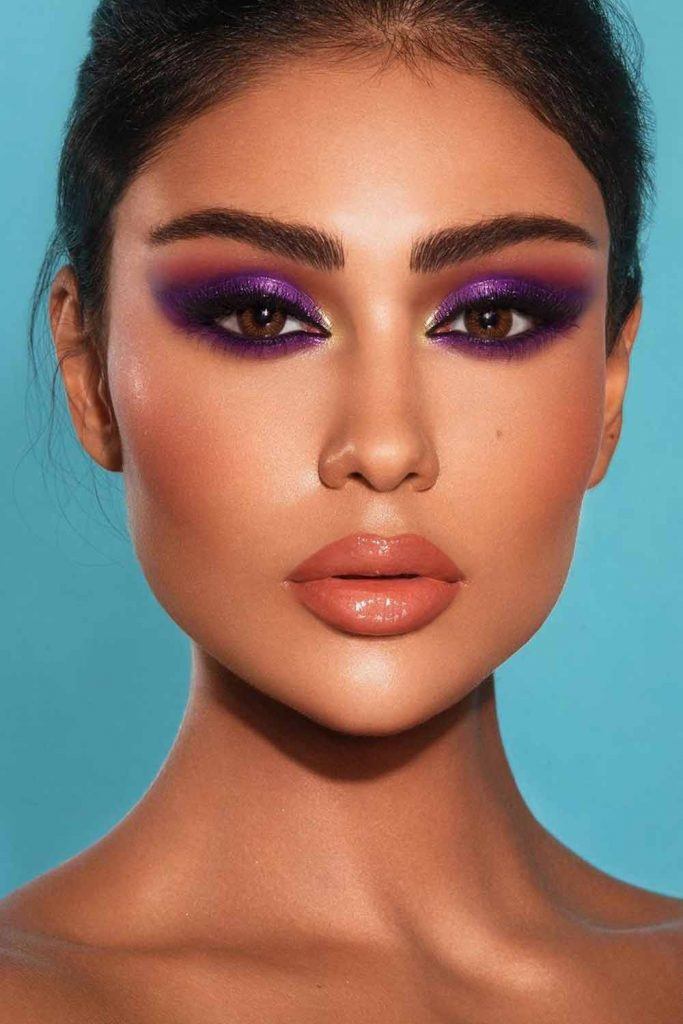 Rocker makeup is similar to smoky eyes in that the naturalness fades a little when we emphasize the eyes so much. However, there is no better makeup than one that represents who you are, and if you like rock, this rocker makeup will take your outfit to the next level. Focus only on the eyes and highlight them with purple shadows for a natural finish. To avoid overdoing it, go for an ombré look and skip the eyeliner entirely. It is clear that purple eyes are back (and in a big way) and that 80's makeup can be more "minimalist" than it appears. You understand what I mean.
11. 60'S MAKEUP
Here comes the natural makeup with the most role: 1960s makeup. Floating eyeliner is a popular look among celebrities and influencers, and you won't be left behind. As seen in the photo, there's no need to go overboard with bright colors; instead, opt for natural makeup based on brown tones to achieve the same effect. Jackie Kennedy approved of this super-flattering style.
12. MAKEUP IN BLUE (NATURAL AND SIMPLE)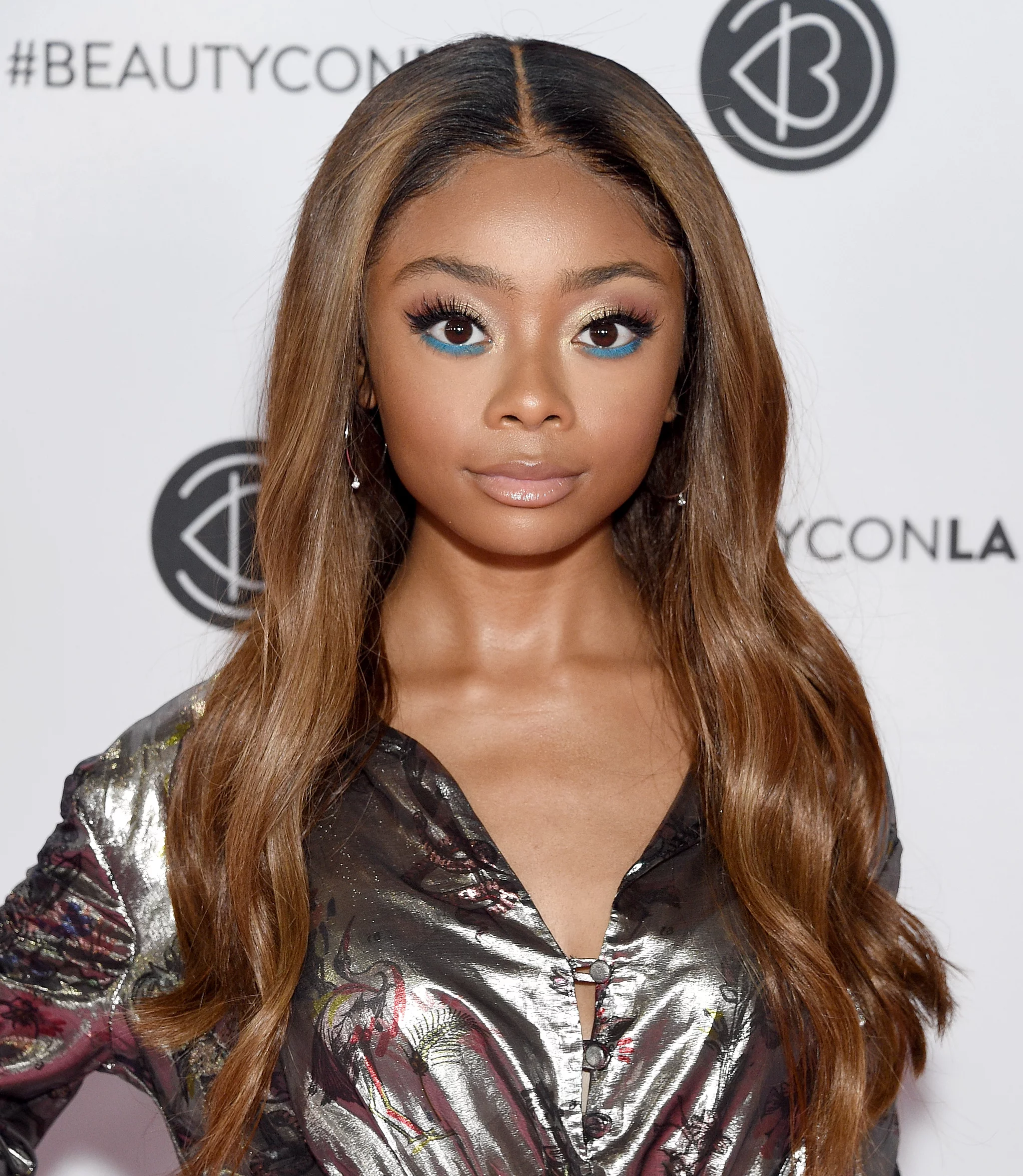 Who said blue makeup couldn't be straightforward? Line the lower part of the eye with a blue shadow to achieve a natural makeup look like the one in the photo. The inverse (or lower) eyeliner has a "lifting" effect and lengthens the look in a single pass without the need to bring the eyeliner to the temple (for example, vital if you are a guest at a daytime wedding). So, if you were in doubt, you now know blue makeup, but keep it simple and let the glam begin!
13. PINK MAKEUP (NATURAL AND EVERGREEN)
Pink (and red) makeup is another big makeup trend for 2022. Pink is a color that conveys happiness and personality and does not leave anyone indifferent. On the other hand, if you're searching for natural makeup in pink tones because your outfit is simple and you want to add a more daring touch, we recommend highlighting your look with matte pink eyeshadow. Apply it to the upper and lower eyelids and pair it with mascara: the eyeliner may overpower the look and prevent you from getting the desired effect.
Other Articles