The craze for the tattoo has been there among mankind ever since the beginning. Dragon tattoo on the neck right below the ear, scorpions scattered over one's body, stars on unimaginable parts seeming to give more hopes and dreams than the real ones and what not. Hence, this is not just a craze I say. Its also an expression. It is not wrong if we call those amazing proficient tattoo artists as emotionally strongest, who tolerate heart aching screams and cries of their clients.
Leave the fear
Did Someone just worry about all the pain and screams you have to go through? Yay, chill. Scream for better things, out happiness, maybe for the good news that you needn't go through that dreary situation to have your skin feel glow with a tattoo. Yes, you aren't reading it halfway between right, you are in your full consciousness while reading this. Metallic tattoos are your saviors with the promising bonus of adding flair to your signature style.
Instagram:- metallictattoo
Know more
Also known as 'Flash tattoos', these metallic tattoos are the current vogue in the concept of the tattoo. These glittery, shiny pieces of art provide immense glam during memorable events be it a party or dream travel. These are usually gold or silver in the appearance. You can even feel that glitz in the way the name sounds. Just utter the name. Did you feel the rush inside you, to right now have that artistic production on your skin?
Let me reduce the wrinkles
Say again, "no worries", because I am going to release even more worries out of you. Now please don't judge that I am a psychiatrist or some messenger sent by God to this modernity. Jokes apart! You do not worry about getting bored of seeing the same tattoo till you die (who knows, maybe even after death). They are removable. You can have zillions of tattoos in your lifetime if you're so much crazy and determined enough. Now needn't worry that you are disqualified from the list of blood donors. Humanity prevails again. You needn't worry about feeling cursed because of tattoo which was unsuitable for a certain event.
Instagram:- metallictattoo
Tattoos and women
These tattoos are especially famous among women. When tattoo designs for women are usually made in such a way that the design will surely attract customers for its beautiful artwork. Gold, silver echoes back to you as 'women', 'women'. Most of the women go bonkers over those colors. So start wrapping these into gift pack for your sister's next birthday (Yes, I am the savior again).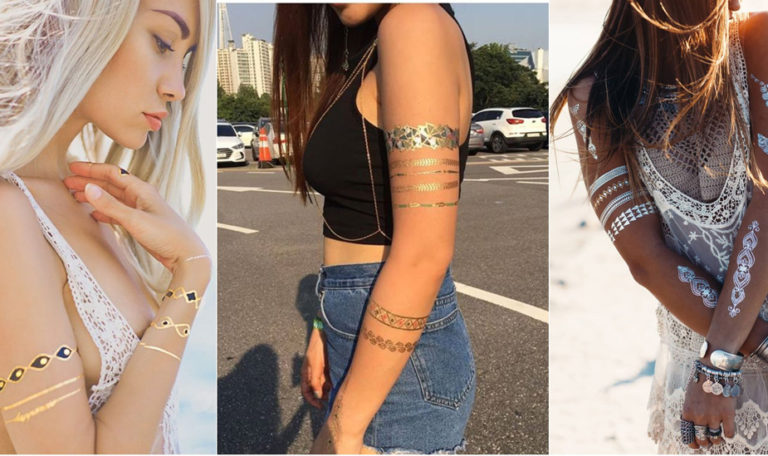 Instagram:- metallictattoo
Let's say yes to low budget jewelry!
Isn't it amazing to wear a necklace that is the best artistic piece of art, within your budget? How good it is that the beautiful gold jewelry you had dreamed of having one day, even though you blame your devilish boss for not raising your salary even by 0.00000001%, is now shining on your neck. Yes, it is possible. Artists have cast their magic wand called their brain to design metallic tattoos in the form of jewelry. Again, you need not worry that your finger ring will fall because you realized that it is 0.01mm loose on your finger at the last moment. Just apply to metallic tattoo that is made like a ring. ASAT. And lazy hack is you needn't worry about cleaning jewelry regularly.
Instagram:- metallictattoo
Some practical aspects
Now let's see how it is better. So let me begin the list.
Waterproof
Easy to apply
Easy to remove
Cost-effective
Fewer chemicals
It is made with a very thin foil of high-quality metal which adhered to a plastic sheet which later will be peeled off leaving glittery tattoo onto our skin.
Instagram:- metallictattoo
Method of application
As earlier mentioned, there is no pain involved.
Step 1: Wash off the part of the body where you're going to apply the thing that you'll cherish for the next 4-5 days.
Step 2: Pat it dry. Dampness will ruin the process.
Step 3: Now put open the tattoo, uncover it and put it on the skin.
Step 4: Run onto it with 2-3 drops of water for 30sec. Yes, same as you used to do with Batman stickers you used to get free with chocolates.
Step 5: Detach it. Here you go, now the glittery tattoo is on your skin.
Wait to control your adrenaline rush, there is step 6 too.
Step 6: Keep it still for a good 2 minutes without stretching your skin so that the tattoo settles well.
Instagram:- metallictattoo
See to it that you don't spill oil on it. because that's the way to remove the tattoo. Also, usage of soaps needs to be prevented. Don't apply lotion, sunscreen or anything as it fades the tattoo soon.
Trends
If you ask me to suggest the new trends in metallic tattoos, I insist you to use your creative brain to evolve out the new designs else at least fry the brain of your tattoo artist till he gets one to you. Usually, some people go for tribal designs while others find these designs to be over-traditional. People prefer a modern design which suits their outfits be is a combination of various sizes of stars or curvy lines arranged in a pattern. Few people prefer to apply to nails introducing a new way to nail art.
Several celebrities have tried and bragged these tattoos in their social media wall. As such celebrities are Beyonce, Vanessa Hudgens. These tattoos really add shine to your look which black permanent tattoos can't. But still, both of them have their own pros and cons. Its left to your convenience what you choose. There are colorful tattoos too other than gold and silver tattoos. But you gotta choose color combination carefully which otherwise might look weird.
Lastly
Be it whatever, live and love the change in your life with various designs of tattoo each time, go rush to the store to buy this amazing thing at least once in a lifetime, maybe before this trend dies, who knows maybe people might bring some other new trend to the world of tattoos.
Other Articles