Fashion is not restricted to wearing trendy clothes only. The present times belong to creating a complete look. Women who love to dress up and want to go out for various purposes need accessories like sunglasses, and handbags. Keeping the travelling needs in mind, ladies handbags have been reinvented in a variety of styles. One such style is a bucket bag.
It is a unique type of bag, mostly made of leather bag. The opening of the bag is made wider and has perforations at equal distance. The different kinds of sturdy and goof looking tying laces go through those perforations and seal the mouth in a sack-like manner. Thus, this leather bucket bag is the first choice of the women who wants to look strong at head, and outgoing in their outlook. More than the philosophical reasons, the bucket bags are liked for the practical purposes these meet.
Listed here are some of the designer handbags in bucket style that are now making appearances on airports too.
1. Zara leather bucket bag
This leather bag has appearance that of a camel skin. Its soft feel and rugged look makes it the easy choice for carrying around when small things of utility are to be carried. The bag is monochrome style and stands out in sophistication too. Perfect for travel and for carrying utilities, Zara fashion handbags of bucket style are appealing the classes. Some of these bags are provided with long, leathery detachable handles making it easy to use these as cross-body bags. Do make it a point to include these bags in your fashion wardrobes so that you can go out with them when you are in casuals. These certainly will enhance your casual look.
2. Chole Small Roy Bucket Bag
Now this bag is truly exquisite and also may raise some eyebrows. If you are a PETA follower, the bag is certainly not for you as it is made of calfskin. So, when the looks and the material matter the most to you, this bucket bag from Chole can fit the requirement. The bag is ideal for people who love multi-utility items as its detachable strap allows using it for different purposes. When you want a purse-like look, you simply can detach the strap and use handle for holding it tight and close. And, when you need a long carrier, you can attach the strap and use it as a cross-body bag. This bag does not get soiled so easily at the bottom as gold studs offer it suitable gap when it is placed on floor.
3. Michael Kors pebbled leather bucket bag
This bag shows why Michael Kors is a trusted name in fashion handbags. The bag stands out in sophistication and elegance and also has a rugged appeal provided by the pebbled leather strap. There are various signature elements included in the design of the bag that make it a true Michael Kor bag. The bag gives due importance to style too as an oversized tassel hangs on its side and make it completely marvelous in look.
4. Fendi Mon Treasure Bucket-style bag
Bucket bags are the fashionable version of rucksacks and also the smaller versions of these. The distinct style of this Fendi bucket back is made more prominent with the mosaic print. This bag stands out in versatility. One can detach or adjust the shoulder strap according to the desirable length. Thus, it works as a bag, a cross-body bag and it can also rest on the hand where you can flaunt the Fendi logo with all its glory. The drawstring and metallic adornments make an eye-pleasing combination fit for a style love in you.
5. Calvin Klean Bucket Reversible Bag
It is an important office fashion accessory. Perfect for the nine to five styling, the bag has lots of pockets and compartments to carry small things like kindle e-book, notepad, pen, and also cards, etc. The bag is certainly outstanding in make, look and quality and its reversible nature allows you using it the way you desire. The functionality and looks come together marvelously in Calvin Klean bucket bag. The awesome feature is its bright shimmer and the gold toned strap links that make it possible to adjust the bag as per the desired length.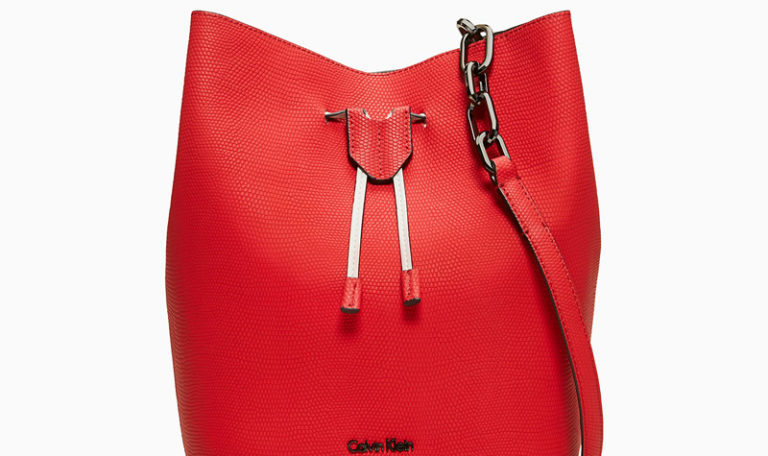 6. H&M Large size bucket style bag
The colorful dark seam of this light colored back creates a dual tone look that stands apart in style. It is best suited for people who love simplicity but in a stylish way. The whole focus seem to be on substance and style in this cross body bag that comes with long strap to offer convenience of holding it close when on move.
7. Prada Ouverture Bucket Leather Bag
Funky look of this blue and black dual tone bucket bag amps up the fashion game. The style is enhanced further with the help of its quality handle carved in unique shape. It is to be carried like a bag on hand (more precisely) over the elbow; as the strap is not long. It is done purposely so keeping the sophistication and feminine feel in mind. The designer handbags from Prada have always stood out in fashion quotient and this bag is no exception.
8. Gucci Ophidia Designer Bucket Bag
Label, looks and luster – this bucket bag stands out on all aspects. It is the poetry in a weave. The canvas which defines it to be true Gucci is adorned further with multicolor red and green stripes giving it a festive look. This small size bucket bag from Gucci can draw attention with no sweat and can look the best with both the formal and normal wear.
Bring home the legacies in the form of these bucket bags that have shown the world what fashion stories are made of. Be the one among a very few who pay equal attention to sneakers and handbags as they look after their skin tone and lip color and of course, the dresses they wear.
Other Articles